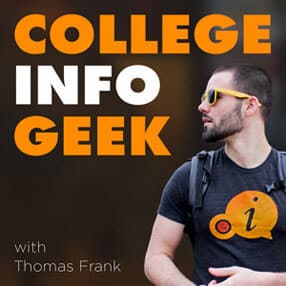 This week we take a break from your normally scheduled student-focused content to riff on a topic I get asked about all the time… bloggin'.
One of the really cool things about creating work that is, by definition, meant to be seen by many people is that some of those people get inspired to do the same thing.
Over the past six years that I've been doing this, I've gotten emails from lots of people who want to start blogs of their own.
Some want to start student-focused blogs like this one, which I think is freaking awesome – after all, I only started this blog after I applied to write for another student-focused blog and was rejected. I think there's always room for fresh thoughts in the education space.
In the past few years, I've had the pleasure of watching people like Stefano Ganddini, Katie Dwyer, and Tom Miller create fantastic blogs for students.
Others want to start blogs that focus on completely different topics, and some people just know they want to blog… even if they aren't sure about the topic at all.
No matter which of those camps you fall into, hopefully this episode will answer a lot of your questions. We'll be tackling:
What platform you should use
How to choose a topic
How to improve your blogging skills
The top 3 methods of building an audience
How to network with other bloggers
When to put your blog on your personal website and when to create a separate domain for it
Fitting in time to work on your blog alongside school and work
…and more.
In addition to this episode, I've also written a few posts that you might want to check out:
As usual, I'm joined by my friend Martin Boehme on this episode. Martin actually has a healthy amount of blogging experience under his belt, and he's a great example of someone who hugely benefited from blogging – even though it didn't become his full-time job as it did for me.
Enjoy!
Things mentioned in this episode:
Want more cool stuff? You can find all sorts of great tools at my Resources page.
If you enjoyed this episode, subscribe to the podcast on iTunes! It's easy, you'll get new episodes automatically, and it also helps the show gain exposure 🙂 You can also leave a review!
Here's an image for sharing this episode on social media: