Note: Thanks so much for your interest! However, due to my other priorities, I'm not taking on new speaking engagements for the time being. Thanks for understanding!
They say public speaking is the most common fear in the world. But Thomas Frank isn't afraid of anything. Even spiders. Even speaking publicly… to spiders.
On stage, Thomas is an engaging and dynamic speaker, providing insight on topics students truly care about.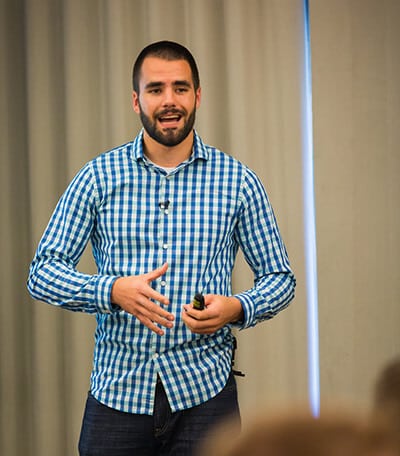 Thomas has spoken at multiple universities including Iowa State University, Luther College, Simpson College, and St. Michael's College, as well as at numerous events, including FinCon, the Iowa Impact After School Conference, Iowa State freshman orientation seminars, and for the ISU Honors Program.
He's been featured in U.S. News, FOX Business, The Wall Street Journal, Business Insider, The Des Moines Register, the Iowa State Daily, Silicon Prairie News, and more.
He also hosts a popular podcast, in which he discusses all aspects of college success and interviews successful students, public figures, and experts in areas related to college. Past guests include U.S. Secretary of Education Arne Duncan, Cal Newport, Gary Vaynerchuk, Jenny Blake, and Fluent in 3 Months author Benny Lewis.
Download Thomas' Speaking Sheet 
Keynote Topics
Death of the All-Nighter: Hack Your Motivation, Become More Productive, and Cut Your Study Time in Half
How do 80/20, the Pomodoro Technique, and "Intellectual combat" fit into a student's life? In this talk, Thomas draws upon years of learning and productivity experimentation to show students exactly how they can create strong habits, keep their motivation levels high, and hack their productivity.
This enlightening presentation uncovers the science behind how we work and constructs smart systems for managing tasks – all with a direct goal of helping students achieve more in less time and lower their stress levels.
The Automatic Interview: How to Become THE Grad that Companies Want to Hire
Soon after starting his sophomore-year internship search, Thomas found himself with 7 different interview requests from various companies – including several in the Fortune 500. He ended up canceling all of them because his top choice decided to skip the interview and hire him immediately.
How can students achieve similar results? In this talk, Thomas explores internship and job preparation techniques that go beyond average. Students will learn why they need to build a personal brand and exactly how to do it, how to have personal, non-boring conversations with professionals, and how to get to the point where recruiters start cold-calling them with job offers.
Speaking Videos
Book Thomas to Speak
Thanks so much for your interest! Due to my travel schedule, current projects, and upcoming move, I'm unable to take any speaking requests until further notice . Once I have availability, I'll add the contact form back to this page and will be happy to talk to you about your event 🙂
Reviews
"Thomas is the ultimate college hacker. His articles provide extremely specific, in-depth strategies on how to be more productive, stand out to job recruiters, and save money in college. Very, very valuable information." – Stefano Ganddini, Senior, University of Southern California
"Thomas spoke to honors students on personal branding and blew everyone away. Pulling from his personal experience and knowledge he imparted to students how they can differentiate themselves both on a professional and personal level. The students got a lot out of it and it greatly inspired them." – Erik Sandhal, ISU Honors Program Event Coordinator
"I've known Thomas for several years and have seen firsthand his drive and passion for helping college students! He not only knows his stuff but is living it." – Grant Baldwin, Professional Youth Speaker