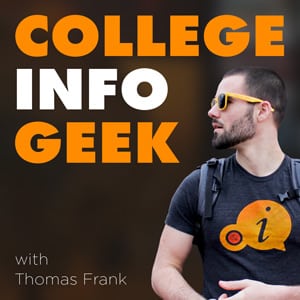 The College Info Geek Podcast brings you regular, non-boring interviews with experts who can teach you how to stand out to companies and recruiters, master your money, study better, and more.
We also do Q&A episodes where you can get your questions answered on the show!
Here's how to subscribe and never miss an episode.
Subscribe with iTunes
Use this method if you're using the Podcasts app on an iPhone/iPad or want to use iTunes on a laptop/desktop:
Click here to view the College Info Geek Podcast in iTunes – if you get taken to a webpage instead of the iTunes program, click the blue "View in iTunes" link.
Hit "Subscribe".
Boom!
You can also simply search for "College Info Geek" in iTunes or on the Podcasts app.
Subscribe with Google Play
Google is now including podcasts in the Google Play Music app, which means there's now a default way to subscribe if you're on Android! Here's how:
Hit "Subscribe".
Subscribe on YouTube
The CIG Podcast is now on YouTube! If you prefer to listen there, here's how:
Click the Subscribe button.
[Optional] If you want to get notified when new episodes are released, click the bell icon that shows up next to the subscribe button after you subscribe.
Subscribe at Other Places
Personally, I use the Pocket Casts app on my phone to listen to podcasts. It's available on both iPhone and Android.
Get Email Updates
I prefer listening to podcasts on my iPhone – that way, I can go for a run, cook, drive, or do anything else while listening. However, if you like listening right here on the website, you can enter your email below to get notified when new episodes come out (and you'll also get a free copy of my book).
Review the Show!
I'm incredibly appreciative when someone reviews the podcast on iTunes – not only does it help me improve, but it also helps boost the show higher on the iTunes rankings. Which means more people can find it!
If you'd like to write your own review, here's how. (Also, you rock)
Open the College Info Geek Podcast up in iTunes. If you find yourself on the iTunes website, click the blue "View in iTunes" button.
Click the Ratings and Reviews tab.
Click "Write a Review" and type up your review. Remember to include your star rating as well (lots of stars is good!)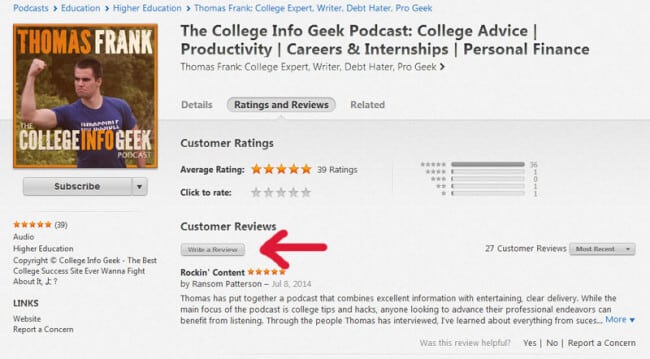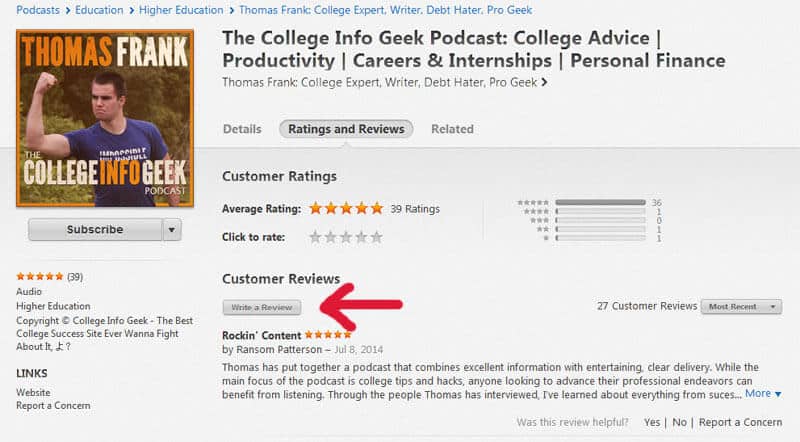 Seriously, thank you for taking the time to help out the show. You're awesome 🙂
I also made a quick video that shows you exactly how to leave a review, so you can use it as a guide if you like!