As we discussed last week, finding your passion isn't an overnight process.
For most of us, it's nearly impossible to identify what our passion is early on in our careers. Instead, as we pursue interests, build skill, and gain more experience, we're likely to uncover a passion slowly.
When you're looking forward, it's impossible to see what that passion will end up being. Steve Jobs put it best:
"You can't connect the dots looking forwards; you can only connect them looking backwards."
As I write this, I've been building College Info Geek for the past five and a half years. Over half a decade has gone into the creation of this project, and in that time, I've realized that it is my passion. Creating videos, recording podcasts, writing – I love it all (even if it's difficult at times).
Interestingly, the major I picked in college had nothing to do with any of that. I majored in Management Information Systems, a major that combines business with information technology. People who major in this field usually end up in project management, system/database administration, programming, or something similar.
Meanwhile, the work I do seems more suited to someone who majored in film, journalism, or speech.
So how did I get from MIS to here?
That's what I want to recount for you this week. I'm at the point where I can look back and connect some dots now, and I hope that doing so will give you a real-world example that applies to the discussion we had in last week's video.
Since it's more of a personal story, I'm going to let the video speak for itself and end the article here (though you'll find some links to things I mention in the Video Notes below).
If you're unable to see the video above, you can view it on YouTube.
Grab a Free Copy of My Book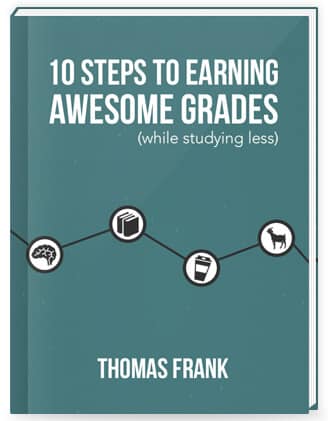 If you're new to the College Info Geek community, I think you'll really enjoy my free 100+ page book called 10 Steps to Earning Awesome Grades (While Studying Less).
The book covers topics like:
Defeating procrastination
Getting more out of your classes
Taking great notes
Reading your textbooks more efficiently
…and several more. It also has a lot of recommendations for tools and other resources that can make your studying easier.
If you'd like a free copy of the book, let me know where I should send it:
I'll also keep you updated about new posts and videos that come out on this blog (they'll be just as good as this one or better) 🙂
Video Notes
If you liked this video, subscribe on YouTube to stay updated and get notified when new ones are out!