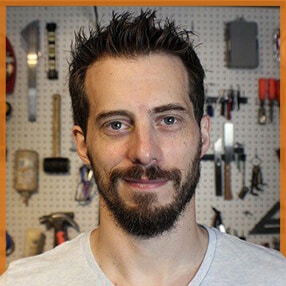 Every time I walk into Home Depot I get this inexplicable urge to buy every tool in sight.
Do I need them? Nope. Do I live in a rental house that I have barely any leeway to change or upgrade? Yep. Do I do most of my work on a computer, surely shaming the warriors and blacksmiths in my ancestry? Certainly.
Doesn't matter… I still feel the need to buy that pick axe, impact driver, and table saw. It must be something in my DNA.
This actually makes sense when I think about it; my grandpa is an expert woodworker and spends most of his time working on DIY projects in a huge shed he built in his back yard.
My skills pale in comparison, but there are still times when I get a good enough reason to take my hands off of keyboards for a day and justify my tool purchases. Some of my projects have ended up on this blog or on my social media channels, including:
Each one of these projects was incredibly fun to build. Additionally, there's something really special about the particular feeling of accomplishment you get when you build something with your hands; to me, it's different than making something like a podcast or a video.
I think part of the reason is that DIY projects almost always require me to learn new skills. I get an idea, jump into the thick of it, and then realize I'm out of my depth – so over to YouTube or Instructables I go.
Once the project is done, I now not only have the thing I've built, but I also have a bunch of new skills and knowledge – how to properly apply epoxy, for example.
That's why I think it's an excellent idea to get your hands dirty and go the DIY route from time to time when you need to solve a problem. You gain new skills, get the satisfaction of doing it yourself – and (sometimes) you save money to boot.
But where do you go to learn DIY? Well, as a mentioned before, one of my favorite haunts is YouTube. And on of my favorite DIY YouTube channels is I Like to Make Stuff, which was created by Bob Clagett – who is today's guest on the show!
I discovered Bob's channel during my overhead shooting rig project. I had originally gotten the idea from Casey Neistat – but if you've watched any of Casey's videos, you'll know that his overhead setup is incredibly bulky and takes up a lot of space. I figured there had to be a better way.
A quick YouTube search later, I found Bob's take on the project – which I quickly realized was much, much better.
My design ended up being a little bit different – I designed it to fold up since I don't have a dedicated work bench like he does – but his video provided the critical insight I needed to finish the project. Moreover, I found it really entertaining, so I naturally binge-watched a bunch of his videos. Here are some of my favorites:
Bob actually started out as a hobbyist DIYer; after working in web development and programming for over a decade, he started building DIY projects to give himself a way to work with his hands (something I often feel the need to do as well).
After deciding to make video tutorials of his projects, his YouTube channel took off; today, I Like to Make Stuff has over 800,000 subscribers, and running it has become Bob's full-time job.
In this episode, you'll learn exactly how Bob was able to go from being a web developer to a full-time DIY YouTuber, and you'll also learn about how he stays productive – including his process for planning videos and the the particular apps he uses.
Additionally, we talk a bit about how to get started with DIY yourself, including what tools everyone should have on hand.
Enjoy!
Things mentioned in this episode:
Want more cool stuff? You can find all sorts of great tools at my Resources page.
If you enjoyed this episode, subscribe to the podcast on iTunes! It's easy, you'll get new episodes automatically, and it also helps the show gain exposure 🙂 You can also leave a review!
Here's an image for sharing this episode on social media: