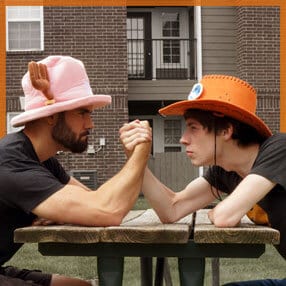 After a few weeks of frantic paddling and arm-waving, our fists have once again triumphantly emerged from the sea of reader questions in which we perpetually swim.
And once again, we've dragged up five of the best ones to answer for you today.
One interesting question we'll be tackling this week is: What do I do if all my best friends aren't as ambitious as I am?
This is a question that usually stems from advice given by the oft-quoted speaker Jim Rohn:
"You're the average of the five people you spend the most time with."
Is that actually true? If so, should you ditch your lazier friends and go searching for more ambitious ones?
We'll weigh in on those questions in this episode, along with other questions including:
How many Pomodoro sessions do you use to complete a task?
How do I prioritize my savings goals?
Should you major in photography or engineering? (the classic passion-vs-practicality question)
How do I choose what topic to build my personal brand around?
Enjoy!
Things mentioned in this episode:
Want more cool stuff? You can find all sorts of great tools at my Resources page.
If you enjoyed this episode, subscribe to the podcast on iTunes! It's easy, you'll get new episodes automatically, and it also helps the show gain exposure 🙂 You can also leave a review!
Here's an image for sharing this episode on social media: