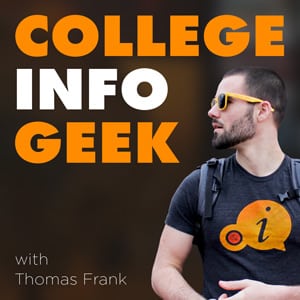 The College Info Geek Podcast is a show dedicated to helping students learn and improve in all areas of life.
On this podcast, you'll learn how to study more effectively, be more productive, become a better job candidate, and conquer small European countries.
Most episodes are co-hosted by myself and my friend Martin Boehme. I also interview a lot of really cool people, from scientists who study the brain, to experts on topics like winning scholarships, getting into medical school, and acing interviews, to people who have wicked cool jobs.
Past guests include Deep Work author Cal Newport, former U.S. Secretary of Education Arne Duncan, YouTuber Satchel Drakes, and author Gretchen Rubin. Future guests may or may not include Arnold Schwarzenegger.
Subscribe on iTunes
Subscribe on Google Play
Subscribe on YouTube
Here are more instructions on how to subscribe in case you need the RSS link or can't use the links above. New episodes are released every Monday morning!
Leave a Review
If you've got the chance, please take a couple seconds to leave a rating and review on iTunes! Doing so helps the show climb up the iTunes rankings and dominate – and that makes this big-mouthed college student very happy 🙂 Enjoy the podcast, yo.
Episode Listing: