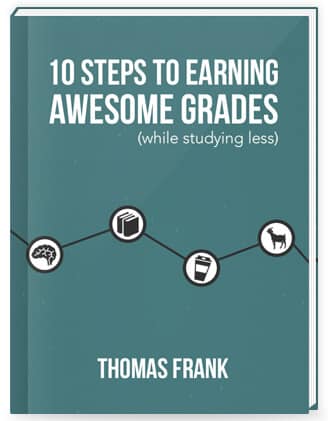 Hey there! This page is here to let you know that I've just finished something big – my first book. 
The book is called 10 Steps to Earning Awesome Grades (While Studying Less), and it is, in my opinion, an excellent starting point if you want to become a more effective student.
Oh… and it's free. 
I've wanted to write a book for a long time, and after getting acquainted with several authors over the past few months, I got the encouragement to pursue a legit, traditional book deal. Like, an "on the shelf at B&N" kinda book deal.
However, I also wanted to provide something to you guys – the awesome students who have been sticking around and supporting CIG. This book is it, and I'm really excited to give it to you.
To get the book, let me know where I should send it:
Here's what you'll find within the book's 100+ pages:
Getting more out of your classes – how to pay attention, get to know your professor, and stay active
Taking better notes – the best note-taking systems, shorthand hacks, etc
Reading more effectively – dealing with huge textbook assignments and using active reading strategies
Building the optimal study environment – location, study music, apps and gear, etc
Defeating procrastination – how to hack your motivation, build great habits, and make sure you get things done on time
Writing better papers – research tips, how to get over writer's block, editing strategies
That's a sneak preview – there are four other sections waiting as well (see, I can do math).
You'll also find some of my personal lessons learned as a student, along with graphics, diagrams, and links to amazing resources.
I've worked incredibly hard on this book and can't wait to hear what you think of it.
Once you get it, I'll also send you an email each Friday called Friday Tools and Tips. In it, I'll let you know about all the new books, apps, and other productivity resources I've discovered recently – and keep you up-to-date on new CIG content.
If you want to be awesome, you also can share this page with friends and help them earn awesome grades too 🙂