As an avid and very loyal Android user, I'm on my phone constantly. From checking updates to remoting into my home computer, my phone has been something I cannot live without. Add to that fact that the phone basically addresses all my application needs and well, life just seems a little too good.
So what am I talking about really? Well, of course there are wonderful apps on both Android and the iPhone, however I found two that are especially helpful for this audience and for anyone who is a programmer. The first application is called Ubuntu Pocket Reference and can be downloaded from the Android Market.

What is this application? Basically, as the name implies, this app aims to be reference for all things Ubuntu in a portable form. It's a good application for beginners wanting to understand how Ubuntu works, especially via the command line. I highly recommend it. Here's a screen shot for our visual readers.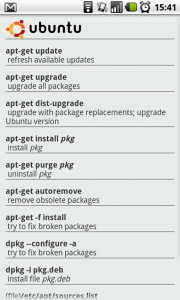 The second application is geared towards programmers. It's a programming language cheat sheet, that gives the programmer access to the common syntax and functions for the specific language. The application is called devcheats and called be installed through a 3rd party market, called AppBrain. And like before, here's a screen shot.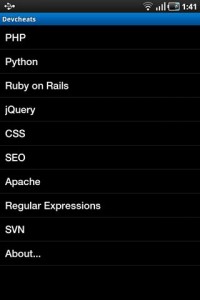 Well, that's it for now. If you have any awesome app recommendations (iPhone or Android), please post them in the comments below. You never know, maybe you'll see your app recommended being talked about next!
Note: Out of every post on this site, this one gets literally every spam comment – which is more than five a day. I don't know why, but I'm disabling comments for this post. Sorry – you can always hit me up on Twitter if you'd like to add to the discussion!