In February 2019, I moved from Nashville to Denver. I'd wanted to move here ever since I visited back in March 2017, and now it had finally happened.
It was the first major, permanent move I made after graduating college, and I learned a lot. This got me thinking about how there aren't any detailed, step-by-step guides about how to move to a new city.
Sure, there are articles on certain topics, but there isn't a one-stop guide that walks you through the entire process of moving.
So I decided to create one.
Below, I'll walk you through how to move to a new city from start to finish. We'll cover everything from choosing a city to finding an apartment to figuring out how to get all your stuff to your new place.
Note: Most of this guide assumes that you're single and living in the United States. Much of the same advice will apply for moves in other countries and if you're moving as a family, but I have less experience with these circumstances.
Where Should I Move?
Before you can move, you need a destination. In many cases, someone else will make this decision. The most common case is if you're moving for a new job, but you could also move for family reasons.
If you've already decided where to move (or if someone else has decided for you), then you can skip to the next section. But if you know that you want to move and are trying to decide where to go, keep reading.
Let's say you're a recent college graduate, and you want a change of scene. You're tired of your home town, and you want to experience something new. How do you decide where to go?
There are many factors to consider; here are some of the most important:
What size city do you like?
The size of a city will have a huge impact on how you experience it.
Some people find large cities stimulating and exciting. Others find them stressful and overwhelming. And the same goes for smaller cities: one person's "quaint small town" is another's "boring middle of nowhere."
So be sure to look at the size of the city before you move there. This means looking at both the population numbers and the physical land area of the place.
The physical size of the city is especially important when considering what your commute will be like and how you'll get around. In a dense city like New York, for instance, you can get almost anywhere with public transit. In a sprawling metropolis such as LA, on the other hand, owning a car is basically a necessity.
My favorite resource for finding out the size of a city is Wikipedia. Just type in the city name and then scroll down to the box on the right. Or just google "population of [name of city]."
What kind of climate do you like?
The climate was one of the main reasons I moved to Denver. The sun gives me lots of energy, and I dislike harsh, dark winters. I also wanted to get away from the oppressive humidity of my native Nashville. Therefore, Denver was a logical choice.
Many people don't consider the local climate when choosing where to move, but it has a huge impact on your daily life. The climate affects what clothes you'll need, what kinds of activities you can do in different seasons, and even your mood.
So be sure to consider both what kind of climate you prefer and what the climate is like in the cities you're considering. If these two don't align, the city might not be a good fit.
To learn more about the general climate of a place, I recommend doing a quick google search on "[name of city] climate."
How's the job market?
Unless you work remotely, you'll need to find a job in your new city. Therefore, you should consider what the job market is like before you make a move.
But be sure you don't just look at the "overall job market." This is mostly meaningless. Instead, examine the job market for your particular skills and interests. For instance, if you have a background in publishing, a city like NYC is generally going to be a better fit than San Francisco.
To get a sense of a place's job market, you can research the largest industries there. You can also take a look at job boards to see how many postings there are for jobs that interest you. And be sure to consider how competitive the job market is — you don't want to end up competing for a few jobs with a large number of other recent transplants.
What's the cost of living?
The cost of living massively affects how you live your daily life. It determines where you live, as well as what you do for fun. And it even has longer-term impacts, such as when you can retire and how many children you may decide to have.
So how can you find out the cost of living for a city? My favorite resource is the website Expatistan.
It's meant to help digital nomads or other expats figure out how much money they'll need to afford a particular city. But you can also use it to get a rough idea of a place's cost of living, all based on real data from users.
For instance, here's some of the cost of living data for Austin, TX: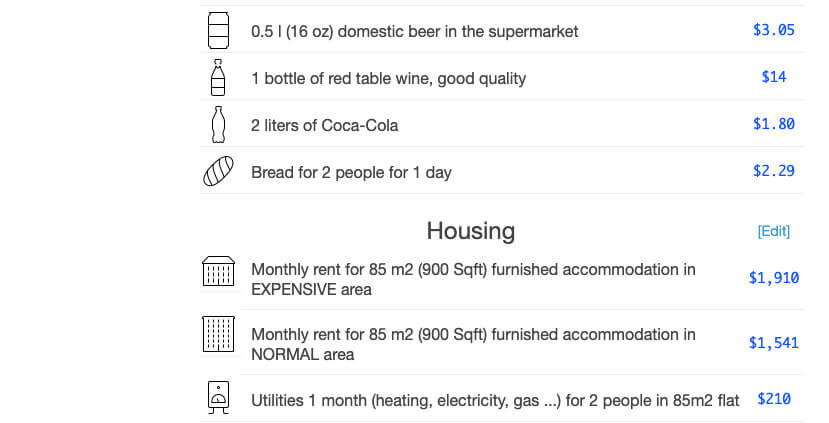 In addition to the cost of living for a specific city, Expatistan can show you how the cost of living compares between two cities (such as between where you currently live and where you want to move).
For instance, here's a comparison of the cost of living between Denver (where I currently live) and Chicago (another city I love).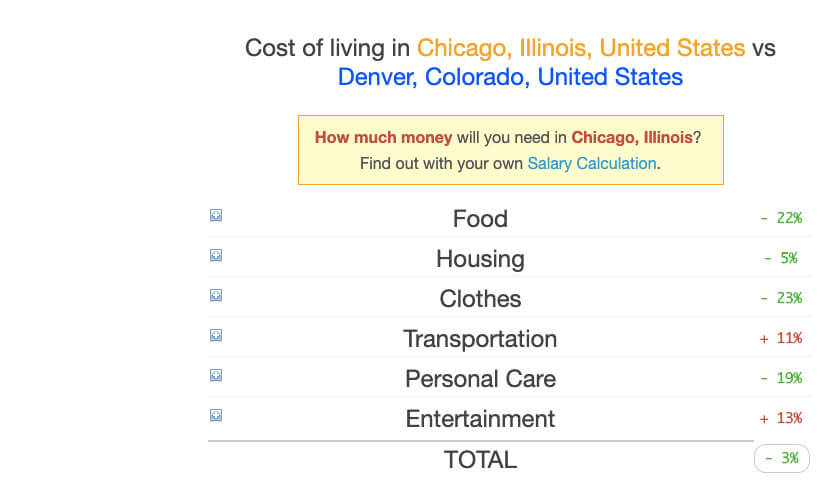 You can play with this tool to figure out if you can afford to live in the city you're interested in. You can also use it to decide if you can live on the salary that a particular job is offering you.
What connections do you have in the city?
Moving to a new city where you know no one can be exciting, but it can also be frustrating and isolating. While it's fine to move somewhere without knowing anyone, having a few connections on the ground can be helpful.
To start, knowing someone who lives in the city can make it easier to find housing and a job. Without these connections, it can take longer to find both. For instance, Thomas was able to help me choose a neighborhood in Denver that would suit my preferences (since I was unfamiliar with the neighborhoods of the city).
Beyond that, there are social benefits to already knowing people. They can introduce you to their friends, who can then end up becoming your friends. Without these initial connections, making friends can take longer (though you can still do it!).
If you don't know anyone, don't let that stop you from moving to a city. But just be aware that the process will be trickier.
What do you value in a city?
This last question may be the most important of all. The truth is that there's no such thing as the "best city to live in." The best city for you will be different than the best for another person, and it all comes down to what you value in a city.
For instance, I value living in a city (and neighborhood) where I can get around mostly via walking, biking, and public transit. So a sprawling city such as Los Angeles would be the last place I'd want to move.
But that's just my preference. Someone else might value the huge variety of opportunities in LA and not mind having to drive everywhere. Therefore, LA would be a great choice for them.
Here are some qualities to consider when deciding what you value in a city:
Networking opportunities
Work/life balance
Access to outdoor activities
Weather
Activity/busyness
Nightlife
Conservative/liberal
Walkability vs. drivability
Airport access/reach
Safety
Healthcare
But how can you evaluate these qualities in a city if you haven't been there? Well, I would advise you to visit anywhere that you're seriously considering moving to.
But before you visit (or if visiting isn't practical), I recommend you look up the city on Nomad List. It's a resource that exists to help digital nomads decide where they should go next. But you can also use it to get a sense of what a city is like (and if you'd like it).
For each city on their list, Nomad List displays several "scores" for different qualities such as cost, internet speed, nightlife, and more. For instance, here are (some of) the scores for San Francisco:

You can also view a "Pros and Cons" list for each city. Here are the pros and cons for San Francisco: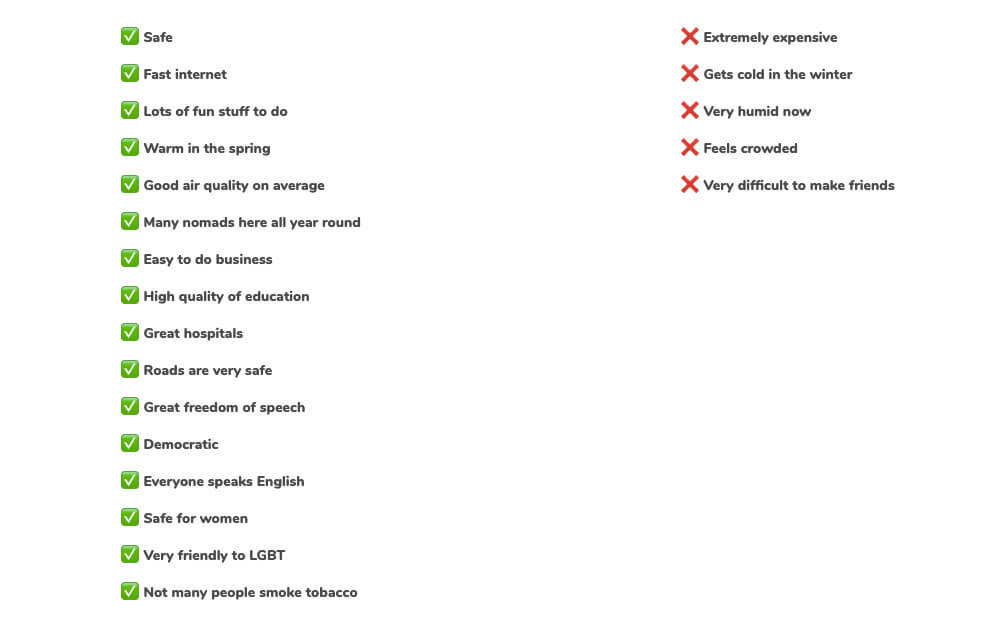 Finally, Nomad List will show you detailed data about a city's cost of living:
How to Move to a New City in 7 Steps
Now that you've decided what city you want to live in, let's look at the process of getting yourself there. I'll start with choosing a neighborhood, move on to finding an apartment, and then end with getting yourself set up in your new place.
1. Pick a Neighborhood
Your first task after you've decided where to move is to pick the neighborhood you want to live in. This will make it much easier to find an apartment; otherwise, you'll have to sort through hundreds of options all over the city.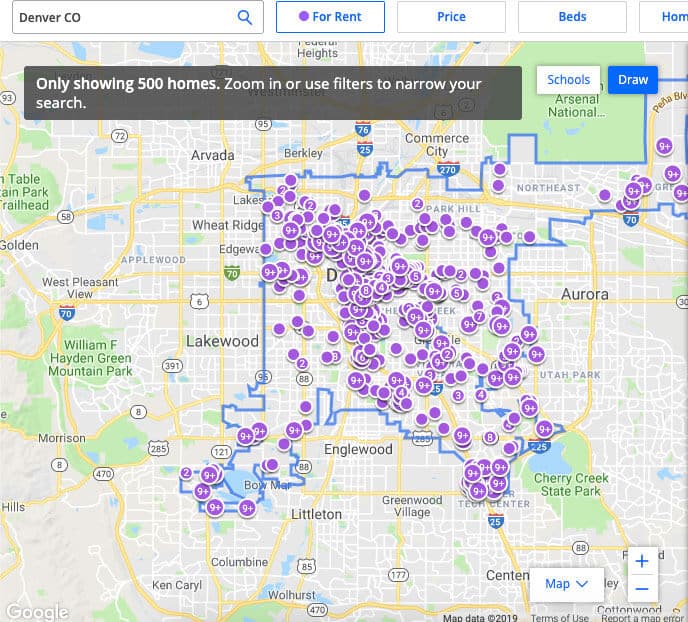 So how do you choose a neighborhood? Similar to picking a city, you need to decide what you value. Here are some things to consider when picking a neighborhood:
Distance to your work (unless you work from home)
Overall cost of living
Safety
Walkability
Proximity to public transit
Ease of parking
Activity level (busy vs. sleepy)
Proximity to parks/green space
Proximity to entertainment/recreation
Type of housing available (houses vs. apartments)
General neighborhood vibe/culture
So how can you learn about all of these things without visiting the neighborhood? Here's the process I like to use:
Google "best neighborhoods in [name of city]." From there, you can get a general sense of what the neighborhoods are like.
Use Walk Score to evaluate the walkability and transit access of the neighborhood (this may not matter to you if you mostly drive, but it's still worth knowing).
Look at the neighborhood on Google Maps. Check both satellite and street view to see amenities such as parks, what the houses and apartments look like, and what sorts of businesses are nearby.
In addition to these resources, I like to visit the subreddit for the city and look at the FAQ for people moving. This often includes information about the different neighborhoods. Here's the one for Denver to give you an idea of what I mean.
When choosing a neighborhood, you also need to recognize that there's no such thing as the "perfect" neighborhood. You're going to have to compromise on at least one thing, and probably several.
For instance, I wanted to live in a neighborhood that was highly walkable and close to nightlife and shopping. I got this with my current place, but it did come with some tradeoffs.
To start, the apartment is small (470 sq ft) and costs more per square foot than a place out in the suburbs. Furthermore, the area around the apartment building can get quite loud due to the nearby construction during the day and people hanging out at nearby bars during the night.
In your own neighborhood search, you'll have similar tradeoffs. The key is to keep your expectations realistic and prioritize the essential things. You can always move to a different neighborhood later if your priorities change.
2. Search for Apartments Online
Once you've picked a neighborhood (or a few that interest you), you can start looking at apartments. Thankfully, the internet has made this much easier than it used to be. You can now get a pretty good idea of what a place is like without even touring it.
To start your apartment search, use an apartment-hunting website. There are quite a few sites out there, but I've found that most of them list more or less the same apartments.
In general, therefore, I stick to Zillow and Apartments.com when looking for places to live. They don't overlap too much, are easy to use, and allow you to filter based on things such as price, number of bedrooms, and amenities.
Speaking of which, before you go on any apartment hunting website, you need to come up with an apartment wish list. This will help you guide your search and ensure you don't go over budget.
Here's what to include on your list:
Price (this should be no more than ⅓ of your monthly income)
Size of apartment
Layout of apartment
Number of bedrooms
Number of bathrooms
Amenities (pool, gym, security, rooftop, balcony, etc.)
Once you have this information, you can plug it into an apartment-finding website and see what results you get.
For instance, let's say I'm looking for a 1-bedroom, 1-bath apartment in the Capitol Hill neighborhood of Denver. I'd also like to have a pool and pay no more than $1,500 a month.
Here's what I get when I plug all of this information into Zillow: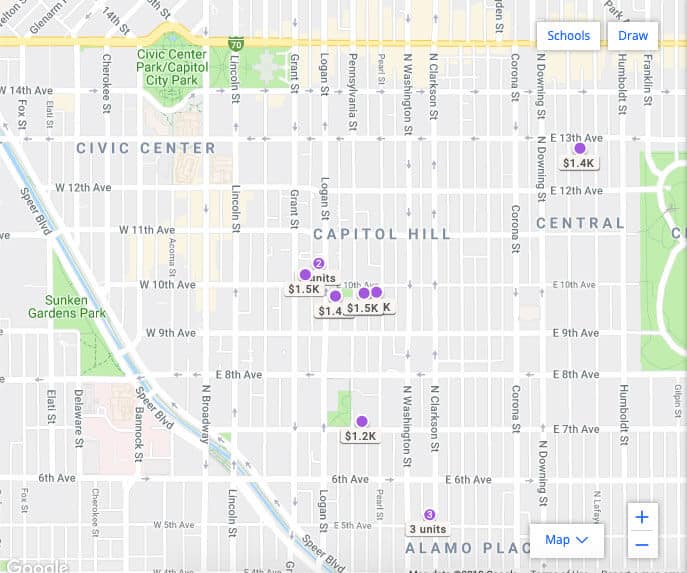 Looks like I have a few options, and now I can click on each to learn more.
3. Tour Some Apartments
Once you've found some places you like, the next step is to set up a tour. This is a crucial part of the process; do not skip it. While rental sites have gotten pretty good at catching scams, photos and descriptions can still be misleading.
To set up a tour, you can either contact the property through the apartment-finding website (they usually list contact details) or use the contact information on the apartment complex's website. For quickest results, I recommend calling the place on the phone; emails tend to get buried.
During the tour, be sure to ask the leasing agent/property manager/landlord any questions you have. It's their job to answer these questions, so don't be afraid to come with a list.
Also, evaluate the property with a critical eye. Look for any damage, neglect, or other problems. If the listing isn't the way it was described online, ask the person giving the tour why that is. There could be a legitimate reason, but it could also be a serious red flag that this isn't the place for you.
4. Apply to Apartments
After you've toured a few places, the next step is to apply.
If you've never rented your own place before (or if your parents co-signed with you on the place you lived in college), this process can take some getting used to.
Here's what you'll generally need to include in an apartment application:
Proof of your income — If you're currently employed, you can use your paystub. If you aren't, then you can use your bank statements (to prove you have sufficient savings). You can also use any offers of employment you have (which is useful if you're moving for a new job but haven't started it yet).
Driver's license number and social security number — The landlord will use these to do a credit and background check.
References from previous landlords — If you haven't rented before, then ask if you can use some kind of "character reference" (such as a family friend or former employer).
You should hear back about your application within a couple of days at the most. If you're approved, then you can move on to the next step. If you aren't, then you can go back to the apartment-hunting process I described above.
Note that it can take some time to find an apartment. Because of this, I recommend arranging somewhere else to stay while you look.
This could be an Airbnb, a hostel, or even a hotel. If you're moving for work, your employer may be able to reimburse you for these costs (this is generally called "relocation assistance"). You can also stay with friends or family if you have any in the place you're moving.
5. Figure Out How You'll Move Your Belongings
So you've found your apartment, but now comes the task of moving all of your things to your new place. This can be intimidating, but it won't be that bad as long as you plan.
As I see it, there are three basic options for moving your possessions:
Drive them in your personal vehicle.
Rent a moving truck or trailer.
Ship your stuff in a container.
Each of these options has pros and cons:
Using your personal vehicle is the cheapest option, but it requires you to have a car that's big enough to hold all of your stuff. So if you have a Honda Civic, this may not be the best option unless you're moving without much furniture.
Renting a moving truck gives you more space, but it isn't free. Plus, you have to pack and drive a large truck, which you may or may not feel safe doing.
Shipping your stuff in a container is convenient, but also not free. Furthermore, your stuff could be stuck at a storage facility for a week or two before it can be delivered to your new place.
None of these options is better than the others. You just have to decide which is best for your situation.
In my case, putting my stuff in a container was the best option in terms of price and logistics. I don't own a car, and I calculated that it would be cheaper to put my stuff in a container once I factored in gas.
However, I was also moving halfway across the country, which made basically every part of the process more expensive.
6. Get Your Apartment Set Up
Once you have your apartment and have moved yourself and all your stuff to it, it's time to get your new place set up.
To start, you have the obvious steps of unpacking boxes and moving in your furniture. If you know some folks in town, there's no shame in asking for their help (offer to buy them dinner or drinks as a thank you).
Otherwise, you may need to hire help. You can either contact a local moving company, or you can use an app such as TaskRabbit to hire someone for a couple of hours. If you've rented a moving container or truck, the company you rent from may also be able to set you up with help from a local moving company.
After you have everything moved in, you'll need to figure out how you want to lay out your apartment. You may also realize that you need some additional things to make the place livable. This could be anything from a new bed to some decorations for the walls.
To find these things, I use a combination of Amazon, Wayfair, and IKEA. You can also check local thrift stores, Craigslist, and Facebook Marketplace for bargains.
Aside from the physical items in your apartment, there are also services you'll need to set up, including:
Internet — Be sure to compare the different companies in your area to find the best rate.
Utilities — Depending on where you're living, you may need to set these up with a separate company, or they may be billed along with your rent.
Rent payment — Many landlords and apartment complexes now let you pay your rent online. If this is an option, I highly recommend you set your rent to auto-pay so that you're never late. If you can't pay your rent online, be sure to set a recurring calendar reminder to send your landlord the rent check each month.
Renter's insurance – Most landlords and apartment complexes require you to have this. And even if they don't, you should still get it. Learn why you must get renter's insurance.
7. Establish Yourself in the New City
Everything is now set up with your apartment, but there are still a few more things to do before you can settle into life in the new city.
Don't forget to do these things:
Update your address for the following:

Bank account(s)
Credit card(s)
Online subscriptions

File a change of address with the Post Office
Notify the DMV in the state you moved from (if your state requires this)
Get a new driver's license in the state you moved to (many states require you to do this within 30, 60, or 90 days of moving)
Register your car in the new state (again, many states require you to do this within 30, 60, or 90 days of moving)
Register to vote in the state you moved to (you can generally do this when you get your new driver's license)
It's easy to overlook the items above, but you can get into legal trouble if you don't do some of them promptly (particularly updating your vehicle registration). So be sure to make them a priority.
How to Budget for a Move
I hope reading this article has made you realize that moving can be expensive. Depending on where you're moving and what you take with you, your move could cost anywhere from a few hundred to a few thousand dollars.
Instead of just saying, "I'll worry about how much it will cost later," I recommend budgeting your moving costs beforehand. This way, you'll know how much money you need to save before you can move.
At minimum, I recommend you budget for the following moving expenses:
Cost of moving your stuff (truck rental, container rental, or gas for your vehicle)
Cost of hiring movers (if necessary)
Apartment security deposit
Apartment application fees
New furniture and other things for your apartment (if applicable)
Accommodation while you look for an apartment (if necessary)
To keep track of your costs, just put them in a spreadsheet. Here's an example of the moving budget spreadsheet I created before I moved to Denver: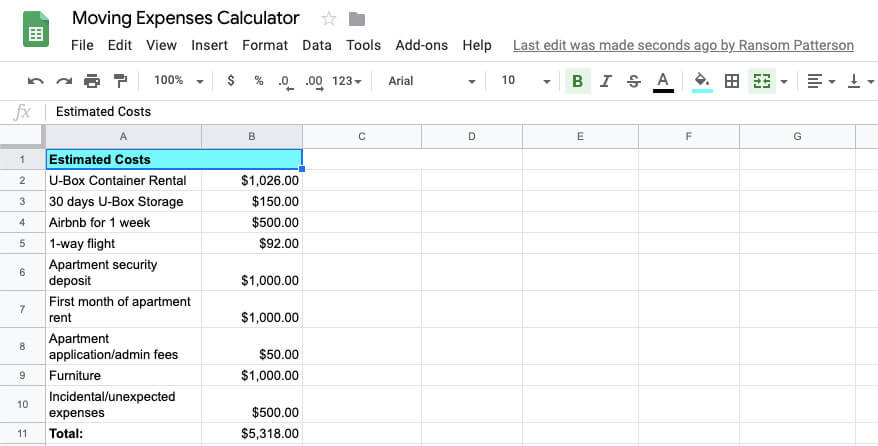 If you'd like to adapt this spreadsheet for your own move, you can access it here. Just go to File > Make a copy to get a version you can edit.
Note that in addition to my estimated costs, I also budgeted an extra $500 for "incidental/unexpected expenses." If you can, I highly recommend this. Moving is full of surprise expenses, and it's better to set some money aside to cover them than to end up in a tight financial spot later.
Finally, you may need to have a higher moving budget if you're moving somewhere without a job already lined up. In this case, you'll need to make sure you have enough savings to cover all of your basic expenses for a few weeks or months while you find a job.
Need some extra money to pay for your move or cover your expenses while you find a job? Check out our guide to making an extra $1,000 a month.
How to Quickly Make Friends in a New City
One of the biggest struggles many people face when moving to a new city is making new friends. Once you're out of college, making friends definitely requires more deliberate effort. But you can still do it, as long as you know the right process.
Here are my top suggestions for making friends quickly in a new city:
Join a local sports league
I'll admit I haven't done this myself, but if you enjoy team sports, then this is a great way to meet lots of new people (and hang out with them regularly).
Go to events related to your interests
Use sites such as Meetup, Eventbrite, and Facebook to find local events related to what interests you. These are great places to make friends, as you already have something in common with other attendees.
Go to Reddit meetups
If you're on Reddit, there's likely a subreddit for the city you moved to. See if they have any meetups in your area. In Denver, for instance, there's a group that meets every Wednesday to play boardgames.
Join a climbing gym
Climbing gyms continue to pop up all over the country, and they can be great places to meet people. Climbing is a social sport, and it's easy to strike up a conversation with someone if you're both working on the same route. Plus, many climbing gyms host events where you can meet even more people.
Hang out at breweries
I've made several friends in Denver just by consistently hanging out at the same neighborhood brewery. This is a time-honored way to meet people, and it still works today.
Hang out at coffee shops
In a similar vein to breweries, coffee shops can be a great place to hang out and meet people. Just be sure to pick a coffee shop that isn't (completely) full of people wearing headphones and working on their laptops.
Many coffee shops also have bulletin boards where you can find out about more local events and meetups.
Make friends in your apartment complex
Sometimes, making new friends is as simple as saying hi to your neighbor or that person you always see in the laundry room. You can also go to those random events your apartment complex always sends you emails about.
Make friends at your office
You spend 8 or so hours a day with the people at your office, so it's a pretty logical place to make friends. This is why it's worth going to that work happy hour or company party, even if you're tired.
Making friends is a process
I don't recommend doing everything on the above list (at least not all at once). You'll need to experiment with which techniques work best for you. If you're shy, then I highly recommend starting with structured activities (sports leagues, meetups, and events).
How to Find a Roommate
In many cities, housing is just too expensive to live by yourself. Therefore, you'll need to find a roommate.
I've left this until the end because finding a roommate presents many additional challenges beyond just finding an apartment.
If you do it correctly, though, it can save you a lot of money and help you make new friends.
Here's how to find a roommate in a new city:
Join local roommate-finding Facebook groups
Many cities have Facebook groups to help people find roommates. The postings tend to be more legitimate and less sketchy than those on Craigslist, though you should always be cautious.
Check out roommate-finding subreddits
Big enough cities usually have a section of their subreddit where you can post (and respond to) "seeking roommate" ads. As with Facebook, be cautious of scams and sketchy people.
Use a roommate-finding website
In researching this article, I discovered a couple of services specifically for helping people find roommates:
Roomie Match helps you find a roommate that fits your needs. They have a dedicated team who reviews all postings in order to kick out scammers and creepers.
Roomi is an app for finding both roommates and sublets. You can even have your profile verified through a background check to increase your chances of finding a legit roommate.
Ask around your office
Your new co-workers may well know someone in need of a roommate (or need one themselves). Just avoid sounding creepy or desperate.
Inquire with your local alumni group
Many colleges and universities have alumni groups across the country (and world). Post in the group's Facebook group, listserv, or other message board to see if you can find anyone else in search of a roommate. Just make sure this doesn't violate the group's rules.
Reach out to your network
Even if you don't know someone in the city who needs a roommate, it's very possible that friend of a friend or family member does. You can put out a general post on the subject on social media, and you can also reach out directly for more tailored assistance.
Prepare to be without a roommate
Even if you do all of the above, it's still possible that you could end up without a roommate for a few weeks or months. Because of this, I recommend having enough savings before you move to afford a place to stay while you find roommates. Even if that just means staying in a hostel.
Moving Is a Great Adventure
With all of the planning and chaos of moving, it's easy to forget to be excited. I hope this guide has helped make your move a bit smoother, but I want to remind you that moving to a new city is a massive opportunity.
There will be struggles, but there will also be new friends, new experiences, and lots of excitement. Don't forget to stop for a moment and take it all in.
And remember: if things don't work out, you can always move somewhere else.
Image Credits: City Park