Building good habits (and breaking bad ones) is hard. It requires you to fundamentally reshape your behavior, to resist your natural patterns.
To make the process easier, we recommend using a habit tracking app.
Habit tracking apps work because they give you a visual representation of your progress. You get to see all the times you've done the habit lined up as an unbroken chain. Once you can see your progress, you're much less likely to skip the habit.
The problem with habit trackers, however, is that there are hundreds of them. And not all of those apps are worth your time.
To help you find the apps you should use, we did the research and put together the list below. All of these apps will help you track progress on your habits, as well as keep you motivated throughout your habit-building journey.
Note: This article is all about digital habit tracking apps. If you're looking for a paper habit tracking system instead, check out this guide.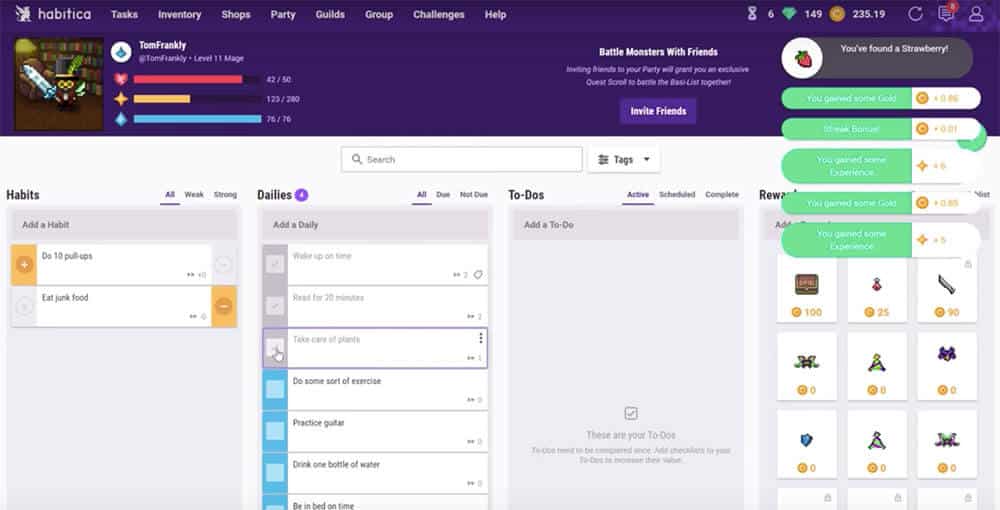 Overview: An app that turns habit tracking into a video game.
Habitica is essentially an RPG with habit tracking features built in. As you complete your habits, you also build up the stats for a character in the game. This character can join parties, go on quests, and get new gear (just as you'd expect in an RPG).
Now, admittedly, Habitica isn't for everyone. If you're a nerd who already loves RPGs, this will be perfect for you. But the stats, buffs, and other data can get overwhelming or even distracting if you aren't familiar with RPGs.
Even if you aren't into RPGs, however, the inherent gamification of Habitica can still be very motivating. This is because if you fail to do a habit, your character will take damage and lose some of their abilities.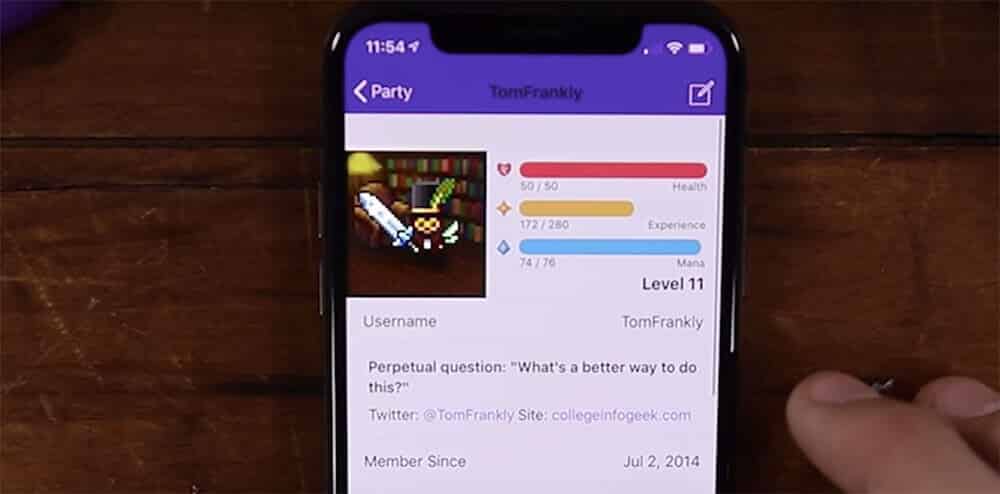 And if you join a party with other people, the motivation is even stronger. Now, it's not just your character that will suffer if you fail to do your habits. Instead, you risk damaging your entire party in a boss fight or quest if anyone in the party fails to do their habits (or does a negative habit such as eating junk food).
This extra layer of accountability combined with the RPG functionality makes Habitica distinct from all other habit tracking apps.
Oh, and did we mention that all of the core functionality of Habitica is completely free?
To learn more about Habitica, check out Thomas's full video guide:
Price: Free, Premium version for $4.99/month
Platforms: Android, iOS, Web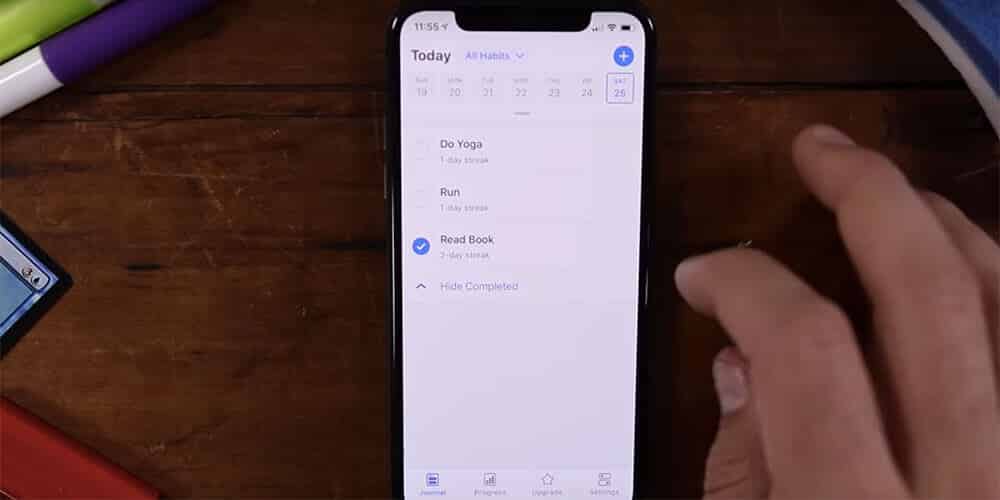 Overview: A simple, aesthetically pleasing habit tracking app.
Up next, we have Habitify. It's a well-designed app with a simple yet attractive interface. Habitify presents you with a list of your habits for the day, and it lets you check them off as you complete them. Simple, but effective.
In addition to the basic habit tracking features, Habitify also has a Dark Mode to relieve strain on your eyes and plenty of cool graphs and charts that let you nerd out over your habit progress.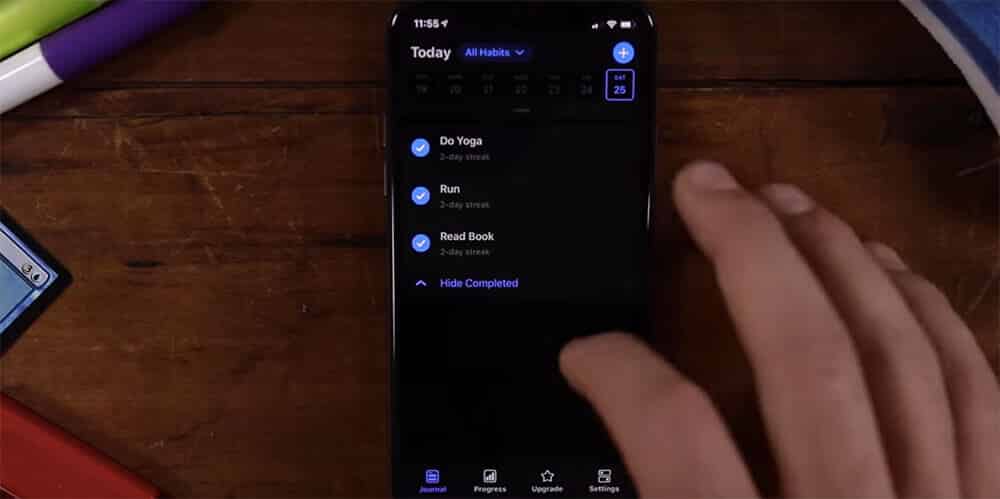 iOS users will be happy to know that Habitify offers an Apple Watch app and an iPhone home screen widget.
Price: Free, Premium version for $4.99/month
Platforms: Android, iOS, Mac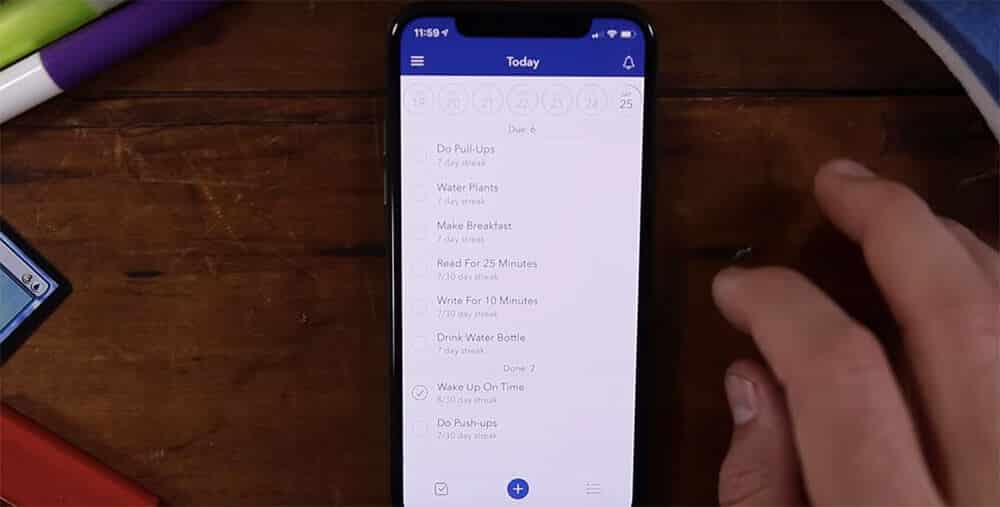 Overview: An app that offers a variety of ways to track different types of habits.
On the surface, Strides is very similar to Habitify. It features a clean, professional UI that's a joy to use. And the basic habit tracking functionality is also the same.
Where Strides stands apart, however, are all the ways it lets you set up and track habits. To start, you can set streak goals, which are great for 30-day challenges or other habit streak goals. You can also set habit goals as "Yes or No," which are useful for habits like flossing.
And if you want to do something a certain number of times, Strides lets you set quantity goals. For instance, you can set a goal to do 25 push-ups each morning or drink 2 liters of water per day.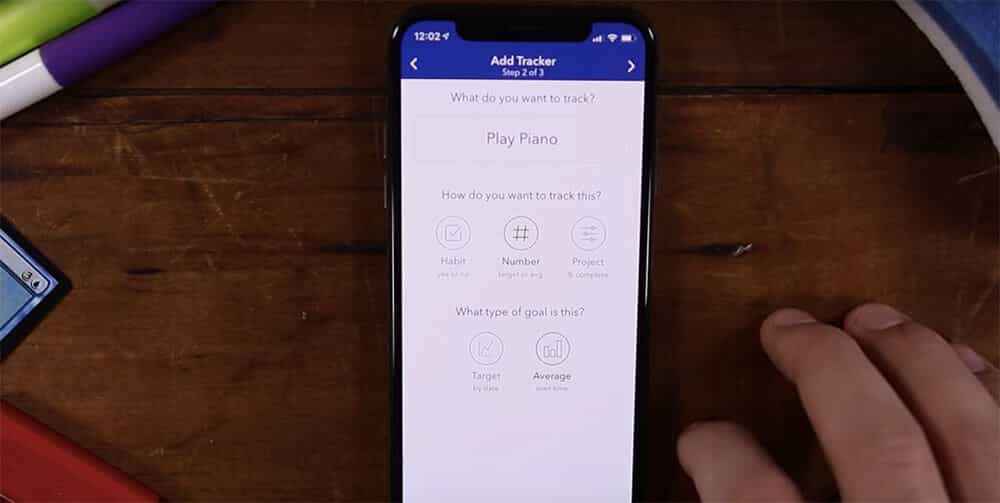 Most notably, Strides lets you track an "average" for a habit. This is useful if you don't care about the number of times you do a habit per day but want to keep it at a certain average for the week.
For example, you could set a goal to practice piano an average of 3 times per week. This way, you can account for the daily variation in the amount of time you have for a habit.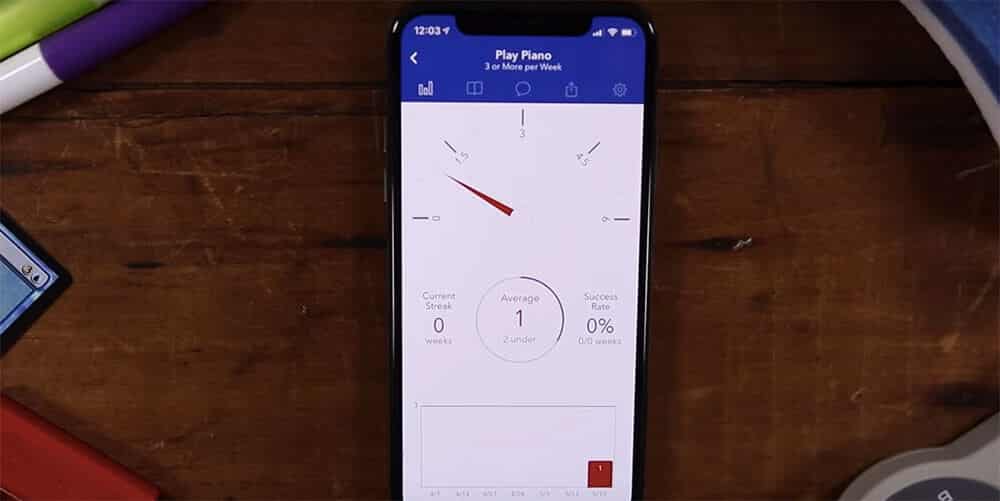 Price: Free, Premium version for $4.99/month
Platforms: iOS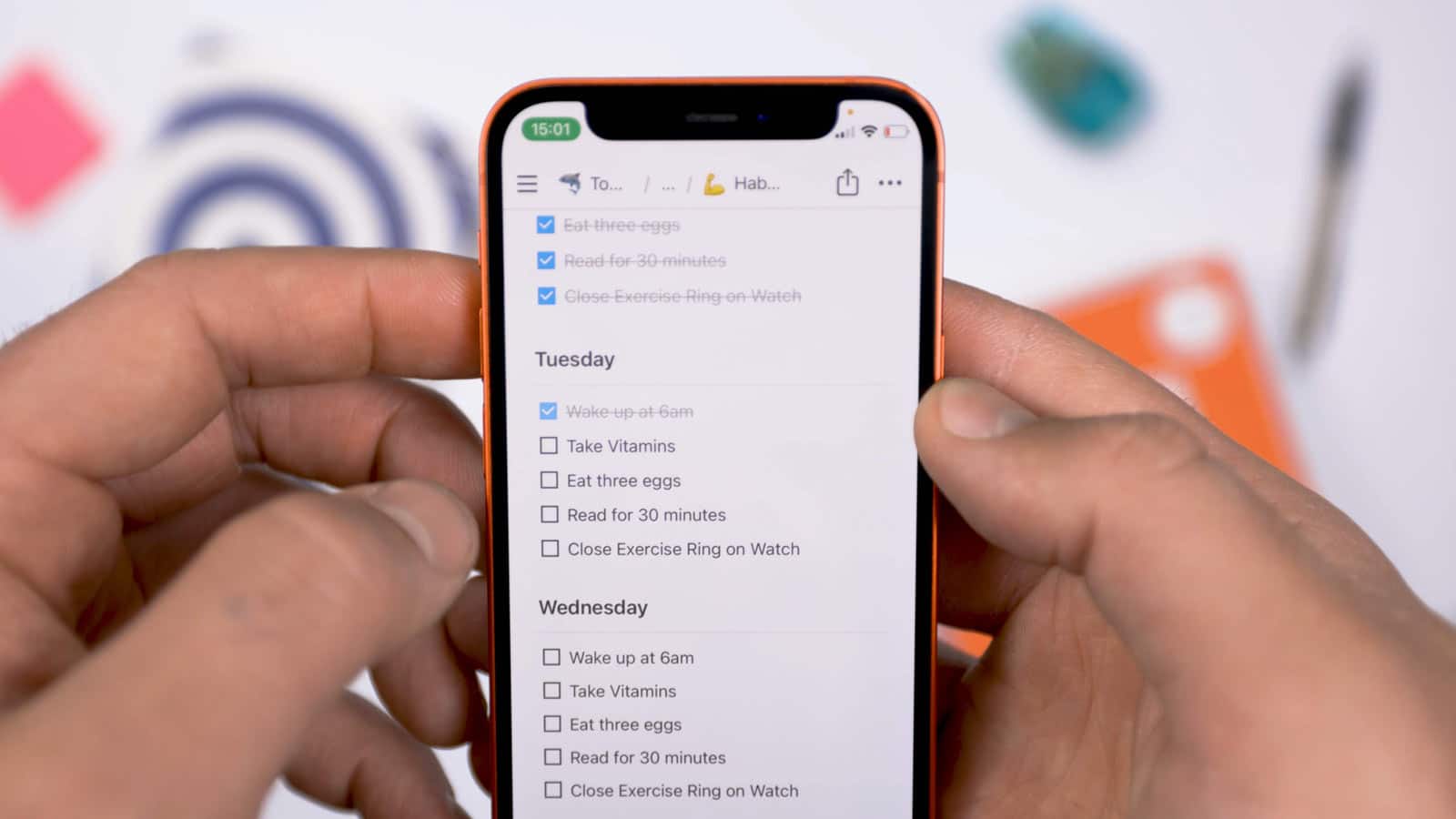 Overview: A highly versatile app, Notion can be a great habit tracker with the right template.
Notion is one of our favorite tools for taking notes, managing projects, and keeping track of personal tasks. But with the right template, it can also work as a habit tracker on desktop and mobile.
Our Notion habit tracker focuses on simplicity.mThere are no difficulty ratings, no streaks, and no fancy UI. Instead, you'll find a simple checklist for tracking your habit progress each week: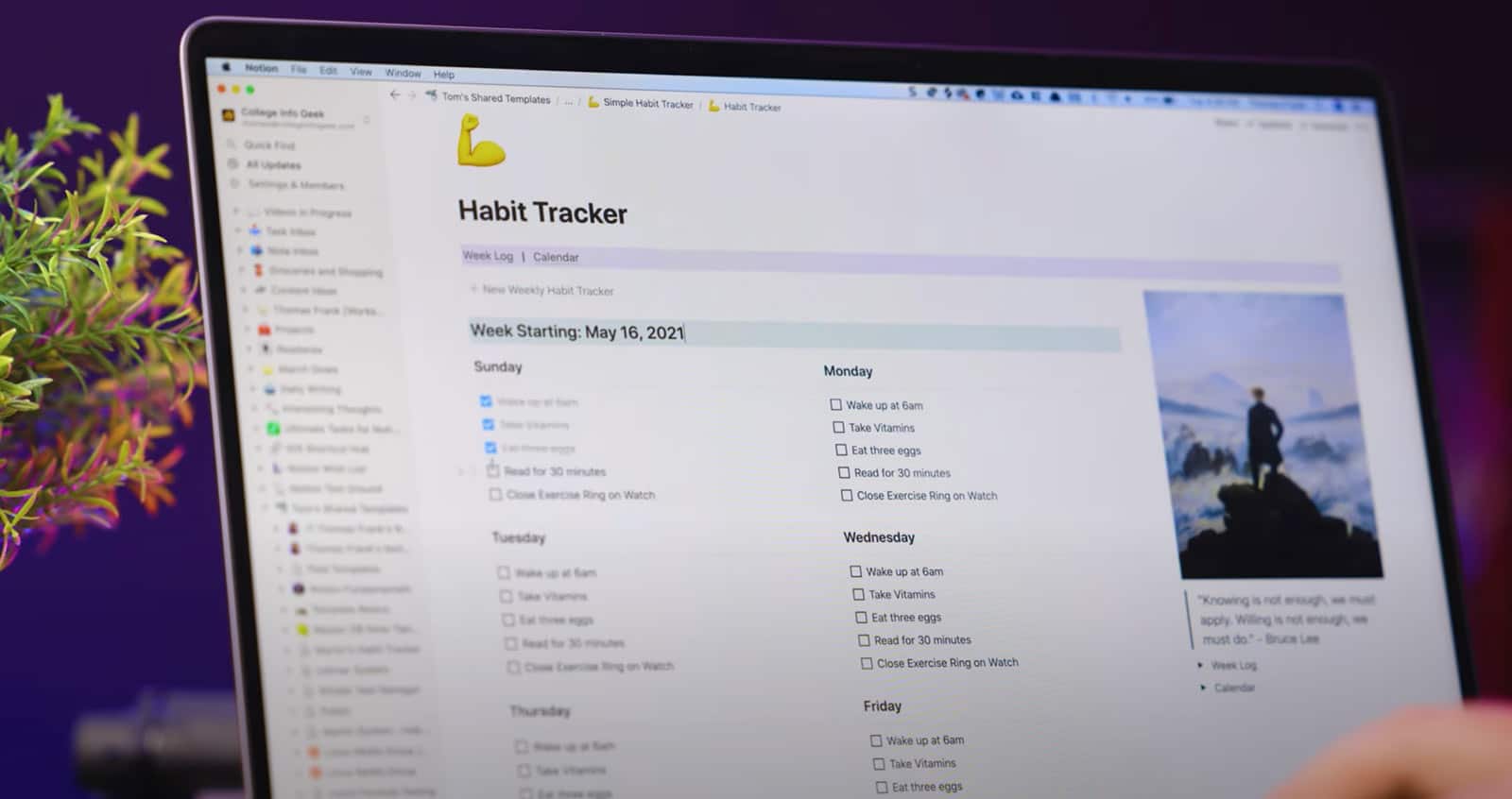 In addition to a place to check off your habits, this template also contains a section for weekly reflection on your progress. Here, you can make notes of what went well and what you'd like to change in the future.
If you find all the bells and whistles of other habit tracking apps overwhelming, you should give this template a try. Learn more below:
Habit Tracker Template for Notion
With this minimalist habit tracker template, you'll be able to create a weekly habit tracking sheet that you can use to track your goals and build positive habits. No complex features, no points systems – just an easy-to-use habit tracker that works perfectly on your computer or phone.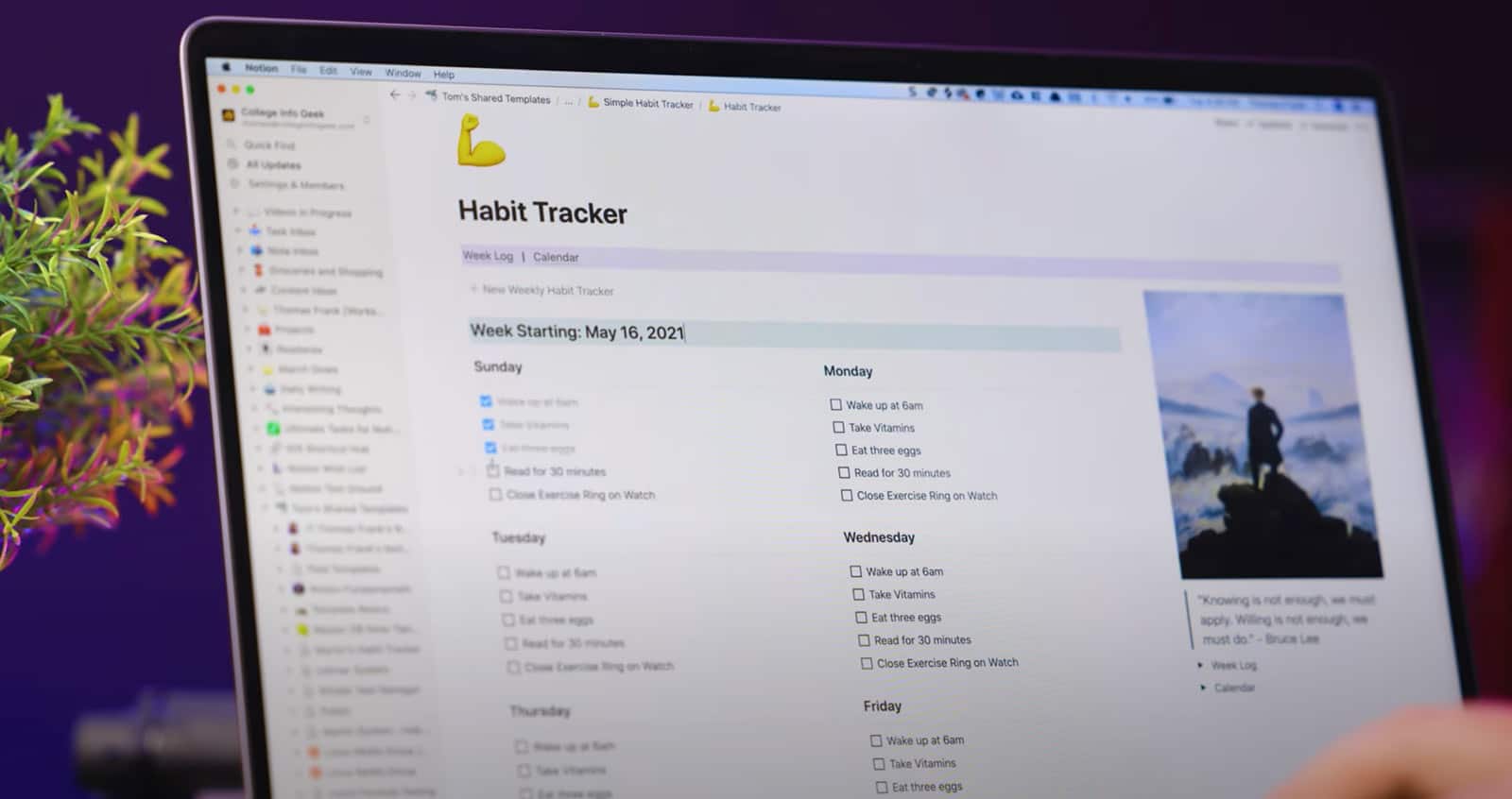 We earn a commission if you click this link and make a purchase at no additional cost to you.
Price: Free
Platforms: Android, iOS, Mac, Windows, Web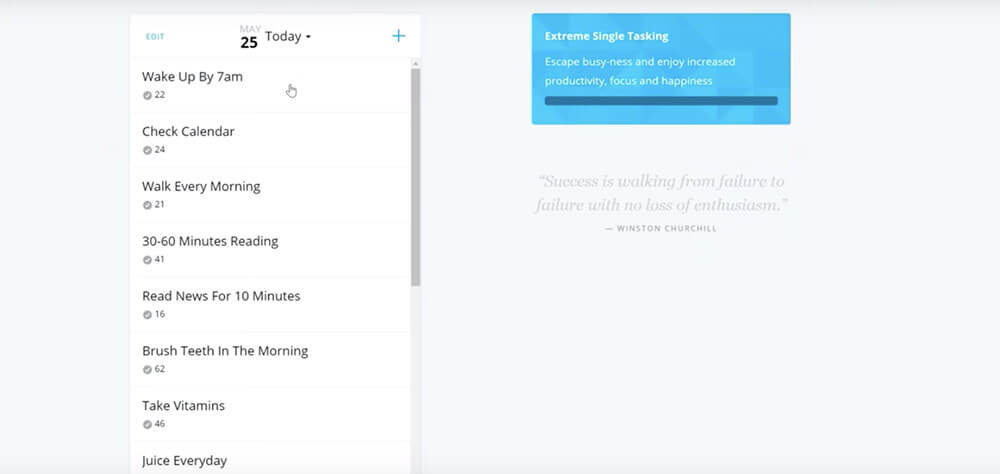 Overview: A habit tracking app that gives you access to professional coaches and a supportive community.
Tracking your habits is an effective way to form new ones, but sometimes you need some extra motivation. If you don't want to go it alone, then Coach.me is the app for you.
At its core, Coach.me is a capable habit tracker that lets you check off your habits as you do them. The real value, however, lies in the community and coaching aspects of the app.
Let's start with the community features. For any common habit you add to your list, there's likely a discussion thread where you can connect with other Coach.me users. Here, you can share ideas about how to do the habit effectively, as well as get support and encouragement when you're struggling.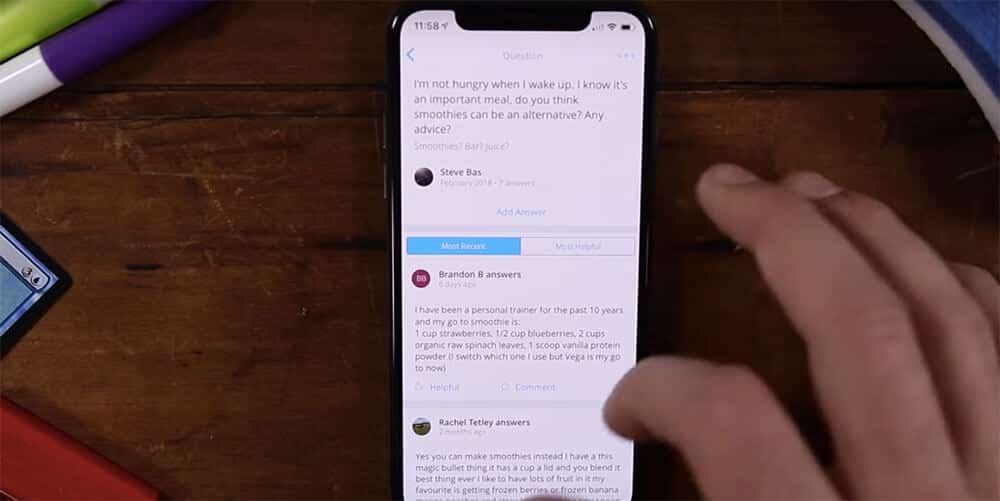 If you want more personalized support, you can visit the "Coaching" section of the app. Here, you can get affordable coaching for any habit you want. Your coach will check in with you regularly to ensure you're keeping up with your habit. If you're having trouble, they can provide you with ideas for getting back on track.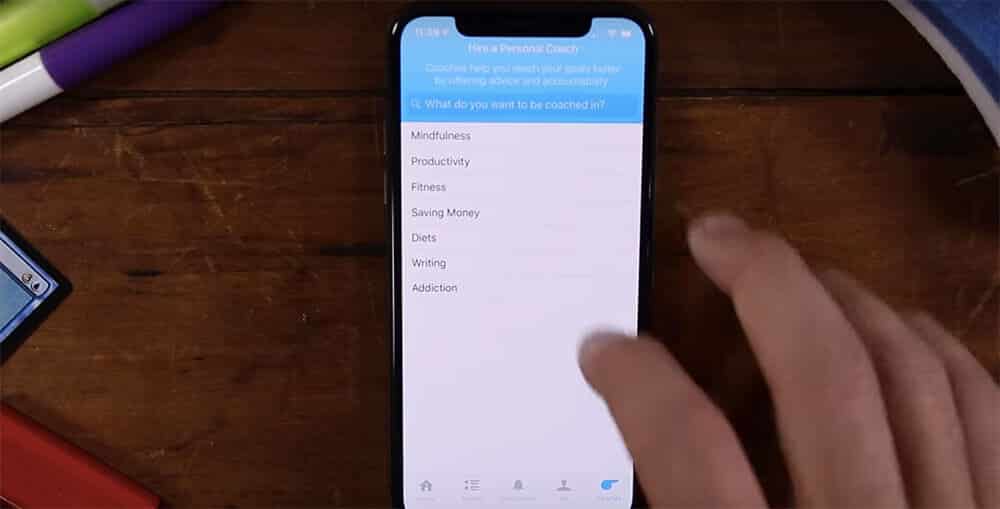 Price: Free for habit tracking, $20/week (and up) to hire a coach
Platforms: Android, iOS, Web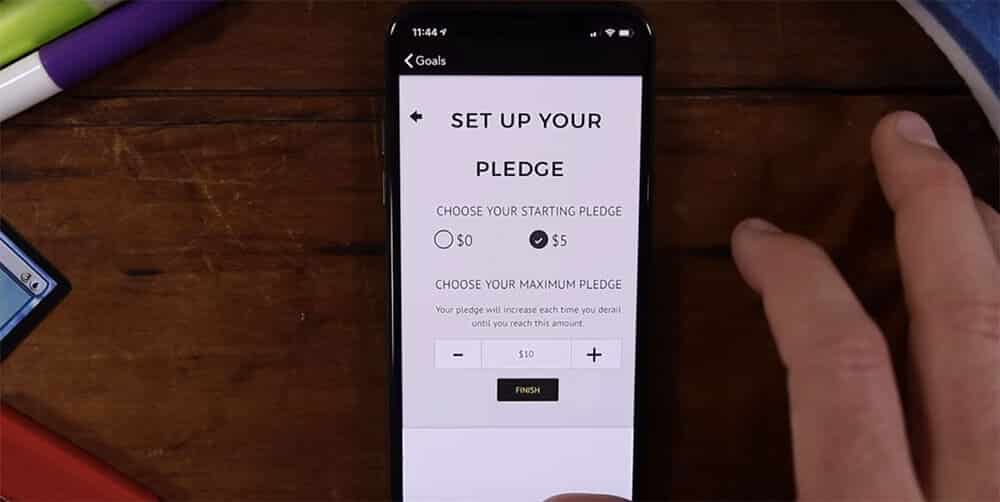 Overview: An app that makes you pay (literally) if you don't stick to your habits.
Sometimes, keeping track of your progress isn't enough to ensure you do your habits. If you want to add some extra "sting," then Beeminder is the app to get. It lets you put real money on the line; if you fail to do a habit, the app will charge your credit card (and the amount they charge will increase each time you fail).
This won't be motivating for everyone. But if you're the sort of person who performs best when the stakes are high, you'll love Beeminder. And in addition to the financial incentives, Beeminder will also show you a huge amount of data about your habits.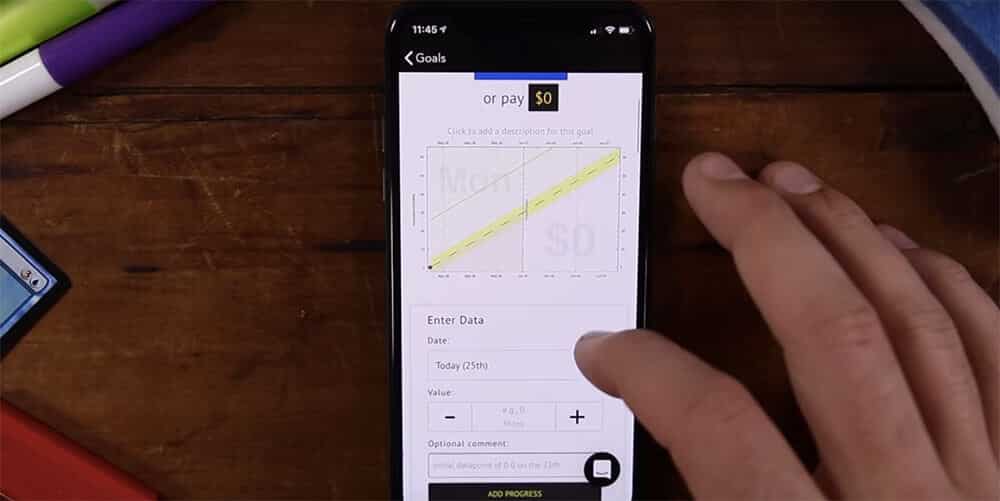 Finally, Beeminder can pull in data from dozens of different apps, making it simple to track your progress on just about anything.
Want Beeminder to charge you if you don't take a certain number of steps per day? Connect it to Apple Health (or a variety of other quantified self apps). Want to make a certain number of Github commits per day? Beeminder can track that, too.

And if the built-in app integrations aren't enough, you can also connect Beeminder to IFTTT, letting you track basically anything you can think of.
Price: Free, Premium version for $8 – $32 /month (depending on the plan)
Platforms: Android, iOS, Web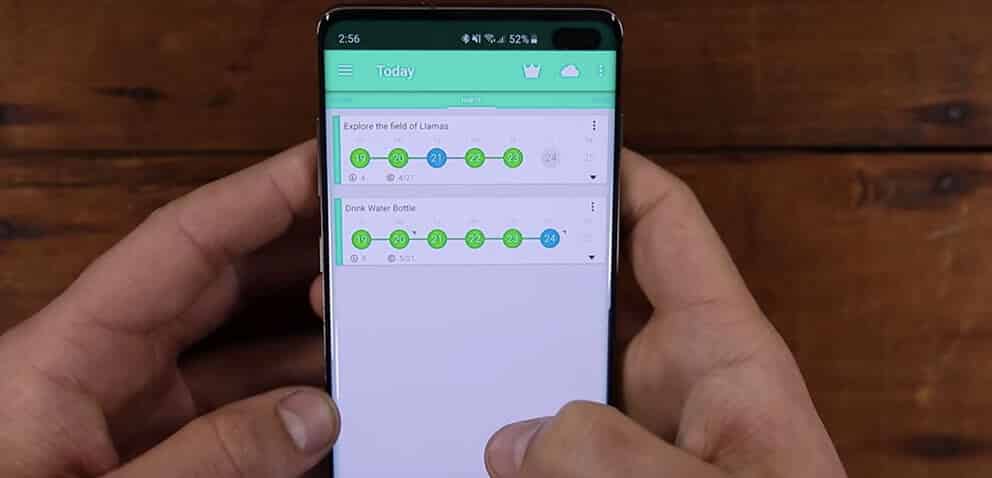 Overview: A straightforward habit tracking app with some distinctive features.
Our next pick is HabitHub, a habit tracking app that lets you visualize your habit streaks as literal "chains." In addition to the app's nice design, it also has some notable features we haven't seen in many other habit tracking apps.
To start, HabitHub lets you set goals for your habit streaks. This can be very useful if you're doing a 30-day challenge, such as "Floss every night for 30 days."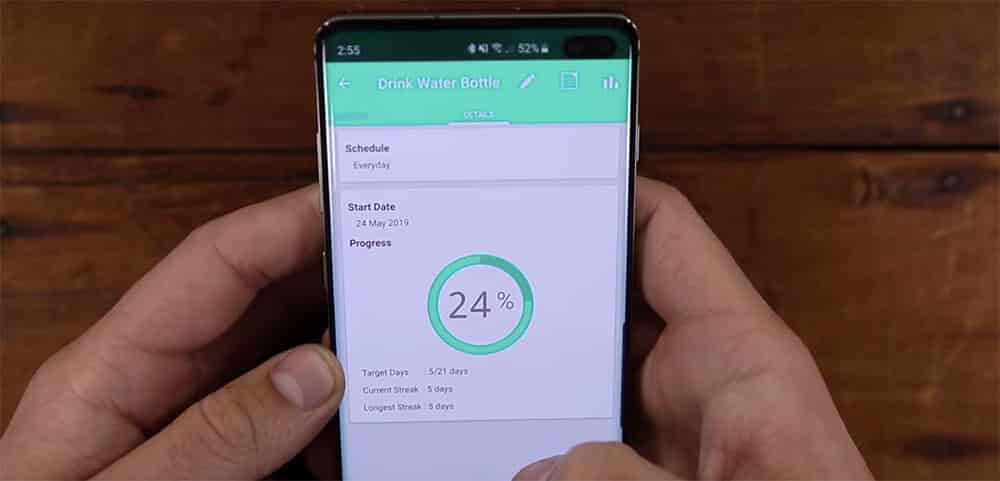 Furthermore, HabitHub lets you mark habits as "Skipped." This is useful if you're sick, on a business trip, or even on vacation and want to continue to track your habits even if you can't complete them.
Price: Free, Premium version for a one-time payment of $5.99
Platforms: Android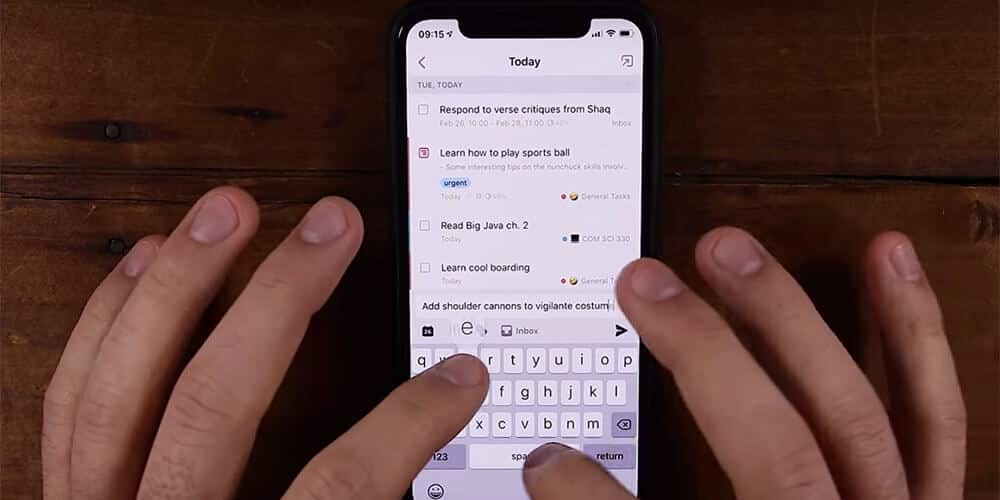 Overview: An app that combines a to-do list with a habit tracker.
TickTick isn't a habit tracker per se. Rather, it's a full to-do list app that includes habit tracking features.
If you've used the task management app Todoist, then the design of TickTick will look familiar. And that's fine by us, as we love how easy Todoist makes it to manage tasks.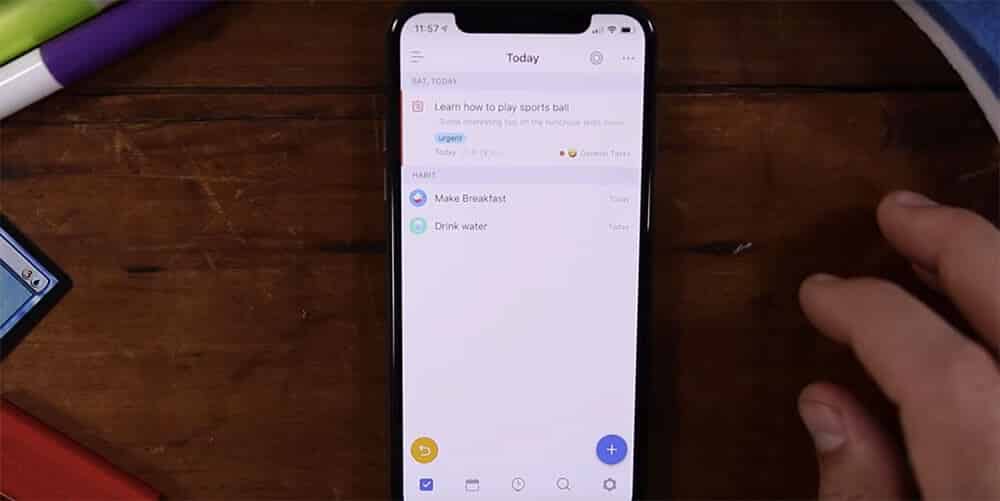 The actual habit tracking features of TickTick are basic, but this is an excellent app to get if you want one tool for tracking both your to-do list and your habits. Plus, TickTick runs on almost any device/platform you can think of, even including support for Apple Watch.
Price: Free, Premium version for $2.79/month. Students and educators can get 25% off a year of TickTick Premium using this link.
Platforms: Android, iOS, Mac, Windows, Web, Chrome, Firefox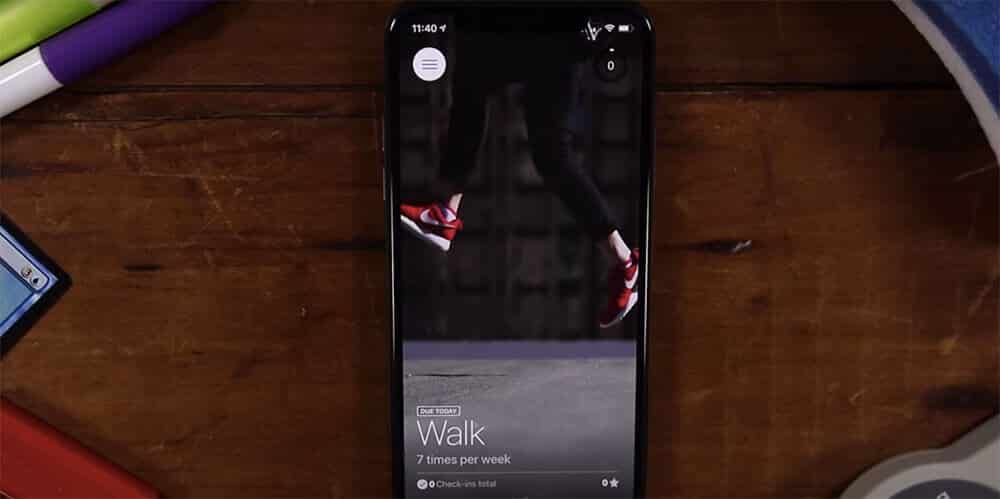 Overview: A habit tracking app that blends useful features with a gorgeous design.
If you looked up "aesthetic" in the dictionary, you'd likely see a screenshot of Today. This iOS-only app is gorgeous, easily the most beautiful app on this list.
Beneath the surface, however, Today is still a very useful habit tracking app, with all of the standard features for creating and checking off habits each day.
Notably, Today lets you set custom cover images for each of your habits, which can be useful if you want a reminder of the change you're working towards.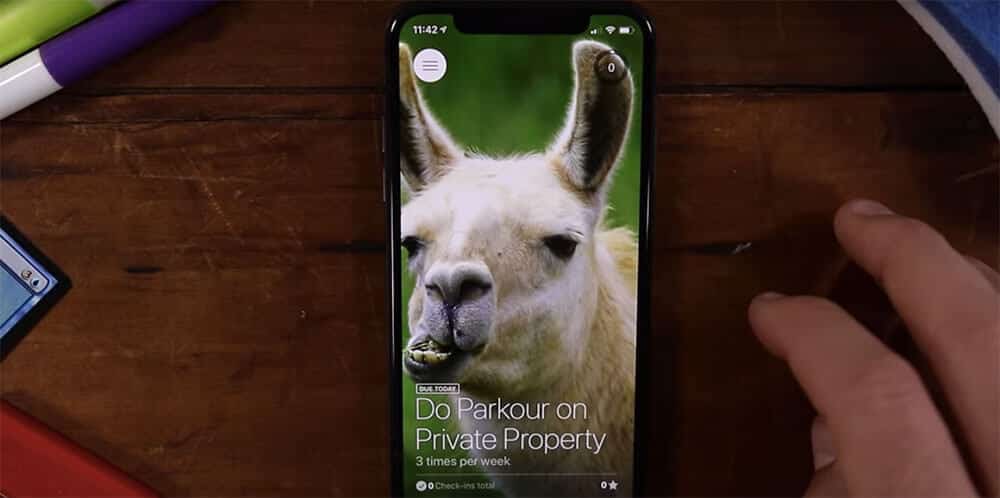 Plus, you can add "Custom Cards" to your habits, giving you extra context on your progress. For instance, if you had a habit of walking 10,000 steps a day, you could add a card with your Apple Health data. You can't use data from external apps like you can with Beeminder, but this extra context is still a handy feature.
Price: Free, Premium version for $1.99/month
Platforms: iOS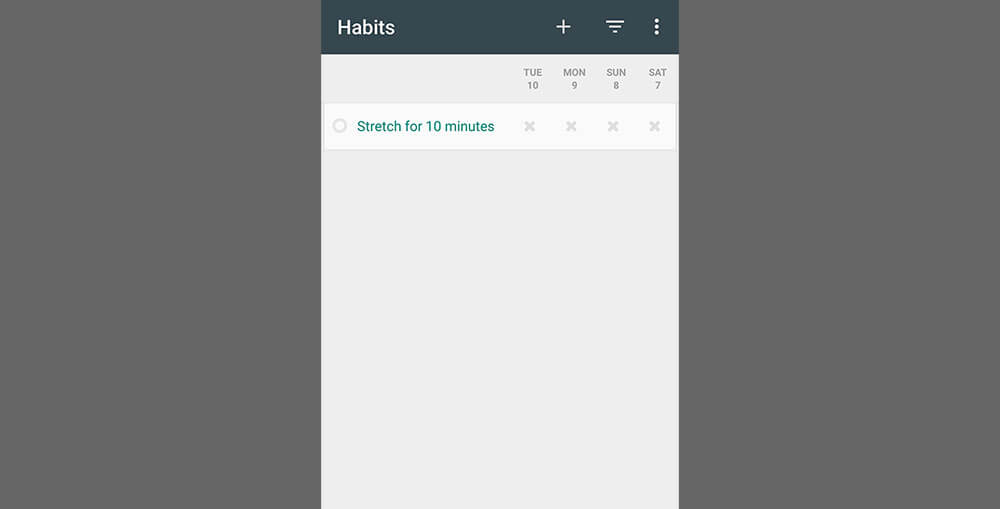 Overview: A minimalistic, open-source habit tracking app for Android.
Loop has all the standard habit tracking features you'd expect, including graphs of your progress and the ability to set reminders for your habits. It also supports a variety of habit schedules, letting you set a habit to recur every day, week, or even month.
One of the most notable features of Loop is its "Habit Score." This score represents the number of times you've done a habit. If you miss a few days after a long streak, your score will decrease, but it won't just go back to zero. This is a useful tool for sticking with a habit even when life gets in the way.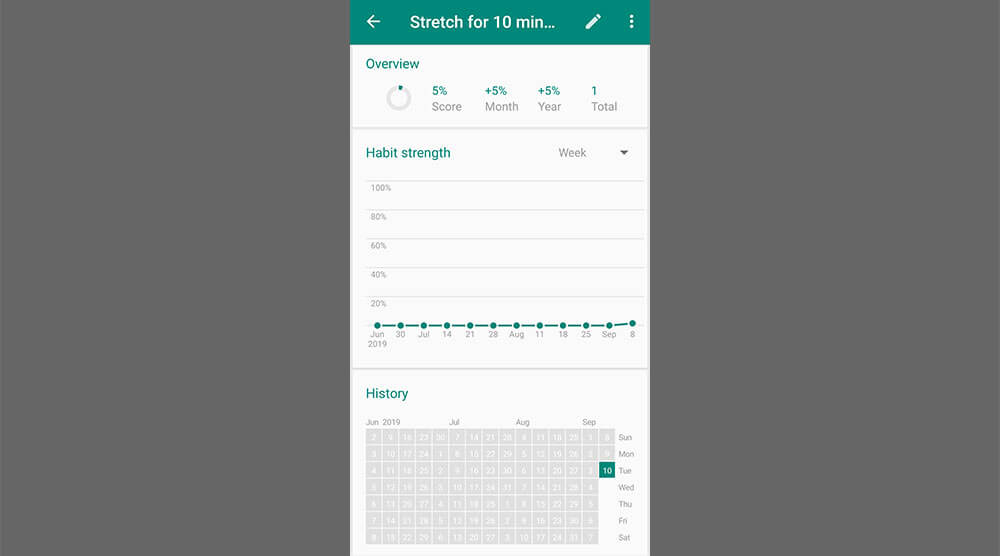 Finally, Loop is optimized to work with Android Wear watches, letting you check or dismiss reminders without having to pick up your phone. And since the app is open source, it's completely free of ads.
Price: Free (and open source!)
Platforms: Android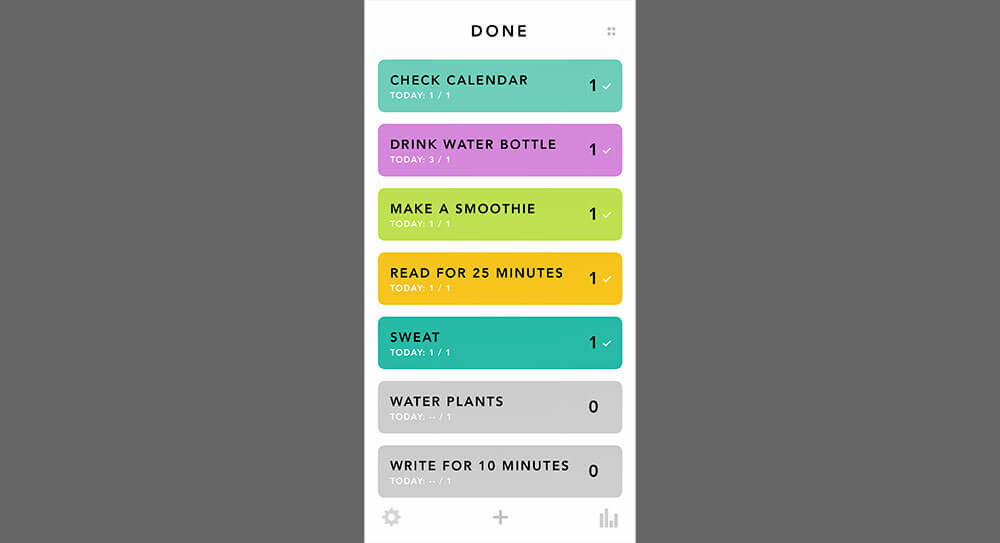 Overview: A solid habit tracking app with helpful organization features.
Done is a slick, simple habit tracker for iOS. The app includes tracking for both habits you want to build and quit, making it useful whether you're trying to eat more vegetables or less junk food.
The app's fun, colorful interface lets you set and track goals on a daily, weekly, and monthly basis. You can also set a goal to do a habit multiple times a day, which is useful for things like drinking water or stretching.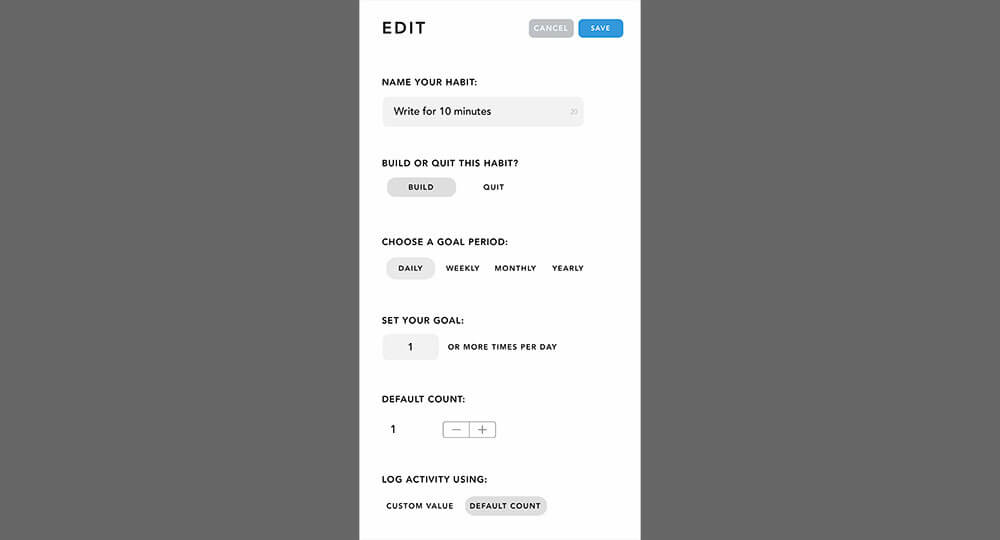 Finally, Done has some fun features to keep you motivated. Each habit has a "daily journal" where you can take notes about your progress. And the app lets you group habits into categories for easier navigation. So, for instance, you could have "Health" habits, "Work" habits, and "Exercise" habits (or whatever categories make sense to you).
Price: Free
Platforms: iOS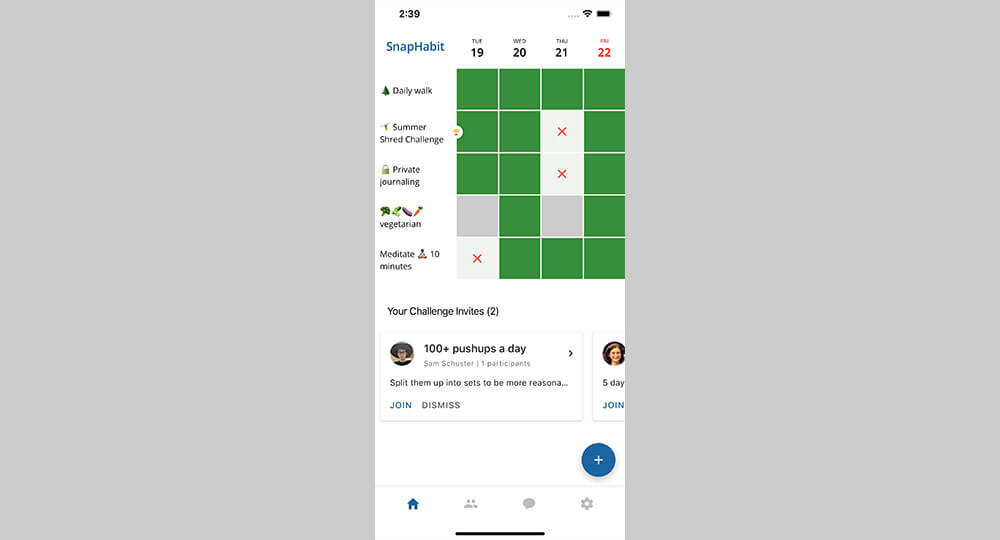 Overview: A media-rich, community-oriented app for tracking habits publicly and privately.
If you like the group accountability features of Habitica but aren't so keen on RPGs, then you should look into SnapHabit.
The app has all the standard habit tracking features you'd expect. You can set habits as daily, weekly, or for specific days. And each time you log a habit, you have the chance to write a brief note and add a photo to track your progress.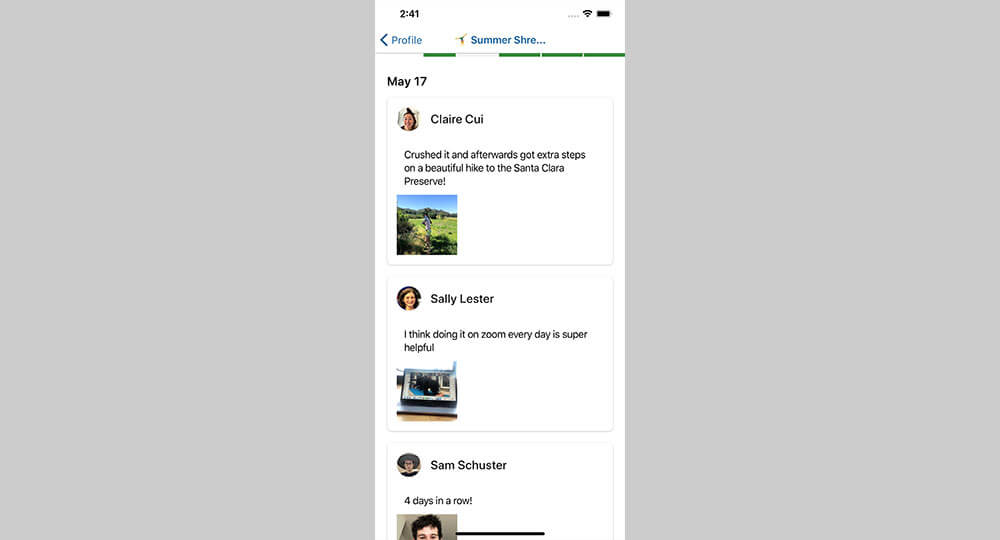 Where SnapHabit shines, however, is in its group accountability features. You can create group habits and then invite friends or family members to join you. This lets you share your progress and hold each other accountable.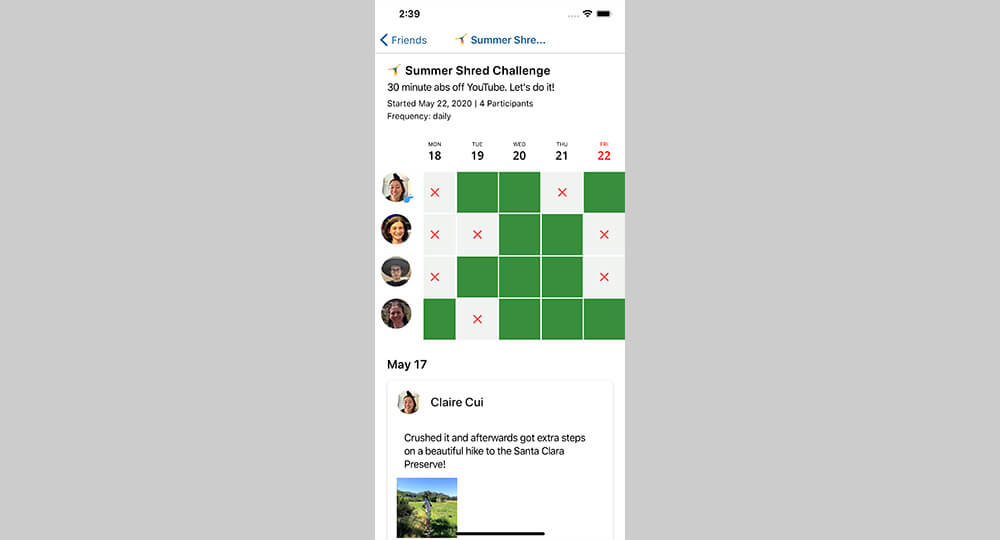 While the app will let you track any habit you want, it also has many built-in habits (called "Journeys") with preset instructions. This can be helpful for tracking common habits such as "Drink more water" or "Go to the gym."
Price: Free
Platforms: Android, iOS
Start Tracking Your Habits Today
We hope you found an app on this list to help you build good habits and break bad ones. Ultimately, tracking your habits in any form will make all the difference. This is true whether you use one of the apps on this list or a system that you create.
Remember not to get bogged down in the details of choosing the "perfect habit tracker." Instead, focus on what really matters: building good habits.
If you want to learn more about the actual process of building and changing habits, I recommend taking our free, comprehensive course:
Take My Free Class on Mastering Habits
Building habits isn't just about discipline; there are real-world steps you can take to set yourself up for success! In this course, you'll learn how to set realistic goals, handle failure without giving up, and get going on the habits you want in your life.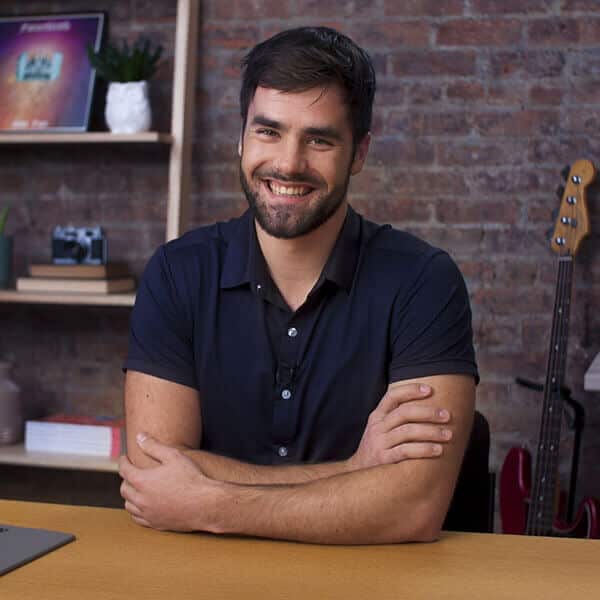 We earn a commission if you click this link and make a purchase at no additional cost to you.