Cloud-based storage has changed the way we work with files. You can now store large amounts of data for free (or very cheap) using one of the many cloud storage services available. No worries about accidentally deleting a file, your computer crashing, or your hard drive running out of space.
With the explosion of cloud service technology, however, has come a corresponding explosion in the number of cloud storage apps. And since they all offer more or less the same service, it can be challenging to choose the best one for your needs.
To simplify your choice, we've put together this list of the best cloud storage apps currently on the market. Whether you need to store photos, email, or even videos, there's an app for you on this list.
Overview: Offering abundant free storage, Drive is best for customers who extensively use other Google apps.
While there are many excellent apps on this list, Google Drive remains our top cloud storage pick for most people. You get 15 GB of storage for free with your Google account, which is more than any other app on this list offers without charging you.
Of course, that 15 GB number can be misleading. It includes not only files that you upload to Google Drive, but also everything stored in your Gmail, Google Photos, and other Google apps such as Docs. Still, 15 GB is enough for most people.
Should you need more storage, Google will happily provide it for a small fee. For $19.99/year, you can upgrade to 100 GB of storage via Google One. Google One is the term for Google's paid consumer cloud storage plans. In addition to the increased storage, Google One plans also let you share your storage with up to 5 family members at no extra cost.
Beyond the actual cloud storage, Google One membership also includes some unique benefits such as special pricing on hotels booked through Google and up to 10% back in store credit for devices and accessories purchased through the Google Store. You'll also get 24/7 expert support, something Google used to offer only to Google Workspace (formerly G Suite) customers.
Note: Google Workspace customers also get additional cloud storage in Google Drive, but this is a separate product from Google One. If you're looking to use Google cloud storage for your business, check out the different Google Workspace plans.
Price: Free for up to 15 GB. Paid plans start at $19.99/year for 100 GB.
Platforms: Android, iOS, Web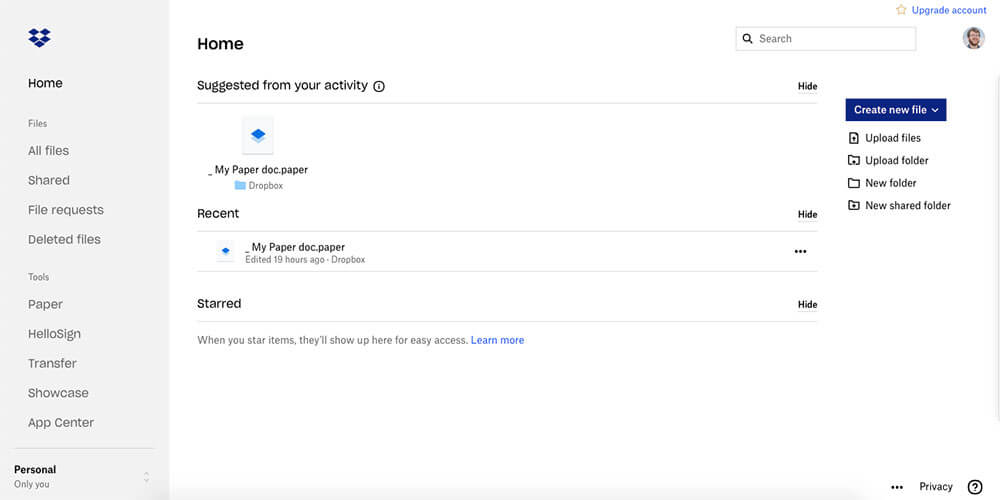 Overview: An easy-to-use cloud storage service with extensive 3rd-party app integrations.
Dropbox is a household name in cloud storage, and for good reason. Unlike Google Drive with its host of associated apps, Dropbox keeps the focus on file storage and navigation.
Dropbox handles this storage and navigation with a well-designed interface. When you sign in, the app presents you with an uncluttered list of your most recent files. From there, finding the file you need is intuitive.
To complement its file storage features, Dropbox includes several handy apps. First is Dropbox Paper, which offers a writing experience to rival many standalone apps. In addition, you can securely sign documents with the built-in HelloSign app. And due to Dropbox's prominence, it integrates with just about any app you can imagine.
The only downside of Dropbox is that its free plan is fairly limited, offering just 2 GB of storage for one user. This is substantially lower than the free plans for most of the apps on this list.
Plus, when you start paying for storage, the minimum amount you can purchase is 2 TB for $9.99/month (billed annually). For many people, this will be too much storage. And even for those who need such a large volume, other apps such as Google Drive, Sync, and IDrive offer more competitive pricing.
Price: Free for up to 2 GB. Paid plans start at $9.99/month (billed annually) for 2 TB.
Platforms: Android, iOS, Linux, Mac, Windows, Web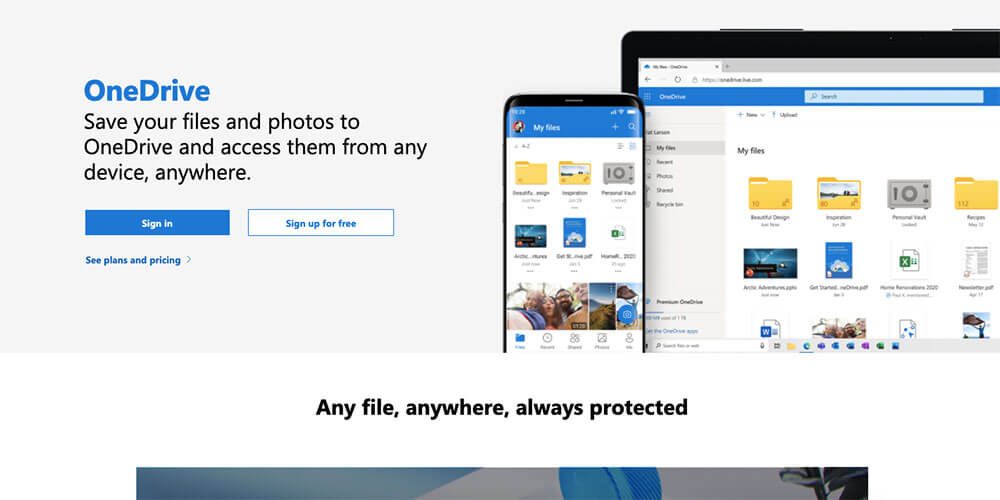 Overview: The best cloud storage app for Microsoft 365 users.
If you use Microsoft apps for school or work, then you're probably familiar with OneDrive. This cloud storage solution offers 5 GB of space for free. And if you need a bit more space, you can upgrade to OneDrive Standalone and get 100 GB for $1.99/month.
To get higher storage limits, you'll need to upgrade to a Microsoft 365 plan. The Personal plan gets you 1 TB of storage, plus access to apps like Outlook, Word, Excel, and PowerPoint. A Family plan is also available, giving you everything in the Personal plan plus 6 TB of storage to share (1 TB per user, max).
As you can see, Microsoft has set up OneDrive to incentivize you to use Microsoft 365. This makes sense from a business perspective, but it also makes sense for consumers.
After all, the true power of OneDrive comes from its deep integration with apps like Word and Outlook. So if you're not planning to use primarily Microsoft apps, then OneDrive probably isn't the best storage solution for you.
Price: Free for up to 5 GB. Paid plans start at $1.99/month for 100 GB.
Platforms: Android, iOS, Windows, Web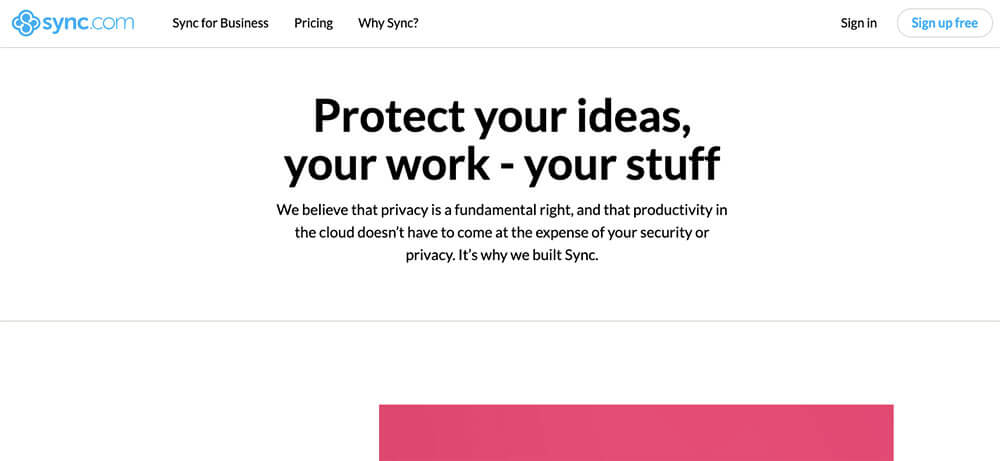 Overview: A cloud storage app focused on security and privacy.
In terms of storage capacity, Sync's offerings are respectable. Their free plan gets you 5 GB of storage, and you can upgrade to 200 GB for just $60/year.
The real appeal of Sync isn't its storage, however. Instead, it's the app's focus on security and privacy compliance. Most of their paid plans include end-to-end encryption, ensuring that third parties can't intercept and read your data while you're accessing your files.
Beyond this, Sync is compliant with a wide variety of common privacy standards, including HIPAA, GDPR, and PIPEDA. If these are a concern for you or your organization's work, then you should definitely look into Sync.
Price: Free for up to 5 GB of storage. Paid plans start at $60/year for 200 GB.
Platforms: Android, iOS, Mac, Windows, Web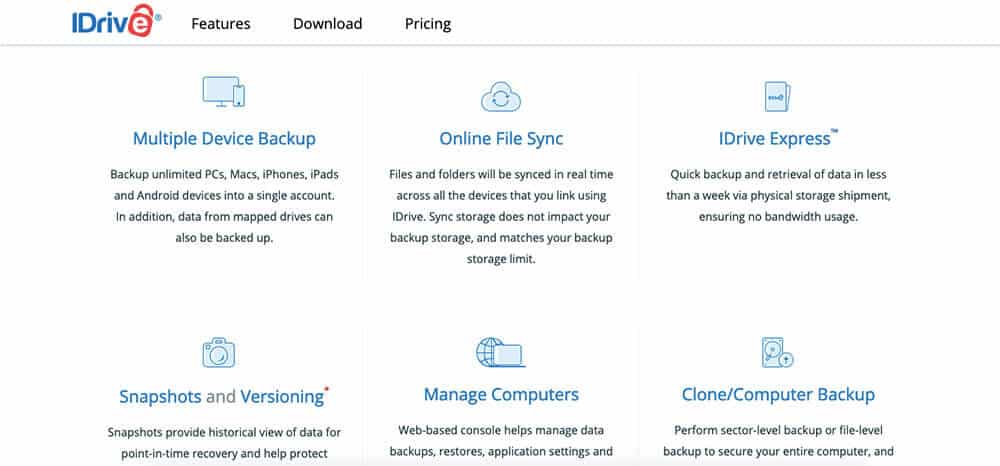 Overview: If you want the most storage for the least money, you can't go wrong with IDrive.
Lots of the cloud storage services on this list differentiate themselves using built-in apps or fancy organization features. But let's say your top priority is getting the maximum amount of storage for the lowest price. In that case, check out IDrive.
For just $69.50/year, you can get a massive 5 TB of storage. If that isn't enough, upgrade to 10 TB for just $99.50/year.
None of the other apps on this list even come close to such competitive pricing. Particularly if you're a photographer, videographer, or in another field that requires you to archive large files, IDrive is a great choice.
Price: Free for up to 5 GB. Upgrade to 5 TB for just $69.50/year.
Platforms: Android, iOS, Linux, Mac, Windows, Web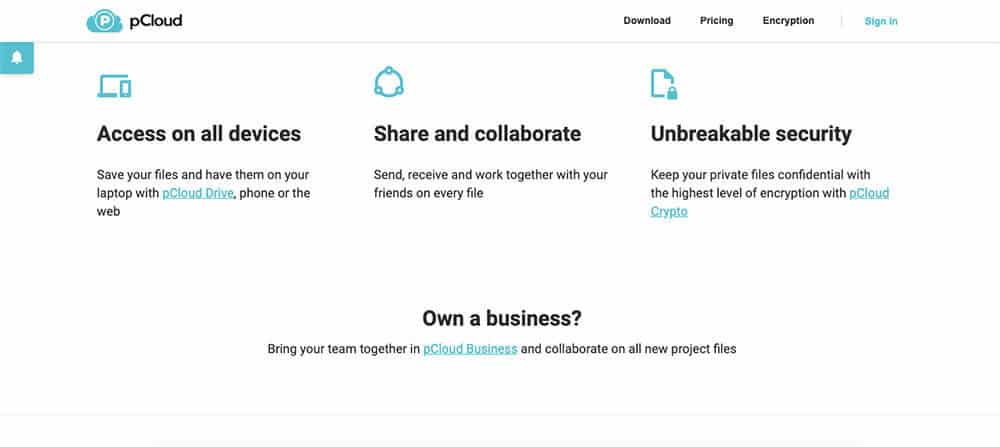 Overview: This cloud storage app lets you pay once to get a lifetime of storage.
Just about every app these days seems to charge a recurring monthly or yearly fee. Therefore, it's refreshing to find an app that still offers flat-rate pricing. This is especially rare in the world of cloud storage, which is what makes pCloud so unique.
For a flat fee of $175, pCloud will give you 500 GB of storage for life. Need more? 2 TB of lifetime storage is just $350. And if you prefer to pay monthly or yearly, pCloud offers subscription plans as well.
What's more, you can set pCloud to back up your data from Dropbox, OneDrive, and Google Drive. This allows you to continue using your favorite work apps while still benefiting from pCloud's competitive pricing.
Price: 500 GB of storage starts at $47.88/year, though you can save when you pay for a lifetime plan.
Platforms: Android, iOS, Linux, Mac, Windows, Web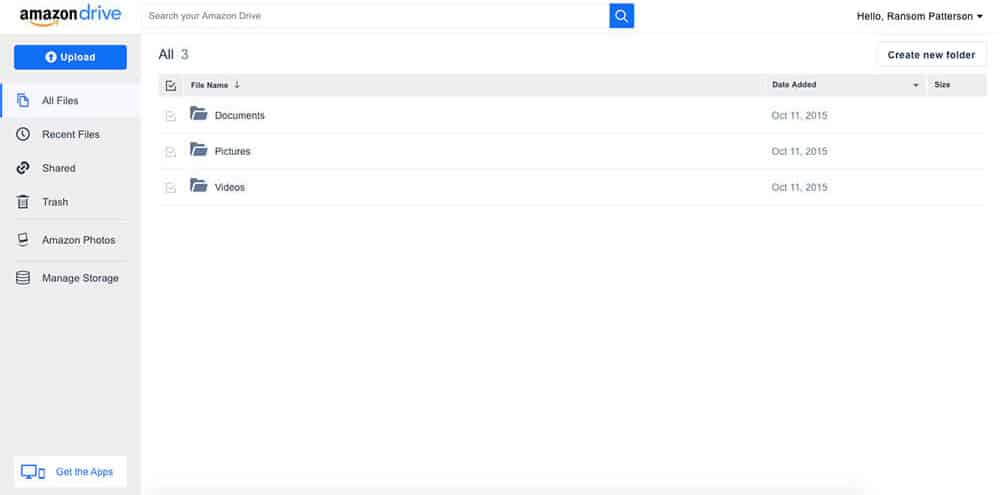 Overview: A photo and file storage app for Amazon customers.
If you have an Amazon account, then you already have access to Amazon Drive. The app gives 5 GB of free storage to every Amazon customer, regardless of whether you're a Prime member.
But if you are a Prime member, you also get unlimited full-res photo storage via Amazon Photos (learn more about the differences between Amazon Drive and Amazon Photos).
For customers who want to store more files, you can upgrade to 100 GB of Amazon Drive storage for $1.99/month.
If you only care about storing your photos, however, it's probably a better deal to just buy an Amazon Prime membership (currently $119/year). The paid Amazon Drive plans only make sense if you need to store video, documents, and other common file formats.
Price: All Amazon customers get 5 GB of storage. Paid plans start at $1.99/month for 100 GB.
Platforms: Amazon Fire, Android, iOS, Mac, Windows, Web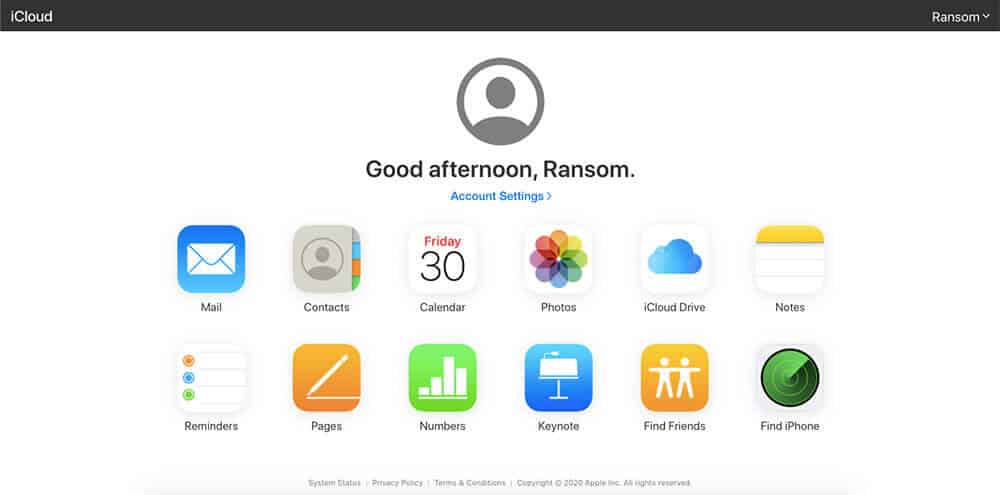 Overview: A cloud storage app for files from your Apple devices.
If you use an Apple device, you're probably familiar with iCloud. The app backs up crucial data such as your iPhone Contacts, photos, and settings. However, you can also set up iCloud Drive to back up folders from your Mac and even upload files manually using iCloud.com.
An iCloud account gets you 5 GB of free storage. If you need more, you can upgrade to 50 GB of storage for just $0.99/month. Apple will automatically alert you when you're reaching your storage limit, so there's no need to track this number closely.
Of course, if you don't use primarily Apple devices, then iCloud Drive won't make a lot of sense. It's best for users who have at least a MacBook and iPhone since you can take full advantage of iCloud's seamless sync across platforms.
Price: Free for up to 5 GB. Paid plans start at $0.99/month for 50 GB.
Platforms: iOS, Mac, Windows, Web
Keep Your Files Safe in the Cloud
Cloud storage apps ensure your files are backed up and available wherever you need them. No matter your budget or desired features, you should now have the right app for your needs.
Cloud storage is most beneficial if you can use it to replace or supplement your physical document storage. To get your paper documents into the cloud as quickly and easily as possible, check out these scanner apps.
Image Credits: server rack closeup