Wouldn't it be great if there were a way to stay fit and learn new things? If you're looking for a way to make your gym time productive for your mind as well as your body, then podcasts are your answer.
In fact, any time you're doing something less than mentally stimulating — driving, walking to class, doing your laundry — you can probably pop in your headphones and listen to a podcast at the same time.
These 40 educational podcasts are all great shows that'll help you learn more, thus adding more productive hours to your day. They might even help keep you entertained on laundry days as well.
I've worked to make this list as comprehensive and diverse as possible. However, if you're not sure where to start and want some recommendations, here's shortcut list to my personal top 8 podcasts for learning new things:
Of course, there are many, many other educational podcasts out there to be discovered. So scroll through the list and see what catches your eye.
Note that in most cases, I've linked directly to each show's website – that way you'll be able to listen to episodes right in your browser and find each podcast's subscription options.
Also, if you want even more stuff to listen to, you might want to check out our list of the 50+ best audiobooks in 2021.
How to Subscribe to a Podcast
If you want to subscribe to your favorite podcasts and have their episodes delivered to your iPhone, Android phone, or other device whenever they come out, here's how to do it.
First, you'll need a podcast app. If you have an iPhone, you should already have the Podcasts app installed. Android users can use Google Play Music, though there's also a dedicated Google Podcasts app that has extra features.
You can also find most podcasts on Spotify. Other dedicated podcast apps include Pocket Casts (my personal choice), Overcast, Stitcher, and Podcast Addict.
Within your chosen podcast app, simply search for a podcast and hit Subscribe or Follow. Note that your app's settings will determine whether or not episodes are automatically downloaded, whether downloads will require wi-fi, etc.
Alright, let's move onto the list.
History Podcasts
If you're a longtime reader of College Info Geek, you know I'm a huge history nerd. So I had to include just a few history podcasts on the list. Don't worry — these podcasts are a way more interesting than your typical, dry history lecture.
Hardcore History is, in my humble opinion, the best podcast. It's almost unfair to call it a podcast, because each episode of Dan Carlin's brilliant show is on par with an audiobook – both in terms of production value and quality of research. The fact that his most recent episodes have been trending towards five hours in length or more doesn't hurt the comparison either.
Carlin's passionate and varied delivery could make any topic interesting, but he also has a knack for picking some of the most fascinating – the rise and fall of the Mongol empire, the Punic Wars, the Cuban Missile Crisis, or World War II from the oft-overlooked vantage point of the Eastern Front.
There's a reason I've put this show at the #1 spot on this list. If you're just now getting into podcasts, this needs to be in your feed. New episodes sometimes take months to release, but when they do finally come out, they're always worth it.
Episodes to start with:
The Roman empire was one of the greatest to ever exist, spanning multiple continents and a huge diversity of cultures, languages, and beliefs.
If you want to learn more about this epic empire but aren't keen on reading The Decline and Fall of the Roman Empire or other multi-volume, thousand-page history books, you'll find this podcast really useful.
It covers the entire history of Rome from its beginnings as an obscure Italian kingdom to its rise to world domination (and ultimate decline).
Episodes to start with:
Unlike a lot of the other shows on this list, this podcast isn't ongoing. It's more like an epic documentary series in podcast form. In the show, host Tim Harford tells the story of 50 inventions, ideas, and innovations that helped create the economy we know today. Who knew double-entry bookkeeping and barbed wire could be so fascinating?
Episodes to start with:
The Memory palace is "a storytelling podcast and public radio segment about the past." Host Nate DiMeo (formerly of NPR) takes an unconventional approach to history through vignettes and artifacts. The past comes to life in a way unlike in any textbook.
If you want to explore history through short stories and everyday objects, you'll love this show.
Episodes to start with:
Philosophy is a vast and, frankly, sometimes boring topic. At least, that's how it likely was if you took the typical Philosophy 101 class as a freshman. But philosophy doesn't have to be boring. It's the study of knowledge itself, of what it means to be human and how to live in the world (among lots of other important questions).
Like any discipline, philosophy didn't just emerge from nowhere. It's the result of centuries of debate among some of the greatest minds to ever live. In this show, Professor Peter Adamson provides an overview of the ideas, lives and historical context of the major philosophers (as well as lesser known ones). If nothing else, it might help you pass that required Philosophy 101 course.
Episodes to start with:
After listening to the Hardcore History episodes about WWII, I wanted to learn more. So I was excited to discover this podcast by history buff Ray Harris Jr.
It's a serious deep dive into WWII, featuring personal stories from listeners in addition to what's in the history books.
Episodes to start with:
Self-Improvement Podcasts
We want to help you become the best version of yourself possible here at College Info Geek, and these podcasts will put you well on your way. Learn how to teach yourself anything, maximize your energy levels, and be generally awesome at life.
The Tim Ferriss Show is a business podcast unlike any other. Author and entrepreneur Tim Ferriss interviews guests that rarely give interviews, including Arnold Schwarzenegger, Maria Popova, and Rick Rubin. In all of the shows, Tim deconstructs the routines of expert performers in order to give you useful tactics, tools, and routines.
Most of the personal development podcasts out there owe a huge debt to this show (or are straight up copying it). But few have come close to this show's excellence.
Episodes to start with:
Who doesn't want to be healthier? I know it's always been a goal of mine. But the world of health advice is a mess, full of information that's inaccurate at best and harmful at worst. That's why I love this podcast from functional medicine and ancestral health expert Chris Kesser.
The topics are pretty nerdy (eye microbiomes, anyone?), but the advice is sound. Ultimately, the focus is on how you can live a healthier life while preventing disease.
Episodes to start with:
The College Info Geek Podcast is a show dedicated to helping students learn and improve in all areas of life. On this podcast, you'll learn how to study more effectively, be more productive, and become a better job candidate.
We've come a long way since I interviewed my first guest back in 2013. Today, my friend (and developer wizard extraordinaire) Martin Boehme and I co-host the show, answering questions from listeners while always finding time to obsess about the latest hipster teas.
Episodes to start with:
And if you like the College Info Geek Podcast and want even more advice on how to improve your life, check out Thomas's full course on building habits that last:
Take My Free Class on Mastering Habits
Building habits isn't just about discipline; there are real-world steps you can take to set yourself up for success! In this course, you'll learn how to set realistic goals, handle failure without giving up, and get going on the habits you want in your life.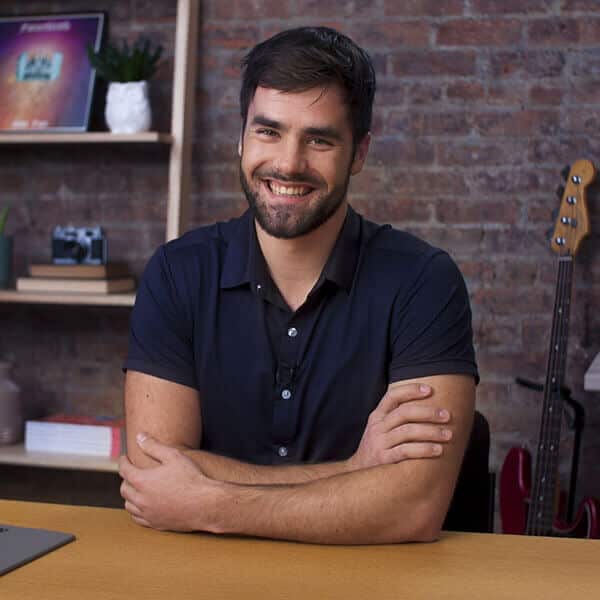 We earn a commission if you click this link and make a purchase at no additional cost to you.
I love TED talks, and I bet there's a good chance that you've watched a few before as well. Most TED talks are just as good in audio form as they are in video, so the TED Talks Daily podcast easily tops the list here.
There are few other places where you'll find such a great variety of awesome, mind-expanding content.
Episodes to start with:
After reading the excellent Harry Potter and the Methods of Rationality, I became intensely interested in topics like rationality, cognitive science, and heuristics. I also started following several people in those circles – one of them being Julia Galef, the co-founder of the Center for Applied Rationality.
In the Rationally Speaking podcast, Galef and her guests tackle topics like utilitarianism, heuristics and biases, and why people should learn to be rational in the first place.
Episodes to start with:
You're probably confident in a lot of things that either have no rational basis or are just plain wrong. Not convinced? Have a listen to this podcast from David McRaney, and you may just change your mind.
This show explores issues like overconfidence and irrationality, issues that are fundamentally human yet detrimental to our learning, progress, and well-being in many situations. It makes a nice complement to Rationally Speaking.
Episodes to start with:
In this podcast, retired Navy SEAL officer and leadership instructor Jocko Willink interviews elite leaders and performers. You'll learn how to perform under pressure, lead with confidence, and work as part of a winning team.
If you're into military strategy and history, you'll also find this one interesting, as many of the lessons Jocko teaches are based on books by military leaders of the past.
Episodes to start with:
I love interviews with fascinating people, and that's exactly what you get in this podcast. Shane Parrish (founder of the blog Farnam Street) interviews remarkable people about the frameworks and mental models that they use to do their best work and live their best lives.
Past guests have included well-known figures such as Gary Taubes, Susan Cain, and Ed Latimore, as well as a professional sommelier and the CEO of payment processing company Stripe. Shane doesn't release new episodes on a regular schedule, but when he does, it's always worth a listen.
Episodes to start with:
The Jordan Harbinger Show interviews top performers across a wide variety of fields and deconstructs what makes them so successful.
The breadth of guests on this show is quite impressive. Jordan interviews academics and entrepreneurs as you might expect, but he also talks to poets, musicians, comedians, and all kinds of fascinating people you've never heard of.
Episodes to start with:
Noah Kagan is the founder of businesses such as SumoMe and AppSumo. Before that, he was an early employee at Facebook and Mint. Needless to say, he knows a lot about what it takes to start and scale a company.
In this show, he interviews founders and top performers in industries as diverse as mountain biking, solo travel, and producing Kendrick Lamar. It's a great podcast to listen to for inspiration while starting or growing your own business.
Episodes to start with:
Money Podcasts
One of our priorities here at College Info Geek is helping you manage your money. These podcasts will help you destroy your debt, build wealth, and understand how money works.
If you've ever gone through the Start Here! page at CIG, you'll know that one of my main focuses involves helping you to pay off your student loans, avoid more debt, and generally become financially free.
If you want a whole podcast dedicated to those topics, plus advice on renting vs buying a home, the basics of investing, and how to make extra money on the side, you should check out Listen Money Matters (LMM). I was a huge fan of the show back when I was a student, and I eventually stepped in as co-host after creative differences between the show's founders, Andrew and Matt.
Now, however, Matt and Andrew are reunited as co-hosts (since I need more time to work on growing this site). I'm excited to see where they take the show in the future.
Episodes to start with:
Want to make sure you'll have enough money to retire? I know that may seem like a remote concern if you're still a student struggling to pass Econ 101, but it's never too early to start thinking about your financial future.
That's where this podcast comes in. Former financial manager David Stein will help you take control of your finances and manage your own investment portfolio. He explains how topics like inflation, trade wars, and even electric cars can affect your personal finances. This is not your average, spammy investment podcast.
Episodes to start with:
Ever wonder how billionaires got to be so rich? Wonder what investing lessons you can learn from them? That's what The Investors Podcast explores through a mix of interviews and analysis.
This is on the more advanced side of investing, so if you're new to the topic I'd recommend starting with Listen Money Matters or Money for the Rest of Us. But once you've gotten some more knowledge and experience under your belt, you'll find this show valuable and enlightening.
Episodes to start with:
Economics is one of those topics that can seem so remote from our daily experience that it's not even worth studying. This isn't the case, however. Economics is a crucially important topic, affecting where we live, how we work, and what we eat.
In this podcast, economics research fellow Russ Roberts interviews professional economists about the economics that shape our lives.
Episodes to start with:
In addition to co-hosting the Listen Money Matters podcast, my friend Matt Giovanisci also has his own show. Unlike a lot of business podcasts, which focus on how to start a business, Money Lab discusses all the challenges that come from being a full-time entrepreneur in the thick of it.
Through Matt's conversations with his friend and fellow entrepreneur Andrew Fiebert, you'll learn about topics like managing mental health while working for yourself, how to sell websites, and what it's like to give advice online for a living. It's definitely more specialized than a lot of the podcasts on this list, but Matt's brash, humorous style makes it a fun listen.
Episodes to start with:
Arts, Culture, & Society Podcasts
The world is vast, mystifying, and beautiful. At least, that's my impression after listening to these podcasts. These shows will give you your daily culture fix, while also showing you the amazing art that people have created.
Even if you're not familiar with how podcasts work, there's a good chance that you've heard of Radiolab before. One of the most popular podcasts in the world, Radiolab is a "show about curiosity".
The founders tackle topics ranging from brain injuries to the story of Henrietta Lacks. Each episode is masterfully produced and features tons of different voices – topical experts, subjects of the interviews, and more. This is one of those shows that makes people mad simply because they can't produce episodes fast enough.
Episodes to start with:
"Ever wonder how inflatable men came to be regular fixtures at used car lots? Curious about the origin of the fortune cookie? Want to know why Sigmund Freud opted for a couch over an armchair?"
These are the sorts of questions this show about "the unnoticed architecture and design that shape our world" explores.
Host Roman Mars will take you behind the scenes of the world you thought you knew.
Episodes to start with:
Love true crime stories? You owe it to yourself to listen to this podcast. Host Phoebe Judge explores real crime stories with a level of empathy, perception, and radio-quality production that you won't find anywhere else. Be warned: this stuff can be pretty chilling.
Episodes to start with:
Of all the podcasts out there, this one is by far the most popular and mainstream. Much of this has to do with the fact that it's broadcast on NPR, but it's also because the production and storytelling of this show are beyond any other podcast out there.
Each episode is a masterpiece of narrative journalism, exploring a different topic through compelling human stories. As they put it on their about page, it's "like little movies for radio."
Episodes to start with:
Ever since I started learning music production, I've been fascinated with how musicians put together songs. Song Exploder provides the insight I'd been looking for. Each episode features an interview with an artist (some famous, some obscure) about how they created a particular song.
The episodes are also the perfect length for listening to on a commute (generally under 20 minutes), and the wide variety of genres and artists ensures you won't get bored.
Episodes to start with:
"What does it mean to be human? How do we want to live? And who will we be to each other?" These are the questions that journalist and former diplomat Krista Tippet explores in On Being.
Each episode is a conversation with a great thinker, artist, activist, or spiritual leader, and the topics are as varied as the guests. Whether or not you consider yourself "spiritual" or even "religious," each episode will leave you with something to ponder.
Episodes to start with:
Want to get the valuable, useful lessons of philosophy without the dry textbooks or arcane debates? Then you should listen to this podcast. Host Stephen West works to promote education and acceptance through a podcast that shares the ideas that shaped the world we live in.
To get the most out of this show, I'd recommend starting from the beginning. It provides a systematic overview of philosophy's major ideas that someone without a philosophy degree can understand.
Episodes to start with:
Science & Technology Podcasts
Science and technology are the forces shaping the present and future of our world, so it's a good idea to at least be able to talk about them intelligently (even if you don't have a degree in rocket science). These podcasts will help you stay updated on the latest developments in science and tech.
If you're reading this, you (probably) have a brain. Since we all have them, it makes sense to learn more about how they work. As far as we know, we're the only organisms in the universe that are currently studying ourselves, and the study of the brain is at the center of it all.
Dr. Ginger Campbell will teach you about the latest findings in neuroscience in a way that you can enjoy no matter what your background. You'll also get to hear interviews with eminent neuroscientists from around the world.
Episodes to start with:
If you want to learn crazy, mind-expanding facts about science, then you'll love Discovery. It's from the frickin BBC, so you know it's going to be well-produced and unbiased. Plus soothing British accents, if you're into that.
Past topics include the reason we dream, how to use chemistry to bake the perfect cake, and the discovery of plate tectonics.
Episodes to start with:
Hacking isn't the way it looks in movies and TV, but it's still a very real practice that, in the wrong hands, can jeopardize personal safety and national security.
Host Geoff Siskind, along with cybersecurity expert Bruce Snell, explores the real world of cybercrime with the aim of helping you protect yourself against hackers.
Episodes to start with:
Odds are, many of you are too young to remember when Car Talk was actually on the air (or, at least, too young to find it relevant). While the original radio show ended in 2012, NPR has kept it alive in the form of the Car Talk podcast.
This show features the best of host Tom and Ray's humorous yet expert answers to listener car questions. Even if you don't care about the technical details of fixing cars, the show is so amusing that you just might learn something in spite of yourself.
Episodes to start with:
Staying updated on the latest tech news can be a challenge, since the sheer volume of new technologies is overwhelming. Download helps you cut through the noise, bringing you the most important stories and trends in technology.
But you don't just get the news — you also get analysis from a panel of tech experts. That way, you can decide if it really is worth it to buy the latest Apple Microwave or whatever.
Episodes to start with:
Career Podcasts
We want you to graduate college excited to start your career. But if you have no idea where you want to start, these podcasts can help. And even if you're a few years into your professional life, these shows will help you continue to progress.
Even if you don't have entrepreneurial aspirations, the Entrepreneurial Thought Leaders podcast can be an incredibly useful learning resource. I've been listening to it since I was in high school, and it's one of my favorite podcasts.
This show is simply a series of recorded lectures from Stanford University. Past guests include Guy Kawasaki, Mark Zuckerberg, and Marissa Mayer.
Episodes to start with:
On this podcast, YouTuber and creative entrepreneur Sara Dietschy has candid conversations with artists and business professionals. Past guests have included Gary Vaynerchuk, Roberto Blake, and some rando named Thomas Frank.
If you're curious about how you can build a life that balances creativity and business success, you'll want to be sure to listen to this show. Also, be sure to check out my interview with Sara on the CIG Podcast to hear her thoughts on making a career as a YouTuber.
Episodes to start with:
Love all things related to startups and corporate finance? Curious how an IPO works? Fancy yourself the next Mark Zuckerberg? Then you should listen to Acquired.
It's a podcast all about technology acquisitions and IPOs (Initial Public Offerings). Learn about the successes and failures of companies such as Tesla, Instagram, and…PowerPoint (?).
Episodes to start with:
Have you ever wondered what it's like to work as an independent online content creator? This is what CGP Grey and Myke Hurley explore in this podcast.
It's a mix of business, productivity, and musings about tech from two really thoughtful, interesting dudes.
Episodes to start with:
Want to learn how to be more than just "good" at your job? This is the podcast for you. Host Pete Mockaitis interviews thought leaders and top performers to discover specific, actionable insights that boost your work performance.
Even if you're still a student, you can learn a lot from this podcast about how to succeed in an internship, campus job, or your classes.
Episodes to start with:
Gaming is way more mainstream than it used to be, with the most popular game streamers earning millions of dollars. Less appreciated and well-known, however, are the people who create these video games.
With Game Dev Loadout, host Tony Chan takes you behind the scenes of what it takes to create a video game. Each episode features an interview with industry professionals who share their successes, failures, and why they love working in gaming. If you ever wanted to create your own video game (or were just curious about how video games are made), you'll find this show valuable.
Episodes to start with:
A big part of college is figuring out what you'll do after you graduate. A lot of the time, I think we have a limited idea of all the possible jobs out there, pushing students toward law, medicine, engineering, and management consulting.
What I love about Slate's Working podcast is that it shatters this idea, showing you just how many kinds of jobs are out there. Even if you don't actually want to become a professional wrestler, tattoo artist, or urban winemaker, this podcast is a fascinating glimpse into the way these people (and many more) do their jobs.
Episodes to start with:
Over to You
We've gone through 40 of the best podcasts for expanding your knowledge while you're doing other things during the day.
There's no need to listen to everything on this list (you wouldn't have time for that even if you did nothing but listen to podcasts).
But I hope you've found some new shows to help educate you while you're commuting, exercising, or taking a walk.
Want even more things to listen to? Check out our list of the 50+ best audiobooks.