When I was a kid, video calls seemed impossibly futuristic. These days, however, pulling a little box out of your pocket and talking in real time to someone on the other side of the world is commonplace.
With video calling now a normal part of everyday life, you can afford to be picky about the features that video chat apps include. You want more than an app that's capable of making video calls; you want the best video call experience possible.
With so many apps out there claiming to be the best, how are you supposed to choose?
To help you out, we've done the research and put together this list of the best video chat apps.
Whether you're looking to chat with friends, hold a virtual business meeting, or develop a customized video calling solution, there's an app for you on this list.
Zoom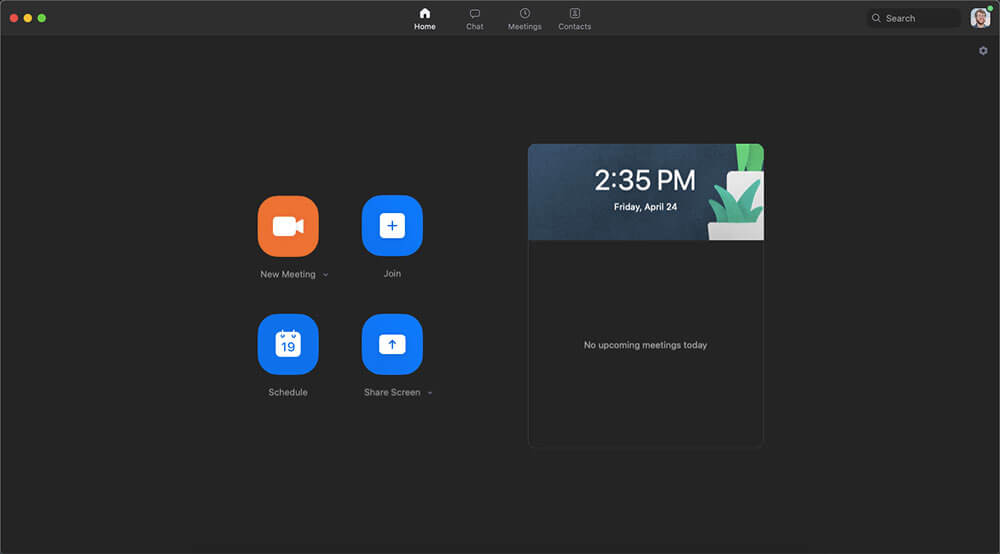 Overview: A popular, full-featured video call app that's easy to set up and use.
Let's start with the video calling app everyone is talking about. Zoom lets you communicate 1:1 or in groups using video. You also have the option to communicate using just audio, which is useful if you have a slow internet connection or are still in your pajamas.
In addition to making calls, Zoom lets you share your screen and even record meetings for later reference. The free plan gives you unlimited 1:1 calls, plus group calls of up to 100 participants (though these are limited to 40 minutes unless you upgrade).
The only downside to Zoom is its potential security issues. In early 2020, the increasing popularity of the app revealed encryption and other security flaws that let hackers easily access meetings. The Zoom development team has addressed most of these concerns, though they still don't offer end-to-end encryption.
In practice, Zoom is safe to use for most people and organizations as long as you follow basic security practices like setting a meeting password. However, if you're discussing highly sensitive information, you may want to consider an app with more powerful encryption and security features (see below).
Price: Free for unlimited 1:1 meetings and group calls of up to 100 people (limited to 40 minutes). Paid plans start at $14.99/month and offer additional features such as unlimited group meetings, custom meeting IDs, and additional admin controls.
Platforms: Android, iOS, Mac, Windows, Linux, Web
Skype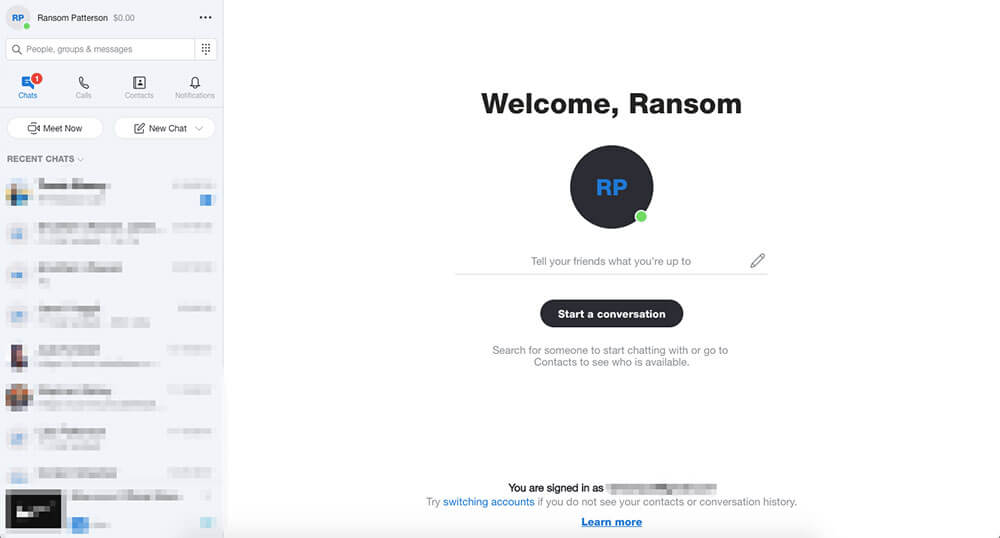 Overview: A long-standing video call app that still holds its own against newcomers.
It's easy to write off Skype as an "old" video chat app and overlook it in favor of newer options like Zoom or Microsoft Teams. However, Skype is still a solid video calling app, and it's worth considering if you need a way to make 1:1 or small group calls.
The video calling features in Skype are fairly standard. You can host group video calls with up to 50 participants, as well as audio calls and instant messages. Call recording and screen sharing are also available, and all communications within Skype are encrypted.
All of the above features are completely free. If you want to call a mobile phone or landline, you can do so using paid options such as Skype Credit (similar to a pay-as-you-go phone plan) or a Skype subscription.
Price: All video calls, audio calls, and instant messages between devices using Skype are free. Paid plans are available if you want to make calls or send SMS messages to landlines or mobile phones.
Note that while Skype-to-Skype calls are free, Skype's Fair Usage Policy limits group video calls to 100 hours per month, 10 hours per day, and 4 hours per call. For this reason, Skype isn't the best solution for large organizations making frequent video calls.
Platforms: Android, iOS, Mac, Windows, Linux, Web, Xbox One, Amazon Alexa
Microsoft Teams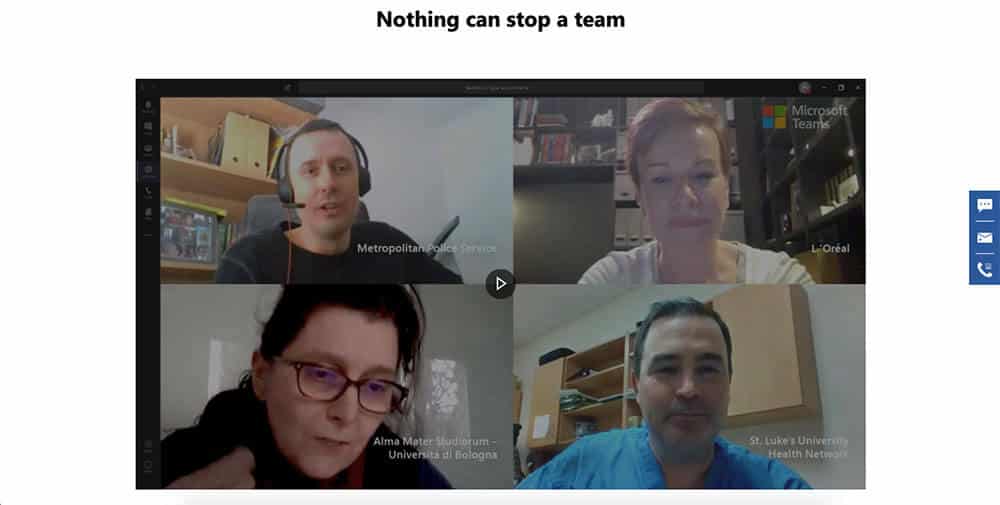 Overview: A great option for team video calls if your organization uses Microsoft 365.
Teams is Microsoft's answer to Zoom and Slack. The app lets groups of up to 250 people communicate via video calls, audio calls, and instant messaging. Participants can also dial into meetings from landlines or mobile phones (though this may incur additional charges). And you get features like screen sharing, call recording, and file sharing.
The standout feature of Teams, however, is its close integration with other Microsoft apps. Want to give a virtual PowerPoint presentation? Teams makes it effortless. Want to collaborate on a Word Document or Excel sheet from within a Teams call? No problem.
For the above reasons, Teams is the best solution if your organization already uses (or plans to use) Microsoft 365. If you don't plan to use Microsoft 365, then you're better off with a standalone video call app such as Zoom.
Price: Microsoft is currently offering a free version of Teams with limited file storage and collaboration features. To get increased file storage, call recording, and other premium features, you'll need to get Microsoft 365 Business Basic (which starts at $5/user per month).
Platforms: Android, iOS, Mac, Windows, Linux, Web
Google Meet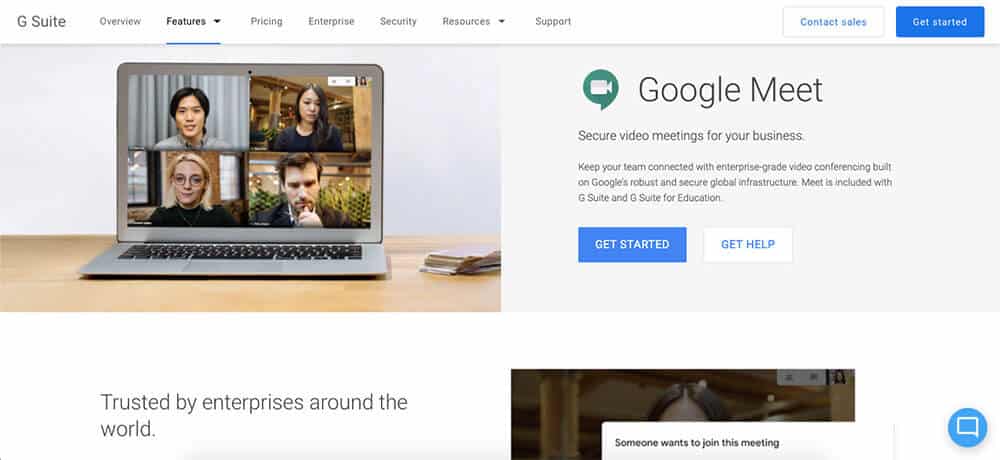 Overview: Google's video call app is a logical option for organizations using Google Workspace.
Not to be outdone by Microsoft, Google has created Google Meet. The app allows secure, frictionless video meetings across devices. Unlike some of the other apps on this list, Meet focuses entirely on video calls. Meet does include limited instant messaging and chat features, but you should look into Google Chat if you primarily want team chat features.
Since it's part of Google Workspace (formerly G Suite), Meet is integrated with a variety of Google apps. Meet invitations, for instance, are automatically added and synced to your Google Calendar, and call recordings are uploaded to Google Drive.
However, there doesn't (currently) seem to be much integration between Meet and apps such as Google Slides or Docs. While you can get around this by sharing your screen, it would be nice to see a more seamless integration like the ones you get in Microsoft Teams.
Finally, note that Google Meet is different from Google Hangouts and Google Duo. Google Hangouts used to be the video chat app for both Google Workspace and consumer accounts, but Google is phasing out Hangouts for Google Workspace users (it will still be available for personal use). Google Duo is essentially Google's version of FaceTime, allowing you to communicate with up to 12 people via video (though the app works best for 1:1 calls).
Price: Meet is free to anyone with a Google account, though meetings are limited to 60 minutes and 100 participants. For additional features such as increased meeting lengths, call recording, and 24/7 support, you can upgrade to Google Workspace Essentials ($8/user/month).
Platforms: Android, iOS, Web
Jitsi Meet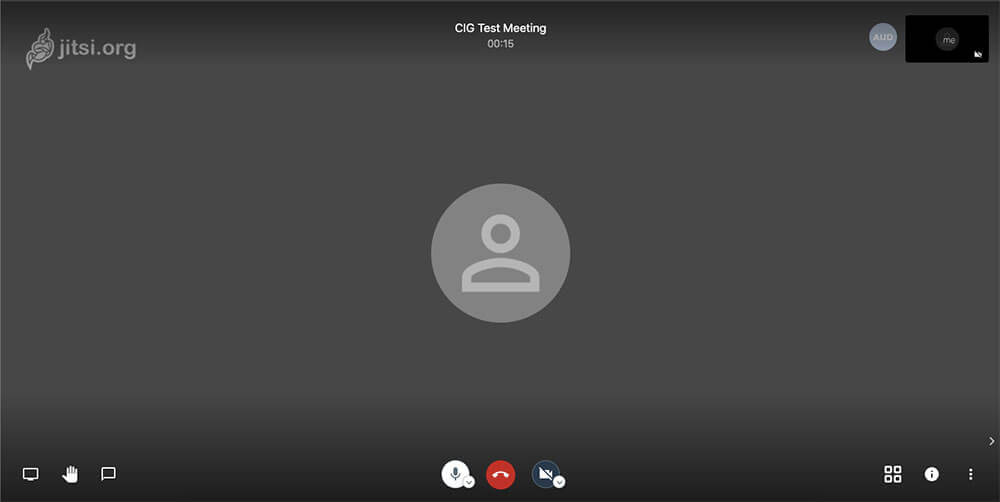 Overview: A free, open source video call app with endless potential for customization.
Whenever I put together these guides, I always like to include an open source option if I can. So I was pleased to come across Jitsi Meet, a completely free and open source video call app that takes security seriously.
Unlike most of the other apps in this article, which require or strongly encourage you to use a desktop app, Jitsi Meet runs entirely in the browser. You don't even need an account to start or join a meeting. All you do is open the Jitsi web app, give your meeting a name, and start the call. You can then send a meeting link (protected by a password) to anyone you want to talk with.
However, the features don't stop there. You can also share your screen, record calls, and even stream YouTube videos right from within the app. This is impressive considering that many video call apps require you to pay for these extra features.
Finally, you should know that Jitsi Meet is just the tip of the iceberg. The app works great on its own, but the open source nature of the project means that developers can use it as a starting point to build all kinds of video conferencing and live streaming apps. Check out Jitsi on GitHub to learn more.
Price: Free
Platforms: Android, iOS, Web
Amazon Chime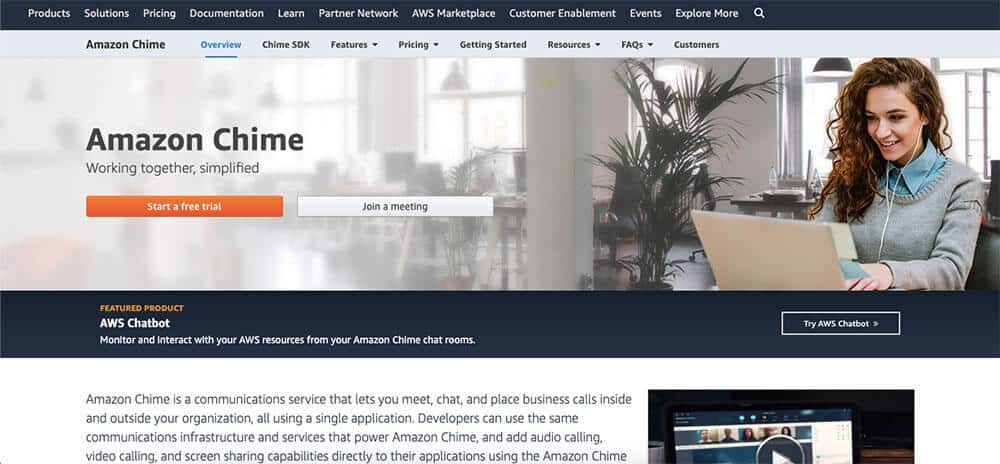 Overview: Built on AWS, Chime gives developers the infrastructure to create customized internal apps for calling, video meetings, chat, and more.
Amazon Chime is a bit of a special case. It's not an app that you can just download, set up in a few minutes, and start using.
Instead, Chime exists to provide developers with the technology they need to build custom video call, chat, and even phone call apps. The target customer is definitely enterprise-level organizations looking for a highly secure, internal communications system.
If you're not familiar with AWS, don't worry; there are plenty of other video call apps you can use out of the box without the technical knowledge necessary to set up Amazon Chime. But for the right organization (especially one already using AWS), Amazon Chime can provide a level of customization, security, and control that other apps may lack.
Price: Pay as you go, depending on the type of calls you're placing. A detailed pricing breakdown is available here.
Platforms: Android, iOS, Mac, Windows, Web
Slack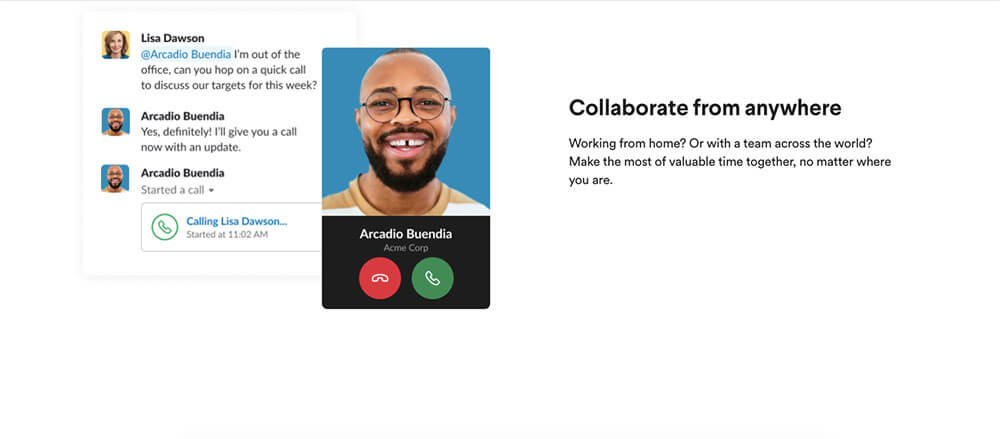 Overview: Best known as a team chat app, Slack's video calling features are great for enhancing your internal communication.
You probably know Slack as that work chat app where you spend way too much time sharing GIFs and memes. However, Slack also offers voice and video calls for those times when text isn't enough to get your point across.
Slack's video calling features will feel familiar if you've used another video chat app. You can choose to go audio-only, or you can hop on a video call and even share your screen. Group video calls are available for up to 15 people, and you can restrict calls to members of a specific Slack channel. Plus, you can do all of this without leaving the Slack app.
Only members of a Slack workspace can participate in calls, which makes it a powerful tool for internal communication and collaboration. However, this means that it isn't the best option if you're looking for a tool to place external video calls with prospects, clients, or business partners.
Price: 1:1 voice and video calls are available as part of Slack's Free plan. To get group video calls, you'll need to pay for Slack's Standard plan. The Standard plan starts at $6.67/month per user (billed annually).
Platforms: Android, iOS, Mac, Windows, Linux (beta), Web
Honorable Mentions
In researching this article, I came across lots of cool video call and chat apps. Below, you'll find some that I didn't feature in the article because they didn't seem useful for group, business-focused calls.
However, many of these apps work well for personal calls 1:1 or in small groups, and you probably have one of them on your phone already.
Video Chat Apps Help Keep You Connected
No matter where you are, whether you can leave the house or not, video calling apps can help you stay connected to your colleagues, friends, and family. I hope this guide has helped you find a video call app that's right for your needs, no matter what they are.
Looking for a text-based chat app to complement your video calls? Check out our guide to the best team chat apps.
Image Credits: video chat set up