With remote work becoming more common, many of us now have the flexibility to work anywhere with an internet connection.
This could mean working at a coworking space, building the ultimate home office setup, or even taking your laptop to the public library.
But for many people, at least for a couple of days a week, remote work means working from the local coffee shop.
If you're new to remote work, then working in such an environment can be disorienting. To help you make the transition, we've put together this guide.
Below, you'll learn how to have a productive day of work at the coffee shop. Plus, we'll share some gear to make your café work sessions more focused and ergonomic.
How to Work From a Coffee Shop: 6 Etiquette and Productivity Tips
New to working at the coffee shop? Follow these pieces of advice for a pleasant, productive experience:
Respect Your Baristas
Before we discuss coffee shop productivity, let's talk about coffee shop etiquette.
This starts with how you treat the lovely folks who make your coffee and share the WiFi password. They start work very early, and they often get paid less than they should. So be sure to show your appreciation and respect their hard work.
Most of this is just basic human decency. Be polite, and try to know your order before you get up to the counter. If things are busy, be patient. Complaining about how long your order is taking will not speed things up.
And of course, leave a tip. Talking to friends who are baristas, I've learned that many patrons don't tip on coffee purchases. Don't be like these stingy people — show your appreciation! Even an extra dollar means a lot.
Respect the Establishment
Good coffee shop etiquette also means respecting the establishment while you're there working.
First, buy more than one thing if you plan to hang around all day. There isn't a hard and fast rule here, but you know what I'm talking about. Don't get one coffee and then sit there for hours nursing it.
Additionally, don't linger after the shop has closed. Wrap up whatever you're doing and find somewhere else to work. Staying past close gets in the way of the staff who are trying to clean the shop.
Finally, if the coffee shop has a sign discouraging remote work or laptop use, go elsewhere. This is especially important if you're traveling to a country with different cultural norms. In many European countries, for example, the café is a place to relax and socialize — not to take a Zoom call.
Respect Your Fellow Patrons
Unless it's a really slow day, you're probably sharing your coffee shop "office" with other remote workers. So be sure to treat them with respect as well, observing proper remote work etiquette.
To start, don't hog the outlets. Anyone who's worked in coffee shops knows that outlets are often limited and inconveniently located. If you're done charging your computer, offer to let someone else take a turn if it looks like they need it.
Next, don't do bandwidth-intensive work. Lots of people are trying to use the limited WiFi bandwidth. So don't be the jerk taking it all up with streaming video or large file uploads. Save that for your home network (or use your phone's hotspot).
Finally, don't take up more space than you need. There's nothing worse than someone spreading all their stuff over a large table that could seat a few people. Especially when the coffee shop is already crowded.
Choose Your Work Carefully
With proper etiquette in mind, we can move to the nuts and bolts of working from the coffee shop. This starts with choosing the right kind of work.
Not all types of work are suitable for the café. If you're taking calls all day, for example, you're better off at home. If you need multiple monitors, it's also not an ideal location. And, at least personally, I find the coffee shop too distracting for work that requires deep focus.
Ultimately, you'll need to decide if the work you're doing is suitable for the coffee shop. I find it great for tasks like admin work, answering emails, or updating company social media. And of course, it's a fun place to have an in-person meeting (as long as you're not discussing anything confidential or sensitive).
Have a Plan
If you show up to the coffee shop without a clear work plan, you'll likely waste lots of time. It's all too easy to get distracted chatting with the barista, checking social media, or gazing into the latte art.
Instead, decide exactly what you want to accomplish before you arrive. That way, you can get right to work once you've found a seat and set up your gear.
In my most recent coffee shop work session, for instance, my goal was to write the outline for this article. Because I decided that in advance, it was much easier to focus once I sat down to work.
Bring the Essential Gear
Working at the coffee shop will be a lot more pleasant, productive, and even ergonomic if you have the right setup.
The specifics of what gear you'll need depend on the work you're doing, as well as your preferences.
At the very minimum, be sure you bring your charger along with your computer. Beyond that, add items only as necessary. Work to develop a lightweight setup that you can quickly pack and unpack. This makes it easier to start working as soon as you arrive at the shop.
Most of the time, I bring only my laptop and charger. But this is because I have a permanent home office and mostly use the coffee shop for low-focus tasks.
When I was living as a digital nomad, I had a more extensive portable writing setup that included a laptop stand, a wireless keyboard, and an external mouse.
Not sure what gear to use for your portable office? Keep reading to get our recommendations.
7 Items to Make Your Coffee Shop Work Session Productive and Focused
As I said in the previous section, you should try to bring as little as possible with you to the coffee shop.
However, some extra pieces of gear can improve your work experience. It would be excessive to bring all of these items with you, but a few of them could be very handy:
Noise-Canceling Headphones
Coffee shops can be noisy. This ambient noise appeals to some patrons, while others find it distracting. If you're in the latter group but still want to work from the coffee shop, consider noise-canceling headphones.
These headphones use special frequencies to block a significant portion of background noise. They won't eliminate ambient sounds, but they make it much easier to focus. Particularly if you combine them with the right playlist.
For effective noise-canceling at an affordable price, we recommend this pair:
Essential
Quality Headphones
If you have roommates, or just need some isolation when you study, a good pair of headphones is a must. This wireless pair from Anker offers active noise-canceling to help you find some peace. Also, here's my study music playlist.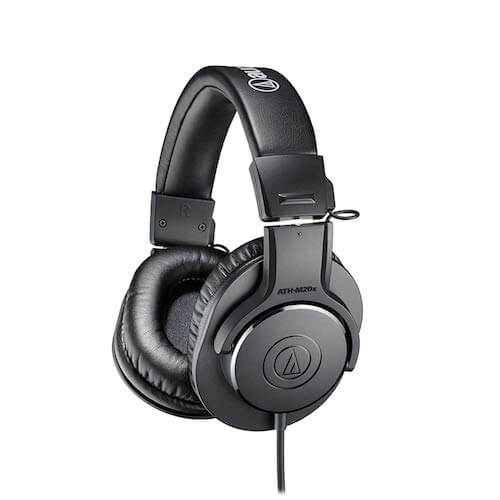 We earn a commission if you click this link and make a purchase at no additional cost to you.
Portable Laptop Stand
If you've worked at a laptop for long periods, you know it can hurt your neck. To counteract this, you should raise your computer screen to eye level and use an external mouse/keyboard.
This may sound like something you can only do in a home office, but it's now possible to raise your laptop on the go using a portable laptop stand.
These stands let you place your laptop screen at a comfortable height, no matter where you are. And when you're not using the stand, it collapses down to fit in your bag.
There are many laptop stand options, but this one offers a great blend of features and affordability:
Nexstand Laptop Stand
This stand fits most laptops, offers seven height settings, and easily collapses to fit in your bag.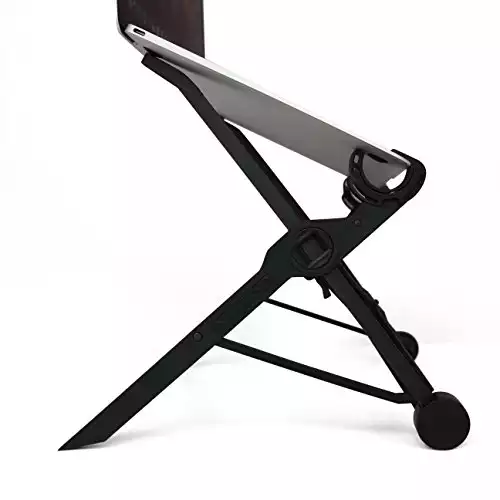 We earn a commission if you click this link and make a purchase at no additional cost to you.
Wireless Mouse
If you're using a program such as Photoshop, having a proper mouse can make things much easier. You'll also need a wireless mouse if you use a laptop stand, as the stand will place the touchpad out of easy reach.
Here's a great wireless mouse to try:
Mouse Pad
Your wireless mouse will be a lot easier to use with a mouse pad. We recommend this one:
Mouse Pad
This is the BEST mouse pad. That's the only reason I'm listing it. You can probably find a regular cloth mouse pad under your couch cushions, but this one is just amazing. I keep one in my backpack all the time.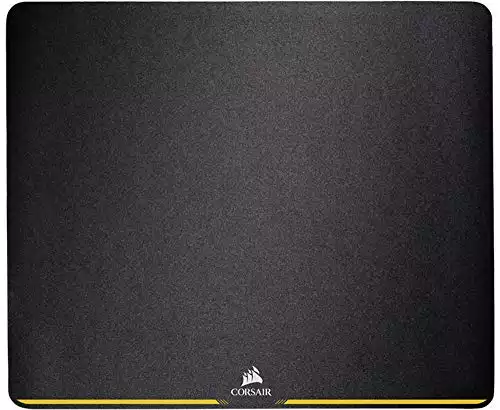 We earn a commission if you click this link and make a purchase at no additional cost to you.
Wireless Keyboard
Planning to do a lot of writing at the coffee shop? Then consider investing in a wireless keyboard. When you combine it with a laptop stand and a wireless mouse, you have everything you need to work comfortably for hours.
This is our favorite wireless keyboard pick: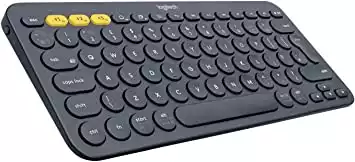 We earn a commission if you click this link and make a purchase at no additional cost to you.
Water Bottle
While coffee doesn't dehydrate you as much as you probably think, it does cause dry mouth. I find this distracting, so I always bring water with me when I go to the coffee shop.
Reusable water bottle options are myriad, but here's one we like:
Reusable Water Bottle
Unless you're Aquaman, you could probably stand to drink more water. This bottle is durable, easy to clean, and a great conversation starter. It also prevents you from wasting money and plastic on bottled water.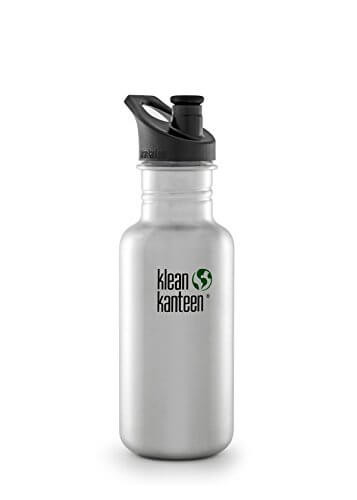 We earn a commission if you click this link and make a purchase at no additional cost to you.
Snacks
If you're going to be at the coffee shop for several hours, you may get hungry. Protect yourself from this distraction with a few snacks. Pick whatever you want, just be sure it won't get destroyed in your bag.
Note: If the coffee shop sells snacks, I encourage you to buy some there.
Go Crush It at the Coffee Shop
Now that you've read this guide, you should be well-equipped to have a pleasant, productive work experience at the coffee shop.
Above all, keep these points in mind:
Respect the baristas, the establishment, and your fellow patrons
Plan what you'll work on before you arrive
Recognize that the coffee shop isn't appropriate for all types of work
Bring the right gear for the job
For more remote work guides like this one, check out our full list of resources for working and studying remotely.
Image Credits: woman working on coffee shop patio