Back in September I posted a pretty extensive guide on how to succeed at a career fair. One of my tips on how to prepare for career fair success was to have business cards – not just any business cards, but beautiful business cards. Beautiful business cards a like glue that goes between a recruiter's brain and your name.
Beautiful business cards aren't the boilerplate ones you can get printed at your schools. While there are nice-looking templates out there that you can use, I believe the best way to make an impression is to design your own. That's what I'm going to teach you how to do today. I'll first go through a tutorial on how to actually design the card using Photoshop, and then show you how you can get it printed for cheap.
Note: Before you start this tutorial, I highly suggest making your own website first! That way, you'll be able to put your URL on your card and give people an awesome way to connect with you. Get started with my complete website building guide.
This is what we'll be making (you'll use your own text):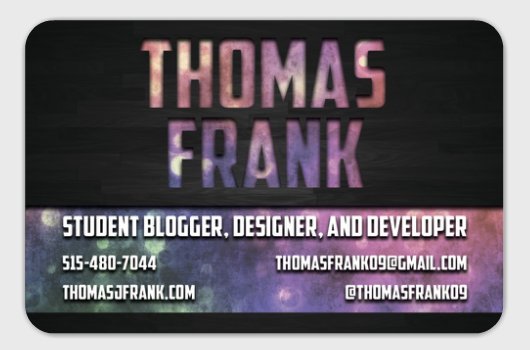 Creating the Business Card
Alright, so before you go getting all gung-ho, you'll need to gather the resources we'll be using for this tutorial. The first thing you'll need is a copy of Photoshop. I'm using CS5 in this tutorial, but you can use pretty much any version you want as we aren't doing anything too crazy. If you don't own a copy of Photoshop at all, you can download a 30-day trial copy of it to get yourself started (if you decide you want to buy it later, you can get like 80% off the retail price as a student). You could probably also do this in GIMP, which is a free alternative to Photoshop; however, if you go this route you'll need to do some research on how to pull off some of the techniques here as they won't be the same.
After you've got Photoshop or whatever image editing program you want to use, download the following two graphic packs. We'll be using graphics from them to create the base design. Both are from Subtle Patterns and are free to use.
Finally, download the font from DaFont we'll be using for the card's text.
Of course, you're free to use any font you want – using a different one won't affect this tutorial. I just chose this font because it's really bold and will nicely show off the text effect we'll be applying.
Ok, so now that you've got everything, let's start the design process. I'm using a Mac for this tutorial; if you're on Windows, every command is exactly the same except you need to use CTRL instead of CMD. 
Step 1
Open Photoshop and create a new document (CMD+N). Size the document to be 1039 x 697 with a resolution of 300 pixels/inch. Set the color mode to CMYK Color and the background to Transparent. CMYK color is preferred over RGB color for creating documents that will be printed, so that's why we're using it.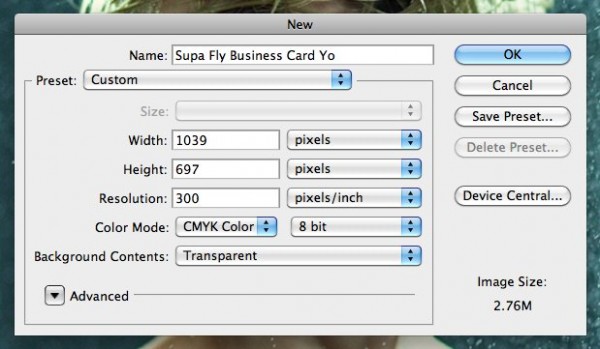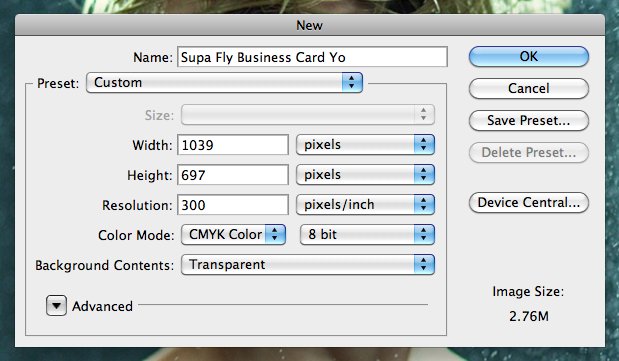 Step 2
Import webtreats_wood-pattern5-1024.psd into your document by finding it in Finder and dragging it onto the canvas. While holding Shift (to keep the dimensions intact), size the picture to be a little bigger than the canvas, then double click to set it.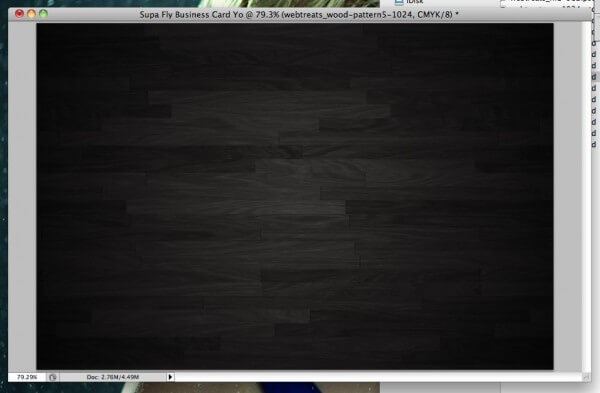 Create a new layer (CMD+Shift+N) and name it Name Layer. Leave all other settings the same and click OK.

On the Name Layer, select the Text Tool (T) and change the font settings to use American Captain at size 48. Type your first name only in this box (note that American Captain requires ALL CAPS – lowercase characters will get you nothing but silly shield icons). Now create a new text box with the same settings and type your last name. You'll now have two separate text layers, which will allow you to arrange them better. Center your first name near the top of the document, and then drag your last name directly below it. Make sure there's some room between your name and the top of the card, and that the bottom of your last name is near the middle.
Now create another new layer and name it Strip Layer. Select the Rectangle Tool (U) and draw a strip that extends slightly beyond the horizontal edges of the document. Model it like the strip below and make sure it's big enough to hold several pieces of text.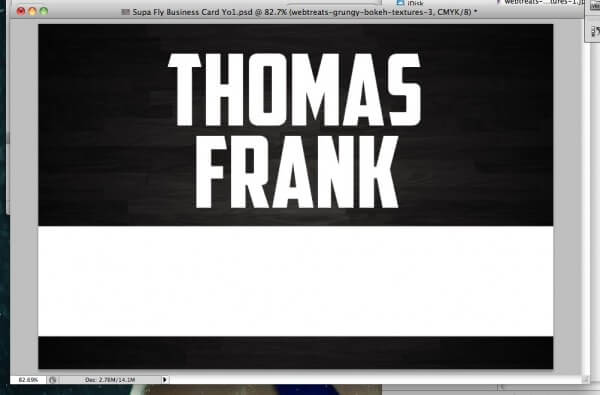 On the right side of the Photoshop interface, you'll find the Layers tab. Hold CMD and select the Strip Layer and the two text layers you've created and combine them (CMD+E). This will combine them all into one layer.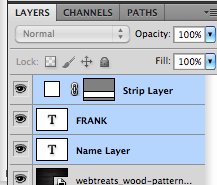 Step 3
We're now going to start styling your name and strip with a background. Create a new layer (CMD+Shift+N) and name it Bokeh Layer. With this layer active, import webtreats-grungy-bokeh-textures-3.jpg by dragging from Finder to the canvas. Hold shift and resize it until it's a little bigger than the canvas, then double click to set it.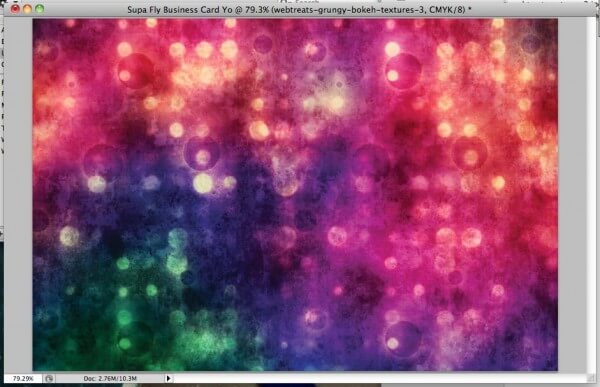 Now go to Layer -> Create Clipping Mask to cut the bokeh picture so that it only fills the letters and the strip (keep in mind that a clipping mask affects the layer directly below it, so you need to make sure your combined name/text layer is directly below this one).
We need to tone down the bokeh texture's color a bit so the we'll be able to read the text we're going to include in the strip later. In the Layer Panel, change the Bokeh Layer's Blending Mode from Normal to Screen. You should end up with something like this: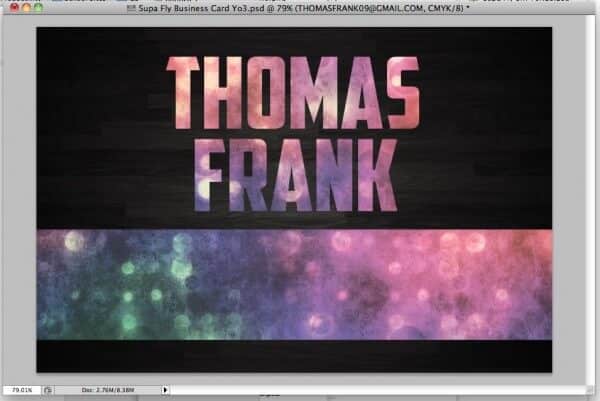 To make the text and strip look like they're below the wood, we need to apply an inner shadow to the layer they're on. Select the combined text/strip layer and go to Layer -> Layer Style -> Inner Shadow. Set the Blend Mode to Multiply, Opacity to 100%, Angle to 92 degrees, Distance to 6px, Choke to 7%, and Size to 10px. Make sure Use Global Light is checked and that Noise is set to 0%. Hit OK.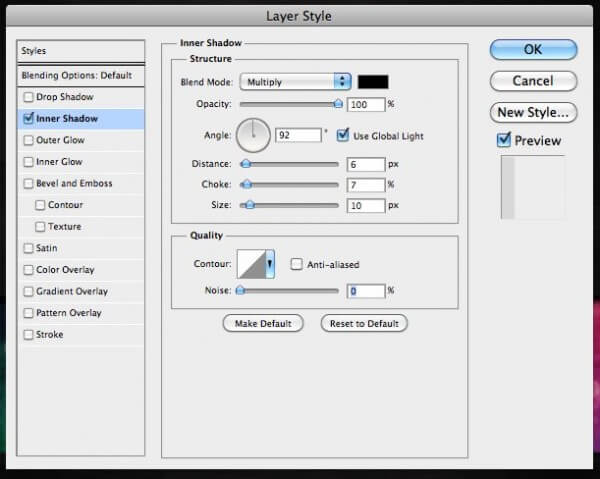 Step 4
Now it's time to insert your tagline and contact information. Create a New Layer (CMD+Shift+N) and name it Detail Layer. Use the Text Tool (T) to create text boxes for your tagline, phone number, email, website, Twitter account, or whatever contact information you want to use. I'm using the same font as before for all these details.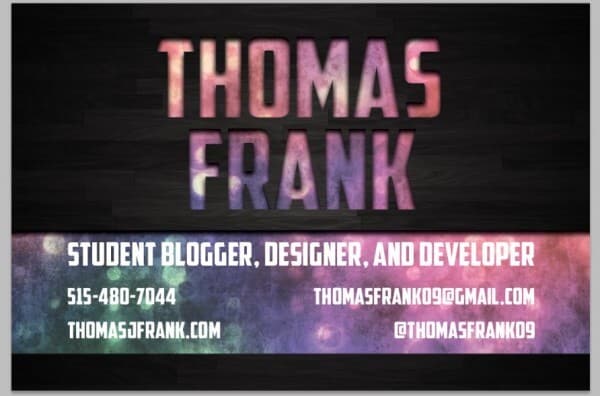 In the Layer Panel, select all the text layers you just created and combine them (CMD+E). Now go to Layer -> Layer Style -> Drop Shadow. Set the drop shadow's Blend Mode to Multiply, Opacity to 100%, Angle to 92 degrees, Distance to 6px, Spread to 15%, and Size to 8px. Make sure Use Global Light is checked and that Noise is set to 0%. Hit OK.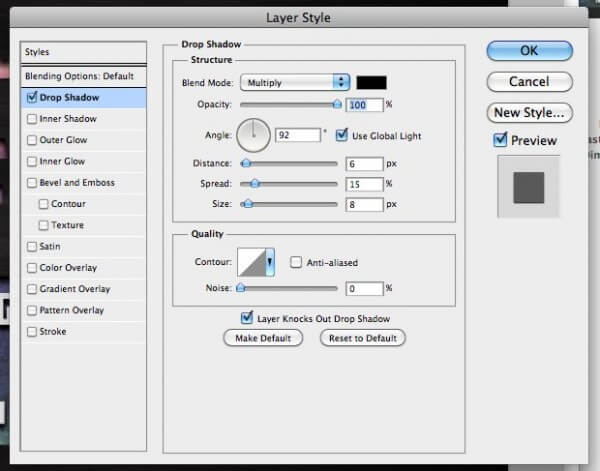 After creating this drop shadow, you should end up with something like this. Save your .PSD file, and then re-save it as a .JPG as well.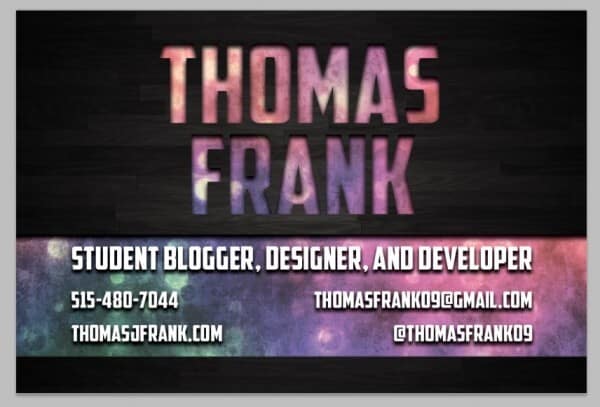 Awesomesauce! You've got a completed business card design. Of course, you can play around with different settings in Photoshop to customize your card however you want. Once you've got it the way you want it, let's move on to the next part.
Ordering Business Cards
When it comes to getting business cards printed, the only place I ever use is Moo.The cards are inexpensive, but they're printed on really nice paper and you can get rounded corners. To me, that's simply one more thing that will make your card stand out from anyone else's.
At the Moo's business card page, select the option to upload your own design. After that, just go through the options.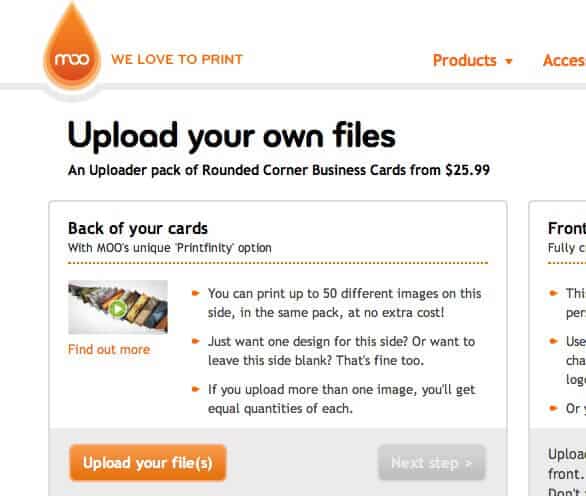 Obviously, you should set your design to have a horizontal orientation. Like I mentioned above, I like rounded corners on my business cards – that's your choice though.
Once you've got everything set, you should see something like what's shown below: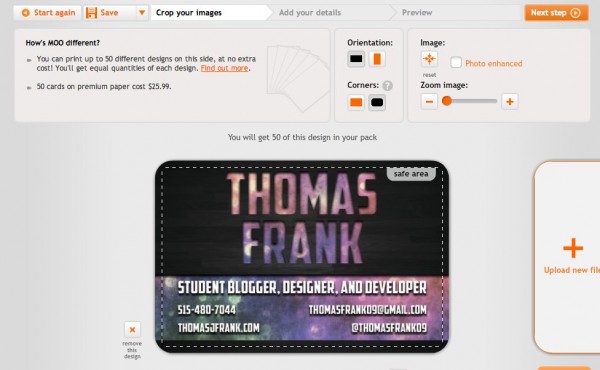 Be sure to flip the card over and make sure you like what's on the back side. By default, the back includes your contact information; since we already included this in the design, you might just want to delete all of this and upload your own picture.
That's all there is to it! If you do decide to create your own business cards, I'd love it if you would take a screenshot and post a link to your design in the comments. If your design is especially awesome, I might even feature it on our Facebook Page!
If you liked this post, please share it or leave a comment!