As a student looking for a job, you've probably heard of the phrase, "It's not what you know, it's who you know."
As hard as it is to admit, there's a lot of truth in that statement. Let's face it: given the choice between working with a total stranger or someone who was referred to you by another person you respect, you'd pick the second person in a heartbeat.
As a student, it's hard to break into a circle of professionals or people who already know each other (as you've probably experienced in the high school lunchroom).
So, how do you start building up a network if you don't have one?
Here are 8 strategies I've picked over the years from networking pros. These strategies have allowed me to grow a network of entrepreneurs, writers, industry professionals, and content creators who have given me the confidence to quit my job and pursue freelance writing.
1. Go Where The Pros Are
Instead of going to networking events in your school where all the students are vying for a handful of employers' attention, attend industry events targeted at the employer you want to work for.
If you want to work as a product manager associate in a tech company, attend product- or tech-related events in your area.
And get creative about it!
For example, today Tiffany Zhong owns Zebra Intelligence and has a large network of tech brass who regularly ask for her input, but back when she first started, she didn't have credentials or a reputation.
So Tiffany started tweeting at venture capitalists, commenting on their tweets, and starting conversations with them. She eventually struck up relationships with legendary investors like Marc Andreessen.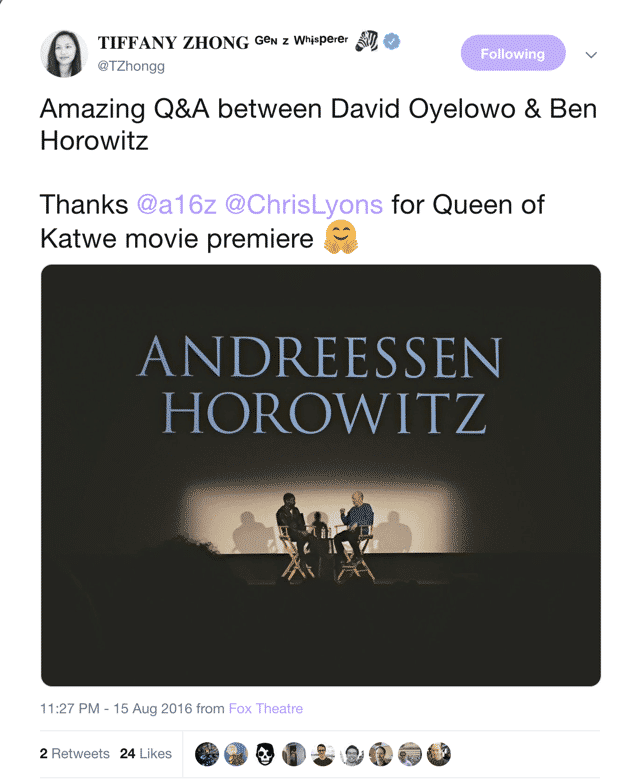 Her persistence and creativity led to an offer to become a junior VC at a firm in Silicon Valley when she was just 18 and, eventually, a job at celebrated tech startup Product Hunt.
2. Be Authentic and Kind
The key to networking is to work hard (so you have something to talk about) and be nice to people.
For example, Sol Orwell, founder and chairman of Examine.com, wrote about how he met a guy at an event. They bonded over their love of the NBA and his new friend's amazing photos of NBA games.
Later on, this same friend invited Sol out to a Wizards vs. Raptors game…with courtside seats.
There's a bit more to the story, but the lesson's still the same — just focus on being friends with people, instead of straight up networking, and you'll grow your network organically.
Similarly, I don't even remember how I met Tam Pham, author of How to Land Your Dream Internship, but he was incredibly helpful from the beginning. For example, he edited one of my blog posts and gave valuable feedback on it.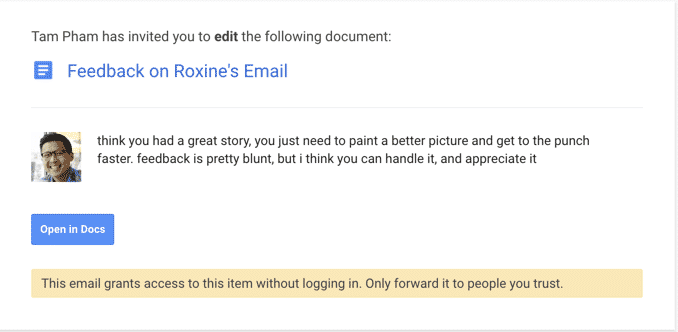 And whenever I see him post on Facebook, it's usually either to help out a friend or to offer help to anyone who needs it.
Because of this, when he visited Toronto a few months ago for an event we were both attending, I didn't think twice to offer and drive him around on the day of the event, even though I'd never met the guy in person!
3. Systematize Your Networking
"You do not rise to the level of your goals. You fall to the level of your systems."

– James Clear, Atomic Habits
Networking can take up a lot of time — you have to reach out to folks without any certainty that they'll respond; if they do respond, you have to coordinate coffee meetings, follow-ups, and check-ins, just like you'd do with any friendship.
The secret to that is to have systems in place, like Zak Slayback's 12 Done-for-You Email Scripts.
By having email scripts and checklists on hand, you can just copy-paste and customize your emails quickly.
In this CIG article, you can check out my own email scripts for reaching out to VIPs, asking them for coffee and phone calls, and following up afterwards.
In that article, I shared what I do after I meet someone new:
Within 24 hours: I send a thank you email with one thing or action item that I took away from our meeting
After 1-2 weeks: I send them an article, video, or podcast that I think they'd enjoy
After 4 weeks: I send them an email update on any results I got after following their advice
To make sure I remember to do this, I set tasks for myself as soon as I get home from the coffee meeting.
Sometimes, if I'm feeling extra productive, I write those emails and schedule them to be sent in advance with an email software I use called MailButler.
4. Find Uncommon Commonalities
The best way to build instant rapport with someone is to find uncommon commonalities — things we have in common, but aren't obvious at first glance.
When you're in a professional setting, these uncommon commonalities can be things like hobbies and side hustles.
For example, I play ultimate frisbee with a group of girls. When we were just getting to know each other, all we talked about was the obvious thing we all had in common: Ultimate. But the more we hung out, the more we realized that a handful of us had the same stupid sense of humor and enjoyed similar things, like photography, traveling, writing, hiking, and video games.
Four of us ended up going on a short road trip before our national tournament. We had a great time, even though we'd only known each other for a month.
We started off with Ultimate, but the friendships deepened because we were invested in looking for uncommon commonalities
Connecting with someone outside of the obvious makes the other person feel like you actually see them as people, and not just as a pawn on a chessboard that you can manipulate (harsh, but that's how some people treat others).
5. Acknowledge People
There are so many people in this world who are gatekeepers for VIPs — assistants, secretaries, associates — but are hardly ever acknowledged for their work.
Similarly, after a speaker steps off the stage at an event, they're instantly swarmed with people asking for advice, photos, and help — but hardly anyone talks to the emcee or the host.
Make it a point to be nice to everyone, but especially to people in the background. I go out of my way to appreciate how hard their job is.
This paid off when I reached out to a pretty big YouTuber in the entrepreneurship space when I was organizing a dinner for content creators in Toronto.
His assistant responded and said that the entrepreneur didn't do dinners, but would I be interested in interviewing him instead?
Most people would dismiss the assistant. But I made sure to be extra nice to her because I knew that she was juggling everything for him.
In the end, instead of just a dinner with other people, I met the YouTuber at his office. We had a wonderful 30-40 minute interview that I recorded.
Similarly, in his podcast Community Made, Jayson Gaignard shares how he goes out of his way to send presents to the assistants of VIPs after they help him schedule a meeting with their boss.
It's this kind of thoughtfulness that allowed him to build relationships with legendary icons like Shep Gordon, even before Jayson became knowns as the author of Mastermind Dinners and founder of MastermindTalks.
6. Be Helpful (and You Will Be Helped)
Too many students hit up professionals and just take, take, take — asking for referrals, jobs, and coffee meetings.
Instead, before you ask for something, give them something: your appreciation of a LinkedIn post they wrote; your favorite passage from their book; an article you think they'd enjoy.
The thing is, people want to help you, but they might not have the time to do it. Because of this, you have to make it easy for them to say "Yes" and to make it worth their while.
This is why you should try to make the relationship mutually beneficial, like what Khe Hy does with his interview-format podcast, Rad Awakenings.
Khe has a great excuse to reach out to VIPs he wants to meet — he can help them market their book or their business on his podcast.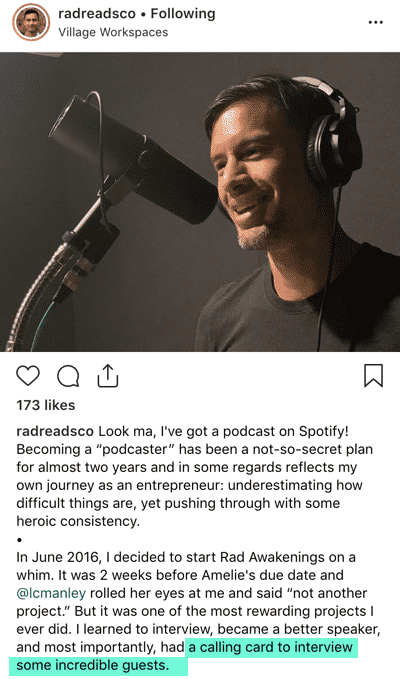 At the same time though, understand that just because you helped someone doesn't mean they owe you. Best-selling author Ryan Holiday remembers Tim Ferriss's response when he asked Tim to link to his blog:
"When Tim's blog was just starting to take off, I emailed him and asked him if he might include a link back to mine. I laid out this clear case as to why—the things I'd done for him in helping launch his book, how many copies it had sold, places I'd secured links for him. He replied really quickly, "Ryan," he said, "I'll link to you because you asked—not because of these reasons. In fact, in the future, you'll have better luck when you ask for things if you don't try to make it seem like the person owes you. No one likes that."
7. Follow Up Politely
I know the feeling — you hit Send on what could be a career-defining email to an important person. Then you twiddle your thumbs, refresh your inbox, and twiddle your thumbs some more. And after a hundred gazillion years (it was probably only a week), crickets.
No response.
What do you do?
I like to do a fun, little "bump" email. This shows them that you were serious about your initial request, but that you're also understanding of their overflowing inbox.
For example, a few months ago, I wanted to learn more about content marketing and a friend introduced me via email to the editor-in-chief of a big company.
I sent the editor an email to say hi and describe my questions, but after a week or two, I still didn't get a response.
Here's what I sent him:

And here's his response:

We ended up hitting it off. But if I hadn't mustered up the courage to send that bump email, none of this would have happened.
8. Bring Humans Together
Remember how I mentioned Sol Orwell? Well, every year, people fly in from all over the world to attend his Cookie-Off event. All the proceeds from ticket sales go to charity, and he gets the best bakers available to contribute humongous piles of cookies.
But that's not the only reason people come.
You see, Sol curates the attendees for his events and gives each attendee a list of 3-5 folks he thinks they should meet over the course of the event.
By the end of his event, you'll have met someone who could help you take your business from 6 figures to 7 figures, another person who runs an awesome retreat for ambitious individuals, or someone in your city who does something similar to you.
Sol put together his love for cookies, people, connection, and charity into an event that benefits everyone.
I've hosted dinners myself with friends who don't know each other, but who I think would enjoy meeting each other.
You can do something similar: Introduce two of your friends who don't know each other yet.
You see, even small gestures like these have the same effect as Sol's big event: both parties benefit and they feel great about you — the person who introduced them.
How to Network (in 3 Words)
Back to the question from the intro: How do you build up a network if you don't have one?
In this post, you learned 8 ways you can build a network but in the end, it all boils down to two things:
Be human
Give
If you look for ways you can make another human being's life better, then you'll never run out of people who would want to help you.
Image Credits: white ceramic mug on table