Want to rent a textbook for only $5? How about order food from any restaurant in town from one website? Or get a degree from an accredited university without paying any tuition – no matter who you are?
10 years ago, you couldn't do any of these things. Now you can – and that's why startups are awesome. Tons of people are out there right now, working hard and innovating to help others do things they couldn't do before. People looking at everyday things and asking the best possible question: "How can we do this better?"
Lots of these startups are incredibly useful for students, and today I want to show you 22 of the coolest ones I've come across!
Packback
Lots of companies are trying to make textbooks more affordable, but Packback is probably the one I'm most excited about. Founded by students at Illinois State University, Packback is working on offering $5 on-demand textbook rentals. Instead of buying a book, or renting one for an entire semester, this system will let you rent an ebook version for $5 a day. If you just need a book for a day or two to study for a test, you can't beat that.
Packback's idea is picking up a lot of steam, and even landed them on the massively popular show Shark Tank. In addition to the $5 on-demand rental program, the site also lets you compare textbook prices at other online stores, sell your old books, and get free homework help (which should be an interesting alternative to Chegg's $15/month homework help program).
Clusterflunk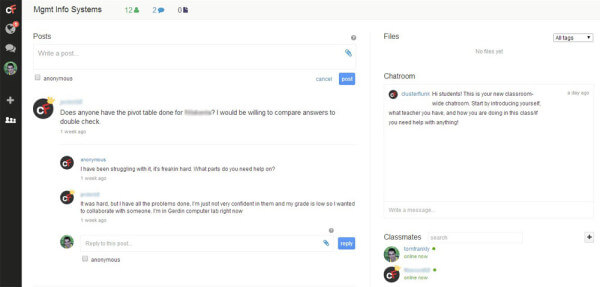 I remember sitting around with other web developers in college, complaining about how much we hated Blackboard and wishing the school would hire us to build a replacement. Well, the guys at Clusterflunk have gone and done just that.
Clusterflunk is a platform that lets you connect to everyone in your classes, share notes and other files, and get/give help. It's free, lets you be anonymous if you want, and growing very fast. I've got a little bit of home-state pride boosting my excitement about this startup, as the founders are from Iowa!
Pave
Pave is part of a wave of new startups experimenting with a novel way for people to get the funding they need. Essentially, Pave lets people with lots of money invest directly in other people. In exchange, those who receive the investment will make later payments based on their income.
This is an interesting idea, as the investments don't hold a fixed interest rate – meaning paying it back could never become a crushing burden. Currently, most of the investments seem to be going to people who want to start businesses (you can see some success stories here), but I wouldn't be surprised to see driven college students securing funds for their education in the near future. I'm interested to see how this type of business works as time goes on.
StudyBlue
I'm all about learning more efficiently, and StudyBlue has been steadily improving their product to help student do just that for quite a while. Their apps let you create content-rich flashcards to study from, and they also have a huge library of pre-made cards you can use.
StudyBlue also lets you set study reminders right in the app, which help you turn studying into a solid habit. As an added bonus, you can sync your cards with Evernote to stay even more organized.
Treehouse
If you're interested in learning web development, design, or how to build iOS and Android apps, then Treehouse is an amazing resource you need to check out. Like Lynda, Treehouse offers a library of video courses you can work through on their website or through one of their mobile apps. Videos aren't the limit with Treehouse, though; each course also packs quizzes, code challenges, or other interactive features.
I used Treehouse last year to teach myself how to build iPhone apps, and I was incredibly glad to have it available.
Codecademy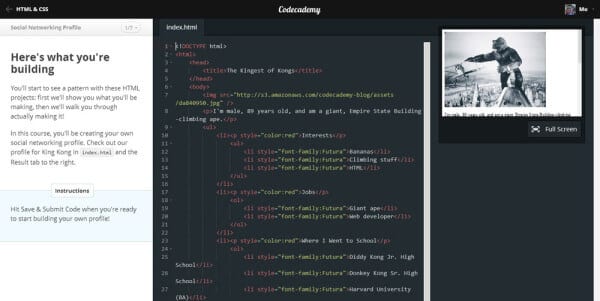 In my opinion, hands-on learning is the best kind of learning. If you're interested in learning how to code, Codecademy will provide just that. This is a free site that offers project-based learning tracks on HTML, Javascript, Ruby, PHP, and plenty of other languages.
As your progress through the projects and learn more code, you also earn badges that show off your skills. You can also tackle lots of user-made projects that are off the main learning track, which gives you a chance to learn even more.
Khan Academy
Khan Academy is "a free world-class education for anyone anywhere," according to their website, and I'd honestly be surprised if you haven't heard of it before. Most people have probably seen one of the videos in the site's extensive library of academic subjects, but it's the newer features that have me really excited.
The site recently introduced the Learning Dashboard, which offers interactive lessons and features a skill grid that keeps a detailed record of what you currently know and what you still need to master. Like Codecademy, they also let you earn badges and points to show off your progress. The Learning Dashboard currently offers missions in mathematics, but they're working on integrating other subjects.
Coursera
Want to take Stanford's Machine Learning course, but you don't go to Stanford? No problem; Coursera will let you take it right from your computer. Probably my favorite of the big MOOC (Massively Open Online Course) providers, Coursera partners with universities all over the world to let anyone take college courses for free.
I used Coursera last year to take their incredibly popular Game Theory course, which is taught by professors from Stanford and The University of British Columbia. In short, it was awesome. The instruction was of the same quality I'd get in a real classroom, and the video format allowed me to play lectures at different speeds (I would have loved to put some of my professors on 1.5x). The class also had an active forum, so getting help was easy even though I couldn't interact with the professors very much.
Finishing a class on Coursera won't get you any closer to earning an actual college degree, but you can earn a statement of accomplishment that's signed by the instructors – which is even more useful if you're using…
Degreed
You know, and I know, and employers know – and everyone knows – that your college classes probably aren't your only sources of learning. Heck, I easily learned more in college from my part-time jobs, books I read, and experience gained building CIG than I ever learned inside a classrom. So why do resumes (which suck) only ever show off your formal degree under "Education"?
Degreed is trying to change that. This site lets you create a profile that shows off your entire education – your actual college degree, informal courses you've taken (like Coursera classes), conferences you've attended, books you've read, and more. While they don't list this as a feature, I think an added benefit to having a Degreed profile is that it shows you're a self-driven learner.
Trello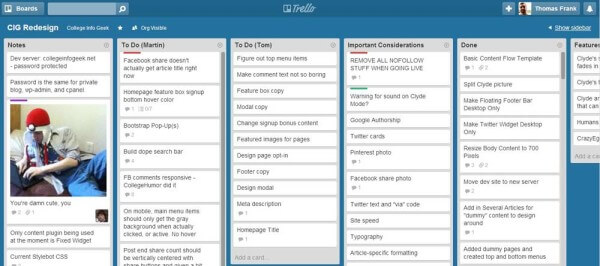 Yes, group projects suck. A lot of the time it's because one of your group members is useless, but I think another big problem that plagues group projects is a lack of good communication – brought about in part by the use of bad tools. I've had to suffer through group projects where everyone tries to coordinate the whole thing via email, and it's a nightmare.
Trello, however, makes that collaboration easy. It's hands-down the best app I've ever used for coordinating group projects, and it's free. Trello lets you create boards for each project, and lists within each board for every aspect of that project. Then you can create cards for tasks, label them, assign team members, and more. If you're not using it, start doing so – here's an overview that'll get you up to speed.
Mindsnacks
Remember the Jump Start games for the PC? If you don't, please don't tell me – I already feel old as it is. Basically, they were games that taught you math, science, art, history, and other subjects while you went through missions. They made school subjects actually fun, and before any of you pipes up, 3rd Grade is the best one.
The learning games that Mindsnacks offers remind me of my time playing Jump Start as a kid. The company builds games for iOS devices that help you learn an increasing number of subjects – mostly languages, like Japanese, German, French, and Chinese – but also U.S. Geography, SAT vocab, and more. At the very least, their apps should help boost your learning in your foreign language classes!
Boundless
Like Packback, Boundless is trying a more innovative approach to making textbooks more affordable than the standard "used textbook market" that lots of other sites have created. Instead of offering the standard, assigned textbooks, Boundless creates alternative versions using curated content that closely matches what's in your assigned text.
Most of their textbook alternatives are just $20, and for that you get an online book, instant text search functionality, flashcards, and quizzes. They also offer several Open Textbooks, which are free, Creative Commons-licensed textbooks you can use without registration.
InternMatch
At the end of the day, most of you probably want to find a kick-ass job after graduation – and doing an internship is a great (and often required) first step. InternMatch is site that helps students get matched with great internships, and can probably help you in your search.
The site lets you search and apply for internships based on the criteria you want – big vs. small company, paid vs. unpaid, etc. They also offer lots of great resources to help you become a more attractive candidate, like resume and cover letter templates and samples.
Lift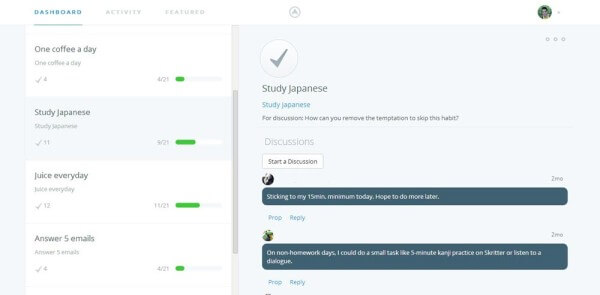 My schedule in college was crazy, and there were a lot of productive habits I would have like to build, but never found the time. Maybe you're the same way. If you are, then you need to try out Lift. Available as a mobile app or desktop site, Lift is a habit tracker that lets you set goals and then track your daily progress.
While they're adding new features that let you make progress on complex, multi-step plans (one of which I wrote), the main use I have for Lift is motivating myself to do everyday tasks. When I wake up in the morning, Lift is there to remind me to do my pushups, eat vegetables, work on my self-study programs, etc. Since Lift tracks my "streaks" – days I've done a habit in a row – I'm much more motivated to do them all each day so I don't break a streak.
If you want to know more about Lift, or the science behind habit formation, check out my interview with Tony, the company's founder!
Fitocracy
I'm a sucker for achievements, badges, and progress indicators – which is probably why I spent time blabbing about them in the sections about Codecademy and Khan Academy earlier. If I was more of a gamer, I'd probably have an unhealthy addiction to Xbox achievements as well.
Fortunately, that addiction went to Fitocracy instead (though maybe a bit too far). Fitocracy is basically a fitness RPG mixed with a social network. When you work out, you can track what you did to earn points for each exercise, level up, and complete quests. These days, my girlfriend and I motivate each other to work out regularly (which I'm extremely grateful for), but before I met her, my Fitocracy addiction helped me reach a level of fitness I'd never been to before.
CollegeFeed
Like InternMatch, CollegeFeed is a startup that wants to help you find a job. However, they're taking a more proactive approach, and I'm curious to see how it works in the near future.
With CollegeFeed, you create a profile much like your LinkedIn profile (you do have one, right?) that displays your work experience, education, goals, skills, past projects, and other info. This is where is gets interesting, though; after you complete your profile, they review it and then, if you're accepted, actually present it to employers. It's free, so if you're looking for a job, I think it's another avenue you should explore.
Tuition.io
I've talked before about the true cost of student loans, and how many students don't realize the magnitude of the debt they're taking on when they go to college. The truth is, though, that even college grads can still be less than clear on their loan situation. Lots of students graduate with multiple loans, which results in multiple payments that must be juggled every month.
Tuition.io is a platform that helps you manage your student loans and stay on top of them. It's like Mint, but focused only on your loans. The site lets you input your loan information, then shows you your balances, monthly payments, and visualizes your payoff process. They also offer tools that can help you find ways to reduce your overall debt.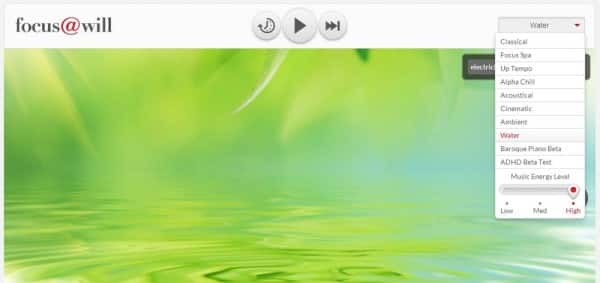 Music is one of my biggest passions, and I'm almost always listening to something when I'm studying or working. However, you probably know that not all music is good for studying – you've got to find specific stuff that won't distract you or break your concentration.
…or you could just let the guys at [email protected] do it for you. Their "neuroscience-based" music service curates tracks that are supposed to help you focus and retain more information. They offer a few different channels, and I can honestly say their selections make for great study music.
Btw – if that's not enough for you, check out The Ultimate Study Music Playlist, which I'm adding new songs to daily!
Venmo
"Let's get pizza – can everyone chip in $5?" – "Sorry dude, I only have a $20." – "I only have a card." – "Yo, I only have $1 in cash but I swear I'll get you back dude…"
…you get it. Having to split payments is really common in college, and nobody ever seems to have the right amount. Venmo is making this process less painful. Available on iOS and Android, Venmo is a great mobile payments app that lets you connect your bank account and then send and receive money. Best of all, transactions are free, unless you're pulling money from a credit card.
Grubhub
When I worked at my school's tech support center, my coworkers and I were very frequent patrons of a site called CampusFood, which let you order delivery from tons of restraurants in the area. It was beautiful. It kept my belly full. It also kept the Jimmy Johns guy really busy.
A couple years back, CampusFood merged with GrubHub, which offers the same awesome service. So if ordering by phone just isn't your thing (people skills, who needs 'em?) or if you're at work and can't call in, GrubHub is your new best friend.
University of the People
Since you're probably already in college, this one might not be something you'll use directly – but I still have to mention it because it's awesome. University of the People is an online university – but unlike other online schools, it' s a tuition-free, accredited university where you can actually earn a real degree.
All students are required to pay is a fee fo $10-$50 per class (not credit) and $100 fee for exams (and they still offer scholarships). This is amazing, as it's opened up the possibility of earning a college degree to so many more people who would have previously been unable to do so because of their income or location. It's projects like these that give me hope for the future.
Student Loan Benefits
Anything that can help students pay off their student loans faster is something I want to cover, and I'm really excited about Austin-based Student Loan Benefits. The company's founder told me about the company's mission; essentially, they partner with with other companies to let those companies offer grads a benefits package that includes automatic student loan payments taken directly out of their paychecks.
In return, companies that partner with SLB will be able to offer a benefits package that should attract smart, forward-thinking students. After all, the smartest students will be looking for the most efficient way to pay off their debt, right? This is another company I'll be watching closely.
———-
That's my list; what other cool startups do you know that are useful for students?
Featured image via Startup Stock Photos