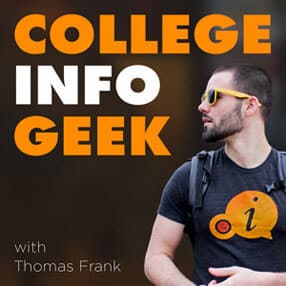 So you chose a college, applied, ripped open your acceptance letter, and did an embarrassingly long fist-pump dance in your closet where your brother can't film it and put it on YouTube.
Now… how you do pay for it?
In this second episode of our three-part Path to College series, we'll attempt to give you a somewhat comprehensive overview of paying for a college education.
If you need a recap, or are just jumping in, here's a breakdown of the series:
Part 1: Getting in – choosing a college, applying, and getting accepted
Part 2: Paying for college – grants and loans, payback options, cutting the cost, finding scholarships
Part 3: Becoming college-ready – being emotionally prepared, assuming more responsibility and freedom, dealing with stress, time management
Before I walk you through a quick summary of the episode's content, I need to let you know up front: This episode is will mostly pertain to U.S. students!
Martin and I both live in the U.S and went to college here, so it's the country we're most familiar with. Since this episode's content is so detailed and complex, it wasn't feasible to included differences for other countries. However, I can try to link you to other resources if you're in search of information for a different location.
With that being said, here's a quick breakdown of what you'll find in this episode!
First, we talk a bit about what I call the dream school mindset – the tendency for students and parents to mentally pre-commit to a dream school before discovering whether or not they'll be able to afford it. Staunchly sticking with this mindset can land families with mountains of student loan debt – which is often unnecessary. To prove that, we go through some research that proves the prestigious reputation of a college matters far less to a student's future income than many believe.
Next, we'll get into some practical ways to cut the cost of college. If you want even more detail, check out my article 39 Ways to Cut the Cost of College.
After that come the real detailed bits. I'll let you know right up front: This is one of the most detail-heavy episodes we've ever done. We go through a crash course that covers:
Tuition payment options
The FAFSA (Free Application for Federal Student Aid)
Grants
Loans – Federal and Private
Repayment options
Loan consolidation
Saving for college
It's a doozy of an episode, but I'm hoping you'll come out of it with a much more comprehensive knowledge of how to pay for college – and how to do it the smart way.
Featured Book
Zac Bissonnette's book Debt-Free U is probably the resource that has taught me the most about the ins and outs of paying for college. It's also one of my most-recommended books for any student or parent in the U.S., and currently sits at the top of my list of Essential Books for Students.
In my humble opinion, you should absolutely pick up a copy of this book and give it a read if you're a U.S.-based college student, a college-bound high school student, or the parent of one. It's certainly not the be-all-end-all resource for college finances, but it'll do a great job of arming you with knowledge you can use to save a lot of money (even if you've already listened to this episode).
One area in particular where the book really shines is where it debunks many of the reasons people cite for what makes a college "good" – and hence justifies a high price tag. Bissonnette gives you lots of data, anecdotes, and other common sense reasons for why rankings, celebrity faculty, and other factors should not sway you decision in favor of an expensive school.
This is one of those books that has a high likelihood of paying for itself quickly. If you'd like to pick up a copy, using the link above helps support College Info Geek!
Things mentioned in this episode:
Want more cool stuff? You can find all sorts of great tools at my Resources page.
If you enjoyed this episode, subscribe to the podcast on iTunes! It's easy, you'll get new episodes automatically, and it also helps the show gain exposure 🙂 You can also leave a review!
Here's an image for sharing this episode on social media: