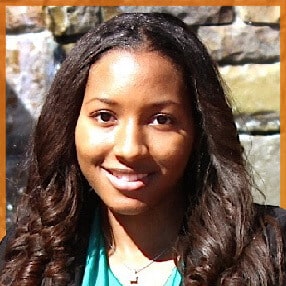 Want to graduate college debt-free? Listen to this.
Shanice Miller is a graduate of the University of Maryland Baltimore Dental School, and she didn't just graduate debt free… she ended up with $10,000 extra from numerous scholarships she was able to win.
Like me, Shanice couldn't rely on her parents for financial support in college. Her solution was to figure out how to win lots of scholarships – both as a high school student and while she was attending college.
It's her view that any student – regardless of GPA, academic standing, or income – can win scholarships (I tend to agree). Today, she coaches students and families on where they can find scholarships they're likely to win, and how to best present themselves and increase their chances of winning.
In this episode of the podcast, Shanice and I dig into exactly how you can win scholarships, including:
Where to find scholarships (besides the typical advice to check FastWeb)
Why you should prioritize small, local scholarships
How to write compelling essays
How to ask for recommendations
…and a lot more.
Things mentioned in this episode:
Resources of the Week:
At the beginning of each episode, I briefly feature one tool I've found to be useful, as well as one learning resource I've found enlightening.
The Tool: 30/30 is an iPhone app that combines a work timer with a to-do list, and it's a great tool for blasting through a bunch of tasks.
The Learning Resource: Debt-Free U by Zac Bissonnette is probably my all-time favorite college success book. Why? Well, the average student graduates with $30,000 in debt – Zac's book will help you be one of the few who don't. It's a perfect tie-in with this episode.
Listener Tip of the Week
This week's listener tip comes from Brian. Thanks Brian! Check out the episode to hear his tip.
"Hey, I have a great tip too!" – you
On every episode listener tip on each episode before I dive into the main content. Want to be featured on the podcast? I'm looking for tips in each of these categories:
General college tips – learning, studying, productivity, etc
Jobs and internships
Money management
If you'd like your tip featured on the show, email it or tweet it to me!
Also, remember to leave your name – and if you'd like me to give a shoutout to something of yours (your website, twitter profile, etc), mention that as well.
Enjoy What You're Hearing?
If you enjoyed this episode, subscribe to the podcast on iTunes! It's easy, you'll get new episodes automatically, and it also helps the show gain exposure 🙂 You can also leave a review!