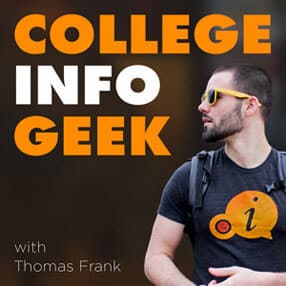 Today we wrap up our Path to College series with a final episode on how to become college-ready.
What does that mean, exactly? When I was high schooler trying to prepare for college, I basically equated "college-ready" to "becoming an adult."
As my senior year drew to a close, I spent a good amount of time trying to prepare myself for a life that would be largely independent from my parents and require a lot more responsibility. I made sure I was able to do my own taxes and generally manage my finances, set up time and task management systems, and created plans for getting involved and plugging into a community right as I entered college.
In this episode, Martin and I try to give you a crash course on many of the things I tried to prepare for, in addition to many of the questions and uncertainties most students face. These include:
Dealing with homesickness
Making friends in college
Coping with stress
Staying ambitious and cultivating productive relationships
Whether or not you should have a job while you're in college
Choosing your focuses and interests
One thing I think is important enough to mention in this intro is that you're not alone if you're worried about college. According to The First-Year College Experience survey:
"…a majority of all students (60%) wish they had gotten more help with emotional preparation for college…"
…and the survey also reports data showing that many students often feel stressed. The problems you'll likely deal with during your early college years are common, and fortunately, there are many ways of getting support for them.
Hopefully, this episode will help you prepare to face those problems and mitigate them up front – or deal with them now if you're already in college. This is probably the most widely-applicable episode in the Path to College series, as issues like coping with stress, managing commitments, and making friends are things we all face – and they don't end when we graduate.
Here's an overview of the entire series, in case you're just jumping in:
Part 1: Getting in – choosing a college, applying, and getting accepted
Part 2: Paying for college – grants and loans, payback options, cutting the cost, finding scholarships
Part 3: Becoming college-ready – being emotionally prepared, assuming more responsibility and freedom, dealing with stress, time management
Unlike the previous episodes, this one doesn't have a featured book – most of what we cover in the episode is largely learned through life experience, and I can't think of a single book that covers it all.
Things mentioned in this episode:
Want more cool stuff? You can find all sorts of great tools at my Resources page.–
If you enjoyed this episode, subscribe to the podcast on iTunes! It's easy, you'll get new episodes automatically, and it also helps the show gain exposure 🙂 You can also leave a review!
Here's an image for sharing this episode on social media: