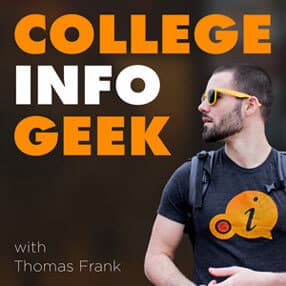 Lining your pockets with some extra cash while you're in college isn't as difficult as you might think.
I started my working life at the tender age of 14 by spending a summer trudging through muddy cornfields, pulling the tops of corn plants off and throwing them on the ground. Sometimes (mostly when writer's block has set in), I kinda miss that job. Mostly, I don't.
Since then, though, I've had a total of 11 part-time jobs, 1 full-time summer internship, 3 freelance positions, and I've also built one company (this one).
With that experience, I'm going to use today's episode to help you find a part-time job.
In this episode, we'll look at:
Where to look for part-time jobs
What your job options are
The "Job Desirability" hierarchy I came up with as a student
On-campus vs. off-campus jobs
Work-study details
How to manage your time and balance a job with your schedule
If you're looking for a way to potentially lighten your student debt load while you're in college, or you just want to have some extra cash for mature, responsible weekend activities, this episode should be of some help.
Things mentioned in this episode:
Want more cool stuff? You can find all sorts of great tools at my Resources page.
If you enjoyed this episode, subscribe to the podcast on iTunes! It's easy, you'll get new episodes automatically, and it also helps the show gain exposure 🙂 You can also leave a review!