Are you still using email to send work messages?
While the confusing threads, CC's, and accidental Reply All's of work email have a certain charm, there are now better options for internal communication. Dozens of team chat apps are available, and they can eliminate a lot of the headache and overwhelm of email.
But with so many apps on the market, it can be hard to know which one you should use. In this article, we'll help you cut through the clutter and find the team communication app that's right for you.
Slack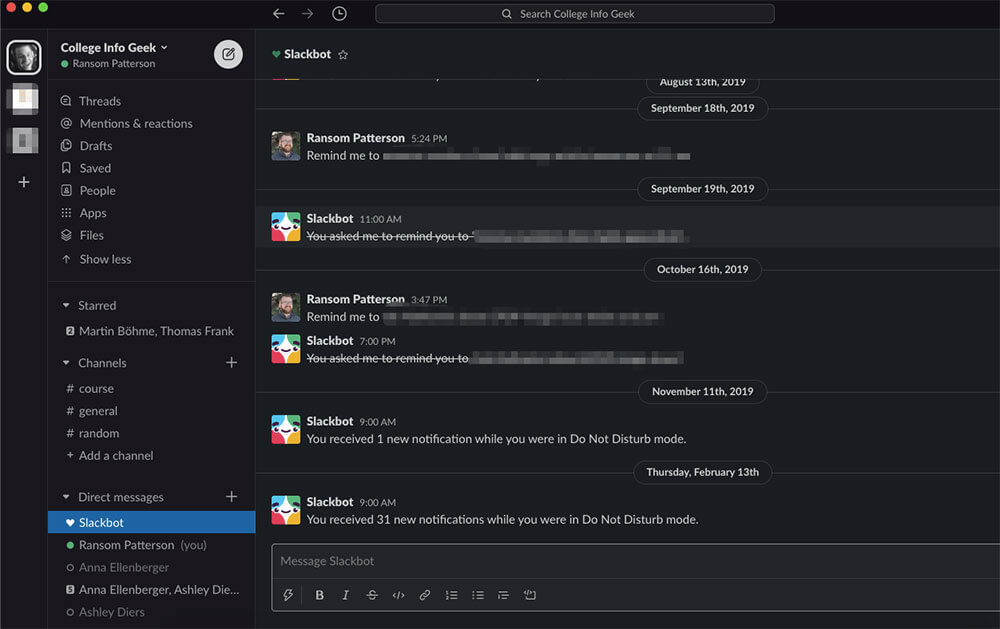 Overview: A long-standing and popular team communication app that still manages to pull its weight.
Slack was the first team communication app I ever used, and we continue to use it today for team communication at College Info Geek. I've seen the app grow and change over the years, but the core functionality has remained the same.
Conversations in Slack are organized into Channels based on topics of your choosing. For instance, you could have one Channel for the marketing team, one for discussing sales, and one for company-wide discussions. And in addition to Channels, Slack lets you send direct, private messages to individual team members.
You can even create Threads to help keep track of conversations within your Channels or direct messages. These Threads are similar to the style of discussion you see on apps like Facebook, and they're becoming common in other chat apps as well.
Slack also has a built-in "Slackbot" that can send you reminders or answer questions about how to use Slack. And Slack integrates with dozens of other popular work apps such as Gmail, OneDrive, and Todoist (to name a few of many).
If you like the layout of Slack and don't have a compelling reason to use a different app (see below), then it's our top recommendation for a team communication app.
Price: Free (with a limited message history and number of app integrations). Paid plans start at $6.67/month per user and include unlimited message history and unlimited integrations.
Platforms: Android, iOS, Mac, Windows, Linux (beta), Web
Microsoft Teams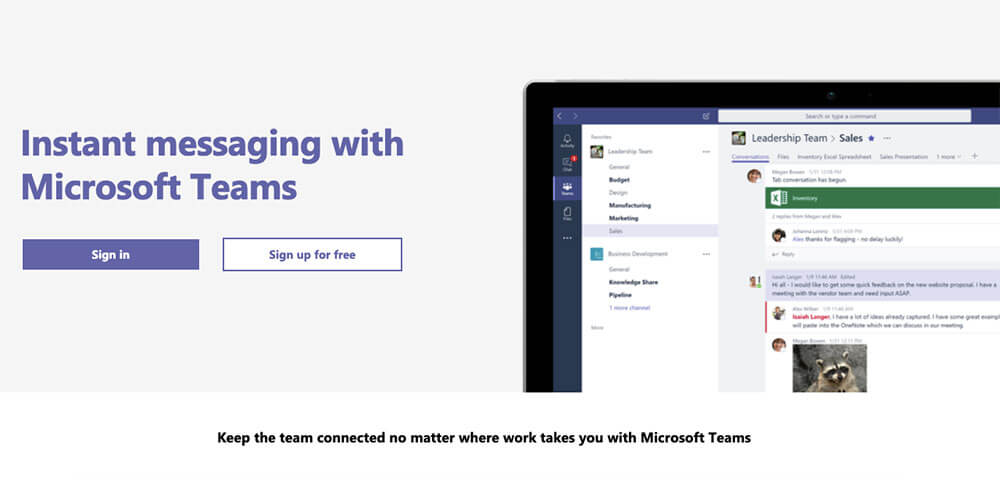 Overview: Part of a larger suite of collaboration tools, Microsoft Teams is a logical chat solution for organizations already using Microsoft Office.
Many organizations (particularly enterprise companies and educational institutions) rely on Microsoft Office for doing their work. If your organization is one of them, then Microsoft Teams is a great place to stay in touch with your colleagues.
Teams offers basic messaging features that let you communicate one-on-one or in groups. You can use all the media you've come to expect from chat apps, including stickers, GIFs, and emojis. And you can organize conversations into channels in much the same ways as Slack.
Where the app really shines, however, is in its deep integration with other Microsoft Office tools. For instance, you can edit Word documents, PowerPoint presentations, and Excel sheets right from within the app. This makes it a powerful tool for collaborating on projects in real-time with other team members.
For all its benefits, however, I wouldn't recommend Microsoft Teams unless you're already using (or plan to use) Microsoft Office. If you're just looking for a standalone chat app, then you're better off with something like Slack.
Price: A free version of Teams is currently available with limited file storage. For increased file storage and additional features such as call recording, you'll need to get Microsoft 365 Business Basic, which is $5/user per month.
Platforms: Android, iOS, Mac, Windows, Linux, Web
Twist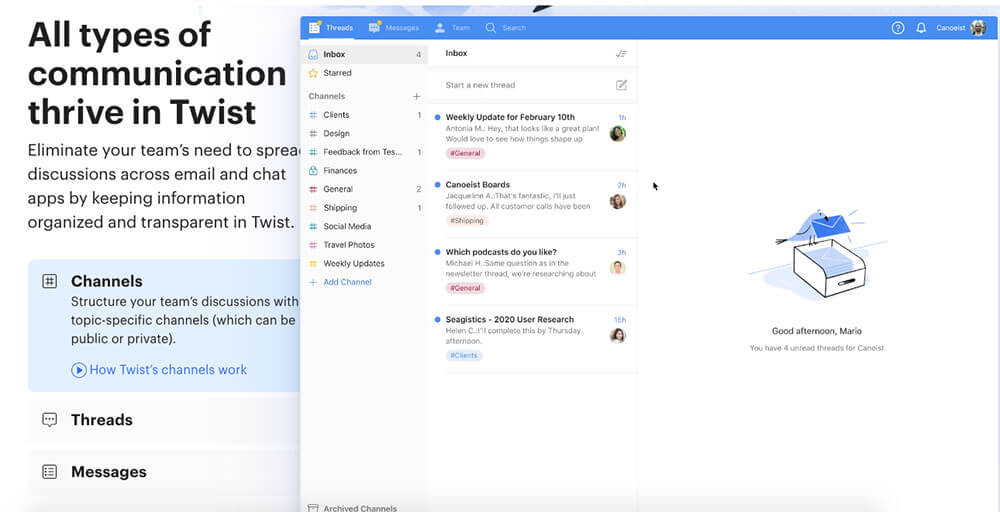 Overview: Positioned as an alternative to Slack, Twist offers a chat experience that prioritizes asynchronous communication.
Many chat apps focus on real-time communication, aiming to mimic the experience you're accustomed to in WhatsApp, iMessage, or Messenger.
Twist is designed to remove this urgency, using an interface that feels more like an email app. When you open Twist, you see an Inbox that shows what's changed while you were away. This way, there's less pressure to interrupt your work to respond to new messages.
Conversations are organized into Channels as they are in Slack, and each Channel also contains Threads organized around different topics. This helps keep conversations focused and easier to refer back to later. You can also send direct messages to team members for private conversations.
The only downside of Twist is its lack of integrations with other common work apps. It does offer integrations with several developer-centric apps such as Github, as well as an integration with Todoist.
But if you want integrations with common apps like Dropbox, you'll need to set them up through Zapier. This could mean yet another subscription to pay for.
Price: Free (limited integrations and message history). The paid plan is $5/month per user and gives you unlimited integrations, message history, and file storage.
Platforms: Android, iOS, Mac, Windows, Linux, Web
Ryver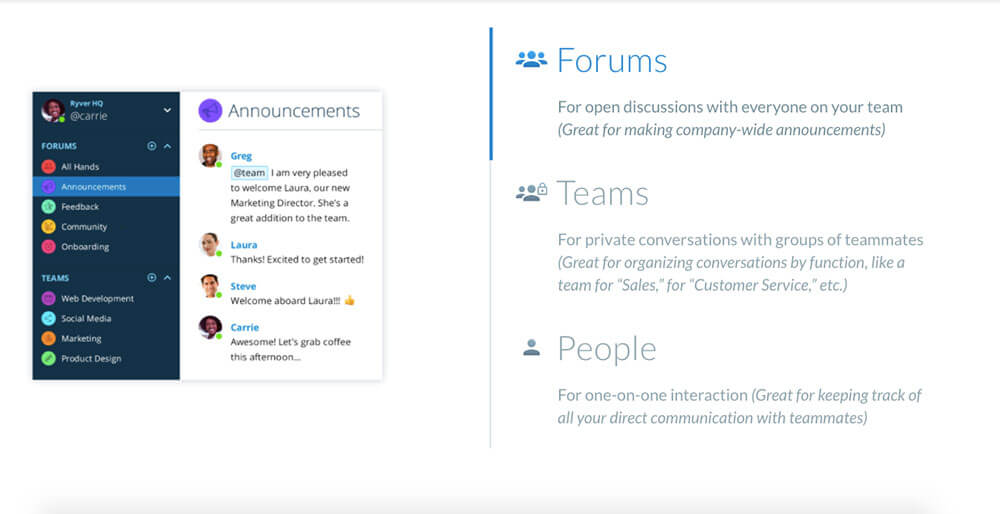 Overview: An affordable alternative to Slack (especially for small teams) that also offers project management features.
Most of the apps in this article focus on team communication. Ryver, however, aims to be a team communication and project management app all in one package.
Ryver's interface is reminiscent of Slack (and most other team chat apps). Conversations are organized into Forums, Teams, and People, which are more or less the same as the Channels, group messages, and direct messages you're used to in other chat apps.
Within each of these groupings, however, there are further subdivisions: Chat, Topics, and Tasks. Chat is more or less what you'd expect: quick instant messaging. Topics are similar to the threads in Twist or Slack, helping to organize discussions and make them easier to reference later.
The Tasks, however, are a departure from any app we've discussed so far. When you switch to the Tasks tab of a Team, you'll see a kanban-style board that lets you create, organize, and complete tasks related to whatever the Team is focusing on. You'll also find standard to-do and project management features such as checklists, tags, and the ability to assign tasks to specific people.
Overall, I think Ryver is an ambitious attempt to integrate team chat and project management. I could see the different layers getting confusing, and they would probably be overkill for a team of only a few people.
However, the flat-rate pricing of Ryver could make it a lot cheaper for smaller businesses when compared to the per-user pricing of Slack or other chat apps. Plus, there's no need to pay for an additional project management app with its own per-user pricing.
Price: Starts at $49/month for up to 12 users. A free 14-day trial is available, and Ryver also offers discounts for non-profit and educational organizations.
Platforms: Android, iOS, Mac, Windows
Discord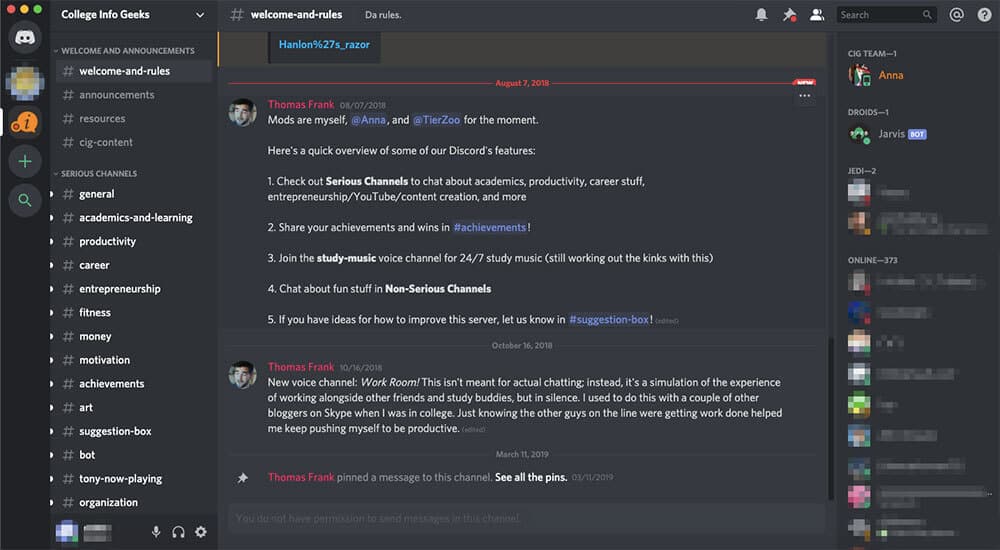 Overview: Best-known as a chat app for gamers, Discord lets you chat about any topic in real-time via text, voice, and video.
I'll admit: I was conflicted about including Discord in this article. Unlike most of the apps on this list, it doesn't claim to be a solution for businesses of any size. Instead, Discord is an app for personal communication.
While it won't be coming to your office any time soon, I think Discord can still be a good (free) solution for communicating about school group projects or other non-sensitive information. You could also use it to organize study groups around a particular class or subject, something especially helpful if you're taking classes online.
Price: Free
Platforms: Android, iOS, Mac, Windows, Linux, Web
Looking for video chat apps as well? Here are 7 worth considering.
Google Chat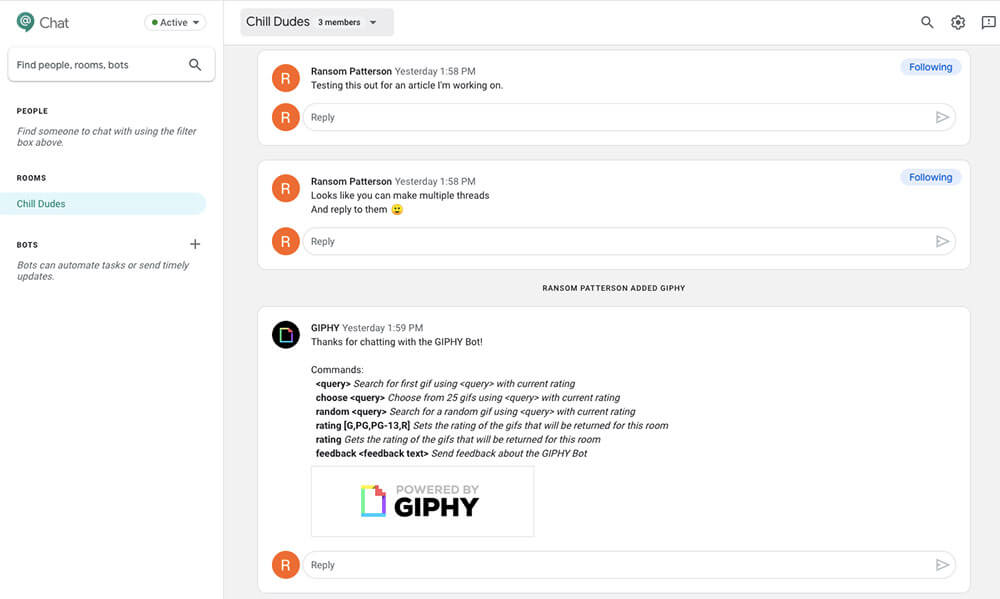 Overview: A simple team chat app that's deeply integrated with Google Workspace.
Before researching this article, I thought Google Chat (formerly "Hangouts Chat") was just a simple one-to-one messaging tool for chatting with friends. As it turns out, however, Google Chat is a lot more powerful than that.
The Google Chat app itself is fairly simple. Within the Google Chat for your organization, you can create different Rooms (which are basically Channels) organized around particular topics.
And in each of these Rooms, you can create discussion Threads that members of the Room can respond to using all the multimedia features you'd expect. You can also send private, direct messages to individuals or small groups.
But the true power of Google Chat lies in its deep integration with other Google apps. Sharing files from Google Drive, Docs, Sheets, and Slides is effortless, and the same technology that powers Google search lets you quickly find items in your Google Chat conversations.
You can also add a variety of bots to your chats that make it easier to do things like schedule meetings or pull in data from third-party apps such as Asana or Salesforce.
If your team already uses Google Workspace (or plans to use it), then Google Chat is worth a look for your communication needs.
Price: Included as part of Google Workspace, which starts at $6/month per user.
Platforms: Android, iOS, Mac, Windows, Linux, Web
Chanty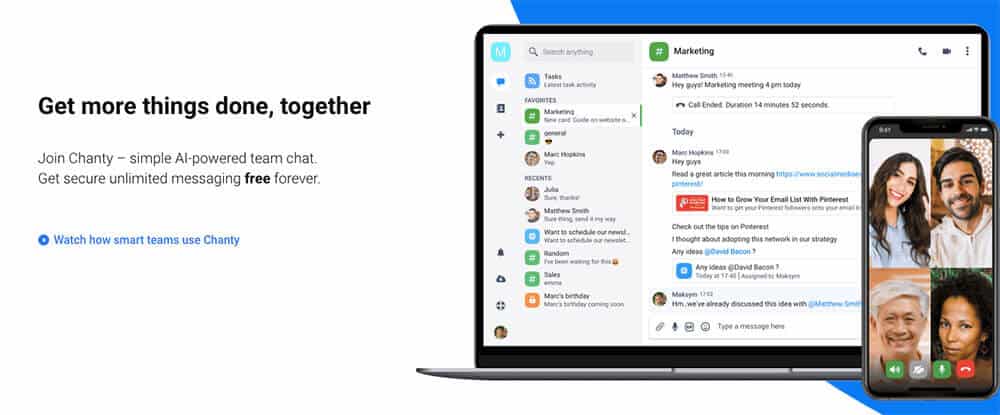 Overview: A Slack-like app with simple task management features and an affordable price tag.
Chanty's goal is to be a simpler, more intuitive alternative to Slack.
In practice, the two apps look and behave in similar ways. Chanty lets you create Conversations, which are similar to Channels in Slack. You can have public Conversations that your entire team can participate in, as well as private Conversations for specific groups of people. And of course, you can also send private direct messages to individual team members.
The main things that set Chanty apart from Slack are its task management features and pricing structure.
Starting with task management, Chanty lets you turn any message into a task that you can assign to yourself or another team member. The functionality is currently very basic, showing you a list of tasks that you can either complete or delete.
However, Chanty's Features page states that they're working on expanding the task management to include due dates, task priority, checklists, subtasks, and even a kanban-style view. If this becomes a reality, then it could make Chanty an appealing option for businesses looking to simplify their workflows or reduce costs.
Speaking of costs, Chanty offers an appealing pricing structure, especially compared to other chat apps on the market. Their Free plan offers unlimited message history, conversations, and voice messages for up to 10 users.
And if you need more team members, unlimited integrations, and increased file storage, their Business plan is just $1.50/month per user (normally $3, but it's currently on sale).
Many team communication apps require you to pay for unlimited message history and charge far more than $1.50/month per user for even their most basic plans. So Chanty could be a great deal for budget-conscious organizations (especially if the developers expand the app's task management features).
Price: Free for up to 10 team members. The Business plan is $1.50/month per user and adds features like unlimited team members, unlimited integrations, and priority support.
Platforms: Android, iOS, Mac, Windows, Linux
Rocket.Chat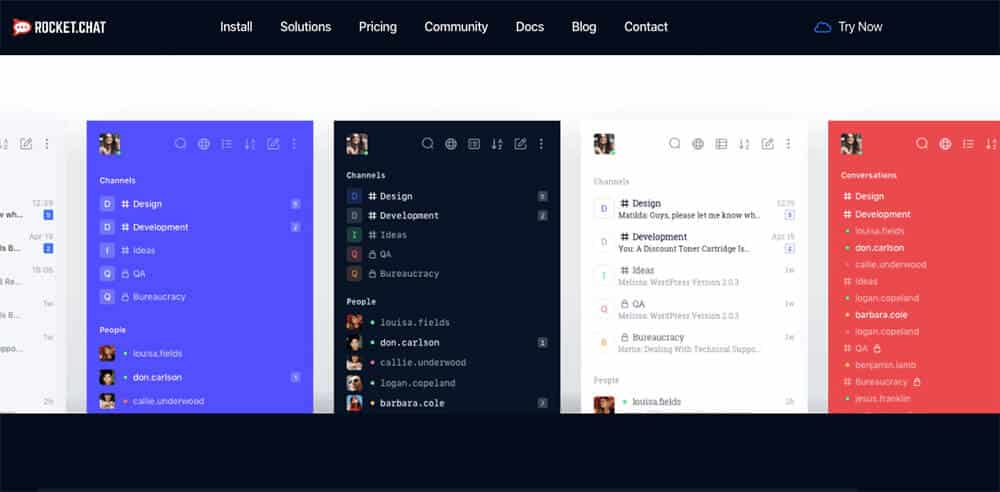 Overview: A straightforward, open-source chat app that's highly customizable.
At first glance, Rocket.Chat looks like most other team chat apps. And on the surface, that's true. The app divides conversations into public and private Channels, as well as private direct messages for communicating with specific team members. And there are all the standard messaging features such as file uploads, emojis, GIFs, and @ mentions.
Where Rocket.Chat differs from the other apps on this list, however, is under the hood. Rocket.Chat is completely open source, meaning that if you or a team member has the software development skills, you can customize and change the app to work however you want.
In addition to being open source, Rocket.Chat includes impressive multilingual support. The app's paid plans let you integrate the Google Translation API into Rocket.Chat, allowing you to translate messages in real-time.
While this won't provide completely error-free communication, it still opens up a lot of possibilities for multilingual and global organizations. Plus, the app's interface has been translated into over 50 languages.
If you're just looking for a team chat app that provides everything you want out of the box, then Rocket.Chat is probably overkill. But if you want something you can customize to get exactly the team chat experience you want, Rocket.Chat is a great option.
Price:
Self-managed (hosted on your own server) is free for up to 1K users and unlimited message history. The Pro plan costs $3/month per user, and it gets you unlimited users and the ability to add real-time translation.
SaaS (hosted on Rocket.Chat's servers) starts at $2/user per month for unlimited users, unlimited message history, and limited storage and integrations. You can upgrade to the higher-tier plans for increased storage, integrations, customization, and support.
Platforms: Android, iOS, Mac, Windows, Linux, Web
RingCentral Video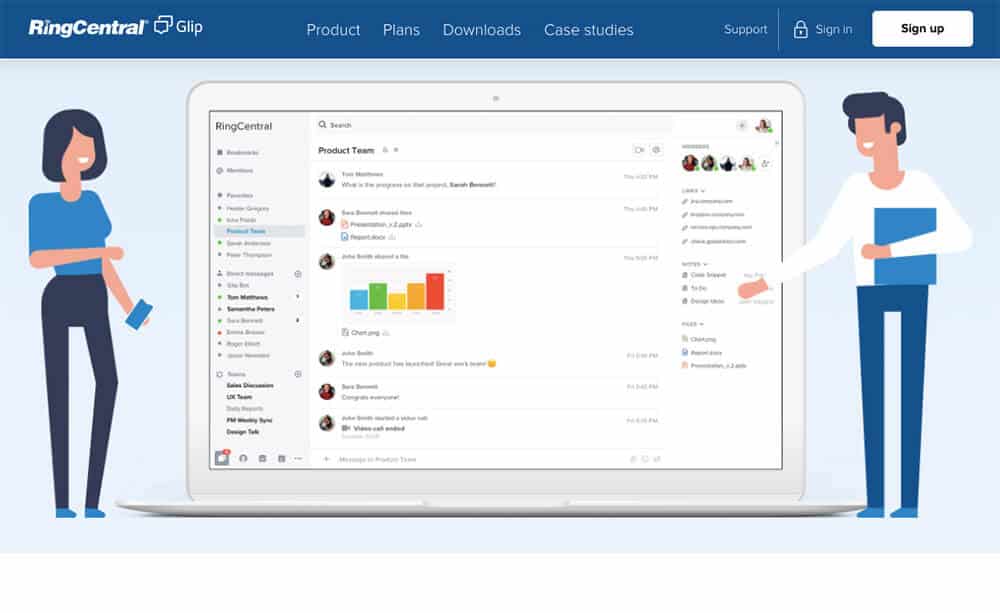 Overview: RingCentral Video is a team chat app with useful collaboration features like screen sharing and task management.
RingCentral Video aims to be a "collaboration" app that helps your team work together more effectively. Chat features are a major part of this, and the RingCentral Video interface will feel familiar if you've used Slack or another popular chat app.
You can add people to Teams organized around different topics, as well as send private, direct messages. You can also chat via audio or video, even sharing your screen if you want.
Beyond these standard chat features, RingCentral Video includes a fairly robust task manager. You can use this to manage tasks on its own, or you can assign new tasks from within RingCentral Video conversations. In addition to the standard list view, RingCentral Video also lets you view your (and your team's) tasks on a calendar.
Overall, RingCentral Video is a worthy entry into the field of chat apps. If nothing else, it's worth a look due to its generous Free plan, which includes unlimited meetings, meetings for up to 100 participants, and integrations with popular productivity apps.
Price: Free (includes unlimited meetings, task management, and most features). The paid plan is $11.99/month per user and gets you up to 2oo participants, plus increased cloud recording storage.
Platforms: Android, iOS, Mac, Windows, Web
Flock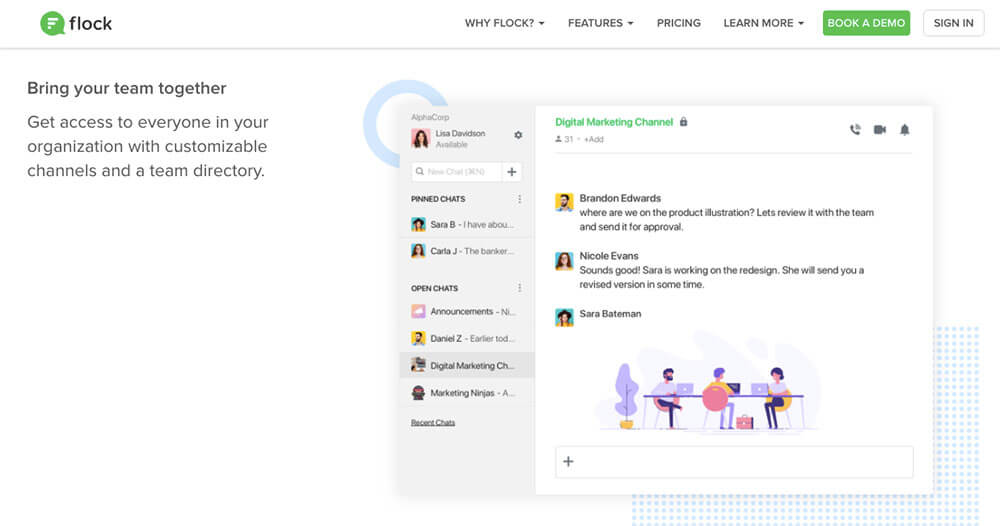 Overview: A team communication app with some neat features like polls and a built-in note-taking app.
Flock wants to be the hub for all of your team's work. Messaging features are at the core of this, with the Channels and direct messages that you'll find in almost every chat app.
Where Flock gets interesting, however, is in the features it adds beyond messaging. In addition to the standard emojis, GIFs, and file sharing, Flock lets you create polls within Channels. This can be helpful when trying to decide on anything from which logo design is best to where your team should get lunch.
Most notably, Flock is the only app on this list to include a built-in note-taking app. Called "Notes," it lets you write and format short documents on the fly. You can also share these documents with team members, which can be a helpful way to avoid long, difficult to read messages within your chats.
Price: Free (limited message history, file storage, and number of channels). The Pro plan is $4.50/month per user and gets you unlimited message history, unlimited channels, group video calls, screen sharing, and 24/7 priority support.
Platforms: Android, iOS, Mac, Windows, Linux, Web
Find the Best Chat App for Your Team
I hope this guide has helped you find the right chat app to enable your team to communicate, collaborate, and work more effectively.
However, the best chat app is no substitute for productive work habits. To learn more about how to set up a productivity system that you (and your team) can use, check out our free course:
Image Credits: person using Slack on laptop