When you're working on a large project, to-do lists can fall short. There's simply too much going on and too many people involved. Instead, you need to use dedicated project management software.
But how do you choose a project management app? The answer depends on the size of your team, the way you prefer to work, and what you're trying to accomplish.
Below, I'll examine some of the best project management apps on the market to help you find the tool that's right for your needs.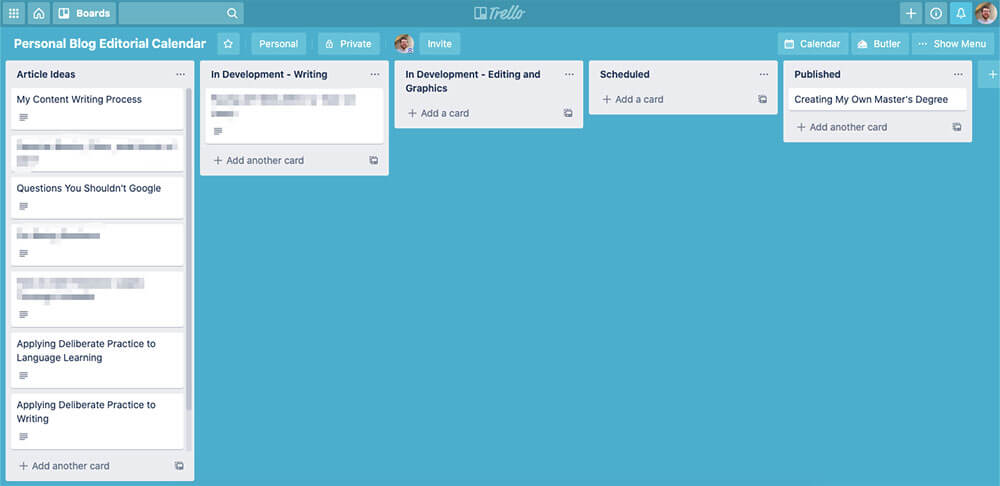 Overview: One of the original Kanban board apps, Trello provides a highly visual way to manage projects.
Trello is based on the Kanban board system of project management. Kanban organizes project tasks as cards on a board divided into columns. Each column represents a task status (typically to-do, doing, and done, though it can get much more complex). As work progresses on cards, you move them from left to right.
In addition to implementing this Kanban board design, Trello lets you assign cards to team members, set due dates, attach files, and make comments.
Trello also has a variety of power-ups you can use to improve your workflow. One of my favorites is the card aging power-up, which causes Trello cards to fade if they haven't been worked on in a while.
Trello is useful for all kinds of projects. I've used it to manage editorial calendars for different clients, and you can even use it to manage software development. (Though keep reading to learn about project management apps created specifically for software development workflows).
Price:
Most features are available for free.
Increased storage, priority support, and third-party app integrations are available from $9.99/month per user.
Platforms: Android, iOS, Mac, Windows, Web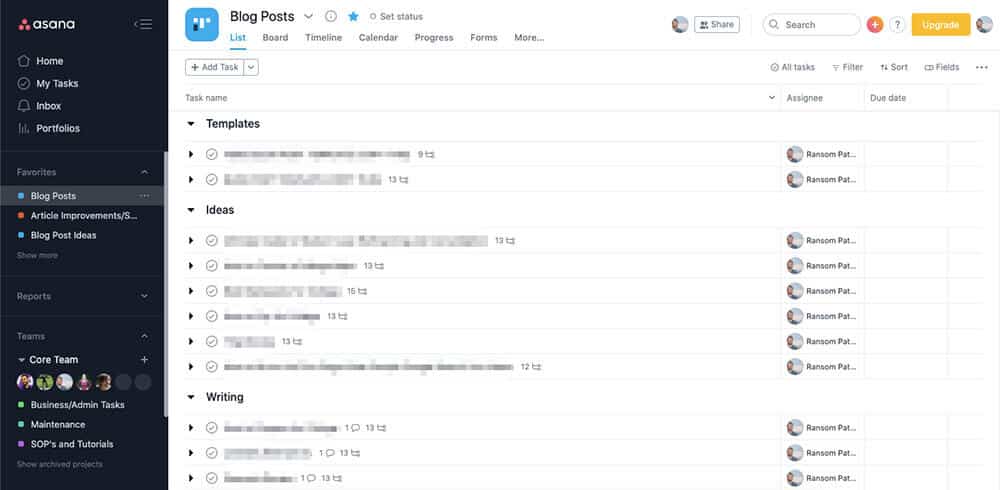 Overview: A flexible project management app with a variety of options for visualizing your work.
If you like Trello but wish it had more ways to visualize your tasks, then look into Asana. When you create a new project in Asana, you can view it in several different ways:
List view displays project tasks as a list. You can divide lists into sections for easier organization.
Board view displays tasks on a Kanban board divided into columns (similar to Trello).
Calendar view displays tasks on a calendar, which can be helpful for ensuring your project is on track.
Timeline view displays projects as a series of tasks on a timeline. You can draw connections between tasks to indicate dependencies. If you're familiar with Gantt charts, this view is similar.
Besides these different project views, Asana lets you assign due dates, comment on tasks, divide to-dos into subtasks, and attach files. Many third-party app integrations are also available.
Price:
Free for teams of up to 15 people with basic project views and features.
Timeline view, dependencies, templates, and other advanced features are available as part of the Premium plan for $10.99/month per user.
Platforms: Android, iOS, Web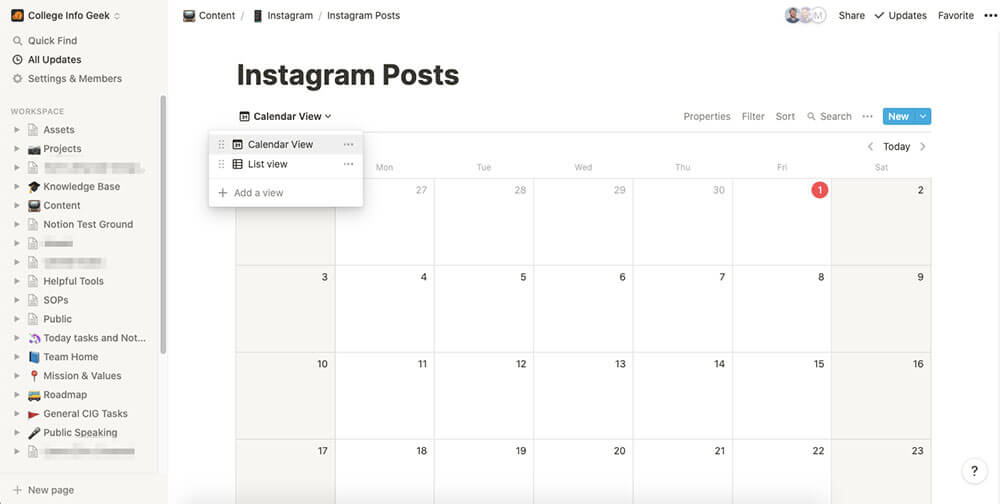 Overview: Built to replace several work apps, Notion is a fantastic option if you're looking to build a customized project management experience.
Notion wants to be your all-in-one knowledge work app. You can use it to write documents, take notes, build knowledge bases, create spreadsheets, and manage projects.
At its core, Notion is built around pages and databases. Within each page, you can add content such as text, images, links, etc. This is already useful, but the true power of Notion lies in databases. You can add several types of databases to any Notion page, including kanban boards, lists, calendars, and tables.
Once you've created a database, you can add items to it to represent tasks, project assets, or whatever you need. And you can define custom properties such as "Team Member Name" or "Status" to help you manage your databases. Each item you create in a database is also its own page in Notion, meaning you can get very granular with the way you manage projects.
In addition, you have several options for viewing your databases. For instance, you can switch between viewing your database items on a kanban board and a calendar. This gives you more flexibility for managing your projects and makes it easy for team members to find the information they need.
Finally, Notion includes powerful collaboration features. You can comment on any part of a page, collaboratively edit pages in real time, and @mention other team members.
Price:
Personal plan is free for individuals (and you can invite up to 5 guests to privately view your work).
Personal Pro plan ($4/month) offers everything in the Personal plan plus unlimited file uploads, unlimited guests, unlimited version history, and API access.
Students and educators can get the Personal Pro plan for free.
Teams wishing to use Notion will need to upgrade to the Team plan ($8/month per team member).
Platforms: Android, iOS, Mac, Windows, Web
If you'd like to learn how to use Notion, check out our founder Thomas Frank's free Notion Fundamentals course. In it, you'll find thorough tutorials on all of Notion's main features. You can also check out the video below to see how he manages his own work: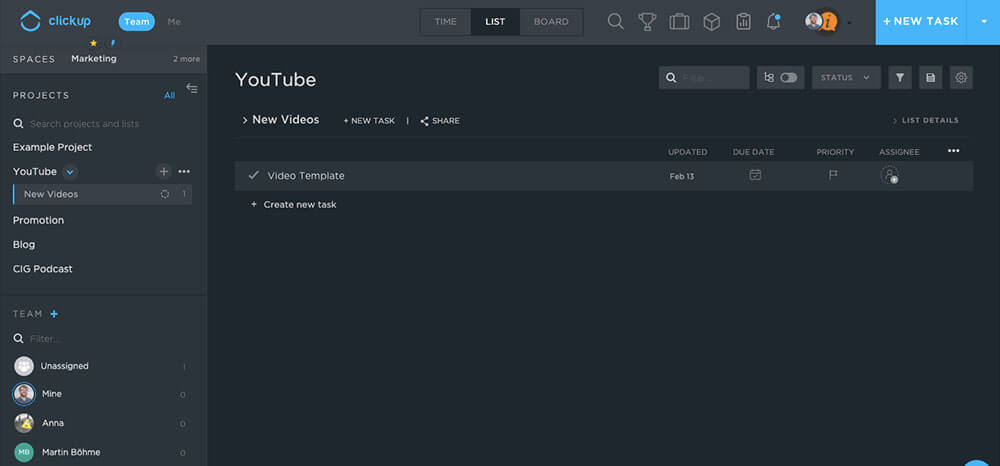 Overview: More than just a project management app, ClickUp aims to be a unified hub for your knowledge work.
ClickUp attempts to combine to-do lists, project management, documents, spreadsheets, screen capturing, and more into a single app. While I don't see it replacing all of my work apps any time soon, it is a powerful solution for project management.
Like Asana, ClickUp lets you visualize your projects using lists, boards, calendars, and Gantt charts. However, the app also adds a box view to show you the progress each team member is making on their tasks. This can be especially helpful if you're managing a large team.
Additionally, ClickUp gives you a broader view of your work with goals. Goals are higher-level priorities for your organization that can guide your projects and tasks. And once you've set goals, you can break them down into targets (results you can quantify). You can then link targets to your tasks and watch a progress meter increase as your team completes them.
Price:
A Free plan is available with unlimited users, unlimited tasks, and limited storage/integrations.
For unlimited file storage, increased integrations, and advanced project management features, you can upgrade to the Unlimited plan for $5/user per month.
Platforms: Android, iOS, Mac, Windows, Linux, Amazon Fire, Web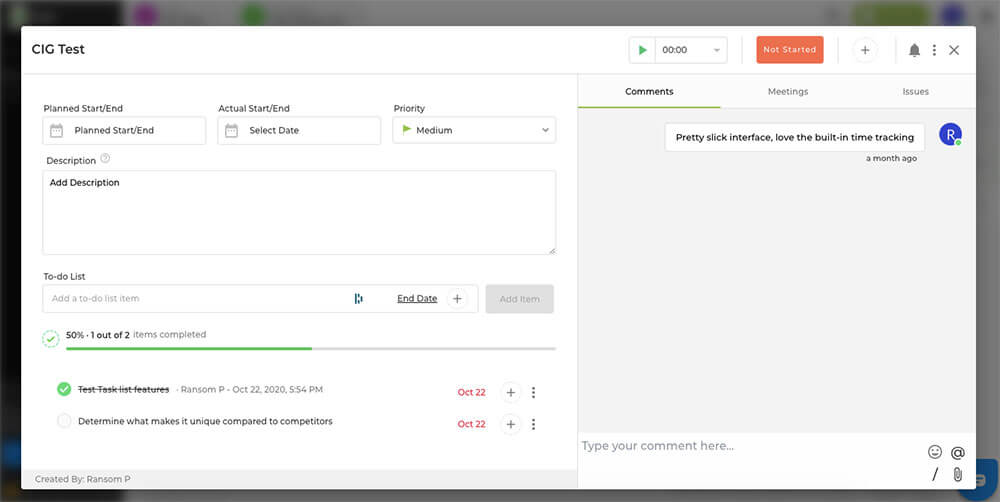 Overview: A powerful project management app with built-in time tracking and meeting management features.
nTask is another strong entrant into the world of project management apps.
At the most basic level, nTask separates your work into workspaces that contain tasks. Each of these tasks has its own set of useful productivity features, including a to-do list, planned vs. actual start and end dates, and comments.
None of the above features are ground-breaking, but things get more interesting as you dig deeper.
First, nTask bakes time tracking right into the app. All you have to do is pick a task, click the "Play" button, and start tracking your time. You can then view all of your tracked time within the app's Timesheet panel. This eliminates the need to use (or pay for) third-party time tracking software.
Along with time tracking, you can also schedule meetings within nTask. Besides the standard details such as date, time, and duration, you can also associate meetings with specific tasks. This way, you don't have to switch between nTask and other scheduling apps to plan a meeting.
Finally, nTask manages to pack all of this into an aesthetically pleasing interface. There's a lot of power under the hood, but it's easy to jump into the app as a new user and quickly get your bearings.
Price: Basic features are free for up to 5 team members. To unlock additional storage, Gantt charts, and custom filters, upgrade to nTask Premium for $2.99/user per month (billed annually).
Platforms: Android, iOS, Web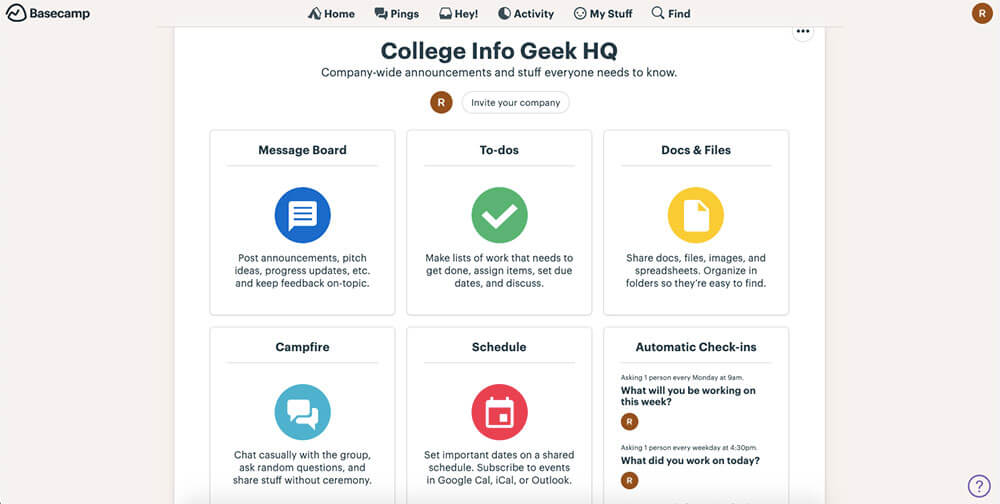 Overview: A long-standing project management app that still holds its own.
A lot of the apps in this article are very powerful but also complex. In contrast, Basecamp is refreshingly simple (but still powerful).
Basecamp divides your work into projects. Each project contains features such as a to-do list, a calendar, a message board, and a group chat for quick messages. There's also a place to store documents, images, spreadsheets, and other external files.
This is all pretty standard stuff, albeit executed in a clean, well-designed way. However, there are two key features that set Basecamp apart from other project management apps.
First, each project has a feature called automatic check-ins. These recurring questions prompt team members to report on their progress, reducing unnecessary meetings with management.
Second, Basecamp includes a unique way to visualize your project progress: hill charts. These charts let you see each of a project's to-do lists on a curve that resembles a hill.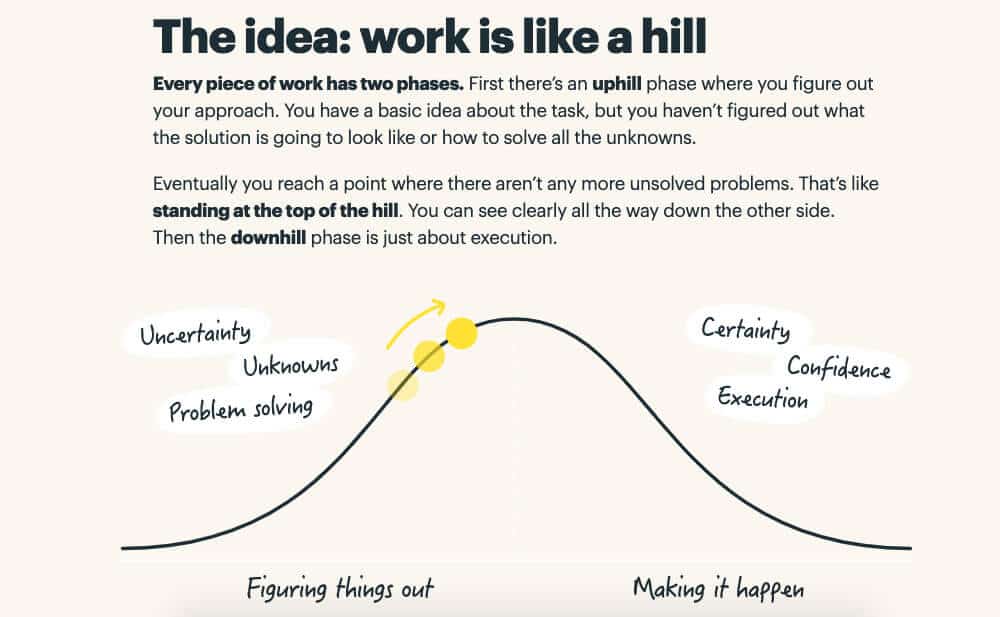 The left half of the curve represents to-do lists that team members are still figuring out how to execute. The right half of the curve represents to-do lists that the team has figured out how to tackle
As team members become more certain about how to execute a to-do list, they can move it up and then down the curve. This high-level view helps you spot project obstacles and intervene if a team needs help.
Price:
Free trial available for 30 days. After that, a flat fee of $99/month.
Free accounts are available for students and educators, as well as a 10% discount for non-profits.
A free Personal version is also available with limited projects, users, and storage.
Platforms: Android, iOS, Mac, Windows, Web
Struggling to finish a personal project? Here's how to get unstuck.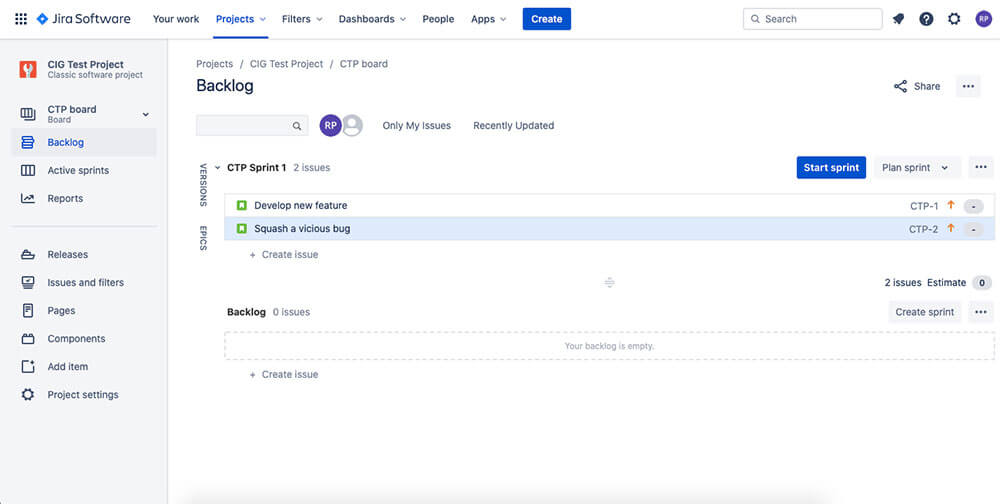 Overview: A project management app built for software development teams.
Jira is a popular tool for managing software projects that use the agile development philosophy. Explaining agile development is beyond the scope of this article. But the basic idea is to develop, improve, and release software in increments instead of one large launch.
Jira includes many features built specifically for software development teams. At the core of this are issues, which represent what your team is working on (bug fixes, project tasks, etc.). Jira lets you organize your issues into a backlog, which is a centralized list of all your project's tasks.
Jira offers two main ways to visualize your project's tasks: scrum board and Kanban board.
Scrum is a technique for implementing agile development that breaks software projects down into sprints. (See this guide for a more detailed explanation). The scrum board shows you your project's backlog, your team's active sprints, and reports about the project.
The Kanban board shows your tasks on a board divided into columns according to their progress. According to Jira, this view is best if your team isn't working in sprints, but rather a constant flow of work.
If your team already uses or plans to use agile development, then Jira could be the solution you're looking for.
Price:
Free for up to 10 users (with limited features).
For teams of 11–100 users, Jira costs $7/month per user. A discount is available for larger teams, and a self-hosted version is also available.
Platforms: Android, iOS, Mac, Windows, Linux, Web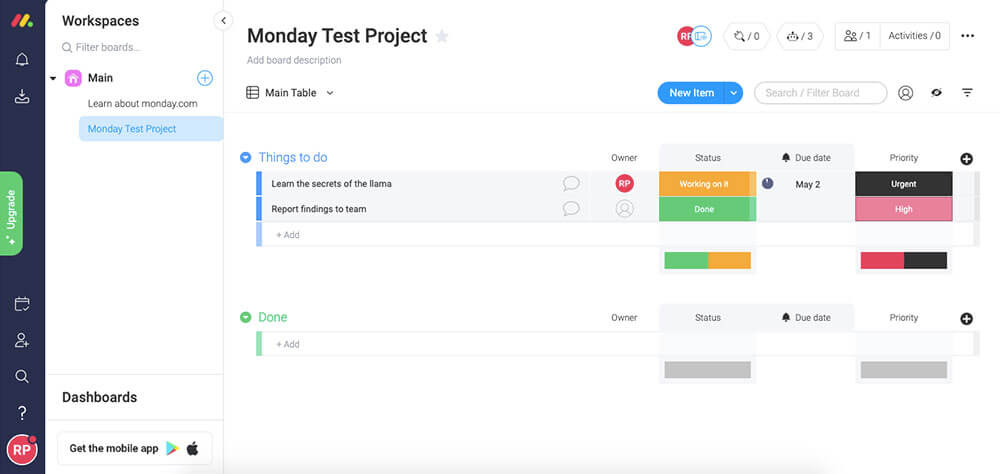 Overview: A highly visual project management app with extensive automation features.
Monday.com is an intuitive, flexible app for managing projects of all kinds. Like many other project management apps, Monday.com uses boards to organize information. Each board contains items divided into groups and columns.
Groups are the high-level organization for your items, such as "Planning" or "Designing". Columns contain data related to items, which can be anything from a due date to a person's name (and much, much more).
Using these building blocks, you can create a system to manage all kinds of work. If you don't want to create a system from scratch, Monday.com offers dozens of board templates. You can also create your own templates if you want.
In addition to these features, Monday.com lets you automate common workflows (no coding knowledge required). Each automation is based on a recipe that uses information from the Monday.com app to execute an action. For instance, you could automatically notify your social media manager when you mark a blog post as "Published."
Price:
Starts at $8/month per user.
For increased boards, automations, and integrations, you can upgrade to the Standard plan for $10/month per user.
A free version is available for students and educators.
Platforms: Android, iOS, Web
Streamline Your Workflow with Project Management Apps
I hope this guide has helped you find the right project management app for your team. If you can commit to using a project management app, then you'll be rewarded with a workflow that's more efficient and less stressful.
Looking for more tools to stay organized? Check out these app guides:
Image Credits: writing on whiteboard