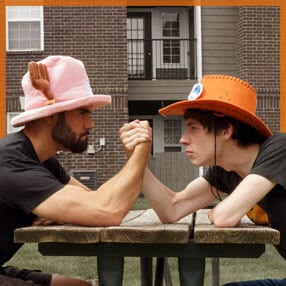 On this episode, we're experimenting with the show's format a bit!
So here's the deal. When Martin and I go in and look at the download numbers on each of the podcast episodes we do, something always stands out to us: The 5 Questions episodes do really, really well. You guys seem to like them a lot.
Furthermore, I like doing them a lot as well. It's fun to go in with multiple questions and topics to riff on.
Given those two facts, I came to the conclusion that we should do more Q&A episodes. Here's what we're going to try out.
On the episodes Martin and I record together, we're going to answer three(ish) questions from the community instead of only covering one topic.
However, I'll still be mixing in interviews with guests – I think they're really valuable, both for you guys and for my own learning.
That's our plan for the near future. Now, we're not ruling out the possibility of doing more single-topic episodes – especially if there's a book that we'd both like to discuss on the show. That being said, we both wanted to find a way to answer more of your questions, and we think adapting the show to be more Q&A-based is a great way to do it.
Additionally, this will free up more time to me to dedicate to video production and to bigger upcoming projects 🙂
On this particular episode, we're tackling three questions:
How do you take care of your sanity and not feel like a robot?
Is it better to limit your daily to-do list to a number of tasks you know you can get done, or to add more in order to push yourself?
What are your strategies for getting to/staying at Inbox Zero?
Enjoy! Also, if you'd like to ask your own questions and get them featured on the show, you can do that in the College Info Geek community or on Twitter 🙂
Things mentioned in this episode:
Want more cool stuff? You can find all sorts of great tools at my Resources page.
If you enjoyed this episode, subscribe to the podcast on iTunes! It's easy, you'll get new episodes automatically, and it also helps the show gain exposure 🙂 You can also leave a review!
Here's an image for sharing this episode on social media: