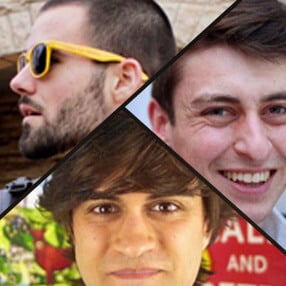 This week's podcast episode is a replay of a live stream I did a couple weeks ago on the topic of, "how to become an adult."
Joining me in the stream were Simon Clark and Jamie Miles, two YouTuber friends of mine who live in the UK.
Simon is a current Ph. D. student in climate science and an Oxford University graduate. Jamie is also an Oxford grad, worked for Google for a while, and is now part of a technology startup.
So between us, we've got the perspectives of a grad student, a person with experience working for multiple companies (both large and small), and a professional goofball with a camera and microphone – not to mention that together we represent two different countries!
Is that enough to run a useful live stream on becoming an adult? We'll let you decide after you get to the discussion on Bojack Horseman vs. Steven Universe. (the other 99% is useful, I swear.)
If you enjoy this, definitely check out Simon and Jamie's YouTube channels in the links below as well. They both produce excellent videos with study tips and other college advice!
Things mentioned in this episode:
Want more cool stuff? You can find all sorts of great tools at my Resources page.
If you enjoyed this episode, subscribe to the podcast on iTunes! It's easy, you'll get new episodes automatically, and it also helps the show gain exposure 🙂 You can also leave a review!