Remember when you had to wait 3–5 days for a package to arrive?
Man, those sure were the dark ages. Nowadays, you can get just about anything delivered in two days (or less) with Amazon Prime.
You probably know about Amazon Prime at this point, but maybe you've been hesitant to sign up for it due to the price tag ($119/year).
If this is the thing that's been holding you back, then I have good news: college students can get Amazon Prime for just $59/year (plus a 6-month free trial).
Sound too good to be true? Keep reading to learn about all the benefits of Amazon Prime Student, as well as how to sign up for the service and make the most of it.
What Is Amazon Prime Student?
Amazon Prime Student offers all the great features of Amazon Prime, but at around half the price. If you're not familiar with Amazon Prime, here are some of the key benefits you get when you sign up:
Free two-day delivery (plus one-day and same-day delivery on select items)
Prime Now — Get free two-hour delivery on eligible items (in select major U.S. cities)
Prime Video — Stream thousands of movies and TV shows
Amazon Photos — Get unlimited photo storage
Twitch Prime — Get access to bonus games and exclusive in-game content (plus a free monthly subscription to the Twitch Affiliate or Partner channel of your choice)
Prime Reading — Get unlimited access to over a thousand books, magazines, comics, and more.
Prime Music — Stream 2 million ad-free songs on your computer or mobile device
Amazon Music Unlimited — Students can get Amazon Music Unlimited, a streaming service with over 50 million songs, for just $0.99/month (normally $7.99/month).
20% discount on pre-order and new release video games
Exclusive product deals and discounts
Basically, Amazon Prime is awesome, and Amazon Prime Student gives you access at a great discount.
How to Get 6 Months of Prime Student for Free
It's one thing to read about how great Amazon Prime is, but it's quite another to pull out your wallet and plop down 59 bucks for it. It's a commitment, especially on a tight college budget.
To help decide if Prime is worth the money, students can get a free 6 month trial of the service. During this trial, you'll have access to most of the benefits of Amazon Prime.
The only exception is access to Prime Music — you'll have to upgrade to a paid account to get this benefit.
Want to save lots of money on your textbooks as well? Check out our guide to renting textbooks on Amazon.
How to Sign Up for Prime Student
So you've decided you want to give Amazon Prime a try. The next step is to sign up for the service. As long as you have a valid .edu email address, the process is quite simple.
First, visit the Prime Student sign-up page. It should look something like this: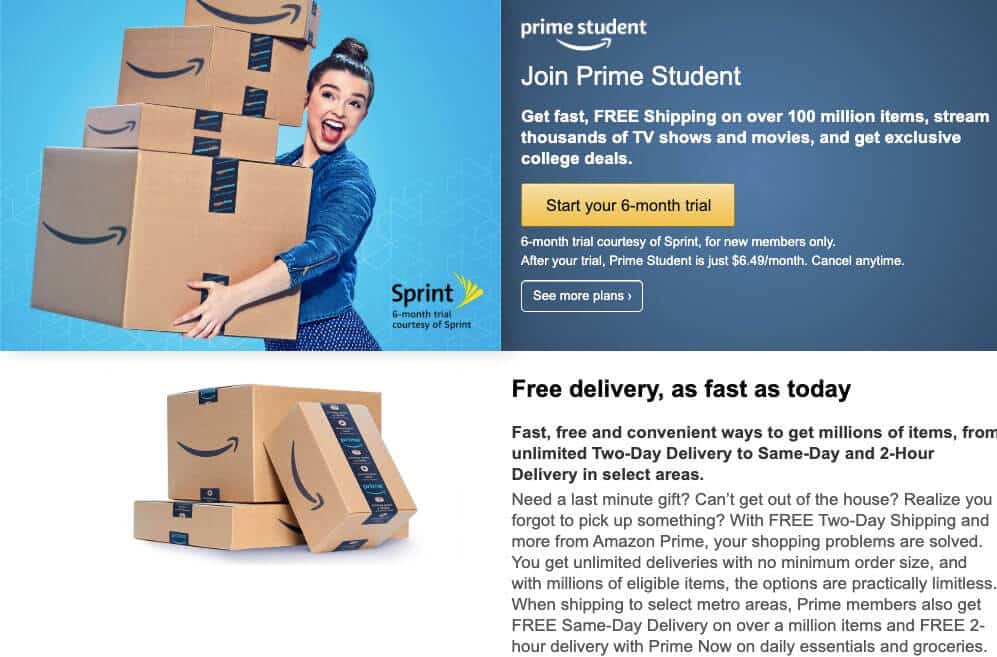 To begin the sign-up process, click "Start your 6-month trial":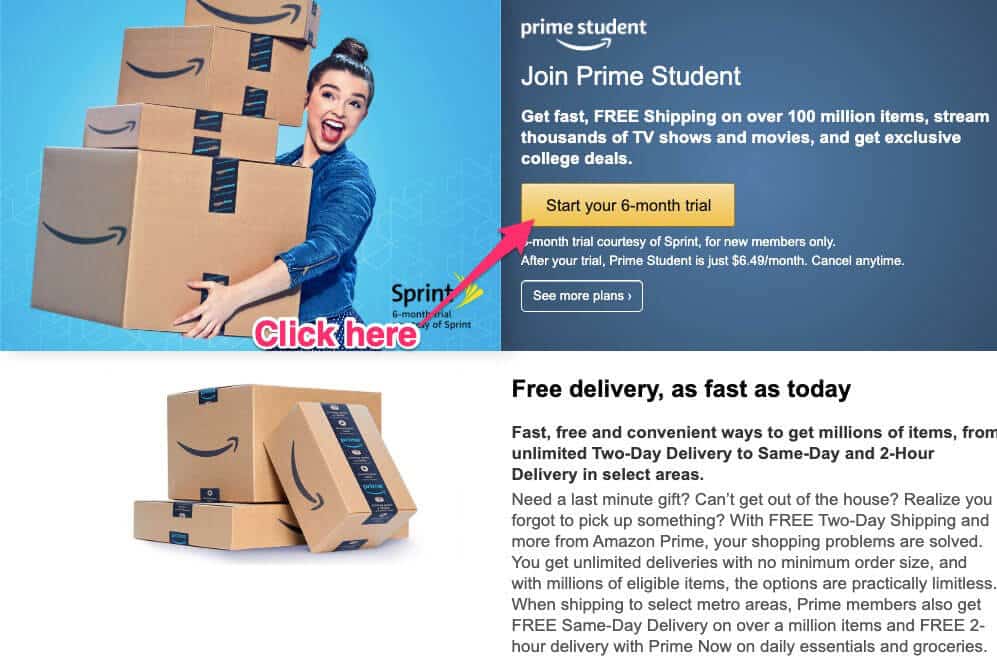 If you already have an Amazon account and want to upgrade to Prime Student, you can just sign in with your existing login info: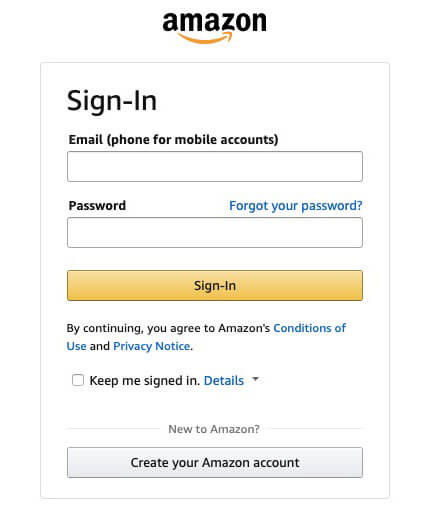 If you don't have an Amazon account, you'll need to create one. To do this, click "Create your Amazon account" and then enter your name, email address, and a password: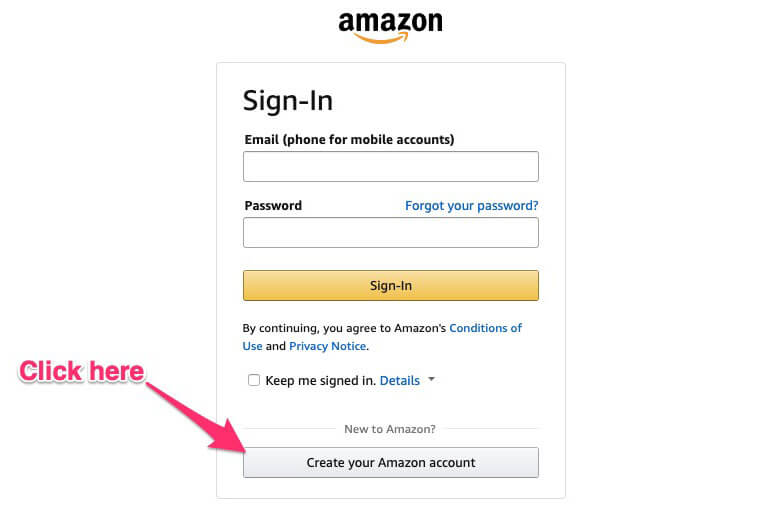 Note that it's not necessary to sign-up with your .edu email address. You'll enter that separately.
Once you've signed into your existing account or created a new one, you should see a form like the one below: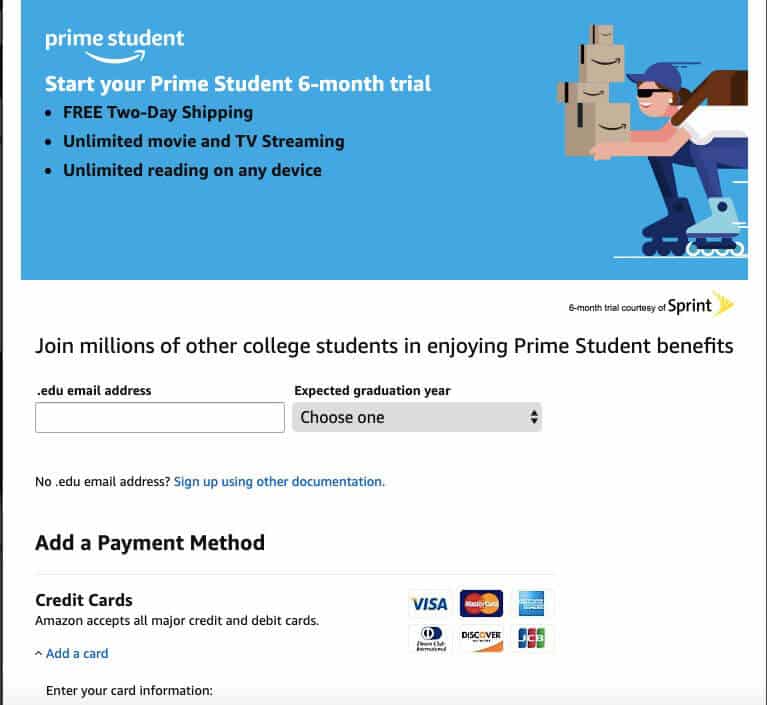 To fill out the form, enter your .edu email address and expected graduation year: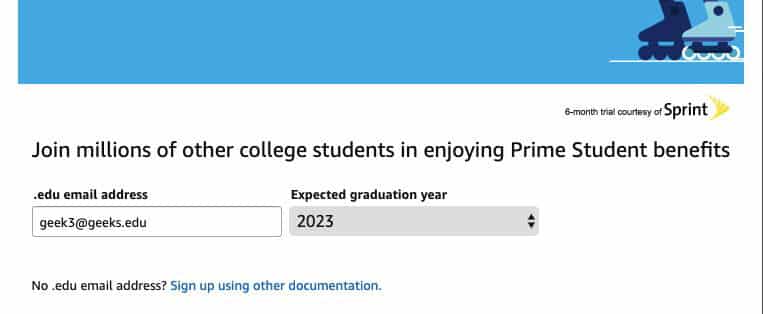 Next, enter your credit/debit card info under where it says "Add a Payment Method":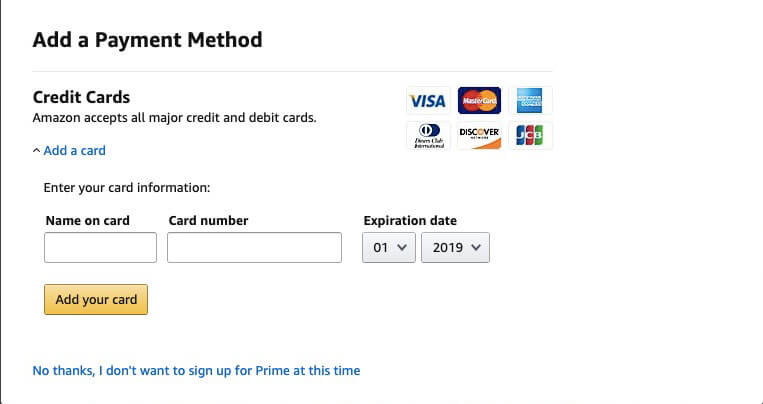 If you already have an Amazon account, you can also choose to use one of the cards currently associated with your account.
Finally, click "Add your card" to complete the sign-up process: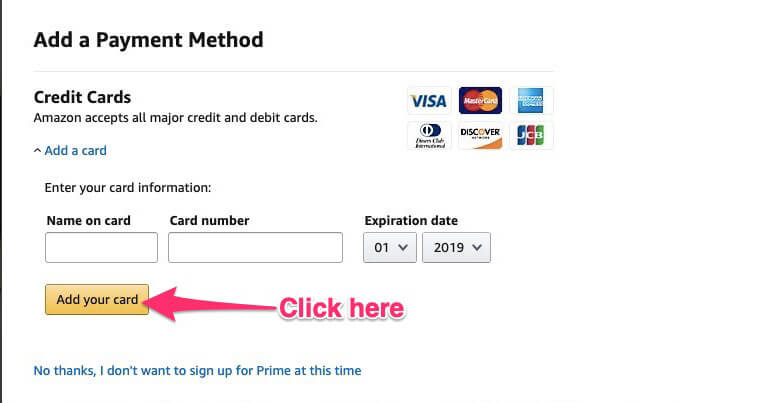 Once you've done that, Amazon will send a confirmation email to your .edu email address. All you have to do is open that email and click the confirmation button to complete the sign-up process.
Assuming all your info checks out, you'll be able to start enjoying the benefits of your 6-month trial immediately.
Want to learn even more ways to save money as a student? Have a look at our massive list of student discounts.
Amazon Prime Student FAQ
To finish up this guide, we want to answer some common questions that can come up when you're researching Amazon Prime Student:
1. How much does Prime Student cost?
Amazon Prime Student costs $59/year, with a six-month free trial to start. You can cancel the trial any time before six months have passed, and you won't have to pay a cent.
If spending $59 at once is out of your budget, Amazon will also let you pay monthly for Prime Student. If you choose this option, it's just $6.49/month. This will cost you more per year overall than the annual plan, but it can be a good way to get access to Amazon Prime if money is tight.
2. How long is Prime Student valid?
Your Prime Student account is valid for 4 years, or until you graduate (whichever comes first).
3. Can I sign up for Prime Student without a .edu email address?
Yes, you can, although it requires a few more steps.
To sign up for Prime Student, you need to prove that you're enrolled in at least one course at a college or university in one of the 50 states or the District of Columbia.
A valid .edu email address will prove your enrollment, but you can also use one of the following forms of proof:
Student ID displaying the current term or an expiration date
Transcript or class list for the current term with your name and your school's name on it
Tuition bill for the current term with your name and your school's name on it
Official acceptance letter for the upcoming term (must include matriculation date)
You'll need to send a scan, photo, or screenshot of one of the above forms of proof to [email protected] using the email address associated with your Amazon account.
If Amazon decides you're eligible, they'll send you an email with a special link that allows you to sign up for Prime Student without a .edu email address.
Learn more about how to sign up without a .edu address here.
4. Do I have to wait 6 months to upgrade my trial account to a full Amazon Prime Student subscription?
No, you do not. You're free to upgrade to a full Amazon Prime Student account at any time during the trial period.
5. Is Prime Student available outside the United States?
Amazon Prime Student is currently available in the following countries outside of the U.S.:
Note that the specific features and benefits of Amazon Prime Student outside of the U.S. will vary. Click on each of the links above to learn more about how Amazon Prime Student works outside of the United States.
Also, note that if you're an international student enrolled at a U.S. college or university, you're also eligible for Amazon Prime Student (as long as you have a .edu email address or other valid proof that you're a college student).
Is Prime Student Worth It?
In the end, is Amazon Prime Student worth your time and money? In most cases, yes.
If you…
…want free two-day shipping on Amazon packages
…want a way to stream movies/TV/music without ads
…want to read books and magazines for free
…then Amazon Prime Student is a smart purchase.
Of course, most of the features that Amazon Prime Student offers are available from other services.
For instance, you can stream movies and TV shows from Netflix and Hulu, stream music on a platform like Spotify, and read books/magazines on a variety of other platforms.
You can also get (effectively) unlimited photo storage for free from Google Drive, and you can get most of the benefits of Twitch for free.
Finally, you can get free two-day shipping on all Amazon orders over $35, regardless of whether you're an Amazon Prime member
However, subscribing to Prime Student will likely cost less than subscribing to a bunch of media streaming services individually.
For instance, if subscribed to Spotify and Netflix on a monthly basis at their current prices, you'd pay $167.76/year (assuming you have Spotify Premium for Students and the Basic Netflix plan). This means that a Prime Student subscription could save you $108.76 per year ($167.76 − $59 = $108.76).
Therefore, as long as you don't care about having access to shows that are exclusively on Netflix/Hulu or songs that are exclusively on Spotify/another music streaming platform, Prime Student is a better deal.
Start Saving with Prime Student Today
I hope this guide has helped you understand the benefits and sign-up process of Amazon Prime Student. For most students, the savings the service gives you make it more than worth the cost.
To try Amazon Prime Student free for 6 months, sign up here.
Image Credits: smartphone