Whatever the reason, you've racked up an unmanageable amount of credit card debt. You're not sure if you'll ever pay it off, let alone have enough money to buy a house or save for retirement. What are you supposed to do?
You've already taken an important first step in reading this article. You've admitted that you're in over your head, and you're looking for a way to resurface. Now, it's time to take action.
Below, you'll find a step-by-step guide to help you get out of credit card debt, including seven ways to pay off your debt more quickly.
Gather Your Numbers
Before you can repay your debt, you need to get an accurate picture of how much you owe. Specifically, you need to know the following for each of your credit card accounts:
Current balance (the total, not the "Balance due")
APR (your annual interest rate)
Minimum payment (this may be either a flat number or a percentage)
You'll find this information on your credit card statement, as well as the online account associated with your credit card (if you have that set up).
Make note of this information somewhere safe. We'll return to it in the next section, which is all about how to get out of credit card debt ASAP.
7 Ways to Get Out of Credit Card Debt More Quickly
Unless you declare bankruptcy, you have to repay your credit card debt. But there are many things you can do to repay that debt more quickly. Let's take a look at each technique, in increasing order of complexity.
Stop Using Your Credit Card for Everyday Spending
If your debt has become unmanageable, avoid adding extra fuel to the fire. If you keep making new purchases, it will be much more challenging to accelerate your debt repayment.
So remove the temptation! Put your credit card in a drawer or another place it isn't readily accessible. Then, use your debit card for everyday transactions. This way, you'll avoid worsening your already troubled finances.
Make More Than the Minimum Payment
This is the most obvious way to accelerate your debt repayment. Even paying a bit extra per month can make a big difference.
To see how, let's imagine you have the following debt:
Current balance: $5,000
APR: 20%
Minimum payment: $35
What happens if you only make the minimum payment? Plugging the numbers into this calculator, we get a bleak picture. If you only make the minimum payment, it will take you 35.2 years to pay off your credit card debt. Not to mention, you'll pay $18,294 just in interest. Ouch!
But what happens if you pay an extra $25 each month? Running the numbers through the same calculator, that extra monthly payment cuts your repayment time down to 10.9 years. And you'll pay $5,644 in interest — a savings of $12,650 compared to only making the minimum payment.
Therefore, paying more than the minimum payment will get you out of debt faster and lower the interest you'll pay overall.
However, you can't make more than the minimum payment unless you have extra money. To come up with that extra money, you have two options: reducing your expenses and increasing your income. Let's take a closer look at each.
Cut Unnecessary Spending
A quick (but not always easy) way to put more money towards your debt is to cut unnecessary spending.
Here are a few ways you can do that:
Make coffee at home instead of buying it.
Cook dinner instead of ordering takeout.
Cancel media subscriptions such as Hulu, Netflix, or Spotify.
Run errands on your bike instead of by car.
Go a few months without Amazon purchases.
You don't have to do all of these things, either. Even cutting one or two discretionary expenses per month can give you a significant chunk of change to put towards your credit card payments.
For more tips on cutting expenses and saving money, check out our budgeting guide.
Increase Your Income
While cutting unnecessary expenses is a great start, it can only get you so far. To step things up, increase your income. You can then use this extra money to dramatically accelerate your debt repayment.
The details of increasing your income are beyond the scope of this article, but here are some resources to get you started:
Consider a Balance Transfer
When it comes to credit card debt, the high interest rates are a big challenge to rapid repayment. So anything you can do to reduce your interest rate will make your repayment faster.
One of the simpler ways to reduce your interest rate is to transfer your credit card balance to another credit card with 0% APR. By eliminating the interest you have to pay, you'll greatly simplify your debt repayment and potentially save a lot of money.
However, there are some caveats to be aware of.
First, you'll almost certainly have to pay a balance transfer fee. Typically, this is around 3% of the balance you're transferring. So, for instance, if you transfer a $5,000 balance to a new card, you can expect to pay $150.
Next, you should know that the 0% APR balance transfer promotions are typically time-limited. Some cards will give you as many as 18 months before they start charging interest, while others will give as little as 6 months. Therefore, you'll need to balance your potential interest savings over that time against the balance transfer fee.
So how do you decide if it's worth it to do a balance transfer? You just need to do a bit of math. Let's return to the same example we've been using:
Current balance: $5,000
APR: 20%
Minimum payment: $35
And now, let's say you have the opportunity to transfer that balance to a card with 0% APR on balance transfers for 12 months. The card charges a 3% fee for the transfer. Is it worth it?
To decide, we'll first calculate the balance transfer fee. $5,000 x 3% = $150. So it doesn't make sense to do the balance transfer unless it will save you more than $150 in interest over 12 months.
To calculate your potential interest savings, you need to figure out how much you'll pay in interest over 12 months at your current interest rate.
While you could do this math by hand, there are plenty of helpful calculators to simplify the process. Plugging the numbers into this calculator, we learn that you'll pay $511 in interest if you pay off your card over the course of a year.
Since this is greater than the $150 balance transfer fee, it ends up being worth it to transfer your debt to the 0% APR card. But don't assume this will always be the case. Do the math to be sure.
Note: When looking for a balance transfer card, make sure the card offers 0% APR on balance transfers, not just purchases. Many 0% APR promotions only apply to new purchases and exclude balance transfers.
Get a Credit Card Consolidation Loan
Transferring your balance to a new card is relatively simple, but it's not always the greatest option if you have large amounts of debt. That's why I also suggest investigating a consolidation loan as another way to lower your interest rate.
When you get a consolidation loan, another lender takes over your credit card debt. You then repay your debt to the new lender at a lower interest rate, thus saving you money.
While simple in theory, expect to spend some time on this process. Since you're applying for a new line of credit, you'll have to fill out some paperwork and answer questions about your financial history. And, of course, a higher credit score will make it more likely that you'll get approved and get a competitive interest rate.
To find a credit card consolidation loan, you have a few options:
Talk to your existing bank
If you already have a relationship with a bank, they may be more likely to lend to you. Bonus points if you bank with a credit union, which can often be easier to deal with than a large, corporate bank.
Compare options with Earnest
Manually shopping for loans is challenging and time-consuming. Earnest helps simplify the process, comparing lenders and recommending the best for your needs.
Consider SoFi
SoFi is doing a lot of great work to help people reduce and pay down debt more quickly. You'll still need to do your research to decide if SoFi is right for your situation, but they're a great place to start.
Use Bankruptcy as a Last Resort
While it's certainly a last resort, sometimes bankruptcy is your best option. If you have insurmountable amounts of credit card debt, bad credit, and no serious prospects for increasing your income, then bankruptcy may be worth it. It's also a good option if you've already reached the point where debt collectors are harassing you or your wages are being garnished.
Because bankruptcy has serious consequences for your credit and overall financial situation, be sure to consult with an attorney to decide if it's right for you. An attorney can also advise you on which type of bankruptcy (Chapter 7, Chapter 11, etc.) makes sense for your situation.
How to Create a Credit Card Payoff Plan (and Stick to It)
Knowing how to reduce your credit card debt payments is a helpful start. But ultimately, you still have to make the payments. So to conclude this article, here how to create a credit card payoff plan you'll stick to.
1. Pay Off Your Highest Interest Card First
First, we strongly recommend that you pay off your highest interest credit card first. This will save you money in the long term compared to paying off the lowest balance first (aka, the "debt snowball method").
While the debt snowball method popularized by Dave Ramsey may be more motivating initially, you'll typically end up paying more in the long run. To us, this very real cost isn't worth the temporary boost in motivation.
So, if you have one card with 20% interest and another with 15% interest, be sure to pay off the 20% interest card first. That is, put all of your extra money towards that card while still making the minimum payment on your other card(s).
2. Create a Debt Repayment Goal in Mint
There are lots of tools to help you create a debt repayment plan. But Mint remains one of our favorites. It automatically pulls in the data from your existing credit card accounts, and it makes it easy to visualize your debt repayment process.
To start, create a Mint account. The app will then guide you through the process of connecting all your financial accounts. Be sure to include all of them.
Once you've created your account, it's time to set a debt repayment goal. To get started, sign in to Mint and click on the "Goals" tab: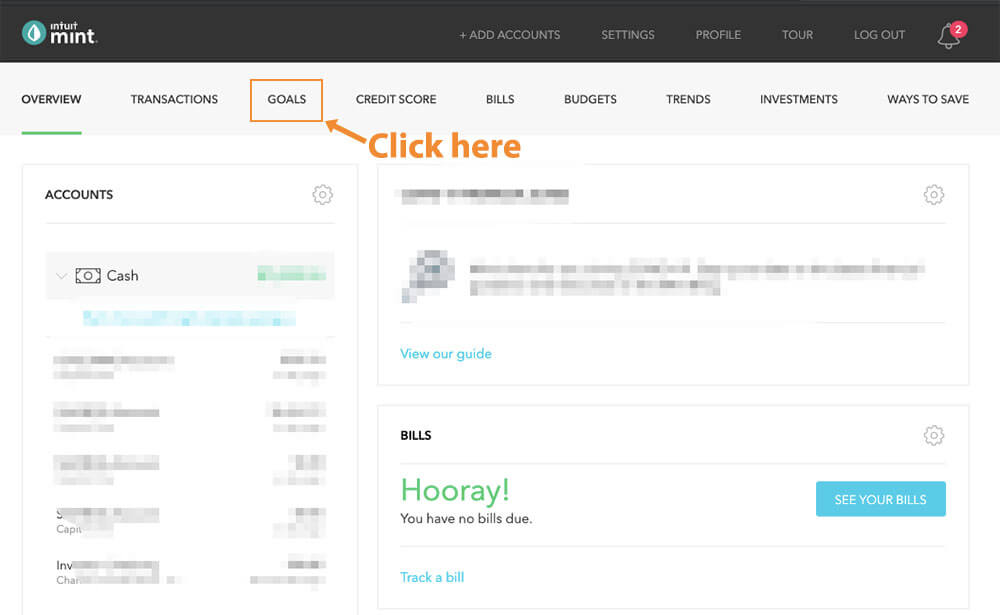 Next, choose the "Crush credit card debt" goal: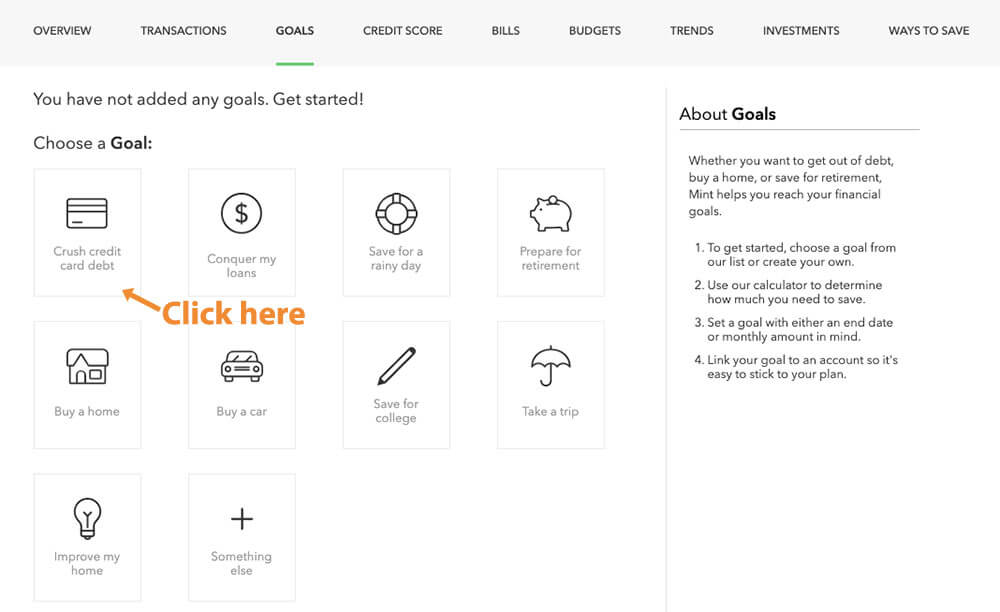 Now, select the accounts you want to pay off: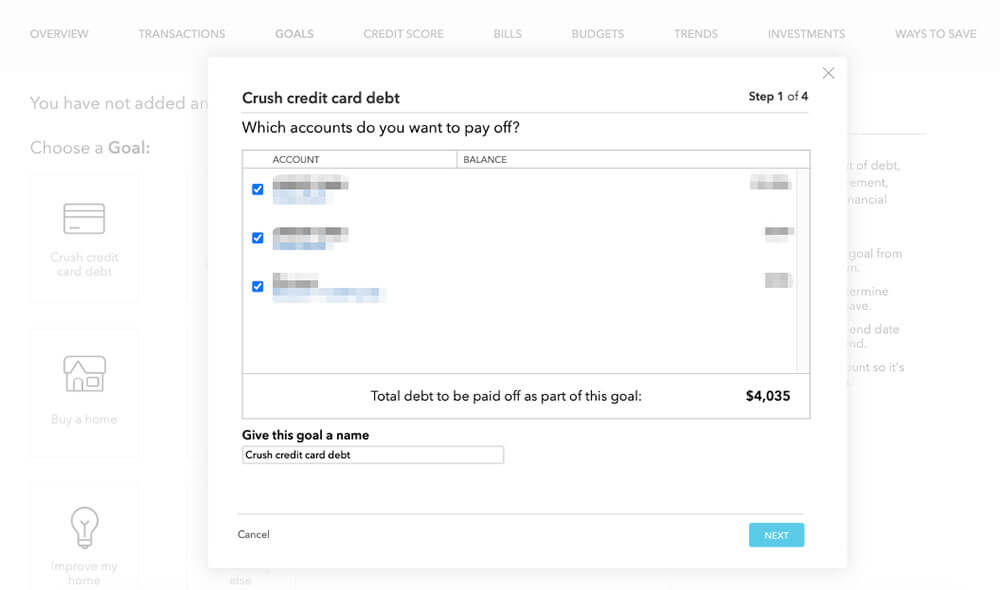 Mint may ask you for additional info, such as the minimum payment or APR for each card. If so, enter that information: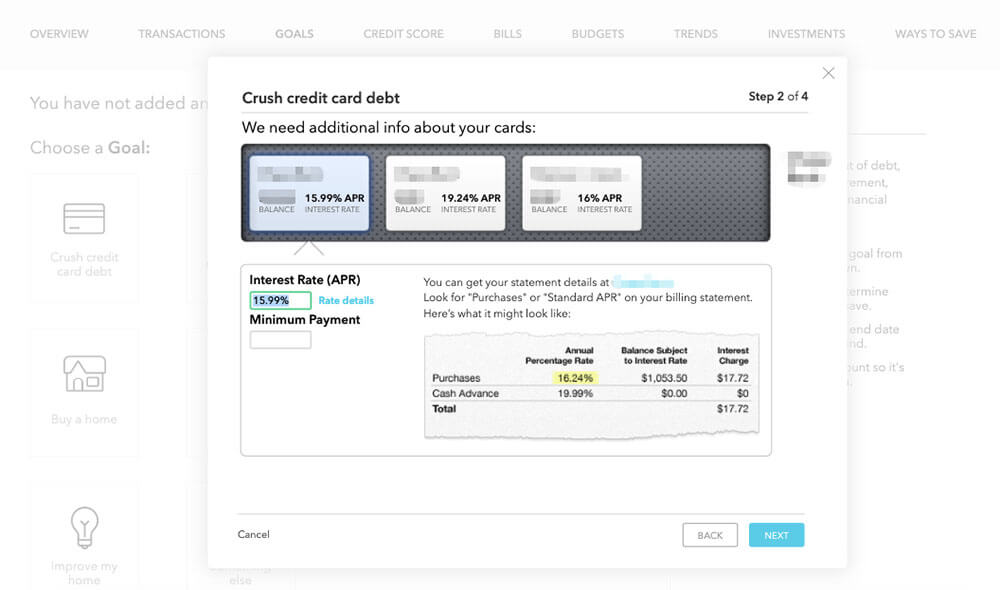 Now, here comes the cool part. Mint will show you a slider to see how raising your monthly payment will reduce your payoff time and interest charges: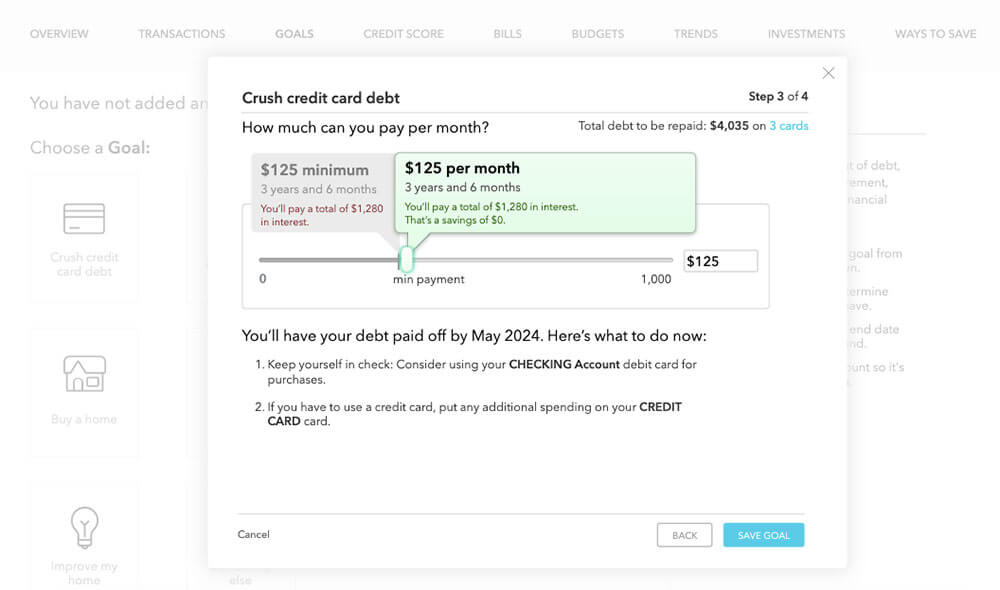 Pick a number that's realistic based on your income and expenses. And don't be afraid to revisit this number in the future as your income increases or your expenses decrease.
Finally, hit "Save goal" to finish.
You can view the goal any time in the "Goals" tab. You can also see a helpful breakdown of your payment plan based on the monthly amount you've chosen. Note how the highest-interest debt is listed first:

Looking for more tools to track your debt repayment? Check out these budgeting apps.
3. Automate the Repayment Process
Creating a repayment plan is one thing; sticking to it is quite another. The easiest way to force yourself to stick to your credit card repayment plan is to automate your payments. This way, they come out of your bank account before you have a chance to think about them.
Luckily, all major credit card issuers make it easy to set up automatic payments online. Take the amounts that Mint gave you in the previous section and set them up as recurring payments.
Then, create a recurring task or reminder to revisit your repayment plan each month. This will give you a chance to assess if you're still on track and if you can afford to put extra money towards your payments.
Note: Automating your payments will only work if you pick a monthly amount you can actually afford. If you're constantly having to lower your payment amount just to make ends meet, then you should reduce it to something more realistic.
You Can Get Out of Credit Card Debt
Getting out of credit card debt isn't fun, but it's extremely rewarding once you've done it.
Just think of all the exciting things you'll be able to do with the extra money that would've gone towards interest payments. Not to mention the peace of mind that comes from being in control of your finances.
Of course, it's better to avoid getting into credit card debt in the first place. For tips on how to responsibly manage your credit cards, check out this guide.
Image Credits: credit card in hand