Shopping for textbooks sucks. They cost way more than they should, you may not even use them that much in your class, and at the end of the semester, you're left with a heavy book that you'll probably never read again.
While we can't prevent your professor from requiring a textbook that's hardly necessary for the course, we can show you how to save a lot of money on textbooks by renting them through Amazon.
In this guide, we'll take a look at the complete process of Amazon textbook rental, including why Amazon is our favorite place to rent textbooks and how to make sure you return your textbook rentals on time.
Why You Should Rent Your Textbooks
Let's face it: textbooks are not something you're going to use after college. Particularly if you take good notes, there's really little reason to own a textbook. If you ever need to access the information, you can:
Find it on the internet for free.
Buy a different book about it for way less than a textbook costs.
Refer to your notes.
Given all this, renting textbooks is absolutely the way to go in almost all situations. The only case I can think of where it might make sense to buy a textbook is if you're studying a subject that doesn't require "textbooks" in the traditional sense.
For instance, when I was majoring in English, most of our textbooks were just paperback novels. Not only were these books cheap (usually less than $10), but they generally weren't available to rent at all.
In most cases, though, just rent your books. If you really do need a textbook after college is over, you can always buy it (probably on Amazon).
Want to make sure you never overpay for textbooks again? Check out our guide to finding cheap textbooks.
3 Reasons to Rent Your Textbooks from Amazon
Now that we've covered why you should rent textbooks, let's look at why Amazon specifically is a great place for textbook rental.
There are three main reasons that Amazon should be one of the first places you look when renting a textbook:
1. Amazon Has a Massive Selection of Textbooks
Amazon began as a bookstore, and they continue to stock more books than any other store on Earth.
If you need a textbook, the odds are very good that Amazon has it. And in most cases, the book will be available to rent.
The only exceptions will be very old textbooks or books on super obscure subjects (you won't find your Divination textbook on Amazon, for instance).
2. Returns Are Free and Easy
Renting textbooks from an online store can seem risky, particularly because so many online stores make returns a real pain.
Luckily, Amazon is all about customer service, and this extends to their textbook rental return process.
To return a textbook you rented from Amazon, just follow these steps:
Print a free packing slip and return label.
Put the textbook and packing slip inside the envelope/box.
Seal the box and attach the return label to it.
Drop the box off at the carrier listed on the label (usually UPS or USPS).
3. Amazon Usually Has the Lowest Prices
Amazon is all about offering the lowest prices online.
Therefore, it makes sense that they'd have some of the cheapest textbook rental prices around. Renting a textbook from Amazon generally costs less than renting from your campus bookstore or another online bookshop.
Having said that, you should always compare prices before you buy a book. The best way to do this is with Chegg.
Chegg gets prices for your book from across the internet and shows you the best deals available.
What you'll generally find, however, is that Amazon will have the lowest rental price.
Curious about how to save even more money with Amazon? Check out our full review of Amazon Prime Student.
How Amazon Textbook Rental Works
To rent a textbook on Amazon, you just need to follow a few simple steps:
Find your book in the Amazon Textbook store.
Select the rental option and pay.
Return the rental at the end of the semester.
Let's look at each of these steps in greater detail:
1. Find Your Book In the Amazon Textbook Store
To start, you'll need the name and/or ISBN number of the textbook you want to rent.
Also, note the edition. Many classes will require you to have the current edition of the book, though some professors are fine with you using an older one (just be sure to ask first).
Once you have the book details, visit the Amazon Textbook store and search for your book.
For demonstration purposes, I'll search for Literary Theory: An Anthology (3rd Edition), a textbook that I used extensively during my time as an English major: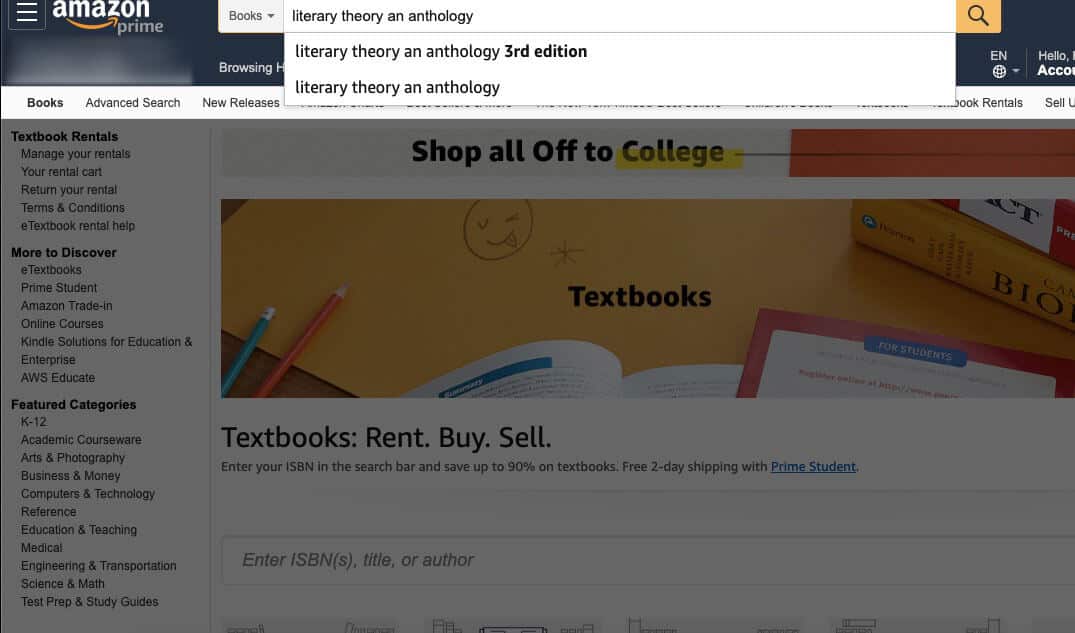 Unless your textbook has a particularly generic name, the first search result should be correct: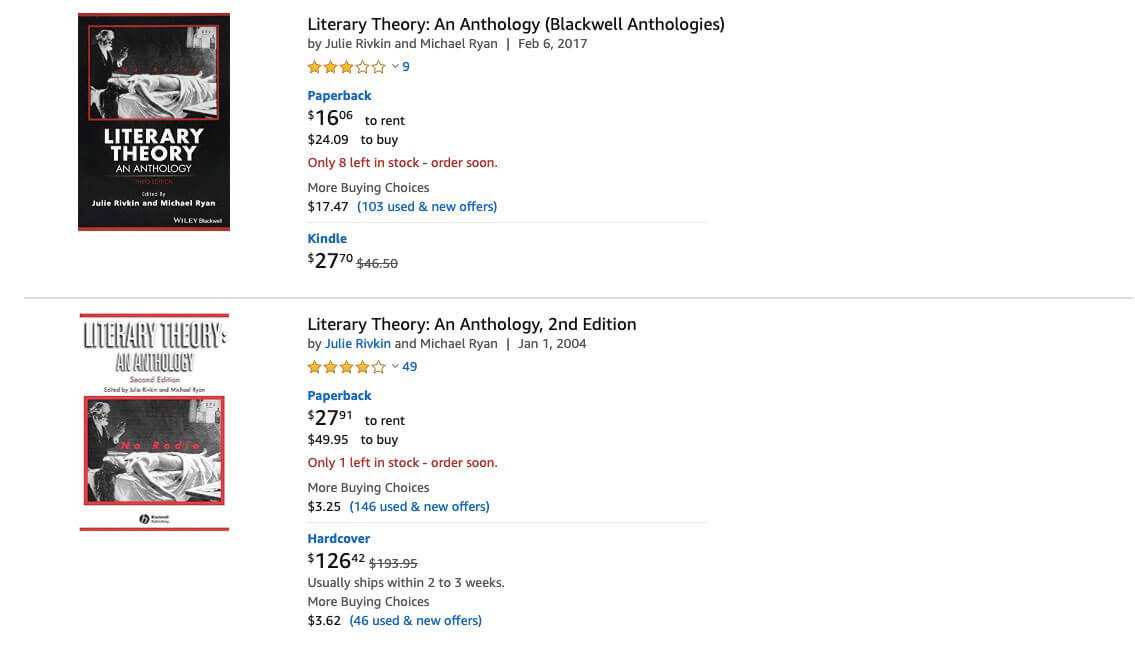 To be sure that you've found the right book, look for the ISBN number under the book's photo: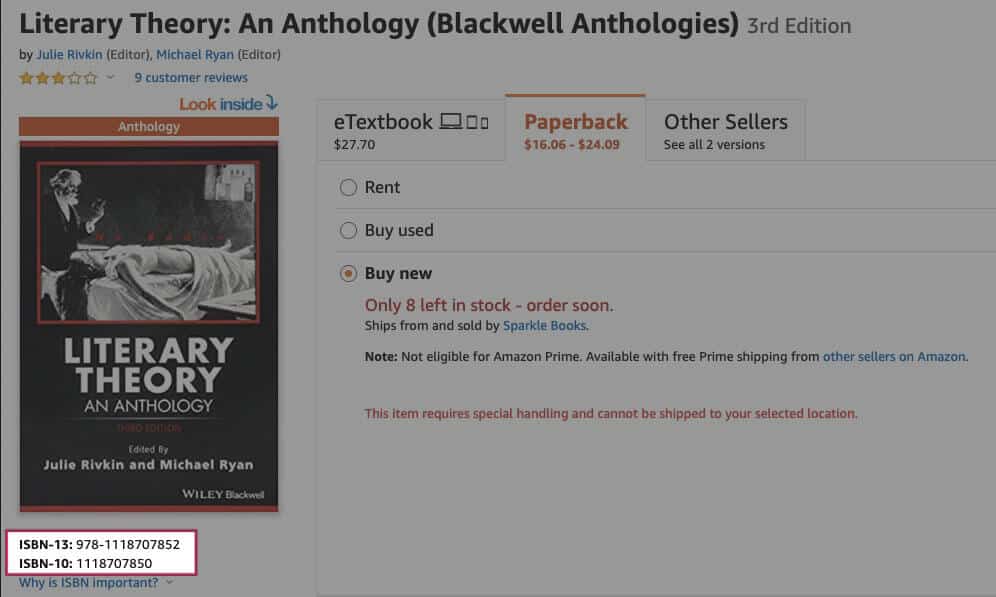 Now that you've confirmed the ISBN, let's get to renting the book.
2. Select the Rental Option and Pay
If a textbook is available to rent, you'll see an option that says "Rent" under the book's buying options.
Click where it says "Rent" to see more info: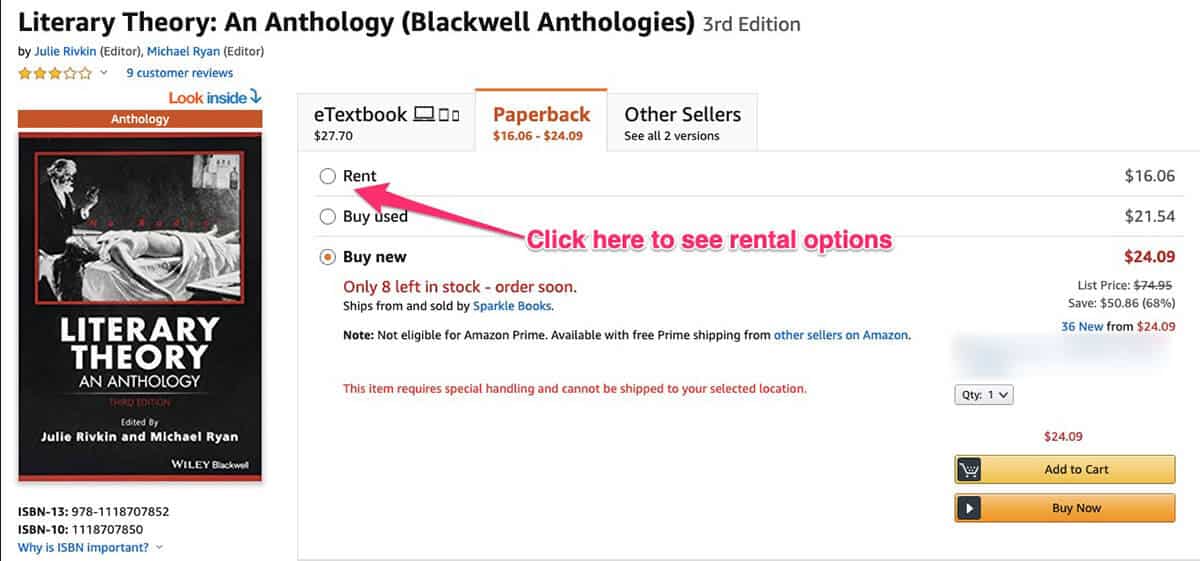 Once you've selected the "Rent" option, you'll be able to view the following key information:
Rental price
Rental due date
Estimated delivery date
Delivery address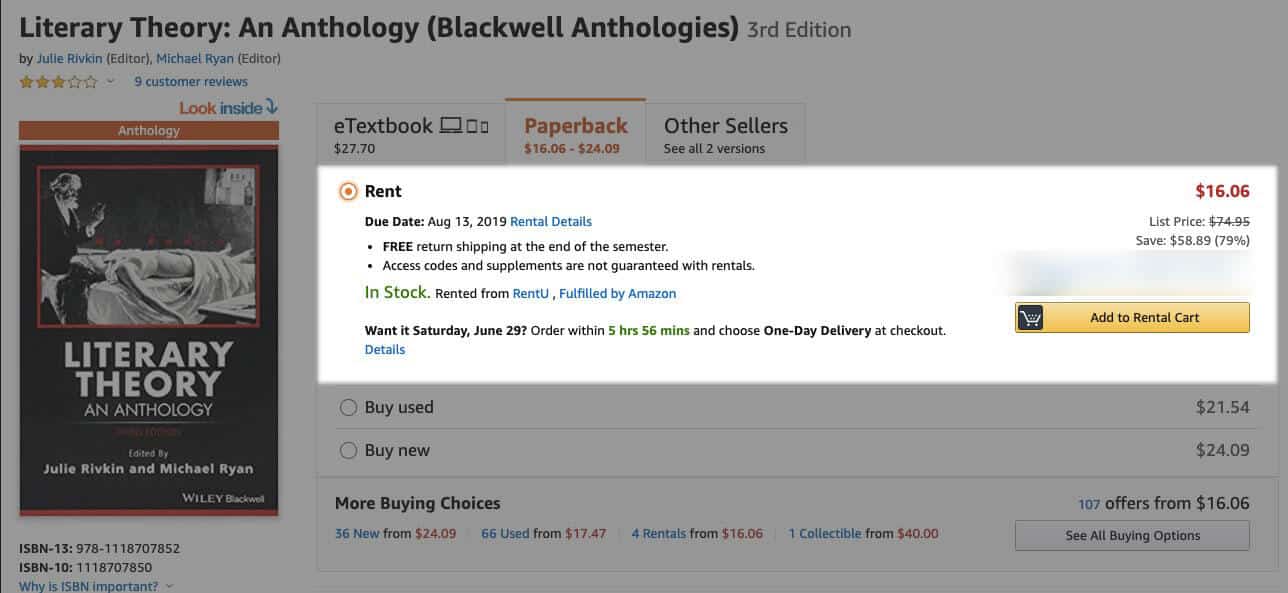 Assuming you like the price (be sure to check Chegg to see if there's a better deal available), click "Add to Rental Cart" to start purchasing the book: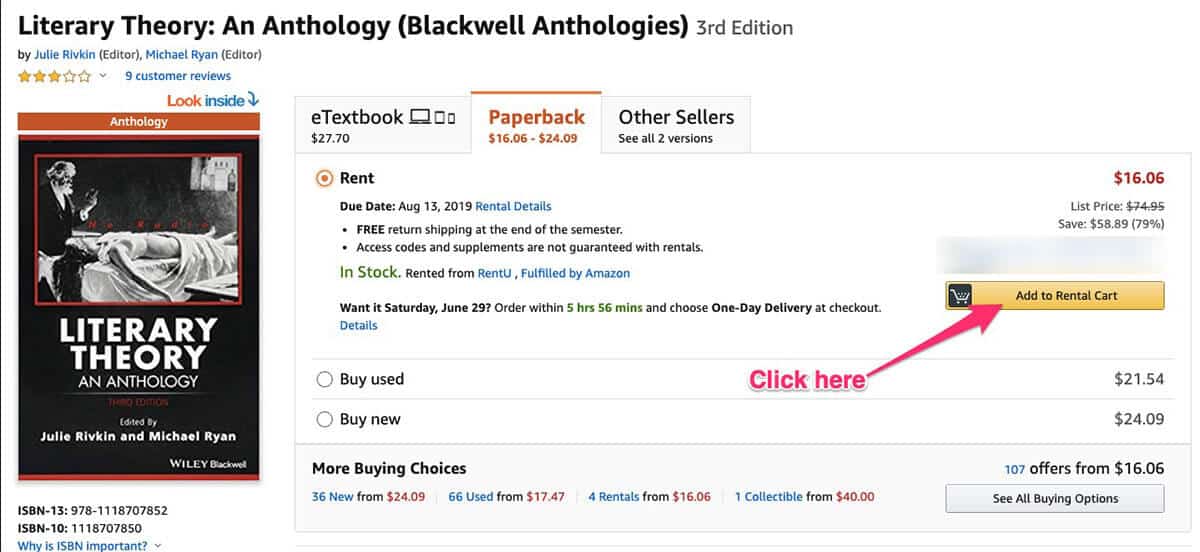 Once you've done that, just proceed to check out and pay for the book as you would any other Amazon item.
Be sure that you've chosen the right delivery address. To make things super convenient, just have the book shipped to your university (if possible). This way, it's one less thing you have to pack. (If you want to know what you should pack, check out our comprehensive list of what to bring to college.)
3. Return the Rental at the End of the Semester
One of the most important things to know about renting textbooks is that you must not forget to return the book when you're done with it.
If you do, Amazon will charge you late fees. These extra fees defeat the whole purpose of renting a textbook, so be sure to avoid them.
Luckily, it's easy to remember to return your textbooks. I recommend putting an event/reminder on your calendar called "Return Rented Textbooks."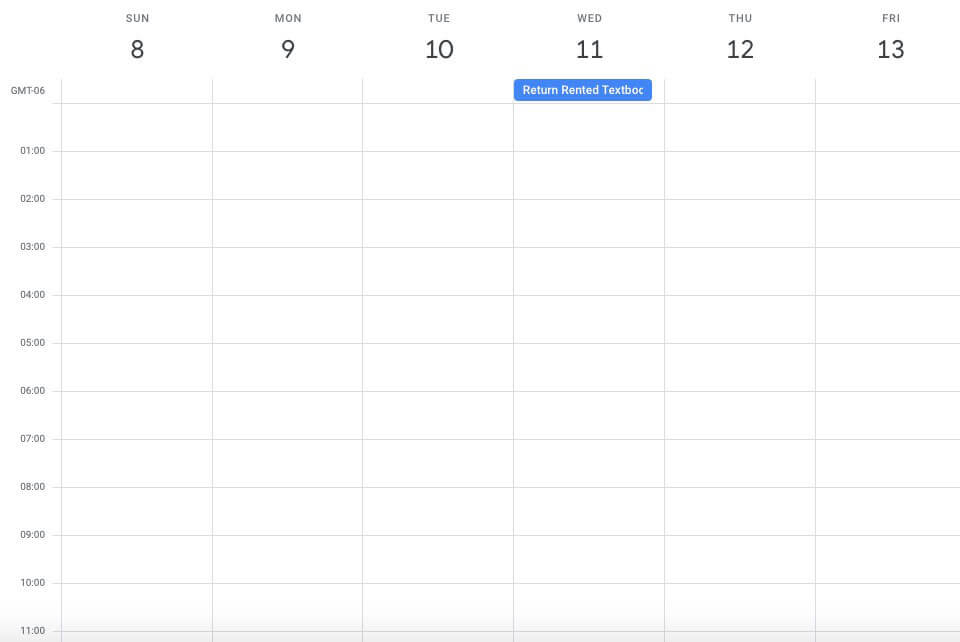 To be safe, put this event about a week before the day your rental is actually due. This way, you'll have ample time to gather up the books and ship them back to Amazon with plenty of time to spare.
When it comes to the process of returning the book, it's super easy. Here are the official steps, taken verbatim from Amazon.com:
Go to Manage Your Rentals.
Select the rental item you wish to return and then select Return rental to print the pre-paid return shipping label.
Print out the packaging slip and return shipping label.
Package up the textbook you wish to return, including the packaging slip.
Apply the return shipping label and take the shipment to the carrier listed on your return label. Return shipping is free when you use the shipping label provided.
Amazon will send you an email once they've received your books.
Note that if you've severely damaged the book (think water damage and huge rips, not scuffs or small tears), you may have to pay additional damage fees.
Don't Overpay for Textbooks
Renting your textbooks from Amazon is a great way to save money.
For even more ways to save money during the new semester, check out our guides to finding cheap textbooks and budgeting as a college student.