Update 12/11/2012: It seems that Tungle's finally dead – they were acquired by RIM a while back, and now RIM's decided to shut the doors on the product. If you're looking for something to replace Tungle's functionality, check out Doodle's MeetMe tool or vCita's Meeting Scheduler. If you have experience with either, let us know what you think in the comments!
It seems Google's got Tungle.me in its sights and is going for a headshot. The search giant rolled out a new feature to its Google Calendar web app today: appointment slots.
This new feature adds an option to the standard event creation dialogue that appears when you click a spot on your calendar. Just like a regular event, and appointment slot has a description and a calendar that it belongs to. When you create an appointment slot, you see what looks like a normal event; in fact, the only things differentiating it are the diagonal lines on the event box.
However, when people who you've shared your calendar with look at the appointment slot, they'll see a button that they can click to sign themselves up for the appointment. You have the option of either making the entire time slot a single appointment, or you can split the slot into 30-minute individual appointments. I'll probably be using the latter option come this December when I have my residents sign up for check-out times (I'm an RA).
You can get all the details about the new appointment slots feature at the official Gmail blog.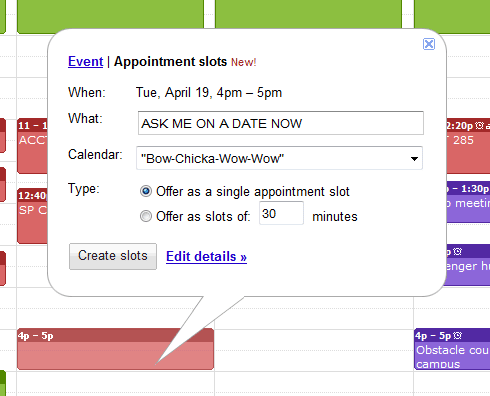 For most of you, this is probably the first event scheduling application you've seen that's seamlessly integrated in your calendar. Yes, Doodle does multi-person event scheduling well, but its strength is in scheduling single events; you create each one separately. With Google Calendar's appointment slots, you actually have the signup functionality built into your calendar. However, as I hinted to above, there is already a service that does this very well – Tungle.me.
So, the question is this: how do Appointment Slots stack up to Tungle?
The answer is: it's complicated. Each application has an advantage – what you'll want to use will depend on the amount of privacy and exclusivity you need.
If you want to simply open your schedule up to meeting requests from anyone, Tungle is still the way to go. This is because Tungle gives you a short, easy-to-remember URL that you can share with anyone. Mine's tungle.me/thomasfrank.
Tungle also imports all of your Google Calendars, so even if you're like me and have a lot, people can see all the times you're busy and simply request to schedule meetings in the gaps. Because of this feature, you don't actually have to set up specific time slots in your schedule. If you just want to fill up your free time by meeting cool people, Tungle might be for you.
On the other hand, Google Calendar's appointment slots are good if you only want to give certain people access to your meeting times. In fact, sharing your appointment slots with the world is a huge pain with Google Calendar – you don't actually get a URL to share your calendar. If you make it public, it's just "available to be seen in Google searches".
Still, Appointment Slots are the way to go if you want to share your appointment times with a limited number of people. Here's why: you can create separate appointment slots for each of your calendars. This is a huge benefit.
I have separate calendars for every part of my life; I've got calendars for classes, campus events, homework and projects, work, my business, and random other things. If, for instance, I only want to be available to my work contacts on Mondays and my classmates on Wednesdays, I can create those respective appointment slots on the appropriate calendar. Then I can selectively share my calendars to make sure my appointments are scheduled correctly.
Right now, I just want to be open to meet with people; therefore, I'll be sticking with Tungle.
What do you think? Which app seems more appealing to you? (or do you just want to be left alone?) Leave your responses in the comments.