Before you can make a significant change in your life, you have to know where you stand. Before you can reduce the amount of time you spend on your phone, you have to know how you spend your time right now.
If you want to do your most valuable and important work you need to eliminate as many unimportant tasks as possible.
And — you guessed it — to get an accurate representation of whether you're spending your time on things that matter, you need a time tracking app.

Why You Should Use a Time Tracking App
"What gets measured gets managed." — Peter Drucker
Time tracking apps reveal which times of the day you're most focused, motivated, and energetic. When you work during those "on" times, you'll get more done than if you try to force yourself to study when your body is "off".
You can try tracking your time and energy on a spreadsheet like management expert and bestselling author Jim Collins.
Or you can use a productivity planner or bullet journal to do it manually.
But if you're like me, then you're the type of person who forgets to look at the clock or update a spreadsheet amidst the chaos.
Fear not. That's why we created this list of the best time tracking apps currently on the market. Whether you're a student or a working professional, these apps will help you take control of your time without having to think about it.
The 6 Best Time Tracking Apps in 2023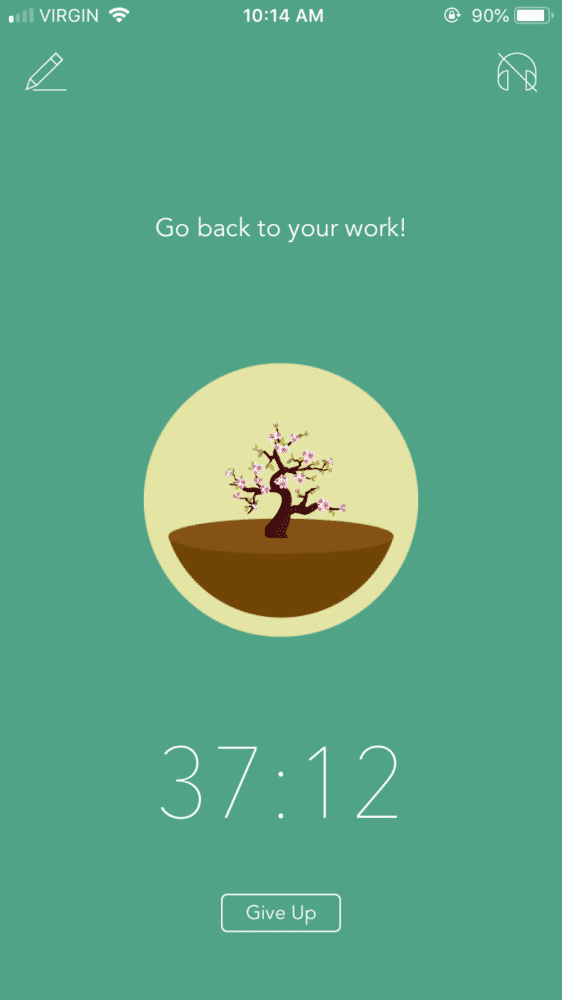 Overview: Forest is an app that uses concepts from video games to make time tracking more exciting.
Price:
$2 on iOS
Free on Android (with a paid tier that lets you buy real trees to plant, compete with friends and family, and track screentime)
Platforms:
Forest is a gamified Pomodoro timer, time tracker, and app blocker in one.
When you start Forest's timer, a tree starts growing. Switch to a different app before the timer is up, and the tree dies. Each successful focus block adds a tree to your virtual forest and gives you some gold coins that you can trade for new kinds of trees and power-ups.
Forest started out just as a Pomodoro timer, but the team has since added a function that tracks your screen time. You can also tag each focus block and get a report on where you spend your time.
Oh, and if you trade in enough gold coins, the company plants real trees for you!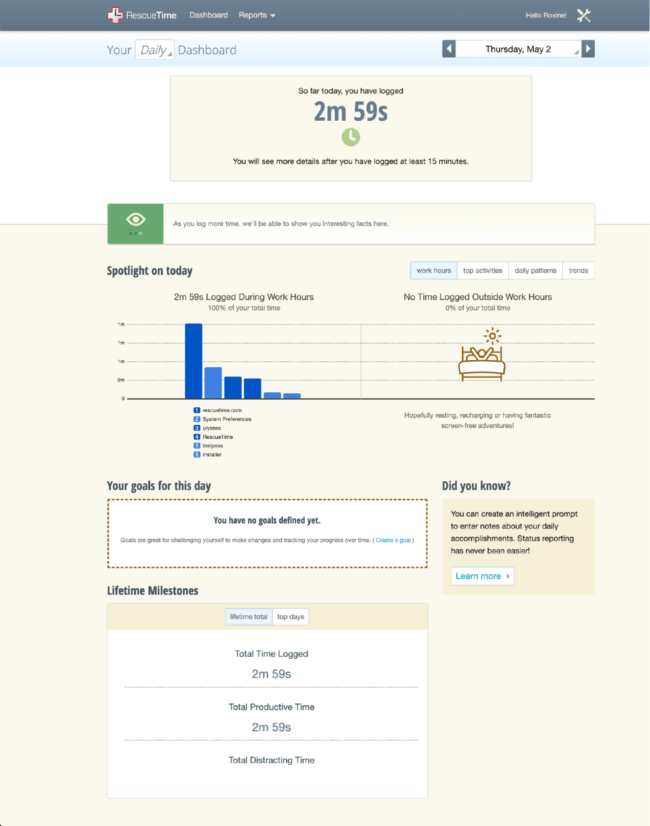 Overview: RescueTime automatically tracks your time in the background and can also block distracting websites.
Price: Free (paid tier starts at $6/month for an annual plan — worth it if you don't have an app blocker, otherwise stay with free)
Platforms:
RescueTime is the king (or queen!) of time tracking productivity apps.
It runs in the background of your devices. No need to hit a start and stop button to switch tasks. RescueTime also automatically tracks and categorizes where you use your time.
With the focus on productivity (and not clients and invoicing like apps further down this list), RescueTime has a feature called FocusTime. This feature is built so well that it rivals pure site-blocking apps like Freedom. You can schedule recurring sessions when you want to block distracting websites (say, no Facebook before 9 AM). It even has a pop-up that lets you block a website after you've been on it for a while.
Finally, a nifty little piece of background automation — RescueTime adds sites it has tracked to your FocusTime blacklist, so you don't need to add the sites manually.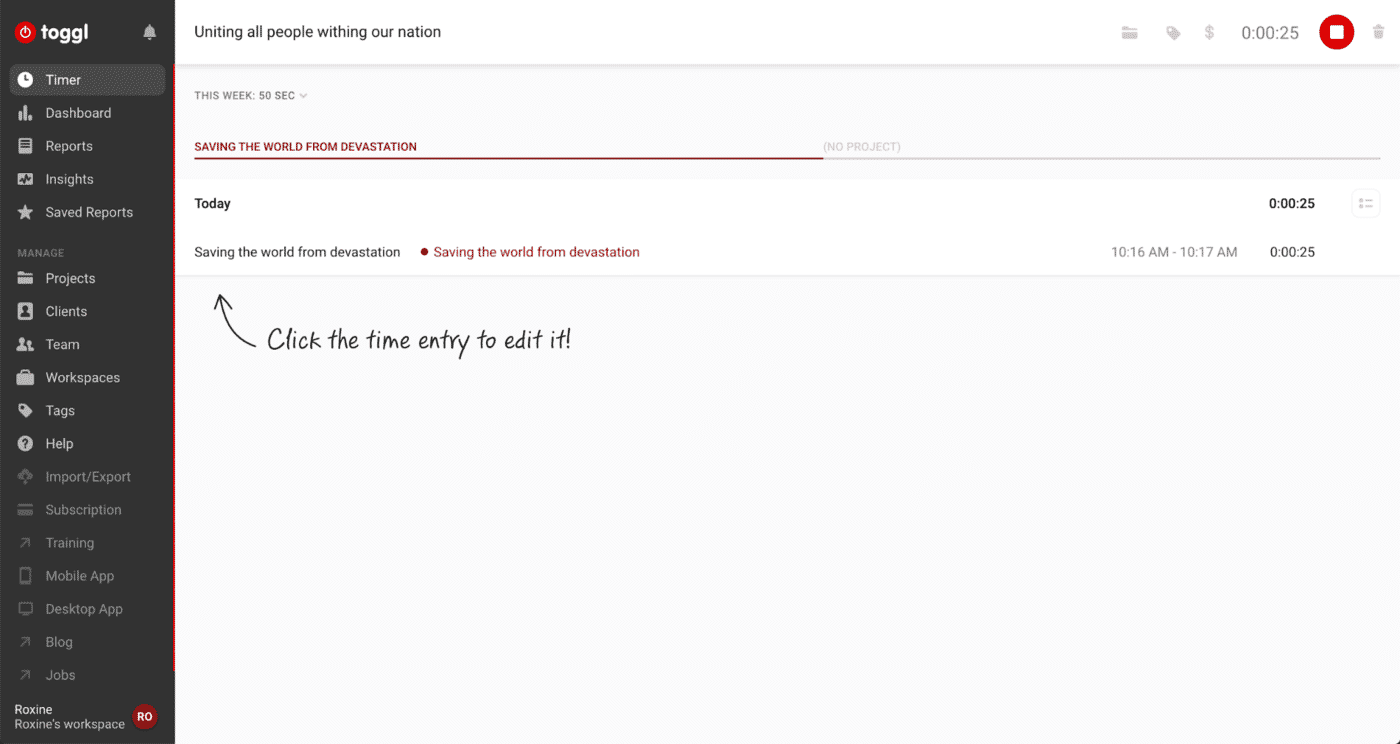 Overview: Toggl offers a simple time tracking experience that's perfect for helping you stay on task.
Price: Free (paid tiers starting at $9 per month — not really worth it unless you use Toggl to bill clients)
Platforms:
Toggl was initially built to help teams and professionals track their time and billables. It's since broadened its feature set to help folks work better, too.
Toggl is simple to use — just hit Start and the timer gets going. You can add the task to a project. If you switch between devices, Toggl keeps the timer synced across them.
Toggl has a basic Pomodoro timer as part of its Chrome extension — useful for staying focused on a task. Toggl also has a desktop pop-up that reminds you to start the timer if you've been on your computer for a while and haven't hit start.
One interesting thing to note: In addition to Toggl's iOS app, its dev team has another iOS app called Superday. Superday uses your iPhone's GPS to track what you do and where you go during your day — helpful for offline time tracking.
Most students don't need more than Toggl's free plan since that already does the job of tracking your time.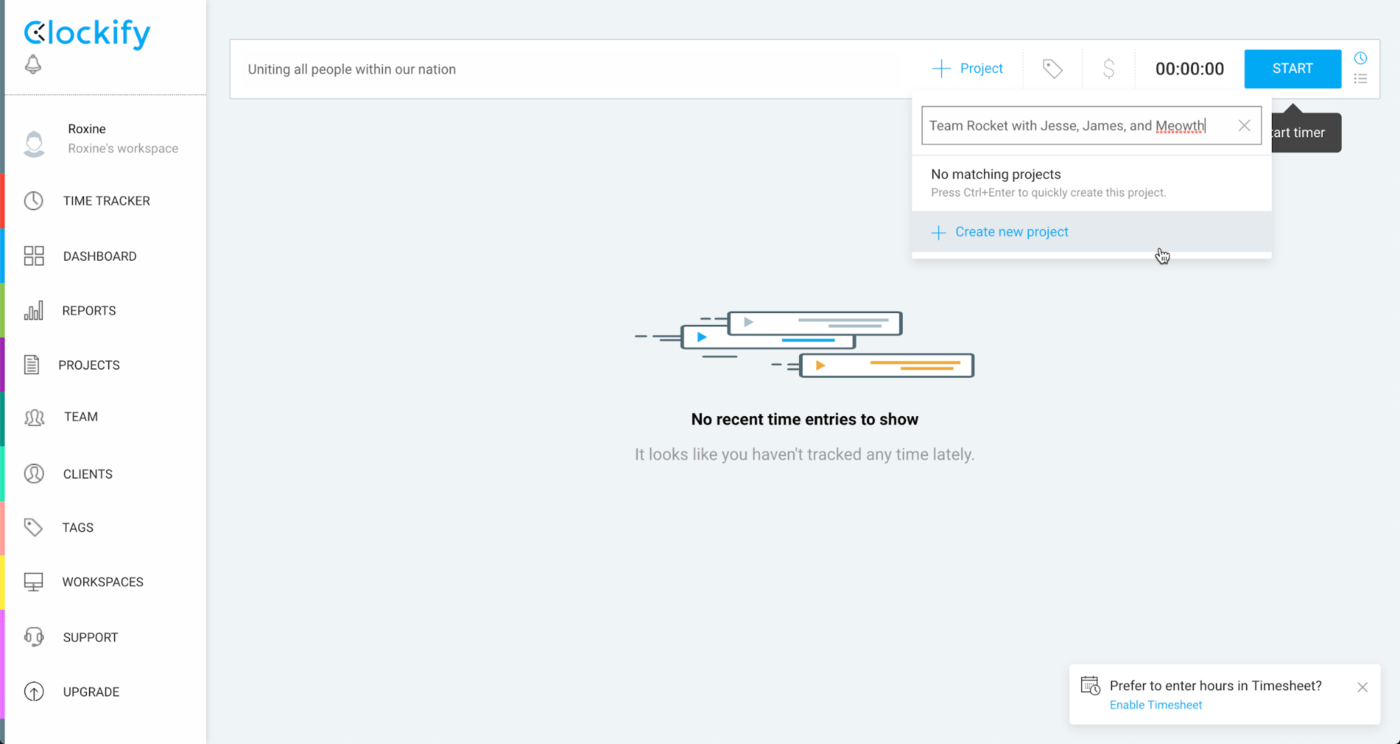 Overview: Clockify is a time tracking app designed for teams, though it can also work well for solo professionals and students.
Price: Free (paid tiers start at $10 per month — not worth it unless you bill clients and work in a team)
Platforms:
Clockify is a time tracking app built with project teams in mind. This means that Clockify's free plan has more than enough time tracking functionality for just one person.
For example, the big draw for Clockify is that its free tier lets you have unlimited users and projects. That's a money-saving feature for professionals, but unless you're working on a big group project and want to know each member's contribution, it's not as useful for students.
This said the interface is definitely better-looking than Toggl. I like how easy it is to switch from a manual time-entry mode and timer time tracking mode. I also found its clean desktop interface and calming blue color more welcoming than Toggl's design.
(On that note, Clockify is a near-exact duplicate of Toggl, except for the color scheme.)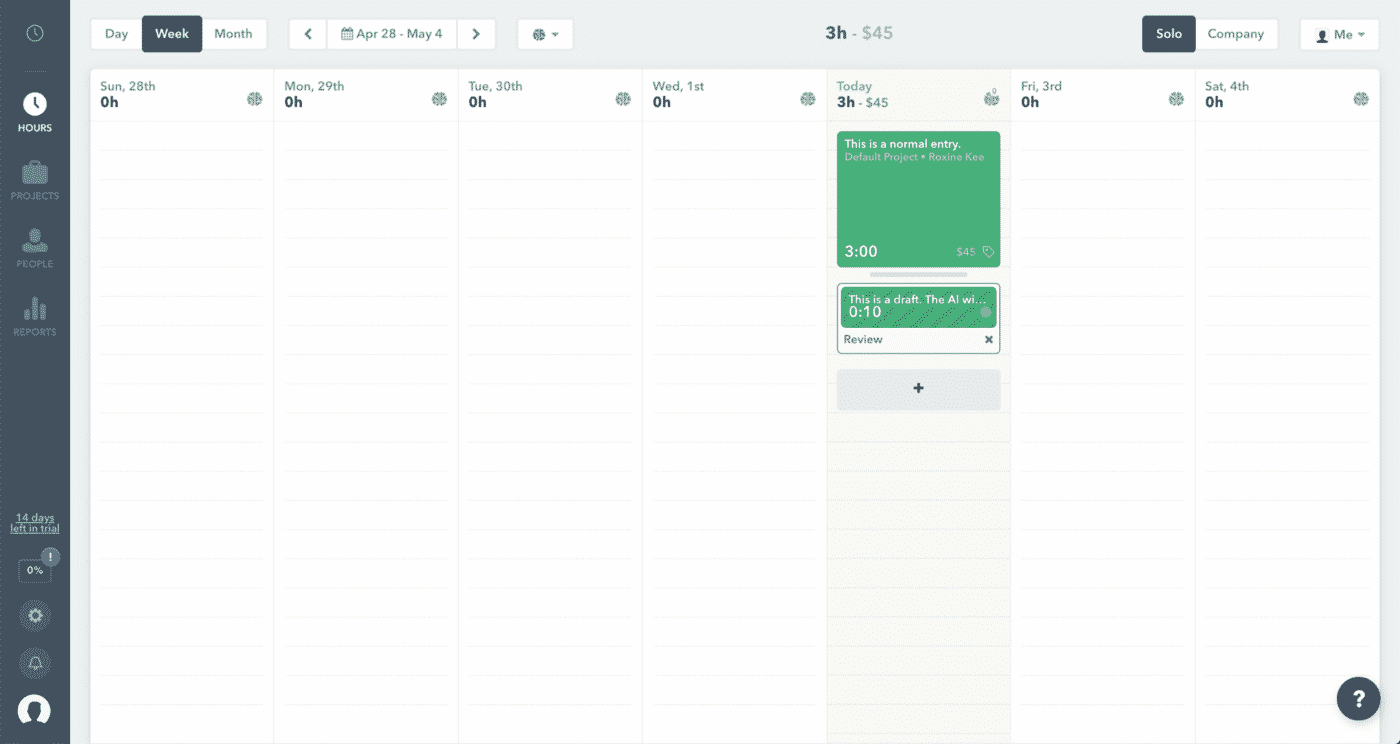 Overview: Timely is a time-tracking app that uses AI to learn what you work on and automatically categorize it.
Price: Starts at $7/month (Worth it if you bill clients, have multiple projects, and decide that the visual calendar is important to you)
Platforms:
Timely is another app built for professionals. Unlike more team-focused apps like Toggl and Clockify, though, Timely straddles the line between a personal and professional time tracking app.
I really liked the visual calendar view and the automatic, behind-the-scenes time tracking. Like RescueTime, you don't need to remember to hit Start on the timer.
Timely's most touted feature, though, is its automated categories for your tasks. Its AI gets more accurate as you edit and tag your tasks. The goal is that the software gets your routine right every time so you don't have to edit categories after only a few weeks of time tracking.
Finally, Timely's interface looks clean and makes you want to live in the app all day.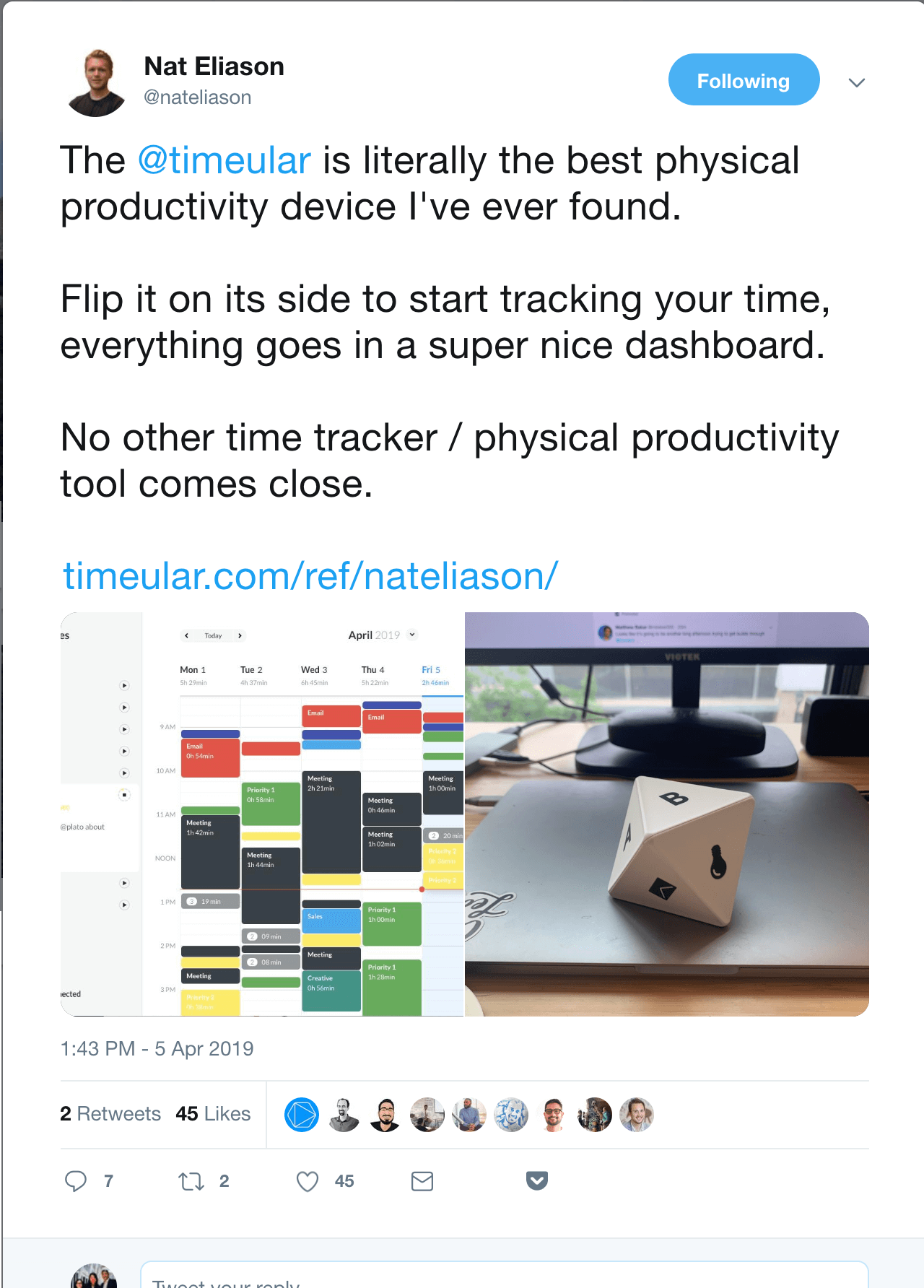 Overview: Truly in a category of its own, Timeular mixes digital time tracking with a physical device that helps you visualize how you spend your time.
Price:
Software-only: Free (paid tier starts at $7/month — not worth it because the app lacks features without the physical tracker)
Physical Tracker + Software

Monthly: $99 for the physical tracker + $9 per month
Annual: $49 for the physical tracker + $7 per month
Lifetime: $49 for the physical tracker + $299 one-time
Platforms:
Timeular attempts to give you an accurate look at how you spend your time by blending the real world and the virtual worlds.
Its system features a large 8-sided die (a.k.a. a D8 — D&D fans, unite!) and subscription software that links each side of the die to a task you want to track.
For the purposes of this review, I tried using just the free software. But without the gadget, the app can't stand on its own as a time tracking app. One example is that you have to create an activity on your desktop before you can track time for that activity on the app.
But if you really like living that Internet of things life or just need a physical reminder of what you're working on, then Timeular is the best analog + digital time tracking system you can buy.
If Timeular interests you, then use the code collegeinfogeek10 to get 10% off.
(Hat-tip to Nat Eliason, who turned me onto this nifty gadget. )
Which Time Tracking App Should You Use?
For many professionals, time is money, so it makes sense to pay for an app that can help you make more money. As a student, though, you don't need collaboration, timesheets, and billable breakdowns. You just need a way to figure out if you're spending your time wisely and maybe help you stop procrastinating.
Because of this, Forest and RescueTime's free tier are the best picks for students. They emphasize time tracking as a means to become more productive with gamification, simple reporting, and website blocking.
Forest, in particular, is free for Android and less than $3 for iOS. In my opinion, it's worth the cost if buying it means getting an A+ on a course that costs hundreds of dollars.
For premium users, Timeular's gadget is a fun reminder to track your time and stay on task.
But if you:
…want to track your time for productivity,
…are willing to pay for premium features, and
…are OK with not having the fun desktop gadget,
…then you're better off with RescueTime's premium tier. It's the same price, but with automatic time tracking and website blocking.
Don't Get Caught Up in the Tools
"I have two kinds of problems, the urgent and the important. The urgent are not important, and the important are never urgent." — Dwight D. Eisenhower
I enjoyed testing out the different apps. I currently use Forest to gamify and track my work hours and Freedom to block websites. But if I had to pick one app for time tracking and website blocking, then it would be RescueTime.
That being said, as with many productivity apps, a time tracking app is a nice-to-have. Don't let the search for the perfect time tracking app distract you from the more important task of actually getting your work done.
To learn about even more tools to help you work better, check out our guide to the best productivity apps.
—-
Image Credits: hourglass