I am extraordinarily good at losing flash drives, and I'm not sure why.
Maybe it's the simple answer: they're small. Or maybe it's gremlins, or Keebler elves. I'm leaning towards one of those, as I don't usually lose any of my other personal effects.
Whatever the reason, losing flash drives burned me several times in high school. When I got to college, I decided that I'd never again live and die by the mercy of these easily-lost little pieces of flash storage – so I set to the task of building a file organization system that would help me:
Never be without access to any of my work
Always be able to find files I need with minimal effort
In this week's video, I'll show you the major components of that system.
While we won't go over some of the parts that were overkill (like having an iPhone app that gave me remote access to my desktop computer), we'll look at the parts that had the most positive effect without needing a lot of effort on my part.
If you find that you forget assignments back at your dorm more than you'd like, or you have to spend an inordinate amount of time searching your desktop for EnglighFinalPaperVersion8FINAL-noreallyseriouslythistime-final.docx, then you should find this video to be useful.
If you're unable to see the video above, you can view it on YouTube.
Looking for More Study Tips?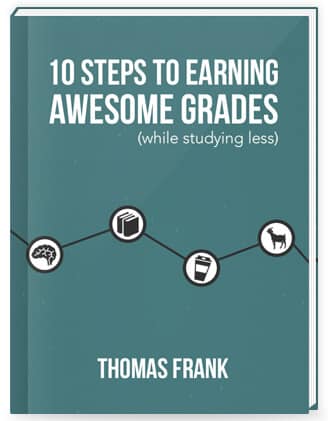 Organization is a huge topic, and you'll find even more tips on it in Chapter 6 of my free 100+ page book called 10 Steps to Earning Awesome Grades (While Studying Less).
The book also covers topics like:
Defeating procrastination
Getting more out of your classes
Taking great notes
Reading your textbooks more efficiently
…and several more. It also has a lot of recommendations for tools and other resources that can make your studying easier.
If you'd like a free copy of the book, let me know where I should send it:
I'll also keep you updated about new posts and videos that come out on this blog (they'll be just as good as this one or better) 🙂
Video Notes
How do you organize your own files? If you've got a system that improves on mine, let me know 🙂
If you liked this video, subscribe on YouTube to stay updated and get notified when new ones are out!