Growing up, I learned the importance of good study habits early.
I was responsible for writing down my homework assignments each day, checking I had all the right books the night before school, and making flashcards to study spelling or vocab words. If I didn't stay diligent in these study habits, then I was bound to hear about it from my mom.
Establishing good study habits at an early age paid off. In high school and college, I was able to focus on learning the material instead of learning how to study. I never got bad grades because I forgot to turn in homework, and if I ever did poorly on a test I had no one to blame but myself.
However, I recognize that not everyone has the benefit of learning good study habits early in life. For many people, college is the first time you even have to think about how to study and manage a schedule all on your own.
To bridge the gap, I've put together the following guide to good study habits. First, we'll look at what good study habits are and why they matter. Then, we'll give some practical examples of good study habits in action (and how they can solve some common academic issues).
What Is a Good Study Habit?
Before we go any further, we need to define what a good study habit is. To start, we should define "habit".
A habit is an action (or series of actions) that you perform automatically in response to a particular cue. For instance, the sound of your alarm going off might cue the habit of getting out of bed and walking into the kitchen to make coffee (or, for some of us, hitting the snooze button).
But what makes a habit "good"? Generally, we define a good habit as one that helps you achieve your goals and live in line with your values. A bad habit, meanwhile, is detrimental to your goals and values in the long-term (even if it relieves pain or provides pleasure in the short-term).
A good study habit, then, is a habit that helps you achieve your academic objectives while still supporting your broader goals and values.
3 Reasons Good Study Habits Matter
Good study habits matter for three main reasons: focus, grades, and mental health.
Focus
Starting with focus, having the right study habits in place frees up your mind to concentrate on the material you're learning.
Instead of having to think about how to create flashcards, for example, you can focus on using flashcards to learn a new language.
If your study techniques aren't automatic, meanwhile, they can distract you from the larger work you're trying to do.
Grades
While good study habits won't automatically raise your GPA, they'll certainly improve your chances.
As an example, you're likely to perform better on an exam if you're in the habit of studying for it over several days (or weeks) instead of the night before.
Mental Health
Most important of all, however, is the benefit good study habits have for your mental health.
No matter how much "raw intelligence" you might have, poor study habits will make college stressful and anxious.
If you aren't in the habit of starting research papers well in advance, for instance, then you'll be in for some sleepless, caffeine-fueled nights. But if you habitually start your research papers early, then you can avoid the unnecessary stress that comes from procrastination.
5 Types of Good Study Habits (and How to Build Them)
Originally, this section was going to contain a long list of good study habits. But since we already have an extensive list of study tips, many of which are specific study habits, I decided to do something different.
Instead of listing yet more study tips, I'm going to examine some common college academic struggles that good study habits can help eliminate or avoid. This way, you can get some practical tips for building good study habits and putting them into action.
This section focuses on how to build good study habits, specifically. For a more general overview of how to build good habits, read this.
Study Habits for Doing Better on Exams
Are your exam grades lower than you'd like? If so, your study habits could be the culprit.
When it comes to studying for exams effectively, here are some habits to keep in mind:
Go to Review Sessions
Usually, your professor and/or TA will hold a review session before each exam. This review will only be helpful, however, if you attend it. Therefore, make a habit of going to any scheduled exam review sessions, especially in classes you find difficult.
How to build the habit: This is one of the easier habits on this list to build. All you have to do is put the review session on your calendar and then be sure you go to it. To make this easier, pay attention in class for any announcements of review sessions.
Make and Study Flashcards
If you're studying for an exam that requires you to memorize lots of information, then flashcards are your friend. In particular, building a habit of daily flashcard review leading up to an exam can help your performance greatly.
How to build the habit: First, be sure you understand the best ways to make and study flashcards.
From there, we recommend using a flashcard app that reminds you to study the cards each day (and focuses your efforts on the cards you struggle with). This is a case where notifications on your phone can be a study aid instead of a distraction.
Study Habits for Writing Better Papers
No matter your major, you'll have to write a paper at some point in college. And having the right study habits will make the process much easier and less stressful. Here are some study habits that will help you write better papers:
Don't Procrastinate on Writing
I won't deny it: I pulled my share of all-nighters in college. And usually, I was staying up late to finish a paper I'd procrastinated on.
While you can certainly write a paper in one night, it's unlikely to be your best work. Instead, make it a habit to work on your paper a little bit each day in the week before the due date.
How to build the habit: If you're struggling with procrastination, then read into the science behind why we do it.
From there, consider the stress and pain that will come from writing a paper in one night. Use that as motivation to work on your paper a little bit at a time.
Once you've done this for one paper and seen how much better it makes your life, you'll be more inclined to do it with future papers.
Visit the Writing Center
While procrastination is a common issue with writing papers, you may also struggle with the writing itself. Depending on where you went to high school, in fact, you might never have learned how to write the kind of papers college requires.
If this is the case, get in the habit of visiting your college's writing center when you're working on a paper. The staff there would be more than happy to help you improve your writing.
How to build the habit: Going to the writing center is a fairly easy habit to build if you schedule your writing center appointments in advance.
This should be possible at most colleges, and it's often required during high-demand times such as finals season. Making an appointment in advance adds some external accountability, so you're more likely to show up.
For more paper writing tips, read this.
Study Habits for Completing Homework Faster
Homework is important for practicing and solidifying the concepts your professor discusses in lectures, but that doesn't mean you should spend all your time outside of class doing it.
Here are some study habits to help you complete your homework faster, without sacrificing quality:
Schedule Your Homework Time
If you can fit all of your homework into a defined block each day, it will be much easier to get started on it. Plus, knowing that you only have to spend a defined amount of time working will reduce the dread that generally accompanies homework.
How to build the habit: First, find a time each day that's free of obligations. Evenings will work well for some, while mornings are better for others; it depends on your schedule.
Then, put that block of time on your calendar with the title "Homework Time." If you like, you can also break that block down into smaller chunks for each of the courses you're taking.
Next, decide on a study space where you'll do your homework: dorm room, library, student center, etc. Note that location on your calendar as well.
Finally, treat this block of study time like any other class, meeting, or appointment. If someone tries to schedule something during that time, tell them you already have an obligation.
Focus Completely On Your Work
You'll get your homework done much faster if you only focus on the assignment at hand. But if you're checking social media and your phone as your work, the process will take longer overall.
To avoid this issue, make a habit of distraction-free homework. When you're working on homework, let nothing else fragment your attention.
How to build the habit: First, turn off your phone and put it away. If you can't do that, then at least take some steps to make it less distracting.
Next, try to work without an internet connection whenever possible. If that isn't practical, then use an app like Freedom to block distracting sites and apps.
If that still isn't enough, then you can also try the Pomodoro technique.
Study Habits for Being Less Stressed
As I mentioned earlier, one of the main advantages of good study habits is reduced levels of stress.
Some study habits, in particular, are great at making the studying process less stressful. Here are a couple to try:
Use the Fudge Ratio
Due to something called the planning fallacy, humans are terrible at estimating how long things will take. The fudge ratio is a solution to this problem. It helps you create more accurate time estimates for tasks, using a simple formula that we'll explain below.
Applying the fudge ratio to your studies will help you be less stressed since you'll be in the habit of planning more time than you need to do assignments. If you get done early, then you'll get a great sense of accomplishment. But if something takes the full time you "fudged," then you won't be caught off guard.
How to build the habit: To work the fudge ratio into your planning, you'll need to keep track of how long you think tasks take vs. how long they truly take. Record these numbers somewhere you can review them regularly. For an accurate measure of how long tasks actually take, you can use time-tracking software.
Once you've done this for a bit, you can then compare your estimated times to your actual completion times. This will allow you to calculate a literal ratio that you can use to make future time estimates.
To calculate the fudge ratio for a task, use this formula:
Estimated completion time / Actual completion time = Fudge ratio
For instance, if you think it will take you 30 minutes to finish your Intro to Sociology reading but it actually takes you 45, then your fudge ratio for these reading assignments is 45/30 = 1.5. Now, you know that whenever you're estimating how long reading will take for this class, you should multiply your estimate by 1.5.
Doing this for each class and assignment can be time-consuming. But with time, using the fudge ratio will help you get into the habit of making better time estimates overall. Eventually, you won't need to do the tracking and math described here.
Prioritize
Not all classes are created equal. Sure, each instructor thinks their class is the most important on your schedule, but we all know that isn't true. Some classes require more time and effort than others, and how you study should reflect that.
Specifically, you'll be much less stressed if you prioritize studying the subjects that take the most work.
How to build the habit: During the first couple weeks of the semester, pay attention to how much work each class on your schedule will require. From there, you can decide where to prioritize your attention.
Then, spend most of your study time on the most difficult classes. Of course, you'll still need to spend some time on your easier classes, but not nearly as much. Doing this will give you more free time and reduce your general stress levels.
Study Habits for the Forgetful
For our final area of habits, we turn to the pernicious problem of forgetting. Whether you're having trouble remembering homework assignments or even showing up for class, these habits will help.
Keep a List of Your Assignments
If you're having trouble remembering your assignments, then build the habit of keeping them on a list. This is a classic piece of advice. But if you put it into practice, it can change your life.
How to build the habit: First, decide where you'll write down your assignments. We're a big fan of to-do list apps for this purpose. But you could also go analog and use a paper planner. Just make sure it's something you can easily carry with you to class.
Then, write down assignments as the professor gives them. In many cases, of course, the professor will expect you to refer to the syllabus for homework assignments. So be sure to review your syllabus each week (and bring a copy to class so you can note any changes).
Finally, review your list of assignments at the start of each homework session. As you complete an assignment, cross or check it off the list. With this habit in place, you'll be much less likely to forget assignments.
Put Your Classes on Your Calendar
Unlike in high school, where your schedule is regimented and closely supervised, college offers more independence. While this can be exciting, it also means greater responsibility. And one of the first responsibilities you'll face as a college student is showing up for class at the right time.
While simple in theory, it can be challenging to remember the time and location of all of your classes. Especially during the first couple weeks of class. To ensure you don't forget when and where your classes are, put them on your calendar.
How to build the habit: Leading up to the first week of school, go online and consult the syllabus for each of your classes.
Note the class times and locations, and put that information on your calendar in recurring events. Make sure your calendar is set up to send you event notifications on your phone, and you should be able to remember each class no problem.
With time, of course, you're likely to memorize you schedule and won't need to consult the calendar. But having your classes on your calendar will still be helpful for planning, ensuring you don't schedule a meeting or other event during a class.
If you've never set up a digital calendar, check out this guide to using your calendar efficiently in college.
Good Study Habits Aren't Built in a Day
I hope this article has shown you the importance of good study habits, as well as how to start making them a part of your academic life.
As with any new habit, forming good study habits takes time and focus. For greater odds of success, work on forming one or two of these habits at a time. When they're a solid part of your routine, you can add new ones.
Habit formation is such a vast topic, there was no way we could cover all the details in one article. For a deep dive into building habits that last, check out our habit-building course:
Take My Free Class on Mastering Habits
Building habits isn't just about discipline; there are real-world steps you can take to set yourself up for success! In this course, you'll learn how to set realistic goals, handle failure without giving up, and get going on the habits you want in your life.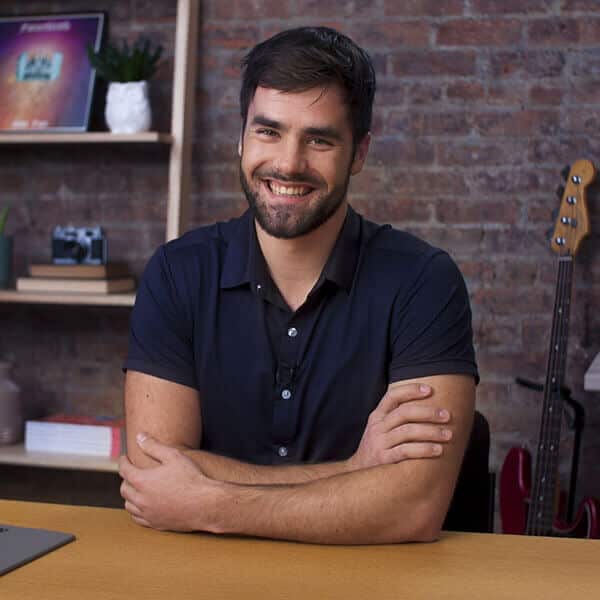 We earn a commission if you click this link and make a purchase at no additional cost to you.
Image Credits: person studying