Christmas is in TWO DAYS. Serial procrastinators like me are probably starting their shopping right about now and can relegate themselves to a day of sitting in traffic and wading through crowded malls, all searching for the perfect gift for Mom, Dad, or someone else.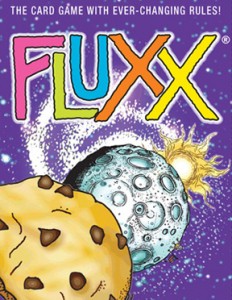 If you're shopping for one of those hard-to-buy-for people, then I've got the perfect gift. It's a card game called Fluxx, and I was introduced to it last week. Fluxx isn't really like any other card game, as about a quarter of the cards in the game will actually change the game's rules. This makes for a fast-paced and dynamic game that's a lot more fun than most others.
The basic idea of Fluxx is that you have a hand of cards, and on each turn you draw one and play one. However, playing a Rule card can change the way you play substantially, from increasing the amount of cards you draw and play to changing entirely the way you can win. Keeper cards are objects you place in front of you, and Goal cards will specify the Keepers you need in order to win. There are also Creeper cards, that you must automatically play when drawn, which usually prevent you from winning. Lastly, there are Action cards that throw even more monkey wrenches into the mix.
Fluxx can be confusing if you don't pay attention to it, and the complex, dynamic nature of the game will probably be off-putting to younger kids. However, college kids and adults should love it. If you're not sure what gift to buy this Christmas, buy Fluxx. You can get it on Amazon, or at your local book, game, or comic store.