We talk a lot about digital tools here at College Info Geek. Whether it's the best habit tracking apps or the best apps for taking notes, digital tools make it easy to keep all of your information organized and accessible from anywhere.
However, we also know that physical tools have their place. This is especially true when you're taking notes, as taking notes by hand can actually improve retention compared to typing.
But traditional paper notebooks don't offer the ease of organization as digital note-taking systems. Plus, if you lose the notebook (or forget to bring it with you), you can't access the information. And once you fill up a notebook, you have to go out and buy a new one.
Luckily, we've discovered a tool that offers the best of both physical and digital note-taking. It's called the Rocketbook Everlast, and it lets you take physical notes, quickly digitize them, and then erase the notebook when you're done.
Sound too good to be true? Read on for our full review of the Rocketbook Everlast.
What Is the Rocketbook Everlast?
Ever since Thomas discovered it, the Rocketbook Everlast has become his everyday notebook. He's put it through its paces and found it superior to competing notebooks. But what makes it so useful?
The Rocketbook has three main features that make it stand out from the competition:
The Rocketbook is erasable
You can easily digitize Rocketbook notes
The Rocketbook offers a quality writing experience
Let's take a closer look at each of these features.
The Rocketbook Is Erasable
This is one of the main selling points of the Rocketbook Everlast. After you're done writing on a page, you can erase the ink using a damp cloth. This lets you reuse the notebook an effectively infinite number of times.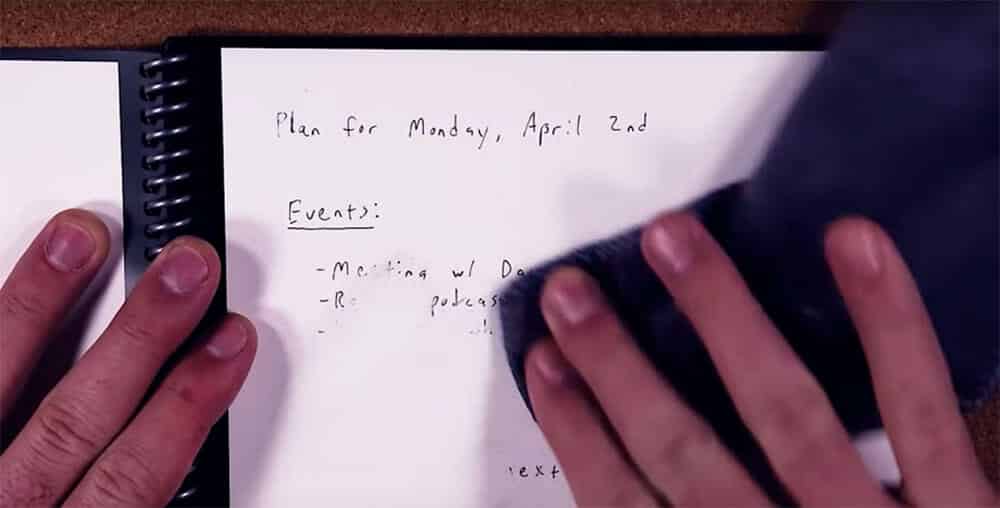 So what makes the Rocketbook erasable? To erase your notes, you need to write with a special pen called the Frixion pen. The pen's ink, combined with the Rocketbook's surface, lets you erase your writing.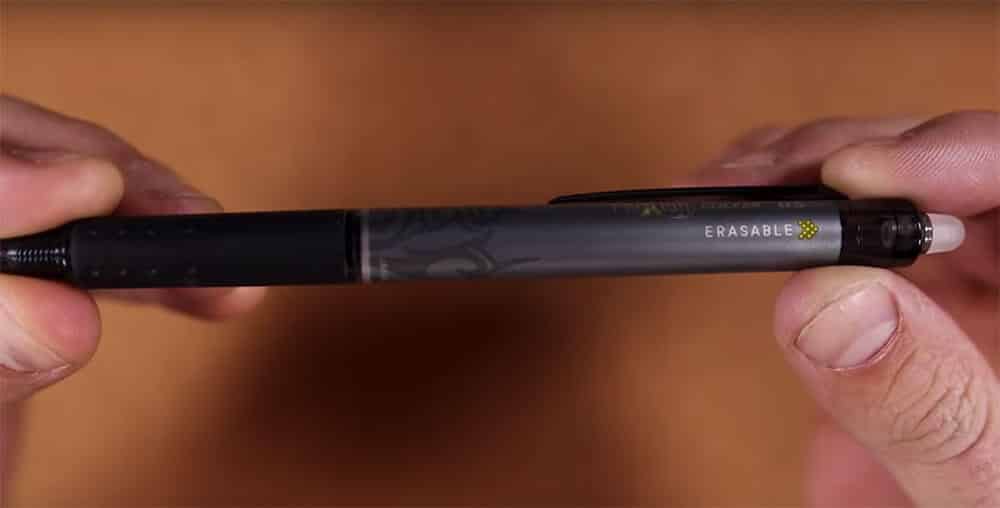 Note: Don't confuse the Rocketbook Everlast with the Rocketbook Wave. While the Everlast lets you erase your notes with a damp cloth, the Wave lets you erase notes by putting the entire notebook in the microwave.
This is a cool gimmick, but you can only erase the Wave around 5 times. After that, you'll need to get a new one. For this reason, we recommend the Rocketbook Everlast. Any time from now on, we're talking about the Rocketbook Everlast when we say "Rocketbook."
How to Digitize Rocketbook Notes
While it's cool that the Rocketbook is erasable, this doesn't make it unique. There are plenty of other erasable notebooks on the market. What sets the Rocketbook apart is how easy it makes it to digitize your notes.
Sure, you can digitize notes from any notebook using a scanner app and your phone camera. But the process is generally cumbersome. The Rocketbook solves this problem using QR codes and 7 special icons, which you'll find at the bottom of each page: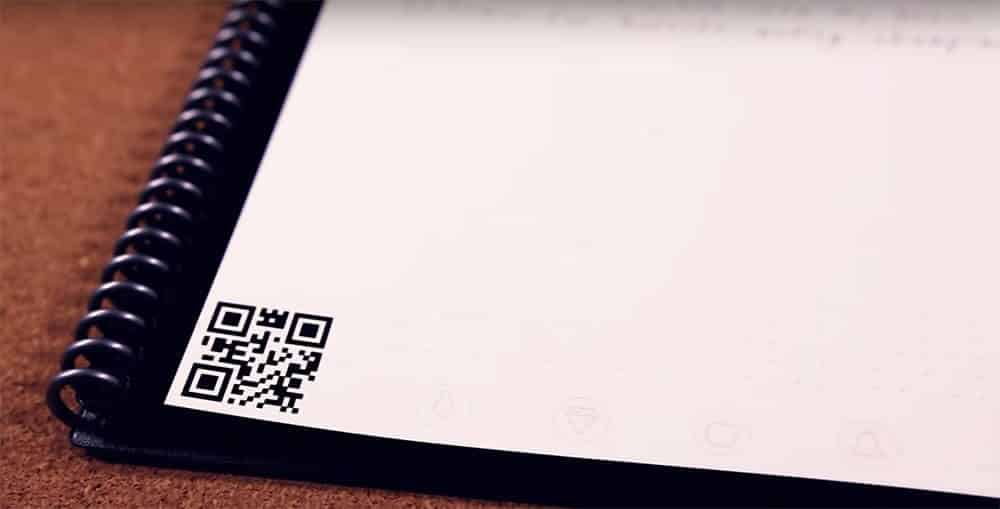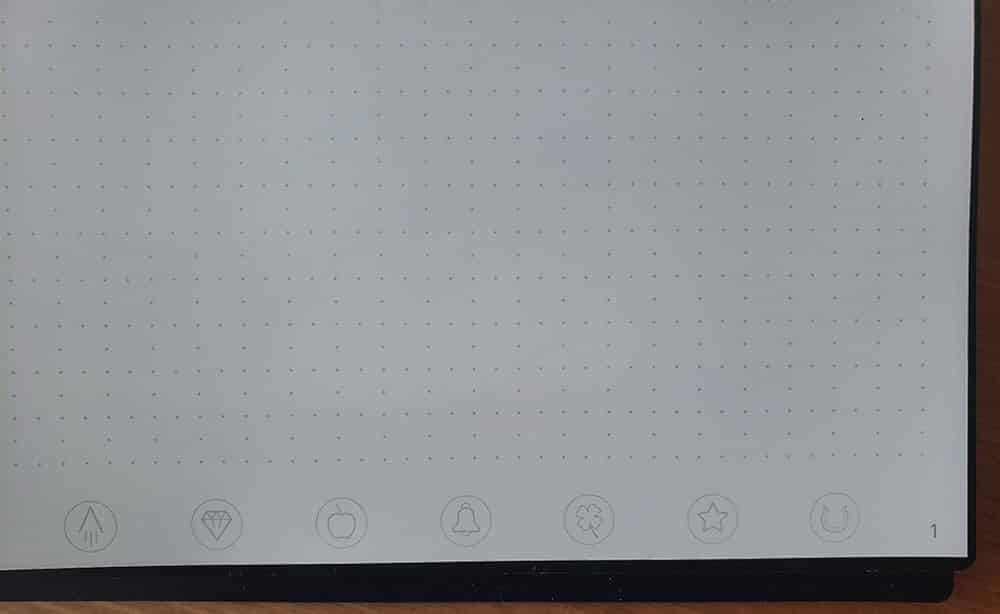 When you download the Rocketbook app, you can set different destinations for each of these icons. You can choose anything from Dropbox to Google Drive to Evernote.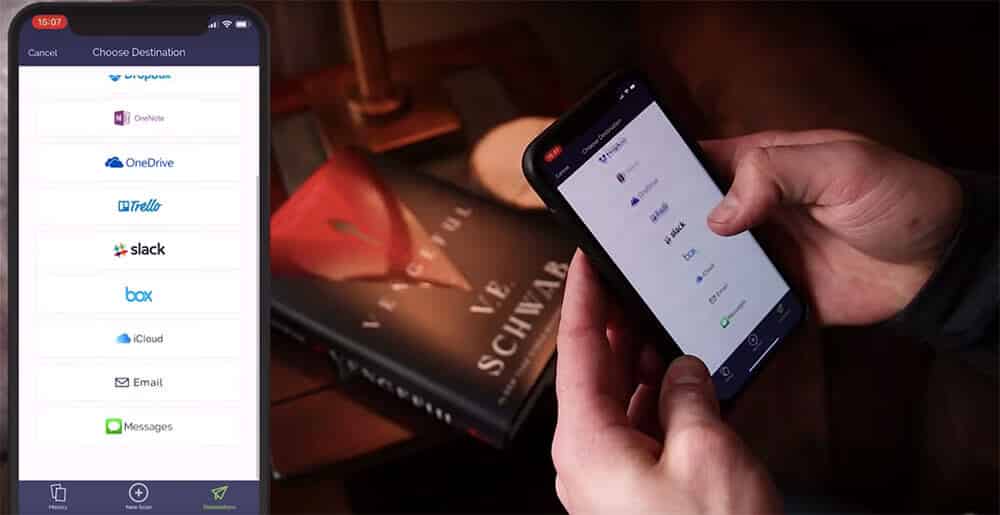 If you want to get even more specific, you can also choose a particular folder or notebook based on the icon. For instance, you could set each icon to refer to a different Evernote notebook. This lets you digitize the note and put it in the right location without extra steps.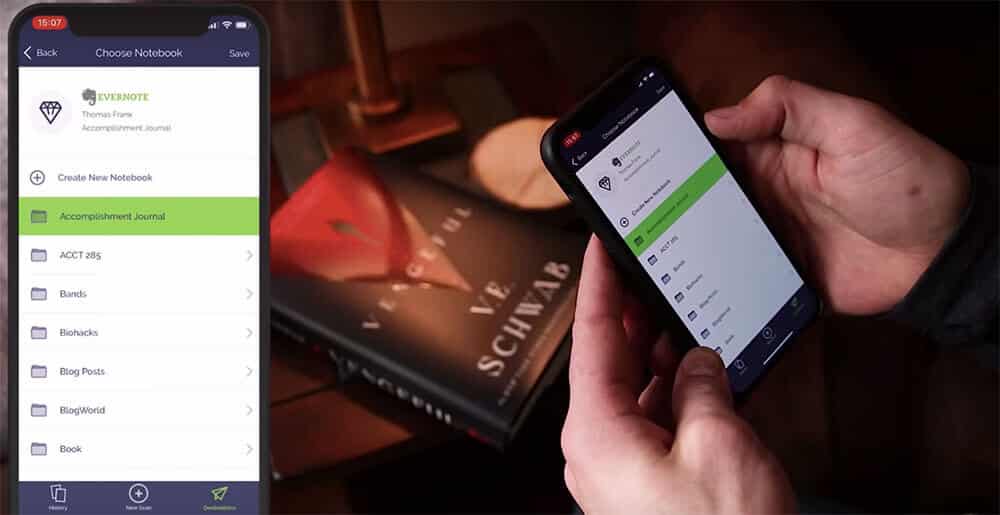 Once you have everything set up and are ready to digitize the page, all you have to do is mark the icon of the destination and scan the page with the Rocketbook app.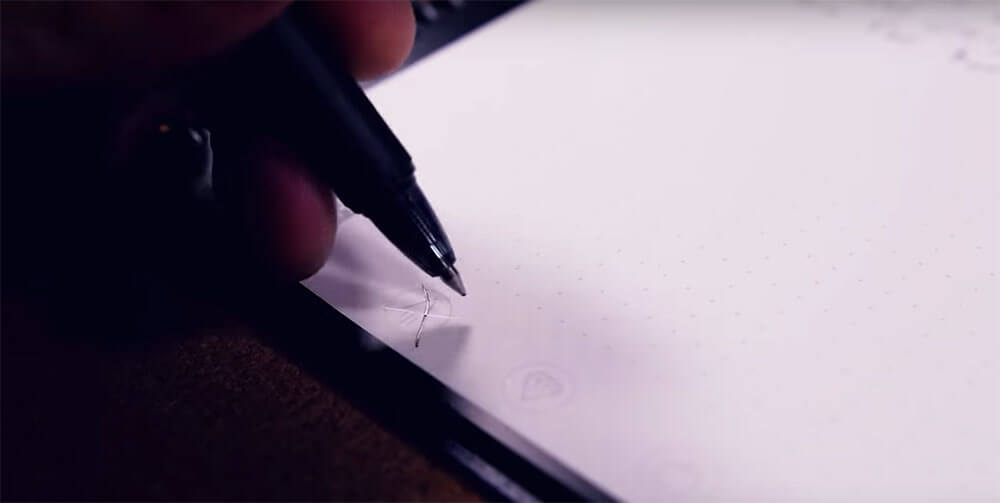 Your notes will then be automatically be saved to the folder you've chosen, no additional apps or steps required!
The Rocketbook also lets you choose to save notes as either a PDF or JPEG. The PDF option even lets you bundle multiple pages of notes into one document that you can easily refer to later.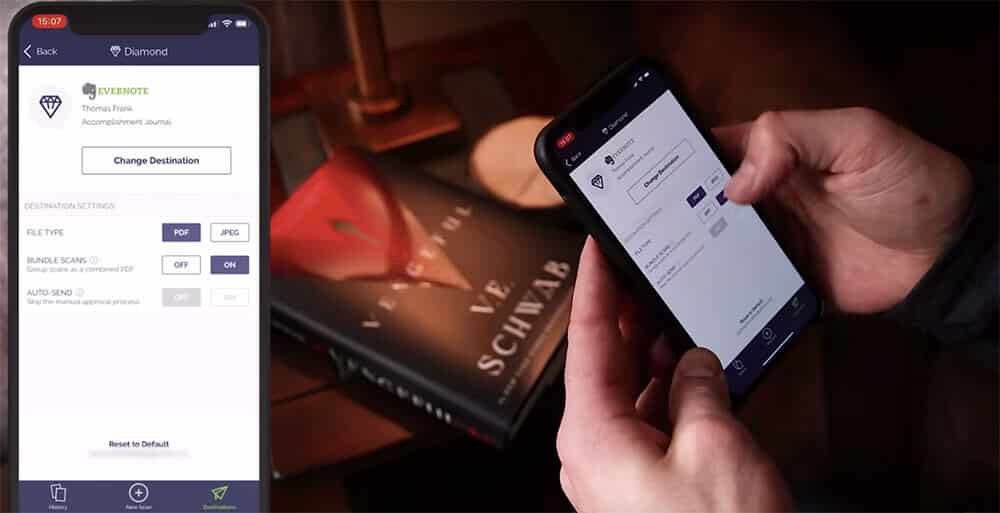 The Rocketbook Everlast Writing Experience
The Rocketbook excels at digitization and easy erasing of your notes. But what about the writing experience? After all, this is still a notebook, and the quality of the writing experience matters a lot.
Overall, the Rocketbook offers a "pretty good" writing experience. It's much better than writing on an iPad with the Apple Pencil or writing on just about any kind of tablet using a stylus. We rate it as about 90% as good as writing on normal notebook paper.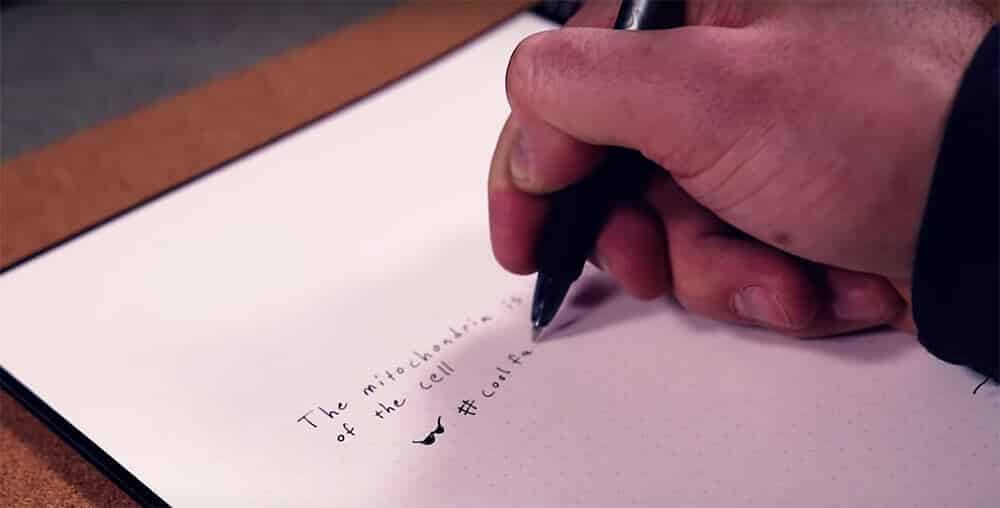 There are three main things that keep the writing experience from being as good as regular paper:
The Frixion pen won't give you the same consistently dark line as a high-quality pen on regular paper. However, you can produce a line that's almost as good with a bit of practice.
The paper's glossy texture makes it possible to erase the ink, which is great. But as a result, it lacks the same grip and precision that you get when writing on regular paper.
The ink from the Frixion pens takes around 10 seconds to dry. This isn't a huge issue, but there is a risk of smudging the ink if you brush your arm or hand over the page before the ink dries.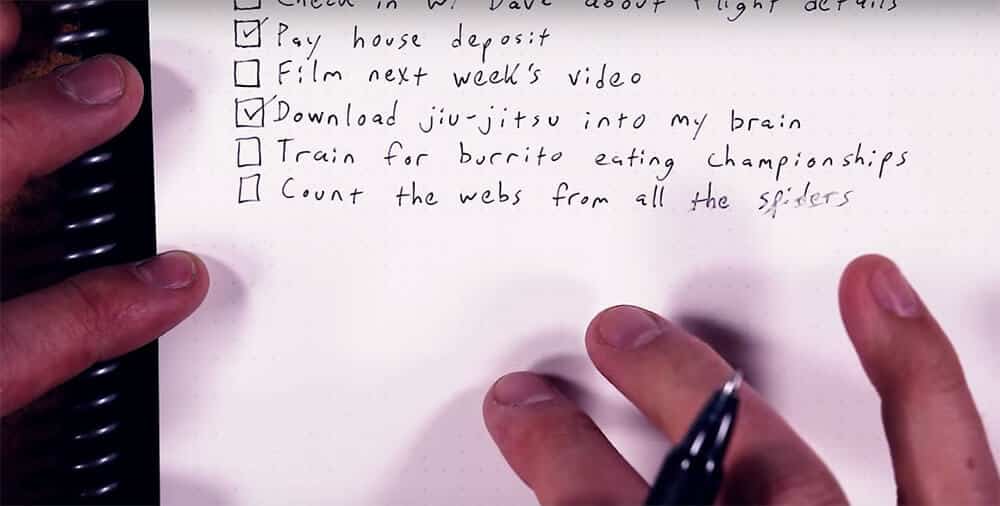 We should also note that the Frixion pens don't last as long as normal pens. How long they last depends on how much you use them and what you're writing (shading large areas of solid color will, of course, wear out the pen faster). But a 3-pack of Frixion pens is around $5, so replacing them isn't a big deal.
Rocketbook Everlast Specs
Aside from being erasable, what is the Rocketbook Everlast like? How does it look and feel?
The Everlast comes in 3 sizes:
Executive — 6 in x 8.8 in (15.2 cm x 22.3 cm), 36 pages
Mini — 3.5 in x 5.5 in (8.9 cm x 12.7 cm), 48 pages
Letter — 8.5 in x 11 in (21.6 cm x 27.9 cm), 32 pages
If you're a student, then the letter-size Rocketbook will be best. It offers the most space for taking notes and drawing diagrams.
In addition to choosing the notebook size, you also have two paper options: dot grid or lined.
We're big fans of the dot grid, as it makes it easy to draw diagrams and figures. The dots are pretty subtle, so you can also ignore them if you don't need the grid. If you prefer a more "traditional" notebook, then you may want to get the lined paper.
All of the sizes will also fit easily into your backpack. And since you can erase the notes after you scan them, you can replace your stack of class notebooks with just one notebook to rule them all.
Rocketbook Everlast Price
The final thing to consider when purchasing the Rocketbook is the price. We won't deny it — the Rocketbook costs more than most notebooks on the market. So if you're used to buying $2 notebooks from Walmart or Target, then you're in for a bit of sticker shock.
Here's how the pricing breaks down for the Rocketbook Everlast:
Mini — $16
Executive and Letter — $30 – $35 (depending on where you buy them)
While it's more expensive than a basic notebook from the discount store, the Everlast is comparable in price to other premium notebooks such as the Moleskine. And considering that you can use the Rocketbook an essentially infinite number of times, we think it's a worthwhile investment.
Is the Rocketbook Everlast Worth It?
Overall, the Rocketbook Everlast is our top notebook recommendation for anyone who likes the experience of writing in a notebook but still wants to keep their notes digitally organized.
The writing experience leaves a bit to be desired compared to regular notebook paper, but it's easy to adjust to with some practice. And it's worth it for the convenience of being able to reuse your notebook while also effortlessly digitizing your notes.
Want to learn about the best ways to take notes in your new Rocketbook Everlast? Check out our guide to the best note-taking systems.