While every day seems to bring a new headline about an app that will "replace email," it's still a big part of our online lives. Particularly in the business world, email is very much alive and well.
This means that the difficulty of managing your email remains. The right email client can make this a lot easier, but finding the right one can be a challenge.
To make your decision easier, we've identified the best email clients out there. Below, you'll find apps for everything from managing your personal email to organizing your team's inbox.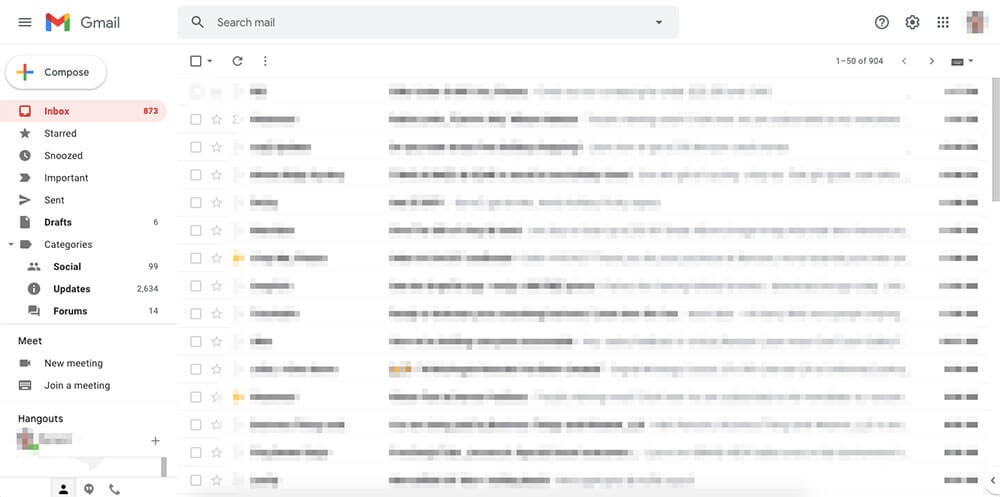 Overview: One of the world's most popular email clients, Gmail remains a great choice for many users.
While it was far from the first email client, the release of Gmail in 2004 was a big deal. It took web-based email to a whole new level, paving the way for the interactive email apps we know today.
Over 15 years later, Gmail is still an excellent email client. You can sort messages using tags, manage multiple accounts from one interface, and easily set up mail forwarding. Gmail also has a powerful spam filter, helping you avoid suspicious and time-wasting messages.
Plus, Gmail has strong integrations with Docs, Sheets, Slides, and especially Google Calendar. This makes it a great choice if you use other Google apps for school or work. And since Gmail is built by Google, you can easily find archived messages with Google's powerful search algorithm.
Price: Free (with ads)
Platforms: Android, iOS, Web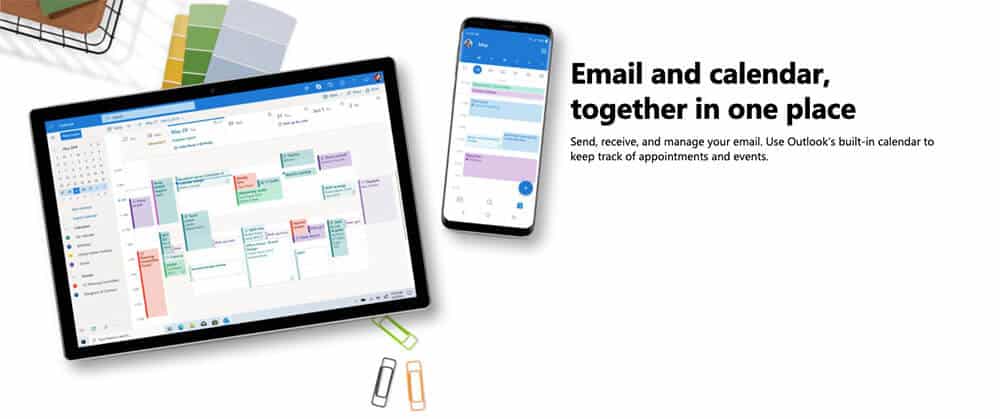 Overview: A popular choice for business and university use, Microsoft's flagship email client is also a solid choice for managing your personal email on Windows.
Like Gmail, Outlook needs no introduction at this point. While you're most likely to encounter the app in a business or university setting, Outlook is also available free for personal use.
Outlook includes all the features you'd expect in a modern email program, including a built-in calendar, spam/malware filtering, and enough storage for most people's needs. Outlook also features deep integration with Word, Excel, PowerPoint, and OneNote. You even get 5 GB of OneDrive storage free just for signing up.
For more advanced features such as message encryption, custom email domain names, and automatic removal of dangerous attachments, you'll want to upgrade to Microsoft 365. This also gets you access to additional storage and the desktop versions of the aforementioned Microsoft apps.
Price: Free (with ads). Upgrade to Microsoft 365 Personal to remove ads, get additional storage, and unlock advanced security features.
Platforms: Android, iOS, Mac (for paid subscribers), Windows, Web
Need a better system for staying on top of your email and other work tasks? Sign up for our free productivity masterclass: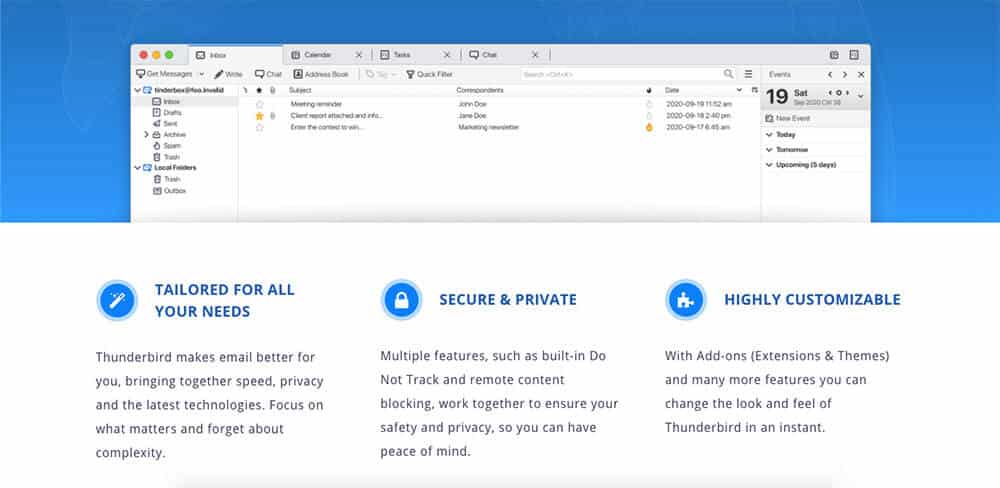 Overview: A free, open source email client focused on privacy.
Moving beyond the world of massive tech companies, we have Thunderbird. Developed by a subsidiary of the Mozilla Foundation, it aims to be a secure, powerful email client for personal use.
The features of Thunderbird are quite impressive. You'll find all the standard mail filtering, archiving, and searching that you're used to in other apps. But Thunderbird goes beyond these basics with tools for managing large files, add-ons to extend the app's functionality, and a unified inbox that lets you track multiple accounts in one place.
Most notably, Thunderbird places a strong emphasis on security and privacy. It detects phishing attempts, warns you when you're about to click suspicious links, and doesn't track your activity.
And since Thunderbird is open source, anyone is free to contribute to the project or customize the app for their own needs. The only downside of Thunderbird is its lack of mobile apps, but there are plenty of other options on this list to meet that need.
Price: Free
Platforms: Mac, Linux, Windows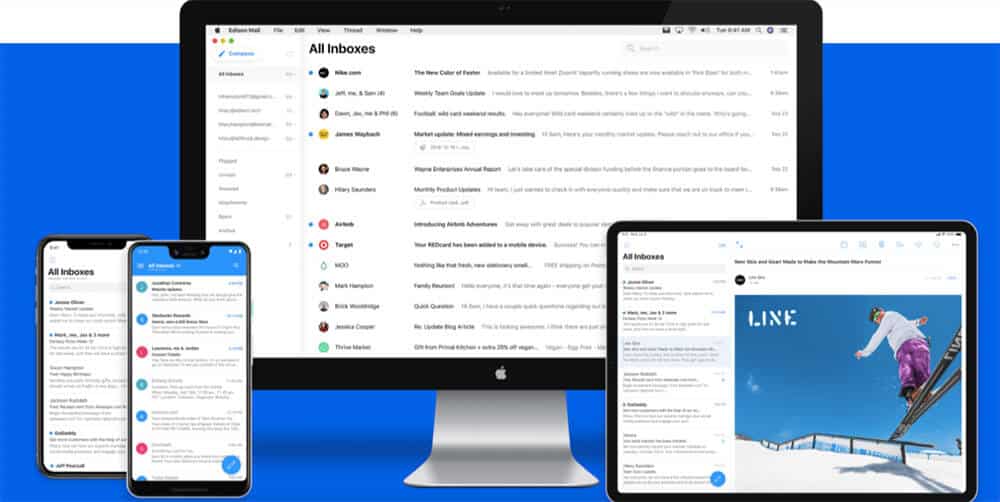 Overview: A free, mobile-focused email client with powerful organization features.
Unlike a lot of other apps on this list, Edison Mail has taken a mobile-first approach to development. They aim to provide an aesthetically pleasing, ad-free email experience on your Android or iOS device.
At its most basic, Edison Mail lets you manage all of your inboxes and email accounts in one place. Whether you have a Gmail, Outlook, or even Yahoo! email address, you can easily access it through Edison Mail.
Where things get interesting, however, is with Edison Mail's built-in assistant. It has many features for travelers, including flight updates, destination weather forecasts, and just-in-time directions. It can also notify you about package deliveries based on incoming emails, monitor price drops on items, and even automatically unsubscribe you from annoying newsletters and promotional emails.
To keep all of these features free, Edison Mail uses an interesting monetization model. Instead of showing ads, they aggregate ecommerce information from your inbox and use that to create consumer trends reports that they then sell to businesses. While this is less private than Thunderbird or ProtonMail, it still provides a better user experience than ad-supported email clients.
Price: Free
Platforms: Android, iOS, Mac. A Windows desktop app is also in development.
Is your phone distracting you from important work? Reclaim your attention.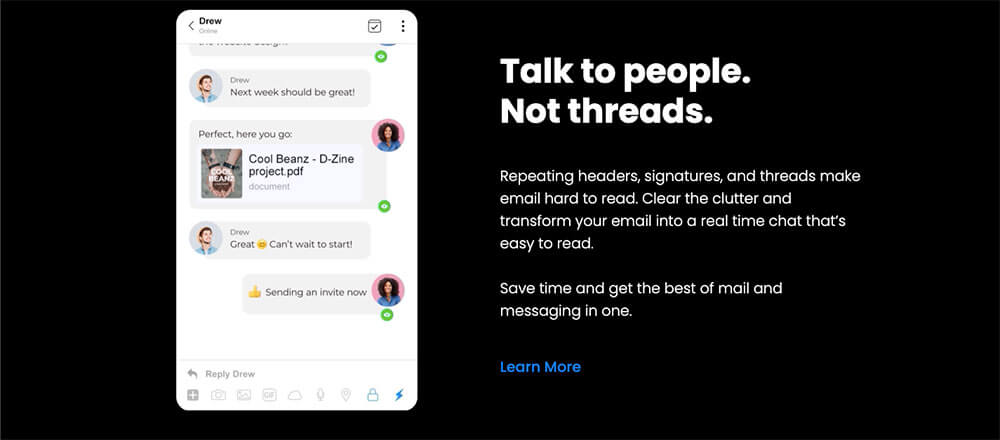 Overview: Spike transforms your email inbox into a fully-featured, conversational workspace.
If you wish your inbox looked less like email and more like iMessage or WhatsApp, then you'll love Spike.
Aimed at teams who need a better way to manage their communications, the app turns your email into a real-time chat experience. This makes it an interesting alternative to dedicated chat apps such as Slack or Microsoft Teams.
Beyond its email management features, Spike offers a built-in Notes app for collaborating on projects with your team. While it doesn't offer the power of dedicated project management tools, it's enough for smaller teams to get a lot done without having to jump between apps. In a similar vein, there's also an integrated task list to help you take action on emails.
Price: Free with limited message history, 5 GB of storage, and limited notes and tasks. To get unlimited messages, unlimited notes and tasks, and additional storage, upgrade to the Pro plan for $4 / month per account (billed annually).
Platforms: Android, iOS, Mac, Windows, Web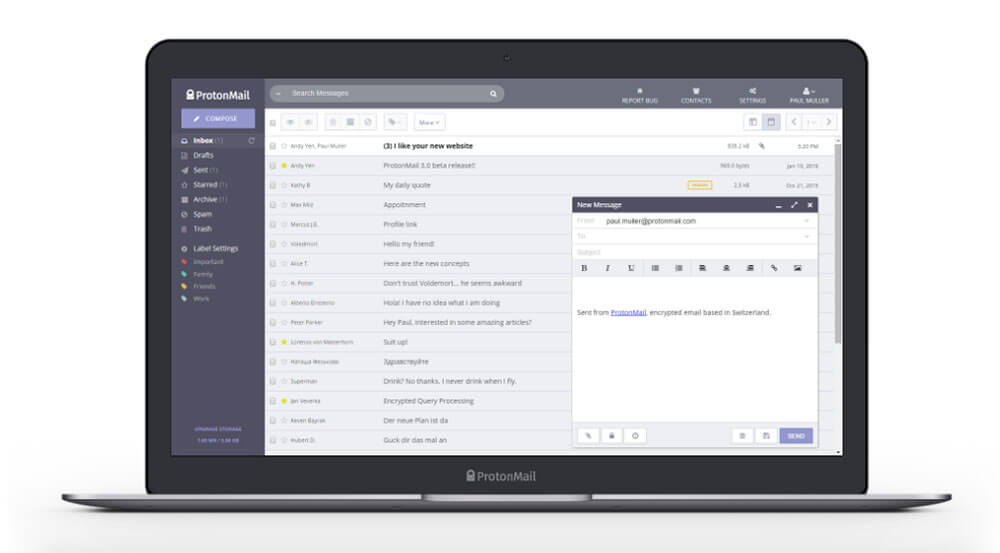 Overview: An extremely secure, privacy-focused email client based in Switzerland.
Historically, you had to choose between usability and security in email apps. ProtonMail gives you the best of both worlds, ensuring that your data is secure and private while also providing a normal email client experience.
So what makes ProtonMail so secure? On the technical side, all messages are end-to-end encrypted. This means no one, not even ProtonMail, can decrypt or read what's in your messages.
As a side effect, this also means ProtonMail cannot sell or share your private information with third parties. Plus, ProtonMail accounts are anonymous. They don't log your IP address and don't require personal information to create an account.
As if this weren't enough, ProtonMail is based in Switzerland. Thus, Switzerland's strict privacy laws apply, and it's nearly impossible to access the extremely limited data on ProtonMail's servers without a Swiss court order.
ProtonMail's primary data center is also located beneath 1000 meters of granite in a well-guarded bunker, so physical security concerns are minimal.
Price: Free (limited to 500 MB of storage and 150 messages per day). Upgrade to the Plus plan for 5 GB of storage, 1000 messages per day, and a custom email domain. Business plans are also available for an additional cost.
Platforms: Android, iOS, Web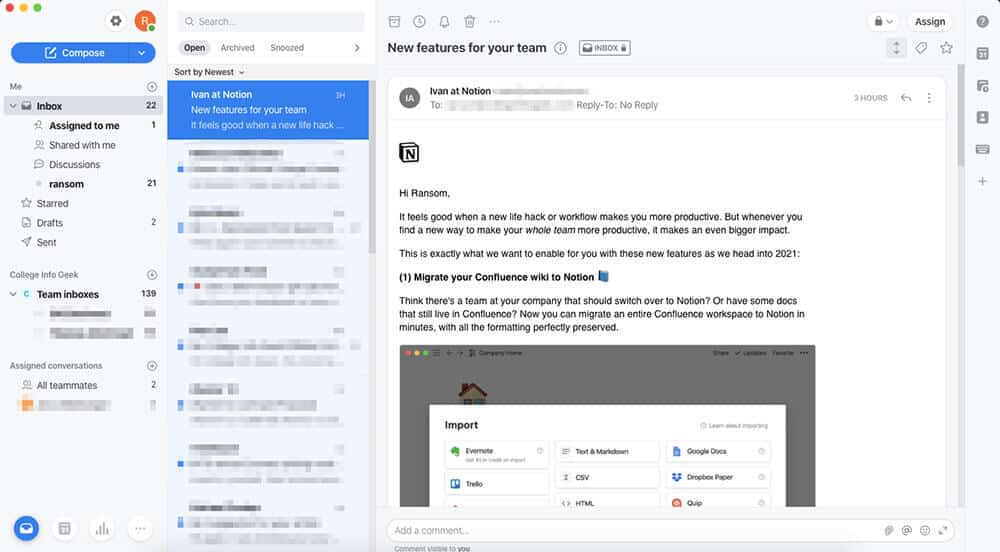 Overview: For teams that need to collaborate on high volumes of email, Front is the email client to use.
Let me preface this section by saying that Front is not the right email app for most people. If you're just managing personal email or a small volume of internal communications, it's likely overkill.
However, if you have more email than you can handle and need to easily delegate to teammates, Front is a lifesaver. We use it to manage our team inboxes at College Info Geek, and it's made things so much easier.
My favorite feature is the ability to see different teammate's inboxes in a single view. If I need to jump into my manager's inbox to respond to a message meant for me, I can. Plus, Front lets you assign messages to other teammates, saving the hassle of forwarding and CCing.
Beyond this, Front lets you chat with team members about emails without leaving the app. This frees up space in other team chat apps and keeps communications about emails readily accessible.
Finally, Front includes lots of features for automating email. You can create rules and canned responses to process email more efficiently. And if you need features from other work apps, Front has an extensive list of integrations.
Price: Basic features are available for $9/user per month (billed annually). To unlock integrations, more team channels, and unlimited rules, upgrade to Plus for $24/user per month. Enterprise plans are available for larger teams.
Platforms: Android, iOS, Mac, Windows, Web
Don't Just Tame Your Email, Master It
I hope this article has given you some apps to manage your email more effectively.
While the right email app can make a big difference, remember that it's often higher-impact to use apps that reduce the need for email exchanges in the first place.
For apps that can cut down on the amount of email you send and receive, read these articles next:
Image Credits: Gmail app loading