If you don't keep track of your money, it will disappear. At least, that's how it can feel when you don't have a budget.
Budgets can be as simple or complex as you want; it all depends on your financial situation and personality. However, regardless of the budgeting approach you use, the right budget app can make it a lot easier to manage things.
But how do you find the right budget app for your needs? There seems to be a new budgeting service each day, making it overwhelming to choose one.
That's why we've done the research for you and compiled this list of the best budget apps. Whether you want to actively catalog each expense or passively track your spending habits, there's an app for you on this list.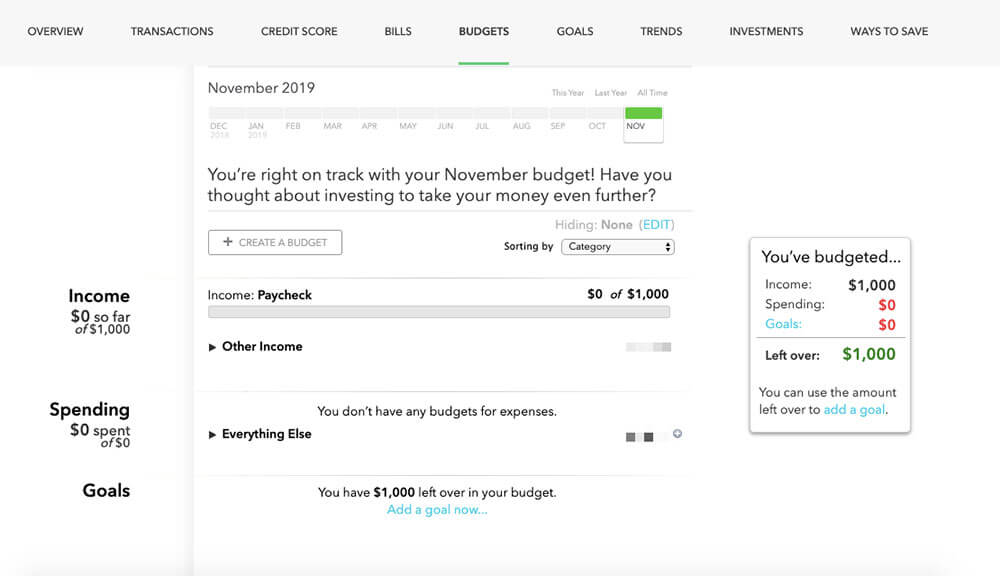 Overview: A tool that lets you see all of your financial accounts in one dashboard, Mint is our top budget app for most people.
How many financial accounts do you have? Between your checking, savings, credit card, and investment accounts, it's probably more than you think. And while online systems have made it easier to track each of your accounts, it's still a hassle.
Mint solves this problem by showing you all of your finances in one place. At a glance, you can view your account balances, ratio of cash to debt, and upcoming bills. You can also get more granular, viewing a detailed breakdown of what you spent across different credit and debit cards.
In addition to financial accounts, Mint also lets you track assets such as property and vehicles. And if you're trying to meet a particular financial goal (such as paying off credit card debt or saving for a home), Mint has tools to help keep you on track.
Price: Free
Platforms: Android, iOS, Web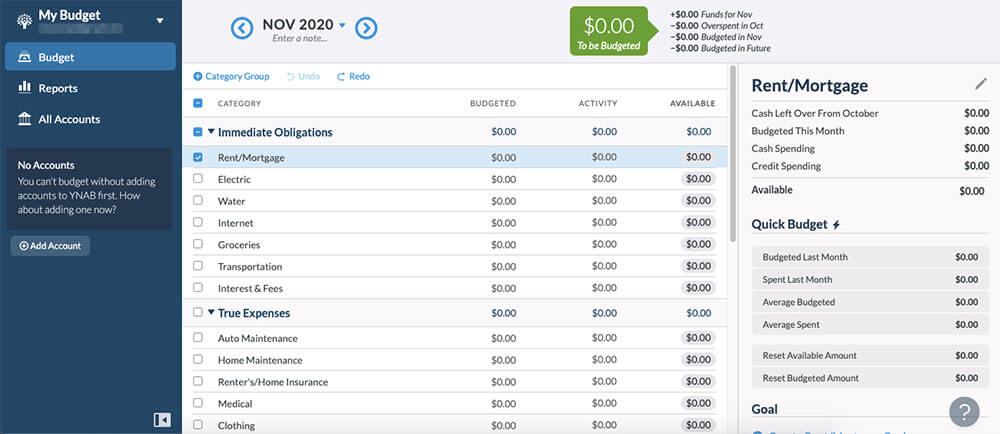 Overview: A hands-on budgeting app that teaches you how to manage your money.
You Need a Budget (YNAB) is the opposite of many of the hands-off apps on this list. And for the right person, this is a fantastic thing. Instead of showing you a summary of what you spent the past month, YNAB focuses on proactive planning for the month ahead.
Once you've connected your financial accounts to YNAB, the app then prompts you to plan how you'll spend every dollar over the coming month. This helps you break the paycheck-to-paycheck cycle and focus on spending money you have now. In addition to these budgeting features, YNAB also lets you set and track financial goals (big and small).
For the YNAB system to work, you need to actively budget. So if you're looking for an app that passively tracks your finances, YNAB isn't for you (check out Mint or Personal Capital instead). But if you're willing to put in the work of budgeting every dollar, YNAB can help you finally take control of your finances.
Price: $11.99/month or $84/year
Platforms: Android, iOS, Apple Watch, Alexa, Web
Read our full YNAB review to learn more.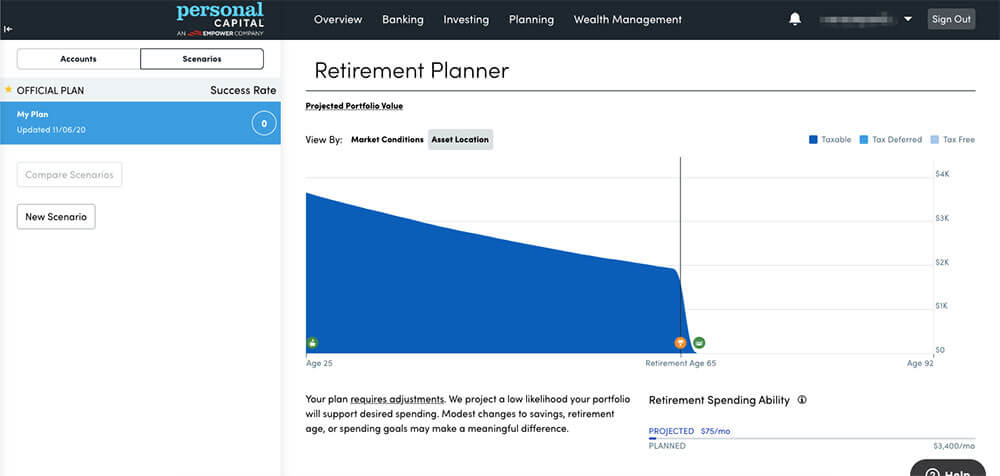 Overview: If you want the data visualization of Mint with more advanced tools for tracking your investments, Personal Capital is the budget app for you.
On the surface, Personal Capital is very similar to Mint. The app automatically pulls in data from your financial accounts, showing you a summary of your spending and saving whenever you log in. You'll also find tools for setting and tracking financial goals such as savings and debt paydown.
Where Personal Capital stands apart, however, is in its investment and retirement planning tools. At a basic level, the app will show you your current net worth and whether or not you're on track to meet your retirement savings goals.
But you can also dig deeper if you want. For instance, Personal Capital includes a Fee Analyzer tool that will show you hidden fees in your investment and retirement accounts. You can also analyze your portfolio allocation to ensure it's in line with your long-term financial goals. And there are even tools to help you plan for how you'll fund your children's education.
Price: Free
Platforms: Android, iOS, Web
Want to start investing but aren't sure how? Read this next.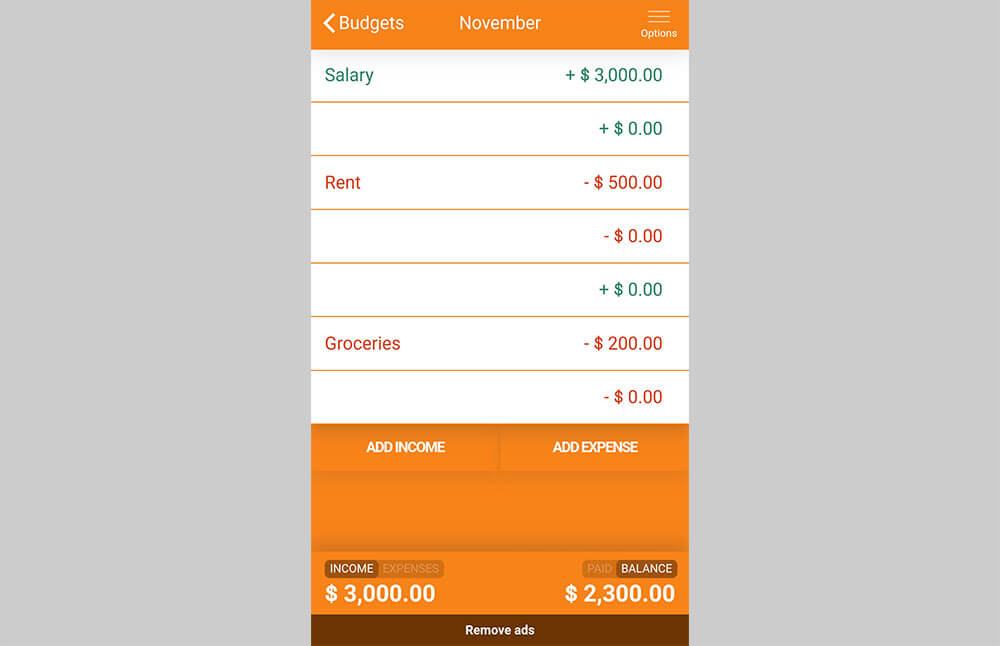 Overview: A no-frills, cross-platform budgeting app.
Budgeting apps can offer a lot of bells and whistles. But let's say you don't care about categorizing expenses or pouring over pie charts. Instead, you want a super simple budgeting app focused on income and expenses.
In that case, check out Fudget. It's a minimalist budgeting app that tracks one metric: your financial balance. You can track this balance weekly, monthly, or even daily if you want.
You can also change the currency the app uses, making it useful for working and studying abroad. And due to the app's intuitive design, there's no need to read tutorials or watch videos to learn how to use it.
Price: Free for most features. To remove ads and export your data, you can upgrade to Fudget Pro for a one-time payment of $1.49.
Platforms: Android, iOS, Mac, Windows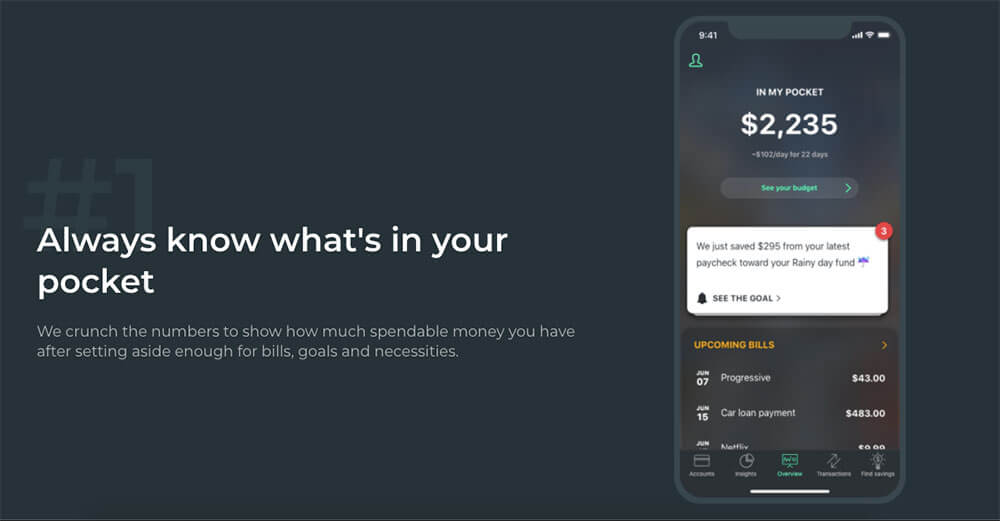 Overview: The budgeting app that tells you how much you can afford to spend right now.
The basic premise of PocketGuard is to show you how much "spendable money" you have available after factoring in bills, goals, and necessities. This way, you'll avoid the trap of thinking you have enough money for an extra purchase…only to later discover you needed that money for an upcoming bill.
Beyond this core feature, PocketGuard includes pie charts to track your spending, an overview of all your accounts in one place, and tools for setting financial goals.
Price: Free for most features. To add more Categories and gain more control over transaction details, you can upgrade to PocketGuard Plus for $4.99/month or $34.99/year.
Platforms: Android, iOS, Web
Looking for more ways to simplify your personal finances? Learn how to automate your money.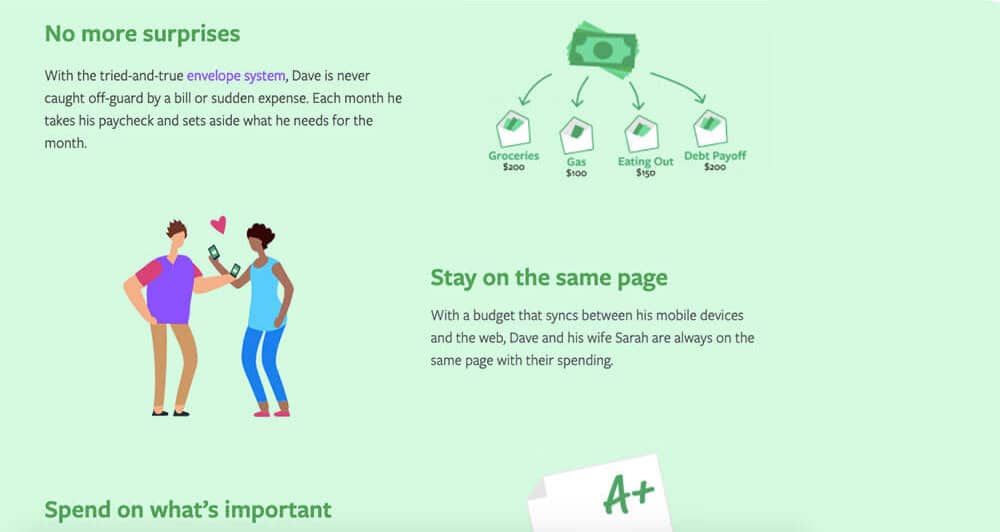 Overview: A budgeting app based on the envelope system.
Before there were apps to help you track your digital money, people used analog budgeting systems to track physical dollars.
The envelope method is one such analog budgeting system. With it, you allocate your paycheck into different envelopes, each representing a spending category. When you spend on a certain category, you take money out of the envelope. This way, you can never spend more than you have.
While the philosophy behind this system is sound, it can be challenging to apply it in the age of digital banking and online shopping. Goodbudget solves this problem. It lets you allocate your cash in the same way, except you track everything with an app.
Besides this digital envelope system, Goodbuget also offers some useful features for tracking debt repayment, saving for big expenses, and sharing your budget with your partner or household members.
Price: Free for most features. To get unlimited envelopes, additional devices, and email support, upgrade to the Plus plan for $7/month or $60/year.
Platforms: Android, iOS, Web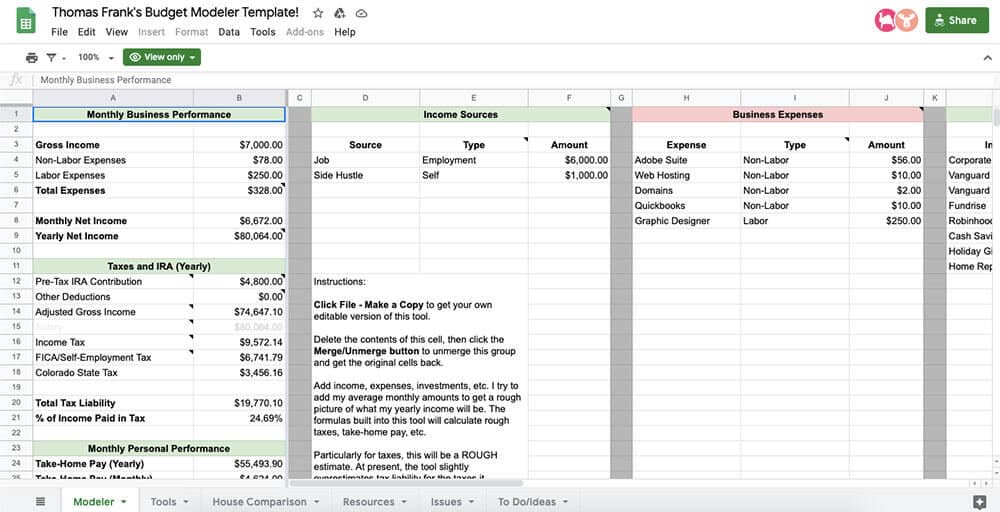 Overview: With the right template, Google Sheets turns into a powerful, flexible budgeting tool.
In a sense, the spreadsheet is the original budgeting app. And even though it's no longer the only option, a spreadsheet can still work great for many people's budgeting needs.
That's why Google Sheets is on this list. If you're the DIY type and don't mind learning some basic formulas, then you can use Sheets to create a highly customized budgeting tool.
And if you'd rather not do all of that, there are also many budget templates available for Google Sheets. We even created our own budget modeler spreadsheet, which you're welcome to use and adapt for your financial planning.
Price: Free
Platforms: Android, iOS, Web
Budget Apps Give You Control of Your Money
With the right budget apps, managing your money doesn't have to be scary, stressful, or complicated. On the contrary, taking control of your finances can be empowering and even fun.
Want to learn more about how to budget and save money? Check out our budgeting guide.
Image Credits: accounting calculator