A couple of years ago I did one of those What's In My Backpack videos that all the kids seem to be doing these days.
And despite the fact that my backpack didn't contain anything truly exciting, like a gateway to a pocket dimension filled with talking hot dogs, or disco ball gloves, people seemed to enjoy it anyway.
Given the response that article received, I figured it was high time to take a renewed look at the gear I'm carrying on a daily basis.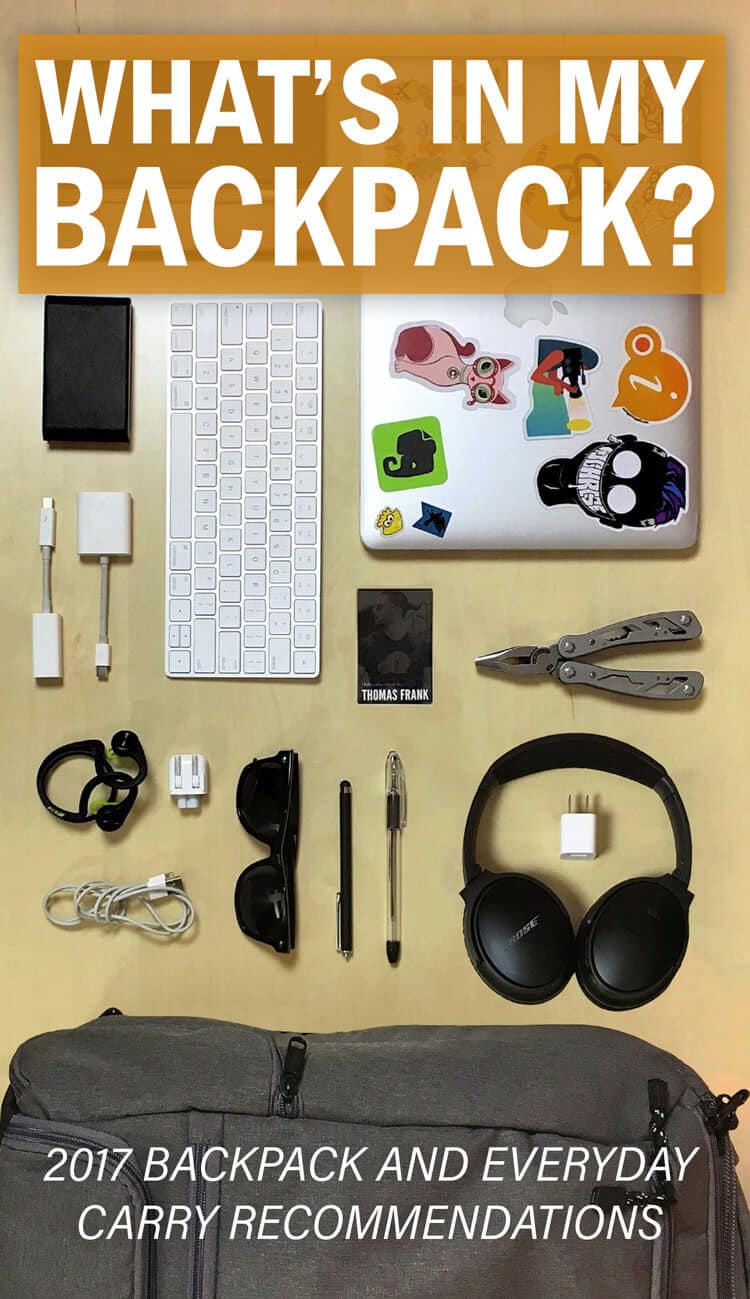 I've gone through some pretty big life changes since that first video. Most importantly, I moved from Iowa to Denver, Colorado back about six months ago, which means I'm using my bike to get around a lot more often.
Additionally, since I've started making an effort to dress better AND often travel with camera gear, I'm no longer a single carry-on traveler.
My trusty old Minaal Carry-On served me well for quite a long time, but even with its cavernous amount of space, it's not enough to safely carry my running shoes, camera body, several lenses, and other gear alongside a week's worth of clothes and a laptop.
As a result, I had to start traveling with both a backpack and one of those roll-y suitcases, which probably have a more professional name – but I like saying roll-y suitcases. In case you're curious, I'm using the London Fog Coventry suitcase, which is usually small enough for the overhead bins on an airplane. Plus, when I do end up having to check it, the gold trim helps distinguish it from all the other bags out there.
Once I started using the roll-y suitcase, though, the Minaal backpack became… – well, frankly, it became overkill. While it's an excellent bag for people who want to live the single carry-on lifestyle (since it can fit so much), it's a bit of a pain to use when it's not full. It just becomes kinda floppy.
So the search began for a new bag. And, after a bit of experimentation, here's what I settled on.
The Backpack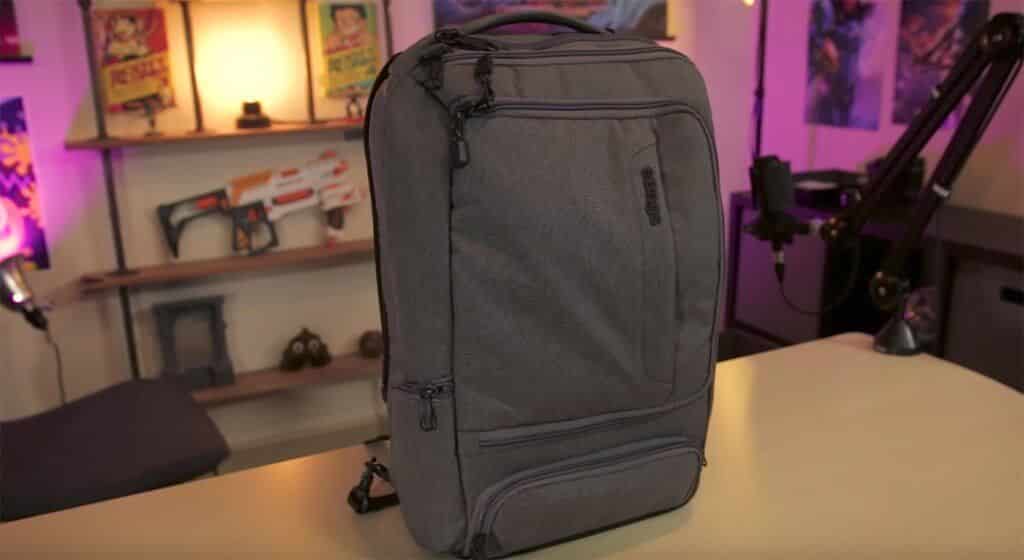 These days I'm rocking the eBags Professional Slim Laptop backpack.
While it's a smaller backpack than the Minaal, the way its compartments are designed and laid out makes it a much more functional and easy-to-use daily driver backpack. Where the Minaal was a bit unwieldy and required some fiddling to get things out of it, this backpack stands up on its own and has well thought-out spaces for all the important pieces of gear I use in my work.
If you want to see more of the backpack than just the two shots I've included here, check out the video at the top of this article. I've included more shots of it there. But to give you a quick run-down:
The main compartment is well-padded and keeps my laptop safe. It's also got enough space for a couple of notebooks.
At the top, there's a small compartment that can fit an iPad or a similar-sized tablet. It also has a soft interior padding, meaning it won't scratch your screen if you don't have a tablet case.
Another main compartment gives me enough room for books, headphones, and other things.
The front compartment is more like a flap that can be unzipped on three sides. This lets me essentially open it like a book, revealing lots of little pockets for organizing cards, pens, and other small things. No digging around for things from the top!
However, by and far away my favorite feature of this backpack is the compartment at the bottom.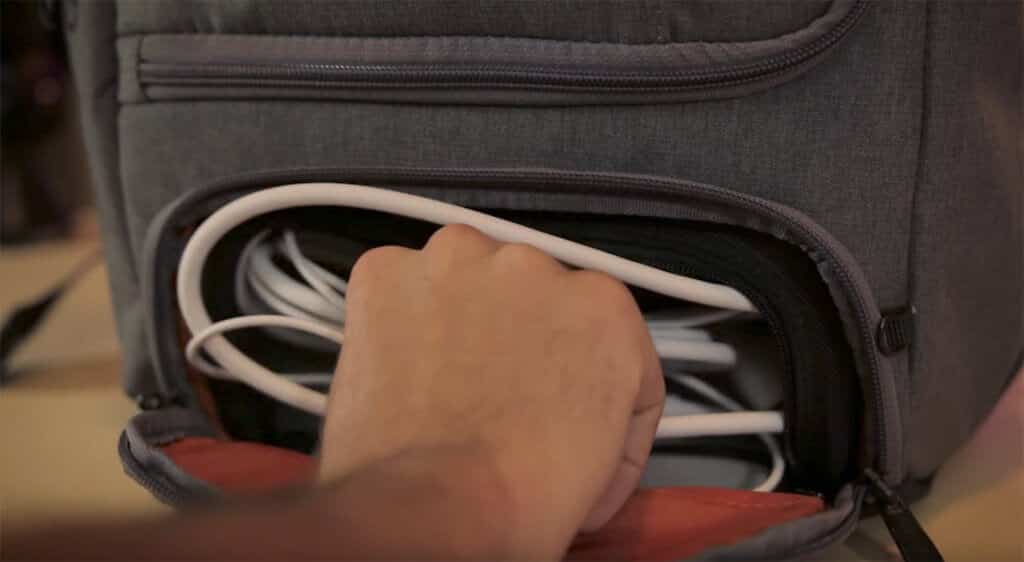 Opening it up reveals a small space that's perfect for a laptop charge cord and brick. Every other backpack I've used in the past has required me to shove my MacBook charger in some inconvenient spot or another. With this pocket, I can store it or take it out in seconds. I adore this feature.
The Gear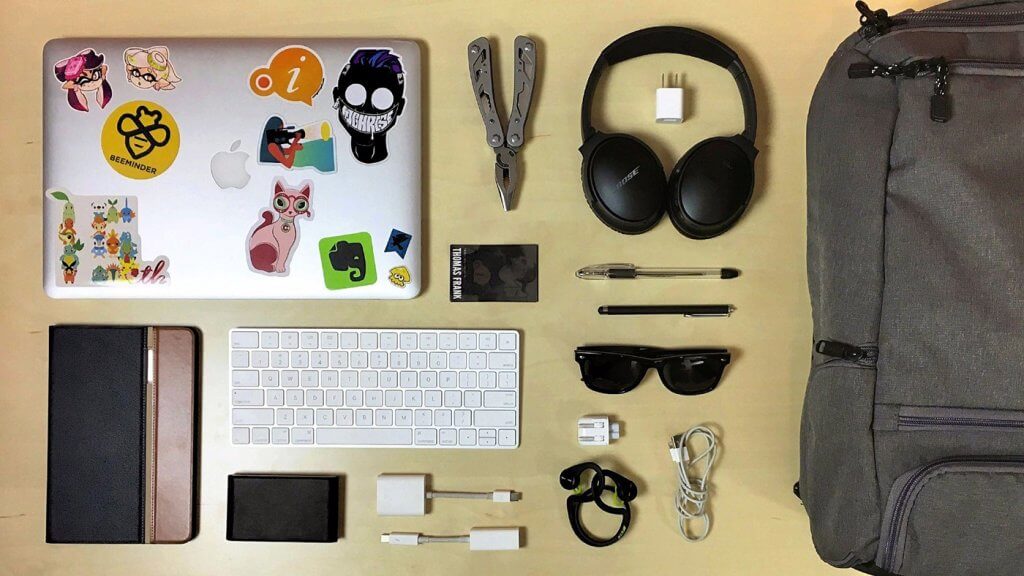 But what about the gear, you ask?
I think I'm actually carrying fewer things in my backpack now than when I made my original video two years ago. However, several of the things that remain have been upgraded, and I've made a couple of additions as well. Let's go through them.
MacBook Pro 15″ (Mid-2016 edition) – I upgraded from the Air once I got really serious about editing my YouTube videos and adding in animations with After Effects. This more beefed-up laptop lets me do those things even when I'm traveling.
iPad Mini 4 – which I use mainly for reading books, but also for writing – especially when I'm on planes. The iPad paired with a bluetooth keyboard works so much better than my laptop in coach seats. I'm also using a cheap, yet high-quality case that can prop the iPad up at a couple of different angles.
Bluetooth Apple Keyboard – this is the aforementioned bluetooth keyboard that allows me to write on my iPad. There are cheaper models out there, but since I work on a computer, I don't skimp on my computer hardware.
Notebook and sketchbook – both from Target (I've linked to Amazon equivalents). Neither of these are particularly fancy.
A single folder – this is where I keep any papers I need to store while I'm on the go. As a student, I used a more robust accordion binder; these days, however, I don't usually need to store many papers.
Bose QC35 noise-cancelling headphones – I'm listening to my study music playlist as I type up this blog post. I was skeptical about the value of noise-cancelling tech at first, but once I tried it, it was a game changer. These headphones allow me to focus on my work even in noisy environments, meaning I have a lot more choice when I comes to my study spots. One thing to note, though, is that these particular cans are expensive. Check out the Cowin E7 for a much cheaper alternative that still works pretty well.
Plantronics Backbeat Fit bluetooth headphones – these are the headphones I use when I work out; however, they're often in my work bag as well since I use them to listen to audiobooks while on the bike trail going to wherever I'm working.
Books – whenever I'm doing research for a new video, I usually have a book or two with me.
Apple earbuds – these always live in my backpack, and they're my go-to headphones for walking around if I don't happen to have the bluetooth ones on me.
Water bottle – if I don't carry one with me, I'll inevitably forget to drink enough water during the day. This one is a made of heavy steel, so it also doubles as a self-defense device, I guess.
Business cards – I always carry a few in case I make a connection. Mine are high-quality, double-thickness cards from Moo that stand out amongst other cards.
Stanley Multi-tool – includes pliers, several knife blades, a screwdriver, and a few other tools. Handy to have around, and cheap.
Sunglasses – because Denver is really sunny
Sunscreen – see above
Pens and pencils – again, nothing fancy
VGA and ethernet adapters – just in case I'm traveling and need to hook up to a projector or ethernet cord
That's about it for my bag! If you're looking for more gear recommendations, you might want to check out my college packing guide, list of book recommendations, and my general resources page – which includes many of the apps I use on a daily basis. Also, take a look at this general guide for what to put in your backpack.