I've had a few requests to do a video that goes through the gear I pack in my bag, so here it is!
As an independent author, speaker, and video producer, the gear in my bag represents the work that I regularly do. My backpack accompanies me most often to coffee shops or to Gravitate, an awesome co-working spot in Des Moines.
I also take it with me when I travel to conferences and speaking engagements, as well as the odd shooting location when I want to include some cool b-roll in a video (my recent video on test-taking is a good example).
Those of you with keen eyes will notice that the word "class" is not among those locations. While I do still take classes on Coursera and do plenty of self-directed learning, it's true that I'm no longer carting textbooks to classrooms on a campus anymore.
For that reason, I've also included an extra section to this video that covers things I used to pack in my bag, back when I was a student at Iowa State.
I've also included a list of the gear below, with links so you can check out anything that interests you. Some of them are referral links, which means I'll get a small commission (at no extra cost to you) if you use them to buy something.
If you'd like to find other gear, apps, books, and tools I recommend for college, the Resources page is where you'll want to head. Also, check out this updated guide to everything that should be in your backpack for college.
If you're unable to see the video above, you can view it on YouTube.
Full Backpack Gear List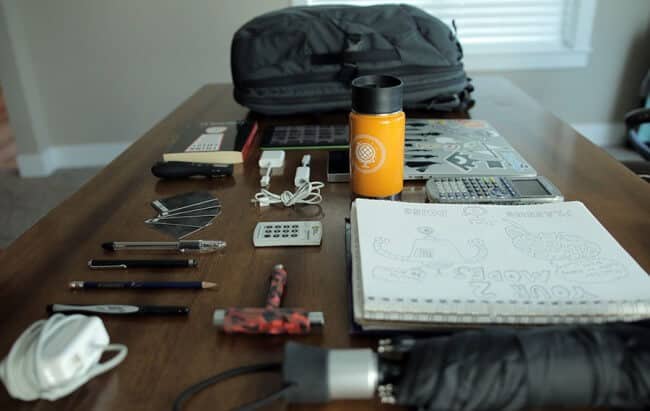 Minaal Carry-On backpack – a bag I backed on Kickstarter a couple years ago. While it's amazing for longer-term travel, it's probably overkill for daily campus use. I've actually backed an upcoming messenger bag on Kickstarter, which I'll be switching to for daily use once it comes in – and as I mention in the video, I used to use Swiss Gear's Synergy backpack, which worked perfectly for college and only costs $70.
Macbook Air 13″ (student discount link) – after switching to a Macbook Pro from a Gateway gaming laptop back in 2010, I became a fan of OS X when it comes to portable computing. If you're looking for a comparable Windows option, though, the Dell XPS 13 is getting amazing reviews. For other options, here's Laptop Magazine's list of the best laptops.
iPad Mini – first generation, because I really just use this as a replacement for my Kindle. I used to do a lot of drawing a note-taking on it as well, but I've largely switched to paper these days.
Paperback book – I've almost always got one of the physical books I'm reading in my bag. The book in the video is Think Smart: A Neuroscientist's Prescription for Improving Your Brain's Performance. If you're looking for more book recommendations, check out my Essential Reads for Students list.
Notebook – my catch-all note-taking device. I create my weekly task plans here, write out lists of b-roll for videos, take notes on books and course content, flesh out business ideas, and more.
Sketchbook – non-lined paper for illustrations, such as the ones for Planning Mode vs. Robot Mode and the Student Budgeting Guide.
Folder – I use this to organize any random papers I get. Really comes in handy for organizing receipts on business trips before I get a chance to scan them into Evernote. As a student, you'll probably need something more; I always used an accordion binder in college and loved it.
Logitech Presenter R800 – a presentation remote I use for speaking engagements. Connects to my laptop and lets me control presentations, and also comes with a laser pointer.
Mac adapters – I have a Thunderbolt-to-VGA for presentations, and a Thunderbolt-to-Ethernet for when a place doesn't have wi-fi.
Business cards – always have a few on-hand in case you meet someone at an event and want to make a good impression. I use Moo to print mine; they make really high-quality cards. You can check out my business card design tutorial if you're interested in making your own.
Pens and pencils – I always carry two pens, just in case someone I meet needs one. It's another way of making new friends.
Umbrella – trust me on this; always have one in your bag. The Minaal also comes with a waterproof covering hidden in a secret pocket, so I never fear the rain when I'm out with all my gear.
Hoodie – for coffee shops with crazy air conditioning.
Mac and iPhone charger – for obvious reasons.
USB cables – I keep a MiniUSB and a MicroUSB in the bag mainly so others who end up needing them will be happy, but also for charging the next item on the list.
Portable USB charger – I picked this up in Japan, and it was a life-saver. Running Google Maps all day to get around Tokyo can really sap my phone's battery.
Earbuds – I love Apple's earbuds, because I can make phone calls with them. Apparently you can get them on Amazon for 2/3rds the original price.
Tea thermos – because putting a mug in my backpack would spell disaster.
Plug strip – I always bring one of these along with a 2-prong to 3-prong converter when I travel, as outlets can be a highly contested resource in airports and hostels.
Skate tool – skateboarding was my favorite way of getting around campus.
Book flags – useful for marking terms and passages in books you don't want to highlight.
Clicker – because some of my classes required it. (Not linking to anything because you should check your class requirements to make sure you get the right one)
Pick Four notebook – an awesome goal-tracking tool. Note: These must be out-of-print now, as they're super expensive. Linking just so you can bookmark them, in case they ever come back. I definitely don't recommend spending $90, as you could easily write goal progress in a regular notebook.
TI-83+ graphing calculator – required when I had math classes.
Textbooks – I guess I forgot to mention this in the video, but my bag often had a textbook or two in it, unfortunately.
What gear do you keep in your bag?
If you liked this video, subscribe on YouTube to stay updated and get notified when new ones are out!