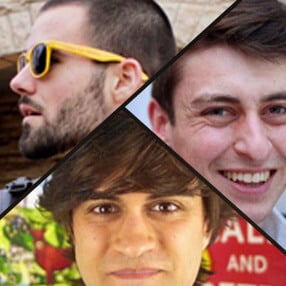 Today's episode is a recording of a live stream chat I recently did with my friends Simon Clark and Jamie Miles.
Simon is a Ph.D. student in climate science at Exeter University, having done his undergrad at Oxford University – in fact, he and I chatted all about that experience in episode 108.
Jamie also attended Oxford; from there he went to work at Google for a while before transitioning to a startup called Onfido.
So, between Simon, Jamie, and myself, this episode will give you perspectives from a graduate student, a professional, and a bearded guy who makes silly videos for a living.
This particular live stream didn't focus as intensely on one topic, so you'll get our thoughts on a variety of things including:
Beating procrastination
Saving money as a student
Managing stress
Learning how to code
Personality types and StrengthsFinder
Our Hogwarts houses
…and lots more.
If you'd like, you can watch the video version of this chat right here:
Also, I've done live streams with them a few times in the past already; in fact, you might remember our "How to Become an Adult" chat that I published as episode 77 of this podcast. If you enjoy this one, you might like that one as well!
Things mentioned in this episode:
Want more cool stuff? You can find all sorts of great tools at my Resources page.
If you enjoyed this episode, subscribe to the podcast on iTunes! It's easy, you'll get new episodes automatically, and it also helps the show gain exposure 🙂 You can also leave a review!
Here's an image you can use to share this episode on social media: