Exams are impassive and unforgiving.
They exist to test your knowledge, yes… but even if you know the material cold, exams will still tear you a new one if you're unable to relay that material accurately onto the testing sheet.
That's why it's crucial to avoid making stupid, careless mistakes when taking your exams. Whether caused by test anxiety, haste, or carelessness, dumb mistakes result in test grades that don't live up to your actual knowledge.
In today's video, we'll go over 10 methods you can use to stop making these dumb mistakes.
Also, I'd be curious to see how many of the references here you can catch 😉
If you're unable to see the video above, you can view it on YouTube.
Looking for More Study Tips?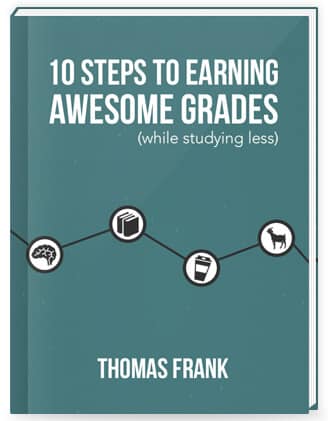 If you want to be ultra-prepared for your exams , you might like my free 100+ page book called 10 Steps to Earning Awesome Grades (While Studying Less).
The book covers topics like:
Defeating procrastination
Getting more out of your classes
Taking great notes
Reading your textbooks more efficiently
…and several more. It also has a lot of recommendations for tools and other resources that can make your studying easier.
If you'd like a free copy of the book, let me know where I should send it:
I'll also keep you updated about new posts and videos that come out on this blog (they'll be just as good as this one or better) 🙂
Video Notes
What do you do to avoid making dumb mistakes on your tests?
If you liked this video, subscribe on YouTube to stay updated and get notified when new ones are out!