Have you ever wanted to make money telling visual stories? To have a job that blends art and technology? What about a job you can do from almost anywhere with a stable internet connection and a decent laptop?
If you answered yes to any or all of the above, then you might be interested in a career as a video editor. But what does it take to break into this field? What kinds of training, software, and equipment do you need? And how do you get your first paid gig as a video editor?
These, and more, are the questions we'll address in this article. Because I lack video editing experience myself, I've turned to my friend Tony Santos.
In addition to having his own YouTube channel, Tony edits videos for two established YouTube channels: Thomas Frank and Thomas Frank Explains.
Below, I'll draw on Tony's knowledge and advice to show you how to become a video editor.
What Does a Video Editor Do?
Broadly speaking, a video editor puts moving pictures together to tell a story. Since video pervades nearly every aspect of life, video editing is a vast, diverse field.
Tony, for instance, spends most of his time editing videos for YouTube. But he also does some work on the side reformating video content for platforms such as TikTok and Facebook.
Beyond that, video editing is a part of:
Film production
TV production
Corporate training
Industrial and safety training
Every online video and social platform
Day-to-day, a video editor works closely with their client and/or team to realize the project's creative vision. They spend most of their time working at a computer using video editing software such as Adobe Premiere or Final Cut Pro.
Video editors may be freelancers, working with a variety of clients on a contract basis. Or, they may have a more traditional 9-5 job in an office. Both situations have their pros and cons, depending on whether you prefer flexibility or stability.
For now, however, let's move on to the skills a video editor needs (and how to learn them).
How to Learn to Edit Videos
Video editing can be an overwhelming subject to learn. It is, after all, a blend of both technical and artistic skills.
In the beginning, Tony's recommendation is to pick a video editing software and follow some tutorials to learn the basics. At this stage, your goal is to go from being overwhelmed by the complicated interface to understanding how to accomplish simple tasks.
Once you have a general grasp on how to use the editing software, start practicing on small projects. This was how Tony learned: he'd watch a video or film, wonder how they did something, and then attempt to replicate it.
Along the way, you can consult tutorials, courses, and other online resources as necessary. But in general, focus on making projects and trying to learn something new each time.
It won't be a straightforward process: you'll get stuck, the software will crash, or you'll make something that looks like hot garbage. But with time and practice, you'll start to become a competent video editor.
When I asked him what he does to continue learning about editing, Tony recommended a variety of resources. Some he goes to for gear and technical advice, while others he studies to learn more about visual storytelling.
Here are Tony's picks:
Still feeling lost? We recommend taking this course from successful tech YouTuber Marques Brownlee. Even if you don't plan on starting a YouTube channel, the course will help you get your feet wet with editing:
YouTube Success: Script, Shoot & Edit with MKBHD
Learn how to plan, shoot, edit, and publish your first YouTube video. Plus, get a behind-the-scenes look at how Marques and his team create a video from start to finish. Click the button below to learn more.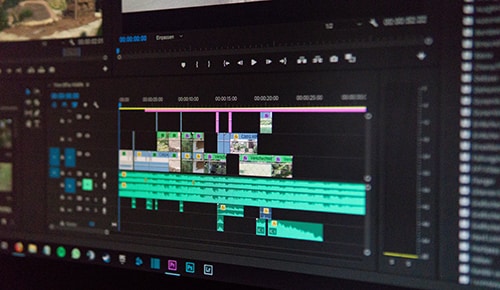 We earn a commission if you click this link and make a purchase at no additional cost to you.
How to Get Your First Video Editing Gig: Portfolio and Networking Tips
Learning editing skills is just half of being a video editor. You also need to be able to market yourself and find work. Fortunately, Tony had some excellent advice on how to build your portfolio and make connections in the industry.
Create a Demo Reel
To get a video editing job, you need to prove that you can edit videos. This is where your demo reel comes in. A "demo reel" is a collection of video clips demonstrating different editing techniques and types of projects.
Then, post that reel to either YouTube or Vimeo so you can easily share it. If you have a personal website, you should also post your reel there. (And if you don't have a personal website, here's how to make one).
When you're getting started, of course, you won't have any previous client projects to showcase in your reel. That's okay!
Tony's advice is to use the projects you've created on your own. Later, once you have professional projects, you can create a new reel showing them off. And no matter where you are in your career, make sure your demo reel showcases your versatility and creativity as an editor.
How to Network as a Video Editor (and Get Your First Client)
Finding work is one of the most challenging aspects of being a freelancer, especially at the beginning of your career. To get a gig, you'll need to start networking with people.
However, you need to do this the right way. Don't spam people's inboxes and DMs with messages asking for a job.
Instead, do what Tony did:
Search Twitter, Instagram, or LinkedIn for relevant terms such as "video editor" or "video editing".
Look at the results and see if there are any people you'd like to connect with.
Then, send the person a message along the lines of "What can I do for you?" or "How can I help?" (Make sure you personalize it, of course).
See where things go from there and have no expectations. If you end up getting a job, great! If you end up making a new connection, also great! Just don't be pushy or entitled.
Tony has found that Twitter, in particular, is a great place to learn about video editing jobs.
Searching for something like "video editor," for instance, tends to reveal lots of job opportunities. And from there, it's a matter of DMing the person/company who posted the job (or following whatever application instructions they give).
The cool thing about online networking is how accessible it makes people who would otherwise be unreachable.
Tony, for example, managed to get some advice from a director at Walt Disney Studios after messaging them on LinkedIn. And it was all because he respectfully reached out and expressed his desire to learn from a pro.
Looking for more detailed advice about the business of freelancing? Read this next.
Video Editor FAQ
To close out this article, here are answers to some common questions aspiring video editors have:
Do I need a degree to be a video editor?
In general, no. Tony studied cinematography and animation in college, but he found that he could have learned all those skills on his own. The main benefit of attending a formal program is the potential to network with classmates and experienced professionals.
As we already showed, however, it's quite possible to find clients and meet fellow professionals without paying tens of thousands for an editing or filmmaking degree. Tony learned all his skills through following tutorials and doing client projects, and you can do the same.
Which video editing software is best?
As with most software, the "best" program depends on your preferences and the job. All video editing programs are just tools at the end of the day. The core skills and taste you need to edit will transfer to another piece of software, so it doesn't matter too much which you learn in the beginning.
That being said, which software should you start with? If you can afford the subscription, we recommend learning Adobe Premiere. It remains the industry-standard video editing software, so having it on your resume is great.
As a college student, you can get access to Adobe Creative Cloud (which includes Adobe Premiere) for 60% off. That works out to $19.99 / month, which should more than pay for itself once you get your first editing gig.
And depending on your university, you may get free access to Adobe Creative Cloud (or another editing program) for being a student. Check your college's website or ask your librarian to find out more.
Can't afford the monthly subscription? No worries, you can certainly get started with free software. Mac users' best bet is iMovie, which offers enough features to let you make basic video edits. If you're on Windows, then check out HitFilm Express.
How much do video editors make?
As with any work, it depends on your experience, your client/employer, and your ability to negotiate.
If you're freelancing, then how much you make is up to the rates you're able to negotiate and charge. Don't expect to make the big bucks in the beginning. You need experience and a proven track record before a client will pay top dollar.
If you're working full-time for a company, then factors such as local cost of living will also come into play. But because video editing is such a broad field touching so many industries, it's difficult to generalize about compensation.
Do I need a camera?
Maybe. If you want to take your own footage, then your phone camera is plenty to start with. You don't need a dedicated camera, let alone something expensive.
As your skills grow, you might decide to upgrade to a nicer camera. But if your main focus is editing, you can definitely learn using free stock footage.
We recommend Pexels and Vidsplay for royalty-free clips. Just be sure that you have permission to use a clip if it becomes part of your demo reel.
Do I have to start a YouTube channel to become a video editor?
No, but it could certainly help! Creating your own YouTube channel will give you consistent practice in video editing, among other skills. It's also a way to showcase your creativity and even potentially get clients.
Having said all that, you can learn to edit videos without creating a YouTube channel. It's just a common way people get started learning.
Start Your Video Editing Journey
As you can now see, becoming a video editor is attainable even without a degree. You'll have to practice a lot and make the right connections. But as long as you're willing to put in the work, this career is within your grasp.
Many thanks to Tony Santos for lending his advice and experience to this article! You can learn more about Tony on his website and YouTube channel.
Image Credits: editing a video on a laptop, closeup of Adobe Premiere