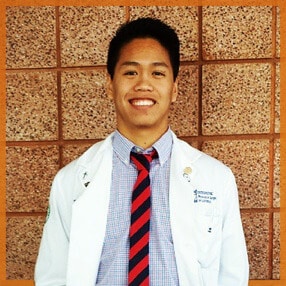 What's the path of a medical student like?
How many billions of hours do they have to spend studying while the rest of us are at football games or, in my case, playing Mario Kart?
Today I'm talking with my friend Ryan Nguyen to get those questions answered (though he has the same last name as Vincent, a previous guest on the podcast, he's not related). Ryan is a medical student in his 7th year since starting undergrad, and he's also a previous College Info Geek writer!
If you've ever wondered what it takes to become a doctor, this episode is for you. Even if that's not a subject you're interested in, Ryan has some great advice on two key subjects that every student needs to be well-versed in:
Efficient studying – Ryan talks about his techniques for learning tons of information quickly and doing well on tests.
Standing out in a competitive environment – you'll learn how he was accepted to 6 different medical schools, even though he didn't have a top GPA.
Things mentioned in this episode:
Resources of the Week: At the beginning of each episode, I briefly feature one tool I've found to be useful, as well as one learning resource I've found enlightening.
The Tool: Unmark.it – a cool bookmarking service that lets you treat bookmarks like to-dos. No more 500 open browser tabs!
The Learning Resource: The Motivation Hacker by Nick Winter – probably my favorite book on motivation (and a short read, too).
Listener Tip of the Week This week's listener tip comes from Robbie Williford, who has actually been on the podcast before. Thanks Robbie! Check out the episode to hear his tip.
"Hey, I have a great tip too!" – you
On every episode listener tip on each episode before I dive into the main content. Want to be featured on the podcast? I'm looking for tips in each of these categories:
General college tips – learning, studying, productivity, etc
Jobs and internships
Money management
If you'd like your tip featured on the show, email it or tweet it to me! Also, remember to leave your name – and if you'd like me to give a shout-out to something of yours (your website, twitter profile, etc), mention that as well.
A few great quotes from our conversation:
"Embrace active learning and try turning all of your lecture notes into questions." | Tweet This
"If you try to do everything at once, you end up doing none of it." | Tweet This
"Aim to wake up every morning with a defined mission." | Tweet This
"Extracurricular experiences are a lot more interesting to talk about than your GPA." | Tweet This
If you enjoyed this episode, give the CIG podcast a review on iTunes!