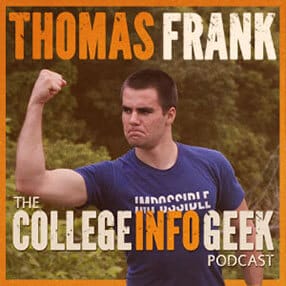 Yeah, I said it – you're wasting $87,998.50 on your education.
Or are you?
What are we really paying for when we buy a college education, or an expensive information product? That's the question I tackle in this episode of the College Info Geek podcast.
The reality is that today, you can learn pretty much anything you want for free. There are so many resources around you that offer information on just about any subject – we've got libraries, Google, Wikipedia, tons of training sites, forums, and more.
And yet, we still spend thousands and thousands of dollars – why? Besides the ancillary benefits of college – the social status and credentials that a degree provides, the "opportunities to make connections", what is it about college that's so appealing?
Tune in to find out!
Items mentioned in this episode:

Things You Should Do Right After Listening
Check out the article on self-study
Start thinking about things you want to learn outside of class
Thanks for listening! Keep your ears peeled for another great interview episode coming soon 🙂
——————–
P.S. – If you enjoyed this episode, leave a review in iTunes! I'll totally love you forever, or at least for the next 50 years.