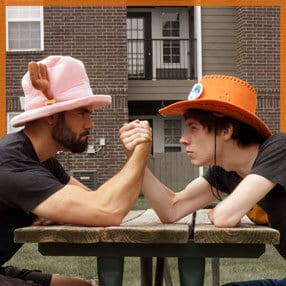 Hey, you know what's not boring? Trying new things.
So today we're trying something new. Since this blog is pretty good-sized, I get a fair amount of questions emailed to me from readers. At the start of January, I also asked everyone on my newsletter if there were any questions I could help them answer – and the response was huge!
To be honest, my inbox is still full of questions I have yet to get to personally. And while I will get to them all at some point, I saw an opportunity here.
Why not create a podcast episode out of these questions? If one student is asking something, I'll bet others want to know about it as well – especially when I'm seeing questions that I wish I had known the answers to in college.
That's why this podcast episode is our first episode to be dedicated entirely to reader Q&A.
In this episode, you'll learn about:
How to deal with a lack of motivation to care about your classwork
Strategies to increase your productivity
Eating healthy (and cheaply) when living off-campus
Whether or not you should study abroad – and another (possibly better) option
Transitioning from dorms to your own apartment
The fact that I am terrible at Super Mario 3D World
I've also brought on my friend, roommate, and fellow blogger Martin Boehme as a co-host for this episode.
Martin is a junior at Iowa State currently, and he's done some awesome things during his college career – including starting his own blog, Powlyglot, which is all about learning languages.
In addition to providing another great perspective for each question, having a co-host makes the show more conversational and fun. If you like the format, let me know!
Items mentioned in this episode:
Things you should do right after listening:
If you have a question about college, careers, or – well, pretty much anything I guess – ask me! We might feature it on the next episode 🙂
If you enjoyed this episode, give the CIG podcast a review on iTunes!