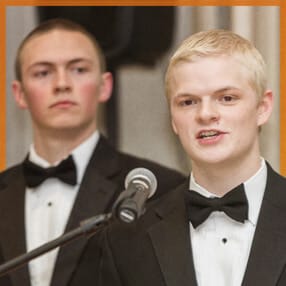 It can be hard to know if you're on the right path.
You go to class, study, join clubs, and network, but how do you really know if you're taking the right steps to achieve your goals?
One of the best ways is to find a mentor, and in this episode, recent Tufts University graduates John and Michael Kenny share their strategies for finding a mentor while in college.
They explain how a mentor can help you, how to find a mentor through alumni connections, and how to find an upperclassmen mentor at your own school.
John and Michael are so passionate about mentorship that they even put on a conference about it at their school, and in this episode they share the clever marketing strategies they used to make it a success. If you're interested in putting on a conference at your school, be sure to check out their guest post for My College Advice, linked to below.
Finally, John and Michael share some game changing advice on growing your network, including the power of cold-calling and the correct way to request an email introduction.
If you're looking for a mentor but aren't sure where to start, or if you just want to majorly improve your networking skills, give this episode a listen.
Things mentioned in this episode:
Want more cool stuff? You can find all sorts of great tools at my Resources page.
If you enjoyed this episode, subscribe to the podcast on iTunes! It's easy, you'll get new episodes automatically, and it also helps the show gain exposure 🙂 You can also leave a review!