The job landscape has changed a lot in the past few years. Things that used to seem unthinkable, such as working from home or conducting meetings while in a moving car, are now commonplace. New, internet-enabled jobs seem to pop up every day. And an increasing number of people are starting their own businesses.
One new internet-enabled job that has emerged over the past decade is the virtual assistant (or VA, for short). Virtual assistants help busy professionals, small business owners, or even larger organizations manage administrative tasks, scheduling, and much more.
If you're interested in becoming a virtual assistant, then you may be wondering where to start. With so much information available, it can be difficult to know how to get your virtual assistant business off the ground.
Fortunately, we sat down with seasoned virtual assistant Kayla Sloan to find out how.
Below, we share Kayla's best advice for starting your VA business. You'll learn what a VA does, how to find your first clients, how much you can make, and more.
Note: Kayla Sloan is the founder of 10K VA, an online training course for virtual assistants. College Info Geek is a 10K VA affiliate, and we may receive payments if you click links to the course in this article (at no extra cost to you). However, the advice in this article will help you get started as a VA whether or not you take Kayla's course.
What Is a Virtual Assistant?
Generally speaking, a virtual assistant is someone who helps an individual or business with digital work tasks. Common job duties include:
Answering emails
Scheduling meetings
Data entry
Managing social media accounts
Making travel arrangements
And this is just a small sample of the more basic tasks. VAs with more experience or specialized skills can help clients with everything from Facebook ad campaigns to project management.
Beyond that, if there's a business task you can do digitally, there's probably a person or company that will hire a VA to do it.
3 Exciting Reasons to Become a VA
Now that you have a basic overview of the job duties, why would you want to become a VA?
Based on our conversation with Kayla, you should consider becoming a VA for the following reasons:
Work from Home (or Wherever)
Working from home is becoming more common even in more traditional "office" jobs, but it's still far from the norm.
So if you're tired of commuting to a physical workplace, then you'll love the location flexibility that comes with being a VA.
Since you're a "virtual" assistant, you can provide your services from wherever you have a reliable internet connection. That could be from a home office, but it could also be from a coffee shop, coworking space, or even a beach.
Flexible Schedule
Besides being more flexible in your work location than a 9-5 job, working as a VA also means you have much more control over your schedule.
This doesn't mean it's a hands-off, passive income gig — you'll still have to put in hard work. However, you have much more control over when you work.
While some clients may need you to be available during specific hours, most don't care when you do your work as long as it gets done. Plus, you can often batch similar tasks together and spend fewer hours "at work" overall than you would in a traditional job.
Use Skills You Already Have
The basic skills required to be a VA are things you probably do all the time. Answering emails and updating social media pages, for instance, are common business tasks that most of us already do in our personal lives.
Some clients may require more specialized software skills, but this tends to be the exception rather than the rule. And you certainly don't need to be very technical to get started (though boosting your technical skills can allow you to charge more, as we'll discuss later).
How to Become a VA in 4 Steps
Getting excited about being a virtual assistant? Then let's look in more detail at how you can get started in the field.
Every case will be slightly different, since everyone starts with different skills and experience. But in general, here are the steps you should take to begin your VA business:
1. Decide What Services You'll Offer
As we mentioned above, one of the great things about being a VA is that you don't need a lot of specialized skills to get started.
That being said, you still need to sit down and decide what services you can offer clients. This way, you can develop a clear value proposition and find clients who are a good fit. Without well-defined offerings, it can be tricky for clients to decide if they should hire you.
Again, your services don't have to be complex or technical in the beginning. You can most likely answer emails, manage social media, schedule meetings, and answer phone calls already. If those are your current skills, then that's a great place to start.
However, don't neglect the more specialized skills you have. For instance, if you know how to use email marketing software or produce podcasts, then you can focus on clients looking for those services (and generally charge them more).
2. Create an Online Presence
Once you've decided what you'll offer clients, you need to give them a way to find you. As a virtual assistant, this means setting up a strong online presence.
Kayla recommends creating a business Facebook page to start. On this page, you can describe what services you offer and provide your contact information for potential clients. Having a business presence on Facebook will be helpful for the next step (finding clients).
Also, be sure that your VA business is clearly mentioned on your LinkedIn profile, as many of the professionals who could hire you are likely on LinkedIn. You can see an example of a great VA LinkedIn page below: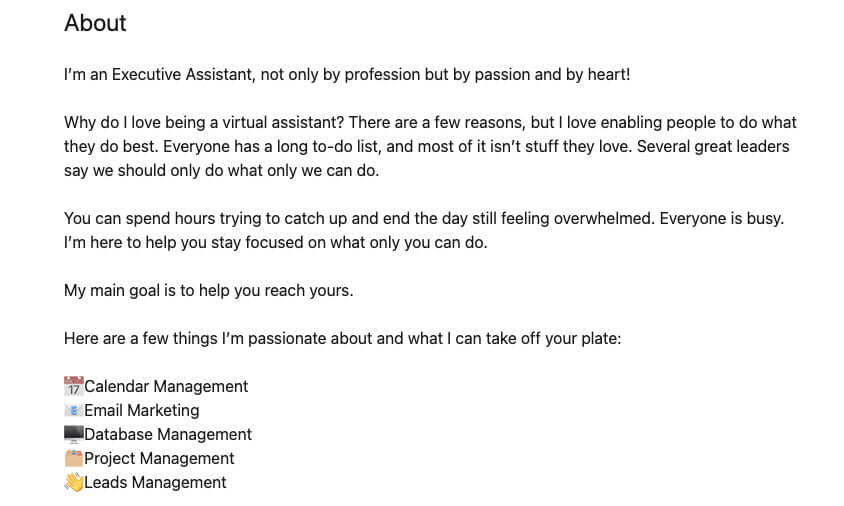 Besides your Facebook and LinkedIn presence, Kayla suggests creating a website. The main goal of this site is to help clients "warm up" to you as they learn more about your services. It doesn't have to be large or complicated; a single page describing who you are and what you do is sufficient.
If creating a website sounds intimidating, don't worry. We have an entire guide to walk you through the process.
3. Find Your First Clients
Now that you have an online presence, it's time for the hardest part: finding your first client.
Getting that first client can be a challenge, especially if you don't have a lot of connections. To do it, Kayla has a few different suggestions.
First, you can join business and entrepreneur Facebook groups. These groups likely contain people who need to hire VAs, so what better place to connect with them?
Mind you, don't just join a bunch of groups and then immediately promote your services. Instead, genuinely contribute to discussions in the group. This way, when someone posts a job opening, you're already a familiar name/face.
Beyond Facebook, Kayla recommends networking with people in whatever niche you want to serve. Wherever those people "hang out" online, you should have a presence there too. For instance, if you want to offer executive assistant services, then join some LinkedIn groups where busy professionals spend time.
Additionally, don't neglect the power of cold email outreach. While it can be scary, it's often the most straightforward way to find clients. It also lets you avoid the fierce competition and noise of job boards, connecting with potential clients directly. To help you brush up on your cold email skills, check out this guide.
Finally, we should mention that if you join Kayla's 10K VA course, you'll get access to her client connection service. Through this service, Kayla connects graduates of her course with businesses who need help.
4. Grow Your Business
Once you've found a client or two and started making money, you can decide where to take your VA business next.
Depending on your financial goals, the extra income from one or two clients might be enough. But if you want to fully replace your current income (or even exceed it), then you'll need to start growing your business.
At a basic level, this can mean taking on more clients and working more hours. This approach is usually enough to get you to a decent level of income, but it doesn't scale well beyond a certain point. Eventually, you'll want to increase your rate and be more selective about the clients you work with.
The beauty of this is that, generally, your first clients will teach you a lot about what services you should offer. Maybe one of them says they need help with email marketing, which requires you to learn how to use ConvertKit. With that skill under your belt, you now have a whole new range of services you can offer clients.
Of course, these are just a few examples of what's possible. If you're looking for more specific guidance, including stories of how other VAs have grown their businesses, we recommend checking out 10K VA.
Virtual Assistant FAQ
To round out this article, we asked Kayla some common questions that people have when starting out as a VA. Here are her answers:
How long does it take to become a VA?
Unlike other careers that may require years of formal training, it doesn't take long to get started as a VA.
There's no hard and fast rule, but Kayla notes that most VAs she knows and has worked with have been able to find their first client within days or a couple of weeks. Of course, this will vary based on your skills and existing connections.
Should I use job boards to find VA work?
Generally, Kayla doesn't recommend it. The low barrier to entry on job boards means you'll be competing with dozens (or even hundreds) of applicants. And usually, the jobs you'll find there are a race to the bottom in terms of pay.
Instead, Kayla recommends more direct, targeted networking and outreach to find your first clients.
What skills and education do you need to succeed as a VA?
You don't need a ton of skills to get started as a VA, and you certainly don't need a degree. Some of the most important things for the job are good communication skills, organization, determination, and the ability to be a self-starter. You should also be good at googling things and finding answers on your own.
However, if you want to charge more or work with specific clients, then it helps to have some more specialized skills. The options here are as varied as the needs of clients. For instance, you could learn how to use software such as Ahrefs to do keyword research. You could then charge clients a premium for help with this technical (but often mundane) work.
If you don't have lots of technical skills at the start, though, don't worry. Focus on what you can offer clients, and remember that you can always learn new skills.
Do you need experience to get hired as a VA?
With any kind of career or job change, there's always the concern that you don't have enough experience to get hired. Fortunately, Kayla reports that you can definitely get hired as a VA with no previous experience. It's how she and many of her 10K VA students got started.
The key in the beginning is to leverage all the experience you've had in your previous careers and jobs. For instance, if you previously worked as a teacher, then you already have organizational and communication skills that will serve you well as a VA.
That said, you might need to charge a little less than you'd like to while you gain experience. But once you've cut your teeth, you can and should raise your rates.
What can you do to stand out in a VA interview?
Like most job interviews, the key to standing out as a VA is to do your research ahead of the interview.
If you got the interview by applying for a job opening, make sure you do your research about the company or business that's hiring. Consider these key questions:
Who are they?
Who are their customers?
What are their products or services?
What have they posted on their website, blog, or social media lately?
Once you have the answers to these questions, you can work them into your interview. This shows the client that you can do your research and care specifically about working for them, not just anyone who will pay.
If possible, come to the interview prepared to provide samples or examples of your past related work and projects. Or if you're just getting started, try offering some ideas or suggestions that the business owner might find helpful for the position or role they are trying to fill.
For example, Kayla once helped a client hire a Facebook ads assistant. The top candidate from that interview process came in with a (simple) campaign strategy/plan outlined to show what they could bring to the table. Needless to say, they got the job.
How much do virtual assistants make?
Ultimately, it depends. Kayla notes that a typical VA will charge between $15 and $40 per hour. That rate depends on the services you're offering, the clients you're working with, and how you've managed to position your business.
While charging that much per hour can certainly be enough to earn a good living, it still falls short of the $10K per month that Kayla managed to make as a full-time VA.
To reach that level of income, you'll need to get more creative. You could change your business model, charging on a per-project instead of a per-hour basis. Or, you might decide to build your own support team or small VA agency. For guidance on scaling your VA business, there's an entire module in the 10K VA course.
Start Working as a VA Today
As you can now see, getting started as a virtual assistant isn't that complicated. It will require hard work and dedication, but you likely have most of the skills you need already. So if you're looking for flexible hours and the ability to work from home, we recommend giving it a go.
While it's certainly possible to get started as a VA without any training, the right information in the beginning can save you lots of time and frustration. To get expert guidance on starting your VA business, check out Kayla's 10K VA course.
Image Credits: man working at laptop