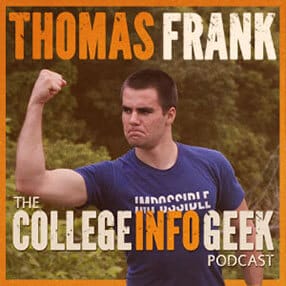 Hold on to your hats, panties, gerbils, and whatever else you're holding – the College Info Geek podcast is here! Welcome to episode one.
In this episode, I go over some strategies to hack your fitness in college – how to get started if you're a beginner, how to make working out less boring, and how to keep yourself motivated. I also go over some specific tools and resources I use in my own fitness efforts.
Since this is the first episode, I also take a little time to mention why I've started the podcast, as well as my plans for the future!
Going forward from here, I'll be creating new episodes frequently that will cover everything I think is necessary for being awesome at college, including:
Studying and learning hacks

Building your personal brand
Paying off debt and making money in college
…and generally being awesome.
I also will be bringing special guests onto the show from time to time for interviews. I plan on bringing on lots of entrepreneurs and people I admire – if there's anyone you'd like to hear from on the show, let me know!
Things I mention during episodes will be listed in the corresponding blog post (which I'll refer to as the "show notes" in the podcast). Therefore, things I mention in this episode are listed below!
Right-click this link to download the MP3 so you can keep and treasure it forever 🙂
Items mentioned in this podcast:
Things you should do right after listening:
Thanks for listening!
If you have a friend who could benefit from this podcast, you should share it with them as well!