Shopping for college students can be a challenge. Between classes, extracurriculars, and social life, the typical college student doesn't have time to tell you what gifts they'd like.
To save you time, we put together this list of over 50 items that would make a great gift for anyone in college. Whether you're a parent, relative, or friend of a college student, there's a gift here for every budget.
Gifts Under $10
There's nothing worse than trying to sleep while your next-door neighbors are having a party. With these earplugs, your college student can get some much-needed rest no matter how noisy their dorm is.
Looking for a fun stocking stuffer? You can't go wrong with a deck of playing cards.
Minor injuries are bound to happen in the course of college, and this first aid kit will ensure your student is prepared to take care of them.
This sleep mask is a cut above the typical cheap ones they give you on airplanes. It's very comfortable and blocks even bright light, making it great for getting sleep while your roommate is still up doing homework or playing video games.
Gifts Under $25
Why carry around a boring old pen when you can carry around one of these? In addition to being a pen, this tool is also a screwdriver, level, ruler, and stylus for your smartphone or tablet. Pretty neat, right?
Isn't it great to live in a world where coloring isn't just for kids anymore? This coloring book set features over 120 images of animals, mandalas, and scenery, all printed on sturdy paper. It's a great gift to help destress during exams. For best results, pair it with this colored pencil set.
This Moleskine notebook is elegant, portable, and a joy to write in. It makes a great gift for writers, musicians, artists, or anyone who wants to start a journal.
My cousin introduced me to this handy piece of headwear, and it's been a lifesaver for surviving many winters. You can wear it as everything from a neck warmer to a balaclava, and the Merino wool material is comfortable as well as odor-resistant.
Those little tea infusers shaped like animals are cute, but they can also make a mess. If you know someone who's serious about tea, get them this Adagio tea infuser. It lets you easily brew large cups of tea, and clean-up is a cinch.
Know a college student who enjoys word games? Then they'll love Bananagrams, which is essentially fast-paced Scrabble without a board.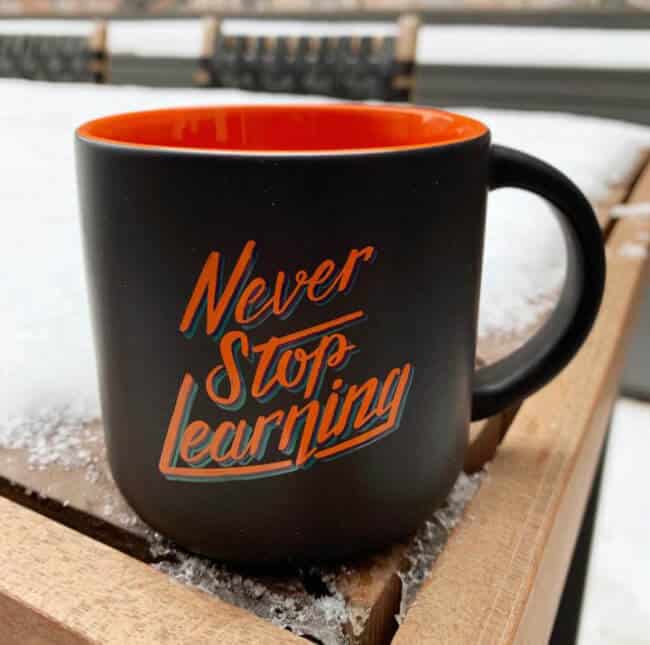 Know a student who's a fan of this website (or just of learning in general)? Then get them one of our comfortable t-shirts, attractive mugs, or fun stickers. You'll find all of our merch for sale here.
An insulated tumbler will keep liquids cold or hot for hours. It's an excellent gift for the coffee-lover in your life, and the 30 oz size is enough to keep most people caffeinated all day.
Looking for a great book to give someone? We put together this list of the 20+ best books for students. If you don't have time to read the whole list, here are 3 of our top picks:
The Power of Habit by Charles Duhigg – Habits shape every aspect of our lives. This book explains how habits work, as well as how to change them.
A Mind for Numbers by Barbara Oakley – If you know a student who thinks they're "just bad at math," give them this book. It provides an excellent overview of how to learn and understand math (as well as other subjects).
Your Money: The Missing Manual by J.D. Roth – Get your college student off to a great financial start with this concise guide to personal finance. It covers everything from budgeting to taxes to using credit responsibly.
Being the only person in your dorm or apartment with tools is a great way to make friends. The college student in your life will thank you for this tool set when they need to hang a picture, fix a leaky faucet, or put together IKEA furniture.
Plants are a superb way to make a drab dorm room feel more like home. When buying for a college student, we recommend something low-maintenance and difficult to kill. These succulents are a great choice, as they can survive even if you forget to water them for a few days (or weeks).
If live plants are too much trouble, consider these artificial succulents.
Why settle for a cable that can only charge one type of device? This Anker charging cable has Micro-USB, USB-C, and Lightning connectors, meaning it can charge just about any phone or tablet out there.
Disposable plastic water bottles are terrible for the planet, and they can get expensive if you drink a lot of them. Help your college student save money and the environment with this reusable, stainless steel water bottle.
Dorm rooms usually have industrial, depressing fluorescent lights. These LED string lights are an easy way to add some soothing ambient light to any room.
If you've never made coffee with freshly ground beans, you cannot imagine what a difference it makes in the taste. This electric coffee grinder will help take your coffee from average to great.
Bluetooth speakers are a must-have for social events of all kinds. This speaker from Anker produces amazing sound, yet it's still small enough to throw in a purse or backpack.
An umbrella can turn a rainy day from miserable to peaceful. And this Teflon-coated, windproof umbrella is one of the best out there. It has the strength to withstand extreme weather, yet with the touch of a button, it packs down small enough to fit in just about any bag.
Help your student leave the red plastic cups behind with this 12-piece glassware set. The set includes 3 sizes of glasses, making it perfect for any occasion.
The right set of coasters can class up that IKEA coffee table instantly. These slate coasters are durable, attractive, and contemporary.
Know a student with wanderlust? Then they'll love this scratch off world map for keeping track of all the places they've been. It also includes a bonus scratch off map of the United States.
College isn't known for being a time of healthy eating, but it doesn't have to be that way. Help the student in your life make smart choices with this healthy snacks care package. It's a great gift any time of the year, especially during final exams.
Gifts Under $50
Whenever there was a warm, sunny day on my college campus, I'd usually see a few people using a slackline on the quad. This slackline set is great for beginners, including tools for training balance and detailed instructions on how to use a slackline without hurting yourself.
Aside from slackline and cornhole, lounging in a hammock is a great way to spend a sunny day on campus. This ENO hammock is one of the best you can get, and it's great for taking camping as well.
Shopping for a student who loves puzzles? Get them the Perplexus. It's a portable 3D labyrinth within a sphere, and it's sure to provide many hours of entertainment.
There's nothing more frustrating than cooking with a dull knife. A good knife will make you much more likely to cook a healthy meal than to turn to packaged foods, so do your student a favor and give them this quality, affordable kitchen knife.
An electric kettle is great for making everything from tea to coffee to instant ramen, and it's way faster than heating water on the stove.
Eating off paper plates with plastic forks gets old fast (as well as generating a lot of waste). Help your college student eat like an adult with metal flatware and ceramic plates and bowls. This flatware set is an affordable, attractive option. And this dinnerware set has enough dinner plates, dessert plates, and bowls to serve 6.
I received a Swiss Army Knife for my 18th birthday, and it's still one of the most useful gifts I've ever gotten. Whether you need to make a quick repair, pull out a splinter, or open a bottle, this tool has it all.
An Amazon gift card is the perfect gift for that college student who's hard to shop for. Take the pressure off yourself and let them buy whatever they want.
A Netflix subscription is key for staying on top of the latest TV shows and movies, as well as watching the classics. A Netflix gift card will cover anywhere from a couple of months to over a year of the service (depending on the amount).
This nonstick skillet is one of the best you can get. It's extremely easy to clean, and it's the perfect size for cooking everything from stir-fries to scrambled eggs.
The next best thing to having an espresso machine in your dorm, the AeroPress lets anyone make excellent coffee without fancy equipment. It's a great gift for a coffee lover or aspiring barista.
This gadget is a great gift for the forgetful student.
You put the Tile Slim inside your wallet, passport, jacket, or whatever else you need to keep track of. If you ever lose it, you can quickly see its location using an app on your phone, and you can even make the Tile ring when you're within 200 ft or less.
The Rocketbook Everlast is an erasable notebook that makes it quick and simple to digitize your notes. With it, you can take notes over and over without having to buy (or keep track of) a big stack of paper notebooks or binders.
Between texting, scrolling Instagram, and playing games, the typical college student's phone battery is unlikely to last a whole day.
That's why this portable phone charger makes such a great gift. It holds enough power to fully charge a phone twice, yet it's small enough to fit in the palm of your hand.
A classic game on college campuses across the country, cornhole is a great way to get a bit of exercise and make new friends. This miniature cornhole set is the perfect size for a dorm room or apartment.
College Apparel and Accessories
Want an easy gift for a college student? Get them something with their college name, colors, or mascot. Whether it's a mug, t-shirt, socks, or sweatshirt, it should be easy to find at the college's bookstore (or online store).
Gifts Under $100
The right pair of headphones can take music from good to great, as well as help block out the many distracting sounds of college campuses.
If you want to give someone a great pair of headphones without breaking the bank, we recommend this pair from Anker.
If you know a student who prefers to listen to information, then an Audible subscription is a wonderful gift. The subscription gets you any audiobook of your choice each month, with over 200,000 titles to choose from.
Looking for some great audiobooks to recommend (or gift)? Check out our list of the 50+ best audiobooks.
Before I set off for college, my mom made me an album of pictures of friends, family, and my hometown. If you want to do something similar for a college student you know, then I recommend making one of these photo books.
Not only are these books beautiful, but they're printed on 100% recycled paper that will last a lifetime.
This bartending set is an excellent gift for the aspiring mixologist in your life. Unlike a lot of other sets that include low quality or unnecessary items, this set has everything you need to mix drinks like a professional.
College students do a lot of walking, meaning a sturdy pair of shoes is essential.
Allbirds shoes fit this role supremely. The Tree Runners are extremely light, breathable, and comfortable, making them the perfect pair of shoes for warm weather. And when it gets colder, the Wool Runners will keep your student's feet warm and dry.
Plus, Allbirds are made with sustainable, ethically sourced materials, meaning you can feel good about your purchase. And we think they're pretty stylish, too.
Gifts Under $500
Vinyl is cool again, and it's now the norm for artists to release new music on vinyl in addition to digital platforms.
If you know a college student who wants to get into vinyl, this record player is a great gift. It plays both 33-1/3 and 45 RPM records, and it can connect to headphones or speakers via Bluetooth.
Bonbowl is a compact induction cooktop that lets you cook and eat out of the same bowl. You can use it to prepare oatmeal, cook eggs, reheat leftovers, and much more.
It's the perfect gift if your student lives in a dorm room or small apartment without a stove (which, let's face it, is typical for most college students).
Get $20 off your Bonbowl purchase when you use the code CIG20 at checkout.
Any college student would be thrilled to have this smart TV. It lets you stream everything from Netflix to Hulu to YouTube, all with excellent picture quality. Plus, it's compatible with both Alexa and Google Assistant, allowing you to control the TV with your voice.
Everyone claimed smartphones would make watches obsolete, but a new generation of smartwatches has proved that prediction wrong. Smartwatches connect to your phone, making it easy to respond to messages and track your fitness throughout the day (as well as, you know, tell time).
We couldn't pick just one smartwatch, so here are our top 3 recommendations:
With so much to keep track of during college, it's essential for your student to manage their time wisely.
To make this easy and fun, there's the Timeular. All your student has to do is assign a task to each of the Timeular's eight sides and then flip the device when they switch to a different task. The Timeular app takes care of the rest, showing them a detailed breakdown of how they spend their work time.
Get 10% off your Timeular purchase when you use the code collegeinfogeek10.
The Kindle Paperwhite is perfect for the student who loves to read but is running out of bookshelf space. The latest model is light, glare-free, and even waterproof. And the battery will last weeks on a single charge.
Want to give someone free 2-day package delivery, tons of free movies, and a massive library of music to stream? These are just a few of the benefits that come with the gift of an Amazon Prime Membership.
Find a Gift for Your College Student Today
We hope this guide makes it easy to shop for the college student you know.
Looking for a gift for someone who just graduated high school? Check out this guide. And if you're shopping for someone who's about to graduate college, take a look at our college graduation gift guide.
Happy shopping!
Image Credits: gift boxes