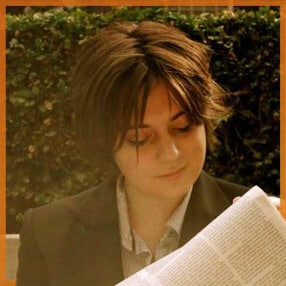 I read a lot of fiction, ranging from smaller Kurt Vonnegut books to massive, 2,200-page Brandon Sanderson trilogies.
As a fan, I'm enthralled with the worlds these authors create. As an aspiring author, however, I'm also stunned at how these writers can create such huge works. How do they do it?
That's exactly the question I ask my friend Brit McGinnis in this episode of the podcast. Brit is a self-published author with a 280-page urban fantasy novel called Gin and Brimstone already out, and another book in the works. In addition to writing, she also works full-time!
I met Brit at the World Domination Summit in Portland back in July (yup, the same place I met Zach Sexton!) and immediately found out that we have very similar interests. We're both anime fans, into entrepreneurship, and love writing. As a result, this is a pretty fun episode.
Things mentioned in this episode:
Resources of the Week:
At the beginning of each episode, I briefly feature one tool I've found to be useful, as well as one learning resource I've found enlightening.
The Tool: Cogi, an iPhone/Android app that lets you record lecture notes in a smart way – Note: If you're going to use this in class, you should ask your professor's permission first. Some schools don't allow recording of lectures.
The Learning Resource: Get a globe! Yeah, I'm serious.
Listener Tip of the Week
This week's listener tip comes from Rob Schrage. Thanks Rob! Check out the episode to hear his tip.
"Hey, I have a great tip too!" – you
On every episode listener tip on each episode before I dive into the main content. Want to be featured on the podcast? I'm looking for tips in each of these categories:
General college tips – learning, studying, productivity, etc
Jobs and internships
Money management
If you'd like your tip featured on the show, email it or tweet it to me!
Also, remember to leave your name – and if you'd like me to give a shoutout to something of yours (your website, twitter profile, etc), mention that as well.
A couple great quotes from our conversation:
"Your first book is probably going to be your worst book, but you need to get it out there." | Tweet This

"Consistency is better than doing work in bulk." | Tweet This
If you enjoyed this episode, subscribe to the podcast on iTunes! It's easy, you'll get new episodes automatically, and it also helps the show gain exposure 🙂 You can also leave a review!